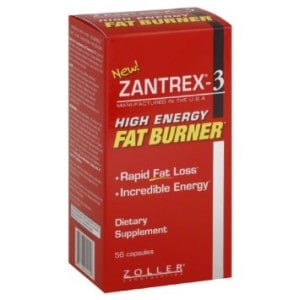 I'm here to cut through the noise and get you the bottom line on Zantrex. Here at DietSpotlight we created an in-depth review, examining the side effects, ingredients clinical research and level of customer service. Plus we scrutinized dozens of customer comments and user reviews that are posted on the internet. Lastly, we summarized and condensed this information to provide you with the important facts.
EDITOR'S TIP:
Substitute Zantrex with a proven fat burner such as
Leptigen
for better results.
What You Need To Know
Firstly, Zantrex-3 is a dietary supplement that is made by Zoller Laboratories. This product is supposed to provide extreme energy, while encouraging rapid weight loss. For maximum results, you must take two capsules 15-30 minutes before breakfast, lunch and dinner. Be sure to drink a full glass of water with each serving. This diet pill contains the following ingredients: Niacin (30mg), Yerba Mate, Guarana Seed Extract, Trimethylxanthine, Damiana, Panax Ginseng, Kola Seed Extract, Black Tea Leaf Extract, Schizonepeta Flower Extract, Black Pepper Fruit Extract, Rhodiola Crenulata Extract, Green Tea Leaf Extract, Maca Root Extract and Cacao Seed Extract.
We are unsure when Zantrex-3 was first released, but this supplement has been available since at least 2013. It is manufactured in the USA, and Zantrex can be purchased online for $29.99 (on the official website). A 30-day satisfaction guarantee is provided. This diet product is also available on dealer websites for as low as $19.99 per bottle (84 capsules), but read on…
Side Effects – Is it Safe?
According to our Research Editor, "After reading some customer reviews pertaining to Zantrex-3, it's clear that some people experience unwanted side effects. Naturally this is very concerning."
One person stated, "I've been on it 3 days and I feel dreadful, so nauseous and a headache from the pills. I don't think it's worth the side effects. I've spent all of the 3rd day in bed."
"Haven't lost any weight and I am nauseous and have been in and out of the bathroom. I feel dreadful," commented another user.
Scroll below for one of the best products we've seen over the last year.
Another Concern – Negative User Reviews
We did see quite a few negative customer comments posted online for Zantrex. In fact, one person revealed, "Feel like I've wasted my money and feel sick no matter if I take 1 or 2, with or without food, I feel horrible."
"I am just trying to finish the bottle so I don't feel like I completely wasted my money! No energy boost, no appetite deterrent at all. I would never recommend this to anyone!," said another customer.
The extensive research we've conducted has shown that if there is one aspect of a diet pill or weight loss program that is quite concerning or difficult (side effects, negative user reviews, low Amazon rating) the likelihood of real results for the long run is minimal. So, if Zantrex does in fact result in a high number of negative user reviews, this could be problematic.
What About Actual Science?
The official website for Zantrex-3 does not present any actual science to support this weight loss formula. While this supplement does contain some Green Tea and Caffeine to help boost metabolism, it's unclear how much of these ingredients is actually used. For us at DietSpotlight, we like to see some real clinical evidence that supports the diet product and its weight loss claims.
The Bottom Line: Does Zantrex Work?
Now the moment you've been waiting for: our bottom line on Zantrex. Well, we like that this diet pill contains some natural herbs and that it's sold with a satisfaction guarantee. On the downside, we have some doubts about Zantrex-3 because it's not actually backed by any clinical studies or research. Furthermore, we're concerned about the customer complaints regarding side effects.
If you'd like to drop more weight, then we encourage you to choose a product that does not cause any harsh side effects, is backed by solid science, is easy to use anywhere and comes with great customer service.
Among the best products we've seen in 2016 is one called Leptigen. This product contains a blend of four key ingredients, which have been proven in documented clinical research to help kick-start metabolism and speed up fat loss. Moreover, we can't find any complaints of harmful side effects and customer feedback around the web shows people are seeing significant results.
The makers of Leptigen are so satisfied with their product they're offering a Special Trial Offer, which is a good sign.