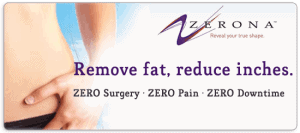 Give me two minutes of your time and I'll tell you whether Zerona actually works. Our in-depth review examined the ingredients, side effects, clinical research and overall customer service quality. Furthermore, we scrutinized hundreds of user comments and testimonials. Then, we summarized and condensed to give you the info you need.
What is Zerona?
First of all, Zerona is a non-invasive laser fat loss treatment. This body contouring procedure helps remove excess body fat, without the side effects associated with surgery. Cold laser technology is used on the thighs, waist and hips. Each treatment takes about 40 minutes to complete; low-level laser treatment on the front and back of the treated area.
Zerona has been around since 2008. You can only receive treatment at an approved location. We like that we found some positive customer comments and that the company provides before and after photos, but read on…
High Price – "Can You Afford It?"
The first concern was the high price of Zerona treatments. "The cost of is $1,500 to $1,700 for a package of six treatments," said our Research Editor. "This is quite pricey, especially when, according to the official website, it's not covered by insurance."
One customer stated, "I spend about $2,800.00 for 3 months of treatment for my son. The worst thing is that my son is still overweight and after this treatment he refuses to try other products."
"Cost me about $2,000 for six sessions, and I'm not seeing any results!," said another person.
According to some Zerona reviews, price wasn't a concern.
"I lost some weight without surgery. This alone justifies the price," reported a dieter.
Scroll below for one of the best products we've seen over the last year.
Customer Complaints – "Another Concern?"
There were multiple customers that weren't pleased with Zerona. One commented, "I am doing Zerona at a reputable clinic. 4th treatment and nothing has happened, literally! I had a waist of 28 inches and it still is 28 inches."
Another user said, "It's been 2 weeks and NO results in inches and No results in weight loss."
While results vary by person, we did locate some users that shared their positive experiences using Zerona.
"I'm 4 treatments into a 6 treatment plan of Zerona, and I'm pretty happy with the results so far. Looking forward to the next couple of weeks," stated a dieter.
"I signed up for 9 treatments, the first one today. It was nice and relaxing," reported another.
Our research has revealed that if there is a particular part of a weight-loss treatment that's problematic, such as being the cause of customer complaints, the likelihood of long-term success is rather low. If users aren't happy with Zerona, this could be a deal breaker.
The Science – "Solid?"
We at DietSpotlight prefer to see some solid clinical research that supports the weight loss treatment or product we're reviewing. In regards to Zerona, there is some real science presented on the official website to support this low-level laser therapy, which is good to see. Even though there's research, we feel that the steep price and customer complaints are difficult to ignore.
The Bottom Line – Does Zerona Work?
So, should you spend your hard-earning money on Zerona? Well, we like that it's non-invasive and an alternative to liposuction, but the research presented may not justify the high price tag. We're also concerned about the customer complaints we found posted online.
If you'd like to drop more weight, then we suggest going with a product that's backed by clinical research, but is also easy to use anywhere and will not break your bank account.
Among the best products we've seen in 2016 is one called Leptigen. Its formula is a unique combination of four powerful ingredients, which have been shown in documented clinical research to help improve fat loss and boost metabolism. Also, we can't find any talk of negative side effects and user comments around the web reveal people are seeing great results.
The makers of Leptigen are so confident in their product they're offering a Special Trial Offer, which is a good sign.