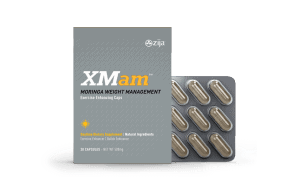 Zija XM3 Capsules have popped up on our radar lately, so we decided to do a careful review of the product, examining the ingredients, the clinical research, whether or not it has side effects, and the quality of customer service. Then we looked into experiences to try and find out what people thought. Finally, we condensed all that info to give you the bottom line.
What You Need to Know
First of all, Zija XM3 is a dietary supplement containing Moringa, Vitamin B6, Minerals, Cocoa, natural Caffeine and Phenylethylamine, and the Zija Proprietary Mix [the mix contains Green Coffee Bean (Coffea Arabica), Rhodiola Rosea, Citrus Aurantium, Moringa Mix (Leaf Powder, Seed Cake, Fruit Powder, Fruit Juice), Piperine, and Natural Caffeine]. Zijamoringa.com claims that use of this formula will curb appetite, leading to weight-loss. Other parts of the formula are geared more toward energy and fat burning.
This product, which is sold by Zija Moringa, is available through independent dealers. It doesn't appear to be available through the main website. We can't find a date for the founding of the company, even though they claim to have done "decades of research" on Moringa itself. We appreciate the natural ingredients, and the business has a solid BBB rating, but read on…
Price – "Too High?"
The first issue we had with Zija XM3 is cost. "Following the capsule regiment would mean 1-2 pills per day," said our Research Editor. "You may see some results while taking the product, since there are a few clinically studied ingredients in the blend. But 30 capsules costs around $60, so you have to be willing to put that kind of money down on a supplement that can't be proven."
"I tried 30 days worth and it was a waste of money. Did not lose one pound. Worthless," said one user.
"Not worth the money," said another.
Scroll below for one of the best products we've seen over the last year.
Effective? – "Another Concern"
It turns out the promised results of using Zija XM3 aren't exactly reliable. In fact, many customers reported a complete lack of results. "It doesn't work," said one customer online.
"I tried this on a recommendation and it didn't do anything," said another.
Over the course of reviewing hundreds of products, we've realized that even a couple of slight drawbacks can hamper the long-term success of a product. If Zija XM3 is priced higher than the dieter would like, that's a problem.
The Science – "Legit?"
Zijamoringa.com refers to "decades of studies" several times when it discusses Moringa. At no point do the providers take the time to explain the nature of these. Fortunately for Zija, we were able to find several articles that point to the health benefits of Moringa. However, we are unable to determine how much of the herb is actually present in this formula. As far as the other ingredients are concerned, we were surprised to find that not all of them had to do with weight-loss.
The Bottom Line – Does Zija XM3 Work?
Are we raving about this one? Zija XM3 seemed like a promising product given its attention to new research and incorporation of Moringa, a genuinely interesting herb. After looking over all the information, however, the lack of clinical data, wide general statements on the website, and high cost leave us with reservations about recommending it.
If you want to lose weight, we recommend finding a product that won't break the bank. Look for one with clinically tested ingredients.
Among the best supplements we've seen in 2016 is called Leptigen. It blends four ingredients in a proprietary mix that's been shown to possible boost metabolism and burn fat. People all over the internet are seeing great results.
There's even a Special Trial Offer for the time being, and that's always a good sign when you are trying out supplements.