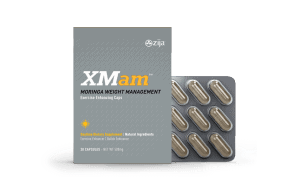 We're hearing a lot of buzz about Zija XM3 Capsules. We decided to put the spotlight on the ingredients, side effects, clinical research and the quality of customer service. Additionally, we analyzed hundreds of user comments and reviews. Then, we condensed and refined to give you the info you need.
What are Zija XM3 Capsules?
First off, Zija XM3 Capsules are an appetite supplement. The ingredients are moringa oleifera, green coffee bean, citrus aurantium, rhodiola rosea, natural caffeine, phenylethylamine and vitamins. The suggested dose is one Zija XM3 capsule per day. The company recommends using prior to exercise and taking before eating. Supposedly, the product also boosts energy levels and burns fat.
Zija XM3 Capsules are a product from Zija International. According to the official website, independent distributors and the online store sell the supplement. We like that it contains a few natural ingredients and that we found some positive customer comments, but read on…
Ineffectiveness – "Losing Weight?"
The first concern was the ineffectiveness of Zija XM3 Capsules ingredients. "This one has a pretty solid profile," said our Research Editor. "But, that doesn't mean that dieters will lose weight."
"I tried 30 days worth. Did not lose one pound," said one user.
"Not worth the money. No weight-loss or any positive changes," said another.
According to Zija XM3 capsule reviews, there's were dieters that did see some changes.
"Lost weight, with no hunger or side effects and developed the energy to exercise," reported a customer.
Scroll below for one of the best products we've seen over the last year.
Zija XM3 Capsules Side Effects – "Positive or Negative?"
A concern, based on customer reviews, is the intensity Zija XM3 Capsules side effects. "This product made me feel rung out all day, yet full of anxiety with a nauseous queazy stomach," commented a customer.
"I felt sick, cranky, sleepy but anxious and antsy at the same time," said another.
We found users that didn't experience negative side effects.
"Took XM3 capsule on an empty stomach and had a glass of the SmartMix. I felt terrible until about 7pm when I drank the tea," reported a dieter.
"However, it did suppress my appetite, without side effects," stated a customer.
Over the course of reviewing hundreds of products, we've realized that even a couple of slight drawbacks can hamper the long-term success of a product. There's a problem if Zija XM3 Capsules cause negative side effects.
The Science – "Legit?"
There's research pointing to the health benefits of moringa. However, none of the science relates to Zija XM3 Capsules. Also, we dug a bit deeper into the formula. Furthermore, it contains multiple stimulants which could lead to adverse reactions. At DietSpotlight, science-based facts are critical. When clinical evidence isn't there, we raise the red flag.
The Bottom Line – Do Zija XM3 CapsulesWork?
Are we raving about Zija XM3 Capsules? Well, we like that it contains some natural ingredients and that we found some positive customer comments, but there's no solid science to support the weight-loss claims. Furthermore, we're concerned about customer reviews talking about negative side effects and a lack of results.
If you want to lose weight, we suggest going with a product that contains ingredients shown to work, not connected to harmful side effects and backed by positive customer comments.
Among the best products we've seen in 2016 is called Leptigen. It blends four clinically-tested ingredients and has been shown to help boost metabolism and accelerate fat loss. While there's no chatter about harmful side effects, we're hearing the talk about people seeing great results.
Also, the company behind Leptigen is so confident in their supplement, they're offering customers a Special Trial Offer.