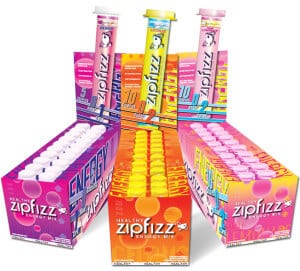 I'm here to cut through the noise and get you to the bottom line on Zipfizz. We've noticed a great deal of buzz concerning this energy drink mix, so we created an in-depth review, scrutinizing the side effects, ingredients, clinical studies and quality of customer service. Furthermore, we took a looked at dozens of comments and dieter responses found on the web. Lastly, we summarized and condensed to give you the info you need.
EDITOR'S TIP:
Click here
to combine Zipfizz with a proven testosterone booster such as Pronabolin for better results.
What You Need To Know
To start off with, Zipfizz ingredients are green tea leaf extract, green coffee bean extract, grape seed extract, grape skin extract, caffeine, guarana seed extract, taurine, alpha-lipoic acid and vitamins. Add the powder to 16-20 ounces of water, shake and then drink. Supposedly it increases energy levels, provides antioxidant protection and promotes overall health. It's convenient that it can be stored in a purse or pocket
Zipfizz was released back in 2003. You can purchase it on the official website and through trusted retailers. The available flavors are grape, orange soda, pink lemonade, citrus and berry. We like the low price and that we found some positive customer comments, but read on…
Unpleasant Taste – Yucky?"
The first concerns with Zipfizz ingredients were the numerous reports of users having difficulty downing this one. According to our Research Editor, "There are plenty of customer complaints regarding the taste of Zipfizz energy drinks. This is a serious concern because if you can't drink the product, what good is it?"
One customer commented, "Terrible taste. Very disappointing."
According to another user, "Not to sure about the other flavors but grape is terrible!"
Yet another complained, "Tastes like cough medicine."
Scroll below for one of the best products we've seen over the last year.
Artificial Sweeteners – "Watch Out!"
Even though Zipfizz does not contain any sugar, it clearly contains sucralose, which is an artificial sweetener that many people are complaining about. One customer stated, "More artificial sweeteners. Tastes like cough syrup. Yuck."
Another user offered, "The sugar used is mostly Splenda, which no one should be eating as it is now on the "caution" list of substances that is known to cause cancer in animal testing. This is my biggest disappointment in the product quality."
According to the research we've conducted, if there's one part of an energy drink that's problematic, like the ingredient profile, the chances of success for the long run is low. So, if the artificial sweeteners in Zipfizz are concerning, this could be a serious issue.
The Science – "Valid?"
After taking a close look at the company website, we concluded that there is no real science supporting the claims that Zipfizz boosts energy levels. Since it contains caffeine, there's a chance your metabolism will increase, but there's no link to weight-loss. Here at DietSpotlight, we look for published clinical studies that support the supplement in question. If there's no research, we become skeptical about it.
The Bottom Line – Does Zipfizz Work?
So, am I giving Zipfizz the green light? Well, we like the low price and the longevity of the company, but the lack of research backing the claims leaves us concerned. We're also hesitant about this one because of customer complaints about the taste and artificial sweeteners.
For those who want to trim down and lose those extra pounds, we suggest going with a supplement supported by clinical studies, doesn't contain artificial sweeteners and is backed by positive customer reviews.
Among the best products we've seen in 2016 is one called Leptigen. This supplement contains four clinically-tested ingredients that have been shown to help ignite metabolism and enhance fat loss. We haven't seen any talk of harmful side effects and user feedback shows people are seeing excellent results.
We find it a great sign of confidence in their supplement, that the makers of Leptigen are offering a Special Trial Offer.