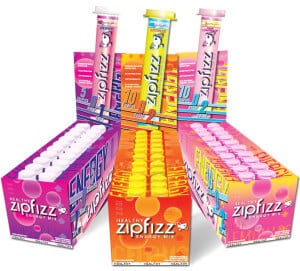 I'm here to cut through the noise and get you to the bottom line on Zipfizz. We've noticed a great deal of buzz concerning this energy drink mix, so we created an in-depth review, scrutinizing the side effects, ingredients, clinical studies and quality of customer service. Furthermore, we took a looked at dozens of comments and dieter responses found on the web. Lastly, we summarized and condensed to give you the info you need.
EDITOR'S TIP:
Combine Zipfizz with a proven fat burner such as
Leptigen
for better results.
What You Need To Know
To start off with, Zipfizz is basically a tube of powder that is added to 16-20 ounces of water. You simply shake it well and then drink. The important ingredients used in Zipfizz are guarana seed extract, taurine, sucralose, B vitamins, green coffee bean, American ginseng root, green tea leaf, ginger root, vitamins and minerals. Each serving provides 100 milligrams of caffeine. The purpose of this beverage is to heighten energy levels, provide antioxidant protection and give you what you need to promote overall health. Unlike some others, Zipfizz is not supposed to cause a crash. Some of the available flavors are grape, orange soda, pink lemonade, citrus and berry.
Zipfizz was released back in 2007 and can be purchased online for $37.99 (20 tubes). Each serving of Zipfizz only contains 10 calories. Also, it's convenient that this powder can be stored in a purse or pocket and then added to a bottle of water, but read on…
Unpleasant Taste – Yucky?"
The first concerns with Zipfizz ingredients were the numerous reports of users having difficulty downing this one. According to our Research Editor, "There are plenty of customer complaints regarding the taste of Zipfizz energy drinks. This is a serious concern because if you can't drink the product, what good is it?"
One customer commented, "Terrible taste. Very disappointing."
According to another user, "Not to sure about the other flavors but grape is terrible!"
Yet another complained, "Tastes like cough medicine."
Scroll below for one of the best products we've seen over the last year.
Artificial Sweeteners – "Watch Out!"
Even though Zipfizz does not contain any sugar, it clearly contains sucralose, which is an artificial sweetener that many people are complaining about. One customer stated, "More artificial sweeteners. Tastes like cough syrup. Yuck."
Another user offered, "The sugar used is mostly Splenda, which no one should be eating as it is now on the "caution" list of substances that is known to cause cancer in animal testing. This is my biggest disappointment in the product quality."
According to the research we've conducted, if there is one facet of a diet product or energy drink that is especially problematic (terrible taste, too many side effects, a lot of customer complaints) the chances of success for the long run is low. In other words, if the artificial sweeteners in Zipfizz do bother a lot of people, this could be a serious issue.
The Science – "Valid?"
After taking a close look at the company website, we concluded that there is no real science presented to back Zipfizz for high energy levels. Since this product does contain caffeine, it will likely provide a slight energy boost. However, you should not expect Zipfizz to assist with weight reduction. Here at DietSpotlight, we really prefer to see published clinical studies that support the supplement or beverage and the ingredients it contains.
The Bottom Line – Does Zipfizz Work?
So, am I giving this one the green light? It's clear that people enjoy energy drinks, but we have reservations about Zipfizz. There are just too many customer complaints about the taste and artificial sweeteners. You should also note that some people have said this energy drink makes them jittery. Lastly, Zipfizz is pretty pricey when you consider you only get 20 servings.
For those who need to trim down and cut more fat, we recommend you choose an energy drink or diet supplement that is supported by real clinical results, does not contain artificial sweeteners and is backed by positive customer reviews.
Among the best products we've seen in 2016 is one called Leptigen. This supplement contains four unique ingredients that have been proven in documented clinical research to help ignite metabolism and enhance fat loss. We have not seen any talk of unpleasant side effects and user feedback posted on the internet shows people are seeing significant results.
We find it a good sign that the makers of Leptigen show great confidence in the formula by offering a Special Trial Offer.