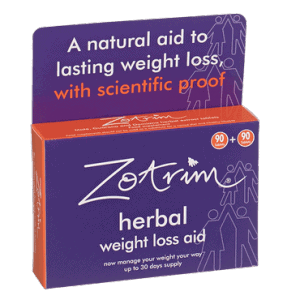 Diet products either work or they don't. Period. Let's find out which one Zotrim is. We spent our time putting the spotlight on ingredients, side effects, scientific research and customer service quality. Additionally, we examined hundreds of customer comments. Then, we summarized and condensed to give you the info you need.
EDITOR'S TIP:
Substitute Zotrim with a proven fat burner such as
Leptigen
for better results.
What is Zotrim?
First off, Zotrim is an herbal supplement containing yerba mate, guarana, damiana, caffeine, vitamin B3 and vitamin B6. After taking two or three capsules per day with a full glass of water, the product supposedly helps to boost energy levels and suppress appetite. The blister pack makes it easy to take anywhere.
Zotrim was first introduced to the market in 1999 by Natures Remedies and contains some natural ingredients. You can shop for the supplement on the official website and through trusted retailers. We like the longevity of the company and that we located some favorable customer comments, but read on…
Side Effects – "Another Concern?"
The first concern was the occurrence of Zotrim side effects. "Supplements containing natural ingredients are thought to improve overall health and wellness," said our Research Editor. "But if the formula causes adverse reactions, this could become troublesome."
"I have even developed an aching back which started after about a week of taking these tablets," said a customer.
"It feels like they make me a bit "windy" and a bit bloated," commented another.
While some users reported negative side effects, others painted a different picture. "I found this product really easy to use. I had no side effects," said a dieter.
Scroll below for one of the best products we've seen over the last year.
Ineffectiveness – "Any Weight-Loss?"
The consensus among customers talking in forums is that Zotrim ingredients weren't effective. "I have only been taking these for two weeks now, but I feel no benefit whatsoever. I don't feel fuller for longer/sooner," stated a customer.
"I found however that they had no effect on me what so ever. I did not notice any lack of wanting to eat, or to be full of energy," commented a consumer.
"Tried them for a couple of weeks and I can't say they made a noticeable difference. I still felt the urge to eat more than I probably should," said another.
Other customers were surprised by the results they noticed while taking Zotrim. "The pills themselves don't make you lose weight, they just make you feel full and so eat less which is the primary cause of weight loss," reported a user.
"I have so far lost a few pounds and hopefully will continue to do so to meet my target weight. It is helping me control my weight loss," said another.
We researched thousands of supplements and have concluded that all it takes is something considered concerning about a product, like it not working, to put a halt to long-term success. If Zotrim doesn't help you lose weight, is it worth your money?
The Science – "Solid?"
When we visited the official website, we found there are studies showing customers taking Zotrim lost some weight. After digging a bit deeper, the study stated that after 10 weeks, the participants hadn't lost any more weight and their hunger increased. At DietSpotlight, we like research showing a supplement works on a long-term basis. If a company doesn't provide those details, we become a bit concerned.
The Bottom Line – Does Zotrim Work?
So, are you ready to buy a box of Zotrim? Well, we like that it contains a few natural ingredients and that we found some favorable customer comments, but we have concerns about this one because the research doesn't show dieters losing weight and keeping it off on a long-term basis. We're also skeptical due to customers talking about negative side effects and ineffective ingredients.
If you're ready to lose those extra pounds, we suggest going with a supplement containing some clinically-tested ingredients, shown to work and no mention of adverse reactions.
Among the best products we've researched in 2016 is one called Leptigen. The formula contains some clinically-tested ingredients, which jump starts weight-loss by accelerating metabolism and igniting fat loss. People are seeing excellent results and no one is talking about negative side effects.
Also, the makers of Leptigen are offering a Special Trial Offer. No this is an exceptional sign of confidence in a supplement.