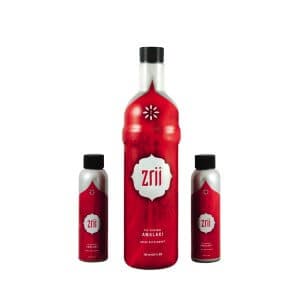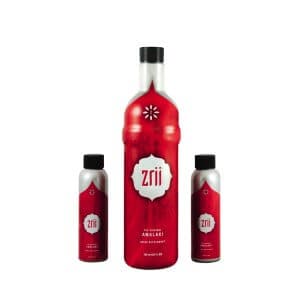 Zrii is a nutritional juice with some good ingredients, and a lot of people are boasting incredible results, so we decided to take a look for ourselves. In this review, we looked at the ingredients, side effects, pricing, customer service, and research behind this product. We also read dozens of customer reviews and comments from verified users and compiled what we found into a condensed review that gives you the info you need about Zrii.
EDITOR'S TIP:
Combine Zrii with a proven fat burner such as
Leptigen
for better results.
What You Need to Know
Zrii has a few key ingredients, including turmec, jujube, amalaki, ginger, haritaki, and more. These are supposedly superfoods that date back over 5,000 years and are meant for cellular rejuvenation, improved digestion, improved circulation, and calmed nerves. The juice is also designed to help improve the overall health of several internal organs. The drink is easy to take and can be taken anywhere, so it is convenient for those with busy or active lifestyles.
Zrii was designed by Bill Farley in Rhode Island in the early 2000s. The product has been around for several years, which is a good sign, and the grape flavor seems to be appealing to some, but read on…
Price–"Just Ridiculous"
Once we started researching Zrii, it immediately became apparent that Zrii was part of a multilevel marketing scheme. The drinks are only available from distributors in the Zrii network, which adds to the cost, and they can be difficult to find and order. In addition to that, the bottles cost over $50 for just 25 ounces. "Many people tout the effectiveness of these drinks and have seen results by drinking 1 ounce, 3 times per day," said our research editor. "But at that rate, these drinks will cost you over $180 per month."
"My first bottle was given to me by a friend that distributes Zrii. I saw some results, but the bottle was gone within a week. Then I went to order one and found out the price, it's just ridiculous how much they charge for juice," said one user.
"The bottle only lasts about a week, so be ready to spend close to $200 a month for this," said another.
Scroll below for one of the best products we've seen over the last year.
Lack of Results–Another Concern
Because Zrii wasn't designed specifically for weight loss, many people have seen little to no results with this formula. The ingredients do have some health benefits that have been proven in scientific studies, but weight loss is not one of them. "I did feel better after taking Zrii, but the weight loss claims are simply untrue; I didn't lose a single pound," said one customer.
"This tastes ok, but I haven't lost any weight; these are a waste of money," said another. Many customers did have some good things to say, but there were very few reviews that mentioned weight loss as one of the benefits: "I felt better overall, but I'm still overweight and I'm not losing weight with Zrii," said another Zrii customer.
Our research into weight loss products has shown that when there is something particularly troublesome or difficult about a weight loss program (negative side effects, lack of results, painful exercise routine, etc.), the likelihood of sustained results is slim. If Zrii really doesn't have any weight loss benefits, it could make it difficult to achieve your health and fitness goals with their juices.
The Science–Solid?
Zrii boasts a product "5000 years in the making," and there is some science behind the ingredients and their benefit to overall health. Zrii does seem to have some benefit to heart health, digestion, and more, but there is no research supporting it as a weight loss supplement. Unfortunately, this product was not designed to help people lose weight, so it's just an overpriced fruit drink that has minimal weight loss benefits. Without science proving that it will help our readers lose weight, we find it difficult to recommend this product. Combined with the sketchy nature of MLM businesses, the lack of availability of this product, and the high price, we see plenty of red flags with Zrii.
The Bottom Line–Does Zrii Work?
We do like that Zrii has been around for several years, that there does seem to be some support that Zrii is good for overall health, and that it has an appealing taste. Unfortunately, without the science proving that it will help with weight loss, we can't add this product to our list of recommended weight loss supplements. We're also concerned about the extremely high price, the fact that it's only available from Zrii distributors, and some of the poor reviews that we read online.
If you're looking for a product that is available directly from the manufacturer and that offers affordable weight loss results, we suggest you go with a diet supplement that provides proven ingredients and documented weight loss.
Among our favorite weight loss products that we've seen in 2015 is a diet pill called Leptigen. This product is available direct from the manufacturer, so there's no need to fumble through multiple levels of an MLM company, and it has ingredients that are proven to aid with weight loss. Leptigen has been featured in published research and clinical trials and has outperformed a placebo when it comes to helping dieters burn fat and increase their metabolism. Users online seem to agree that Leptigen offers great results, and we can't find any mention of harmful side effects that stem from using Leptigen.
Right now, the makers of Leptigen are showing how confident they are that you'll love their product and see great results by offering a special trial offer.