Updated: 01/15/2018
- Site operated by Burn HD
If you want to lose weight you want a safe supplement that works – period. When we read customer comments on side effects and lack of results, we need to investigate the ingredients and see what the potential issue is. We then set out to research the science behind the formula. If there's evidence that it works, we could be on to something. Finally, we put our information together to write you up the truth about Adipex-P.
ADIPEX-P Readers:
Click here
to find out why we're giving away samples of our product, Burn HD.
What is Adipex-P?
To start, Adipex-P is an FDA approved appetite suppressant. Most diet pills will claim that their product will make you thin and beautiful with minimal effort. That's why so many companies have tried to come up with drug combinations that allow weight loss with very little effort from the dieter.
Ingredients include:
Phentermine Hydrochloride
Adipex-P is the brand name of phentermine, and is a stimulant appetite suppressant drug available by prescription to help patients manage their weight. Phentermine is a sympathetic amine, which means it is a stimulant very similar to an amphetamine. [1] [2]
How Did Adipex P Start?
Phentermine may sound familiar… it was part of the infamous Fen-Phen diet drug that was in the news in the 1990s. Introduced in 1959, phentermine received approval from the FDA in the U.S. as an appetite suppressant. Phentermine was marketed with fenfluramine or dexfenfluramine as a combination appetite suppressant and fat burning agent, and the combo drug Fen-Phen was very popular.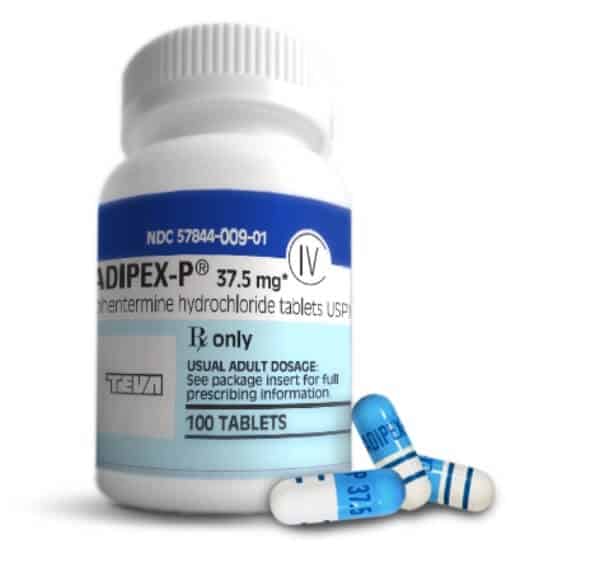 In 1997, Fen-Phen was pulled from the market after it was discovered that some users were developing heart valve disease. Studies after the drug was pulled discovered that nearly 30% of people taking the diet drug had abnormal heart valves. While phentermine is still available on its own in most countries, including the US, it is classified as a controlled substance in many countries due to its similarity to amphetamines.
A company called Vivus applied for FDA approval with a combination drug of phentermine and topimarate, called Qsymia, which was rejected over safety concerns. In 2012, the combination drug was accepted by the FDA after more safety data was provided. [3]
Scroll below for one of the best products we've seen over the last year.
Adipex-P Claims
Adipex-P claims to create "fast weight loss" by curbing your appetite and ramping up your metabolism. As our researchers pointed out to us, there are several unhappy customer comments out there on ineffectiveness – so we need to dive into the science to see what the experts are saying.
Adipex-P Ingredients – A Closer Look
Let's take a quick look at the main ingredient in this supplement and any science that might back it up. Since there aren't many active ingredients in this one, we'll just look at the star player – Phentermine Hydrochloride.
Phentermine Hydrochloride
Scientifically speaking, Phentermine Hydrochloride "modulates central norepinephrine and dopamine receptors through promotion of catecholamine release."
But to put it simply, this ingredient is said to promote weight loss through stimulation and appetite suppression. However, most experts urge the use of exercise and a calorie-reduced diet when taking it.

Yonsei Medical Journal published a study on obese Korean adults, concluding that, "Short-term phentermine administration induced significant weight reduction and reduction of waist circumference without clinically problematic adverse events on relatively healthy Korean obese people."
While this study highlights the effectiveness in the short-term, it points out that there were adverse side effects and long-term safety is not known. [4] [5] [6]
Does Adipex-P Work?
According to several studies, yes it does – but there are limits to the findings. Many subjects were able to positively affect their waist circumference and lose significant amounts of weight, but studies are showing the potential for unwanted side effects, and we're going to go over them in a little bit. [6] [7]
Details on Adipex-P and Weight Loss
Adipex-P is commonly prescribed to overweight and obese patients to help them lose stubborn fat. It is advertised by weight-loss clinics in the United States. The drug works best during the first two weeks of use, but nobody really knows how or why it works the way it does.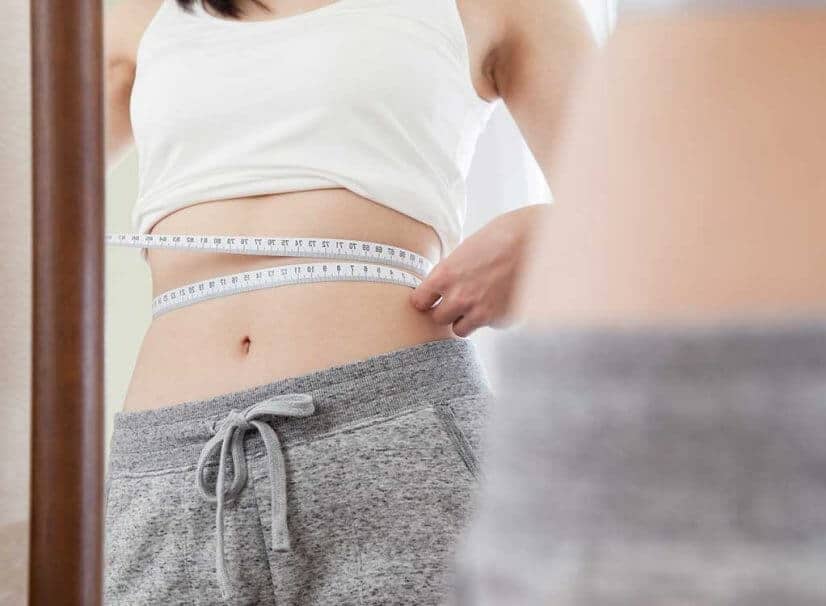 There was a study by the Journal of Hypertension, pointing out weight loss benefits of patients given phentermine and topiramate, writing "cardiovascular data associated with long-term use of phentermine and topiramate extended-release indicate that this combination may be a safe and effective option for reducing weight in overweight/obese patients at low-to-intermediate cardiovascular risk." This published study also pointed out that larger, multinational trials are underway to provide more information. [1] [8]
How to Use (Take) Adipex-P
In the United States, Adipex-P is a Schedule IV drug, which means it is available by prescription only. Adipex-P capsules contain 37.5 mg of phentermine, and dosage should be specified by the prescribing doctor, based on the individual needs of the patient.
The ideal scenario is one in which the patient uses the lowest effective dose to create an adequate response,  The FDA limits use of phentermine to a maximum duration of 3 months. Don't take phentermine in the evening, as it can interfere with your sleep and cause insomnia. Phentermine can be taken with or without food. [9] [10]
Potential Adipex-P Side Effects
While phentermine is well- tolerated by some people, it can cause unwanted side effects. Some of the more common side effects include:
Dry mouth
Unpleasant taste in the mouth
Constipation
Diarrhea
Headaches
Mood changes
According to WebMD and other health experts, other side effects include dizziness and fatigue, nausea and/or vomiting.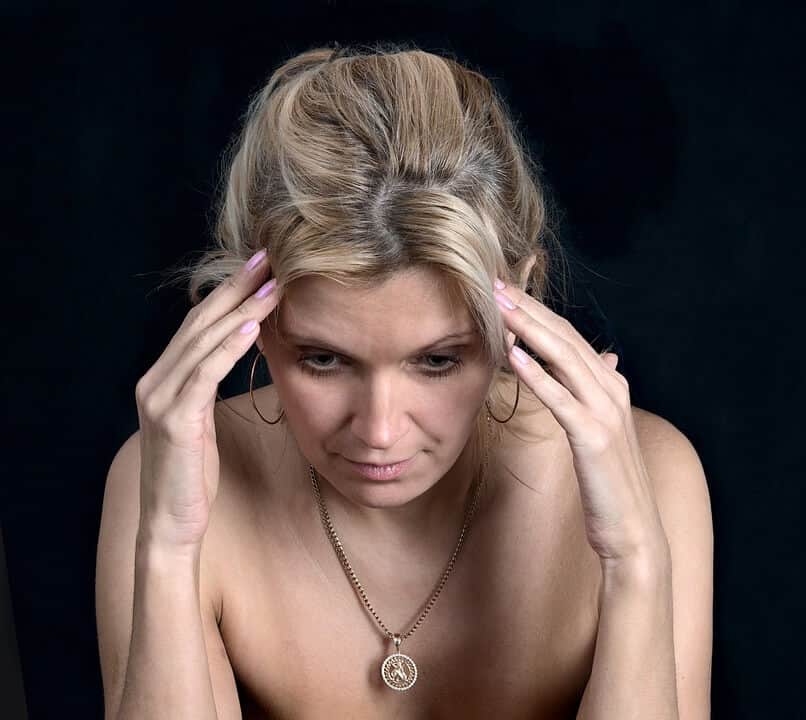 Phentermine also has some pretty serious side effects, which require medical intervention. You should contact your doctor immediately if you are taking Adipex-P and experience:
An increase in blood pressure
Heart palpitations
Shortness of breath
Tremors
Insomnia
Swelling of the extremities
Trouble doing everyday tasks
Also, because concerns exist that the drug may be habit-forming, it's recommended that you take it for a set period, three to six weeks, or as determined by a doctor. [11] [12] [2]
Long-Term Side Effects of Adipex-P?
Long term use of Adipex-P rarely, but may, cause heart or lung issues. These severe risks are often seen when Adipex-P use is combined with other appetite suppressant drugs.
It's clear to us that users should consult a physician before taking the supplement. For safety purposes, individuals with cardiovascular disease, hyperthyroidism, or glaucoma should not use phentermine. This is because it could increase the existing risks and side effects or it could decrease the effectiveness of competing drugs like clonidine, methyldopa, and guanethidine.
Allergic Reactions
An allergic reaction is the rarest risk when taking this supplement. Signs of an allergic reaction include, but are not limited to:
Itching and swelling
Trouble breathing
Rash
The drug should not be taken by individuals who have a known allergy to sympathomimetic amine drugs. [2] [3]
Adipex-P Product Warnings
For any prescription drug, of course, there will be certain product warnings. For Adipex-P the warnings are:
Older adults should not usually take phentermine because it is not as safe as other medications that can be used to treat the same condition.
Phentermine may make you drowsy.
Alcohol can make the side effects of phentermine worse.
If you have diabetes, you may need to decrease your dose of insulin while taking phentermine.
Do not use phentermine if you have a history of drug abuse, are allergic to sympathomimetic amine drugs, are taking an MAOI inhibitor or have taken one within the last 14 days, or have cardiovascular disease, hyperthyroidism, or glaucoma.
Do not take phentermine if you are pregnant or planning to become pregnant, or are breastfeeding.
Because of its effect on blood sugar and blood pressure, phentermine shouldn't be taken by people with diabetes or kidney disease.
Any Adipex-P Lawsuits?
Phentermine came under fire in the 1990s because of its association with the fen-phen diet pill. In the first verdict among thousands of cases across the United States against makers of the diet pills known as fen-phen, an East Texas jury awarded more than $23 million to a woman who said she suffered heart damage after taking the drugs to lose weight. [14] [15]
Adipex P Alternatives
Lorcaserin
Lorcaserin (Belviq) was approved June 28, 2012 for obesity with other co-morbidities. The average weight loss by study participants was modest, but the most common side effects of the medication are considered benign. It reduces appetite by activating a type of serotonin receptor known as the 5-HT2C receptor in a region of the brain called the hypothalamus, which is known to control appetite.
Sibutramine
Sibutramine (Reductil or Meridia) is an anorectic (appetite suppressant), reducing the desire to eat. This product may increase blood pressure and may cause:
Dry mouth
Constipation
Headache
Insomnia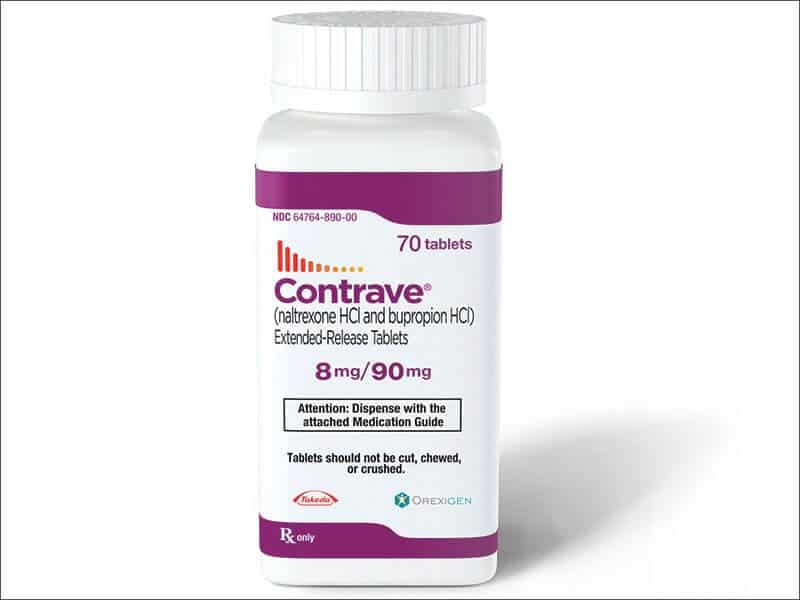 Bupropion
Bupropion/naltrexone is a combination drug used for weight loss in those that are either obese or overweight with some weight-related illnesses. It combines low doses of bupropion and naltrexone.
Both drugs have individually shown some evidence of effectiveness in weight loss, and the combination has been shown to have some synergistic effects on weight. In September 2014, a sustained release formulation of the drug was approved for marketing in the United States under the brand name Contrave. [16]
Adipex-P's Popularity
Phentermine — approved in 1959 and now made by several manufacturers — commands 80 percent of the market for diet drugs, according to IMS Health, which tracks prescription drug use.
What Does Adipex-P Feel Like?
It's natural to want to know how a specific drug will make you feel. Taking Adipex-P can make you anxious, with a racing heart or palpitations. It can also make you feel dizzy or lightheaded.
Dry mouth occurs because when the body is not hungry, it feeds off fluids instead. Saliva production, or the lack thereof, is the most noticeable result of fluid depletion. [17]
Adipex-P Reviews
Public websites like WebMD provide platforms for patients to write real reviews on their experience using Adipex-P. According to the overall user ratings averaged by the website, patients that categorized themselves as "overweight" rated Adipex-P to be 4.31 out of 5 stars in effectiveness, 4.64 out of 5 stars for ease of use, and 4.24 out of 5 stars for satisfaction.
Some reviewers claimed that Adipex-P is most effective when taken at the beginning of their weight-loss journey, as it jump-starts the process. Reviewers that rated the drug with the highest satisfaction confirmed that the supplement both suppressed their appetites and controlled the amount of food consumed.
In terms of the risks and side effects known to be caused by the drug, reviewers similarly reported that the most common side effect was dry mouth and constant thirst. These symptoms were collectively decreased by increased water consumption.
Other customers had issues with more severe side effects, as we expected. Since everyone is different, there will be those who encounter unwanted effects, and to us – they just don't seem worth it. [18]
Adipex-P Clinical Studies
There have been numerous clinical studies done on the effectiveness of, potency, negative side effects and unwanted interactions with phentermine since the beginning of its popularity in the early 1990s.
One popular study that has been repeated to varying degrees over the last three decades is the comparison of phentermine to the placebo effect. For example, in one study conducted in Korea in 2004, a randomized, double blind experiment was set up using a placebo-control group and a phentermine receiving group. In this study, the group that received the standard dose of phentermine had significantly greater decreases in both body weight and waist circumference, averaged over the group.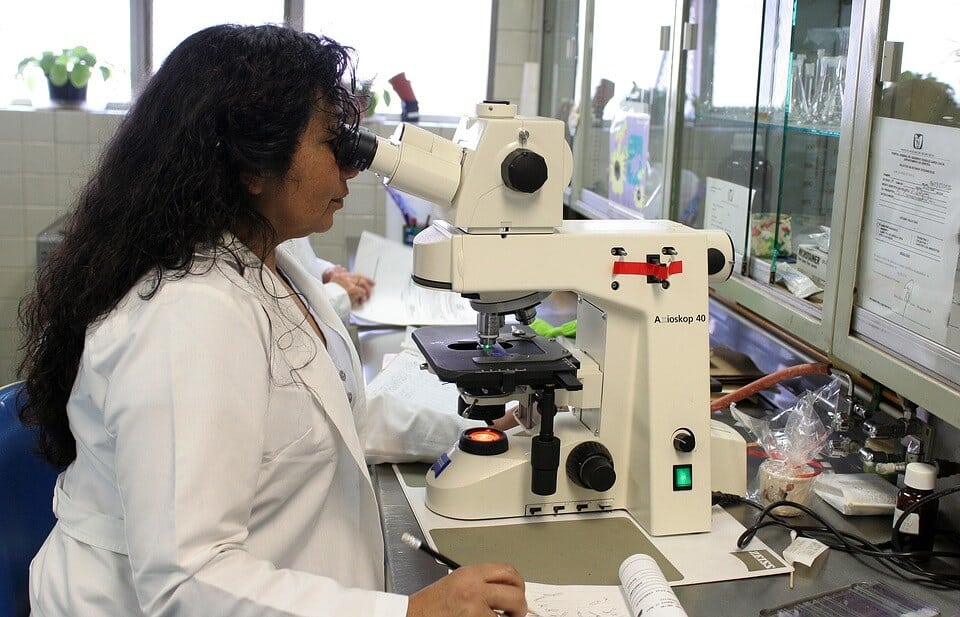 During a similar study performed in the United States in 2014 comparing the effects of phentermine against the effects of a lorcaserin and orlistat (two competing drugs on the market), it was found that the blind-group taking phentermine out-performed the other two groups taking lorcaserin and orlistat. The study was originally conducted to see if any of the three medications reduces cardiovascular morbidity or mortality, which they did not.
However the researchers in this study did conclude that 67-70% of the patients receiving phentermine showed signs of weight loss, compared to the 37-47% for lorcaserin and the 35-27% for orlistat.
All-in-all, it's no shock that this supplement has underwent numerous studies – they just aren't solid enough for us to outweigh the potential for negative side effects. [19]
Is Adipex-P FDA Approved?
Phentermine first received approval from the Food and Drug Administration (FDA) as an appetite suppressing drug in 1959. Today, alone and not combined with another drug, phentermine is available in many countries including the United States.
Because phentermine is like amphetamine (a schedule II controlled substance), the drug is classified as a schedule IV controlled substance under the Controlled Substances Act. The FDA mandates that Adipex-P is to only be used as a short-term adjunct in a weight-loss regimen, so the drug is only prescribed for three months at a time.
Additionally, the drug is only prescribed to patients with an initial body mass index (BMI) greater than or equal to 30 kg/m-2 or greater than or equal to 27 kg/m-2 when in the presence of other risk factors such as diabetes or controlled hypertension. Dosage is individualized per patient, but is typically prescribed as one 37.5 mg tablet a day for a grown adult.
Seems like a lot of limitations and rules for someone who just wants to lose some extra weight and feel good about themselves… [3]
What Users Are Saying
""I was at 525lb at age 16. It's now 2017 and I now weigh 225lb and physically feel better about myself. No major effects when prescription ends either.""
""I had a boost of energy for about 5 hours along with constantly sweating, dizzy, no appetite I had to force myself to eat and my heart racing and blurry vision here and there.""
""I have completed 2 months of this pill daily and nothing.""
The Bottom Line on Adipex-P
So is this the magic drug that will help you reach your weight-loss goals quicker than ever before? Honestly, it can be – but when you weigh its potential benefits against the side effects and hassle of getting it, you're not looking at something we can highly recommend.
Adipex-P Cons:
It's prescription only
Too many possible negative side effects
No strong long-term research
If you're ready to lose weight, we suggest turning to a weight-loss supplement that contains clinically tested ingredients known to help support your efforts. And for even better results, use it with diet and exercise.
Among the best products we've seen this year is one called BurnHD. It's made using a proprietary blend of four key ingredients, all of which have been shown in clinical testing to help support a healthy metabolism, making it easier for you to lose weight. Plus, customers are happy with their results.
Right now, you can get in on a Special Trial Offer, which is something you don't see every day.
Learn More About Burn HD »