Align Probiotic Review

- 6 Things You Need to Know
Maintaining healthy gut flora is what Align Probiotic is all about. But, is there a connection to weight loss? Let's find out by taking a detailed look into potential side effects, ingredients, and research supporting the claims. We'll take into account positive and negative experiences from actual users. Then, we'll give you simply the facts.
Align Probiotic can be purchased through their Official Site.
Overview
What is Align Probiotic?
Align Probiotic is a natural supplement designed to support digestive health as well as trigger weight-loss. What are the ingredients in Align Probiotic? The ingredients are B. infantis (Bifidobacterium infantis 35624), microcrystalline cellulose, magnesium stearate, and milk protein. B. infantis is a trademarked probiotic exclusively found in Align. Varieties of the supplement include chewables and resistance formula.
Align is distributed by Procter & Gamble, a company founded in 1837 and headquartered in Cincinnati, Ohio. There is no question; this multi-billion dollar company knows that it's doing at this point. Their products can be purchased online or at several major retailers such as Walmart, CVS, and Costco.
Align Probiotics offers some different variants of their product, some of which include:
Align Probiotic Supplement
Align Extra Strength Probiotic Supplement
Align Resistance Formula Probiotic Supplement
Align Whole Food Multi-Strain Probiotic Supplement
Align Daily Immune Support Probiotic Supplement
Align DualBiotic Prebiotic + Probiotic Supplement
Align Women's Health Prebiotic +Probiotic Supplement
We like the fact that there's a popular company behind the product and the claims of this supplement seem pretty legitimate, but let's keep on…
Do Align Probiotics work?
Digestive Diseases and Sciences — "Patients undergoing LBT [lactulose breath test] should discontinue probiotics prior to the test as these supplements may alter the test results."
Clinical Gastroenterology and Hepatology — " Probiotic strain selection should focus on quality tested products with clinically demonstrated benefit for the given [condition]. Patients and physicians should expect modest effects and consider using probiotics as a supplement to, rather than a replacement for, conventional therapy."
Journal of Clinical Gastroenterology — "Most gastrointestinal…specialists recognize a role for and have used probiotics as part of their therapeutic armamentarium; however, the effective implementation of this practice will benefit from additional supporting studies and the eventual development of clinical practice guidelines supported by the major gastroenterology societies."
Do Align Probiotic Ingredients Produce Results?
Do Align Probiotic Ingredients Produce Results – "Some Say Yes"
The first problem we found when researching Align Probiotic Amazon was with effectiveness. "This product has a great rating, but there were more complaints regarding efficacy than we were expecting," said our Research Editor.
"It made no difference if I took it or not. Would not reorder," said one user.
"I gave this stuff a serious try. I used it as directed, and I used it for several months. It didn't seem to help me at all," wrote another.
On the other hand, as our Research Editor pointed out, there were many positive reviews. Additionally, the National Center for Complementary and Integrative Health says probiotics can have many beneficial effects, like improving immune response and gastrointestinal issues.
Scroll below for one of the best products we've seen over the last year.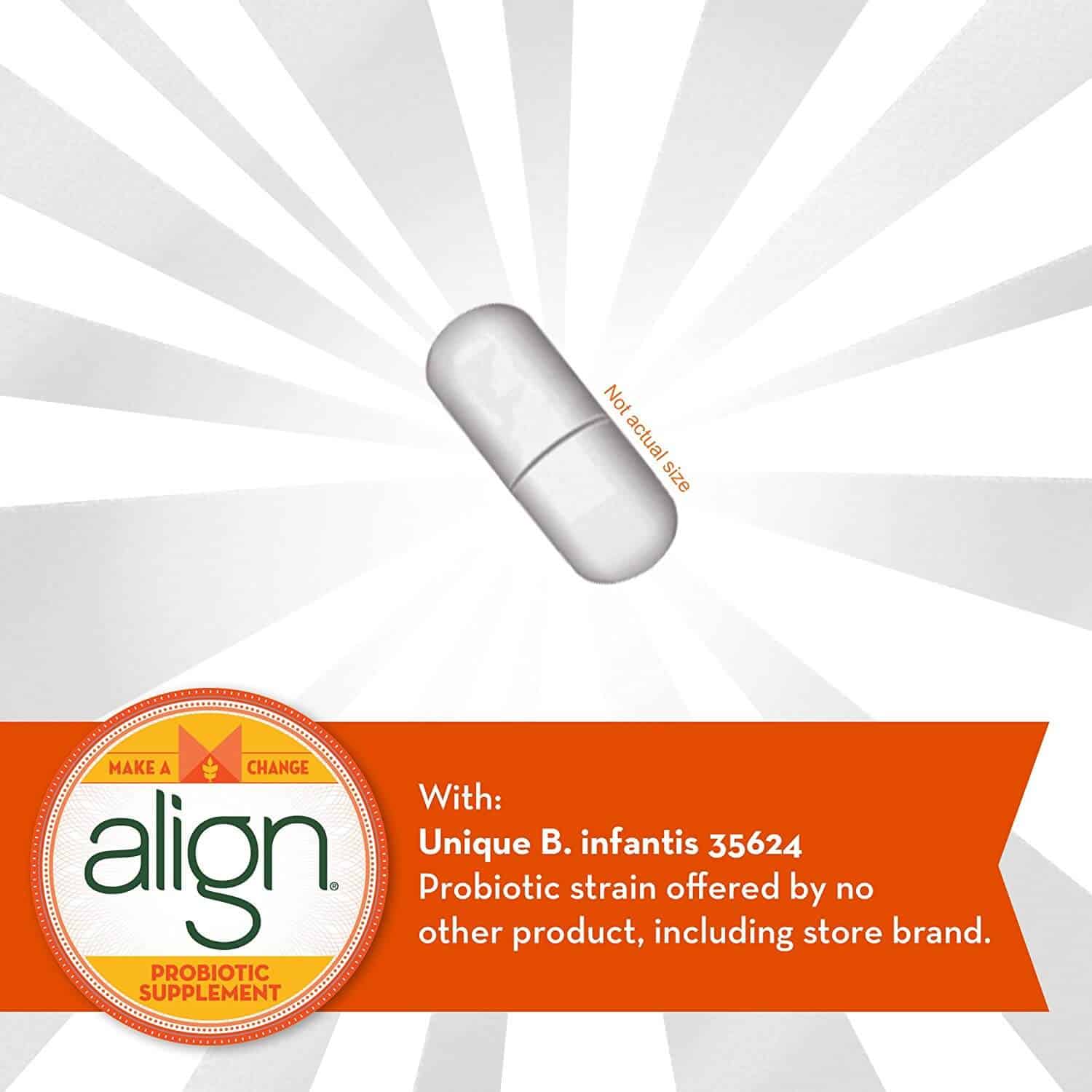 Quality
Quality – "Is There an Alternative?"
Based on a few reviews, there are concerns with the quality of Align Probiotic ingredients. It seems that customers aren't thrilled with the ingredients or feel as if there is a cheaper, better alternative out there.
"Yakults or any of the imitations are much cheaper and tastier," wrote another.
To others, it was exactly what they wanted – "Yes, it did the trick! The bloating has gone and I feel confident that my intestinal bacteria is in the balance. I plan on re-ordering."
In all of our years in this field, we can safely say that one small issue with a supplement can ruin any chance for measurable, long-term results. In this case, if Align Probiotic is ineffective or there are cheaper and more effective alternatives, it could pose a real threat to your success.
The Science
The Science – "The Research Behind B. infantis"
We'll say right now that there are no scientific studies on this product itself.
Align Probiotic Lawsuits and Settlements
A class-action lawsuit filed in 2011 that claimed deceptive credit card processing was settled in 2018 with checks being sent to the claimants in early 2019. Each person named in the lawsuit could receive a check of up to $49.
What Users Are Saying
What Users Are Saying
"No Complaints, Just Compliments – Align has given me just what the doctor ordered. I feel so much better since adding Align to my daily routine."
"Not as effective as previously – Appears to contain different active strain from original Align."
"Great for my digestive system – Been using this brand for 5 years and I cannot go without them."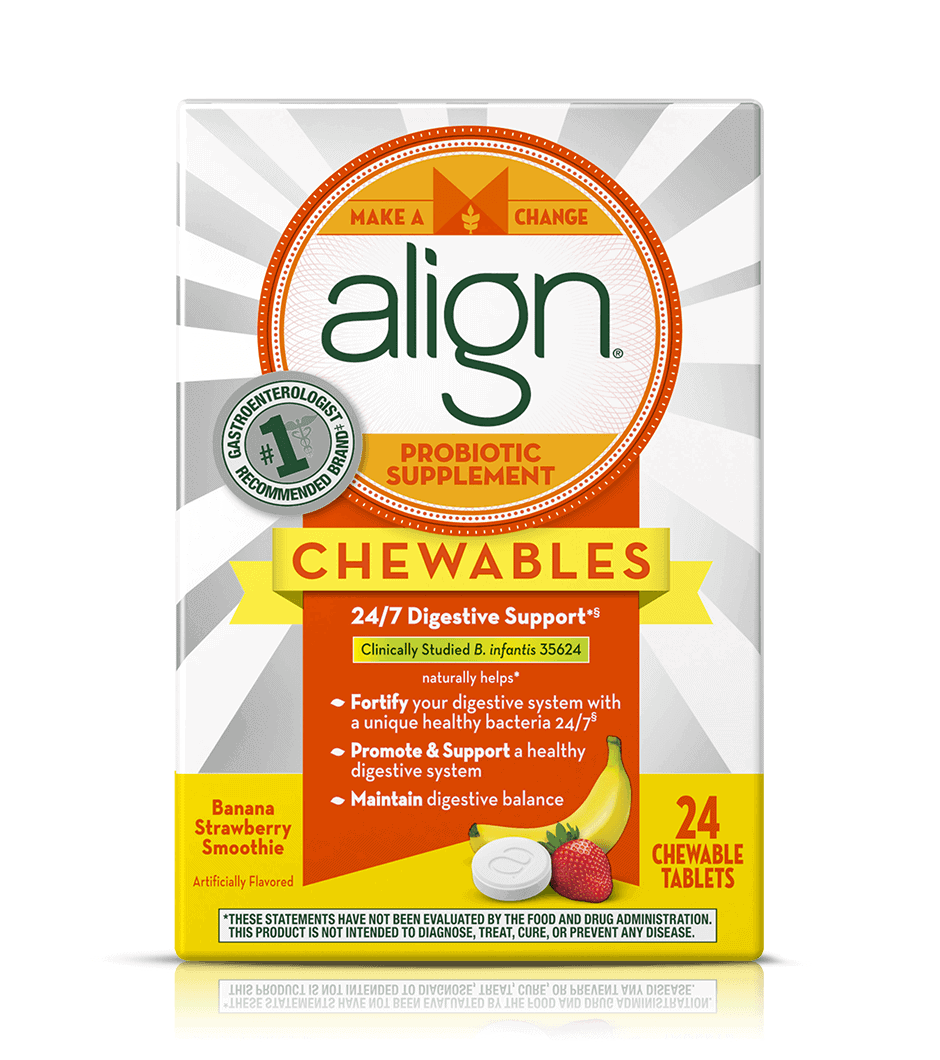 The Bottom Line
Bottom Line – Does Align Probiotics Work?
So will this probiotic help with your digestive health and weight-loss? A lot of consumers out there stand by it, and we do like the scientific evidence that backs the main ingredient. We're just torn on the comments regarding efficacy and quality. If there's a better option out there, remember to look for Align Probiotic coupons or discounts.
Digestive health is an important part of weight loss. But, if you're looking to lose weight, you should turn to a weight-loss program with tons of great reviews.
One of the best we've found this year is called Noom. It's a combination of human interaction through one-on-one support and more traditional tools like food logging and exercise tracking that helps this app stand apart from the competition.
They even have a free trial offer going on to show their confidence in the product.
Learn More About Noom »