Avesil Review

- 11 Things You Need to Know
Don't laugh, but well over 50% of diet products simply don't work. So what about Avesil? We at DietSpotlight conducted a thorough review, investigating the ingredients, side effects, clinical research, and overall customer service. We additionally looked at countless dieter comments and user experiences from all over the web. Finally, we compressed all of the facts and feedback we collected to give you the important information you need.
Avesil can be purchased through their Official Site.
Overview
What is Avesil?
Avesil is a weight loss supplement that was popular in the online market. This diet pill acts as a fat burner.
Using Avesil as a part of your diet enhances your body's natural ability to burn fat and curb appetite, primarily due to its natural ingredients.
This is a process called thermogenesis. It works by increasing the body's temperature, which burns more calories and revs up your metabolism.
Essentially, it attempts to imitate cardiovascular exercise, that way, you can burn calories throughout the day – even while sitting on your couch.
Does Avesil Work?
Nutrients — "mostly inconclusive evidence that the tested bioactive phytochemicals [green tea, coffee bean, capsicum] are effective in suppressing appetite/hunger and/or increasing satiety/fullness."
Lipids in Health and Disease — "The study findings suggest that Meratrim is well-tolerated and is an effective ingredient for weight management in healthy overweight subjects."
Food and Chemical Toxicology — "These results, combined with the tolerability of Meratrim in the human clinical trials, demonstrate the broad spectrum safety of Meratrim."
Avesil Competitors
Company Info
The Company Behind Avesil
Avesil was manufactured by a United States-based company nine years old and is well known in the supplement industry.
The company is not accredited by the BBB, also known as the Better Business Bureau, but it does show positive information on the company.
Scroll below for one of the best products we've seen over the last year.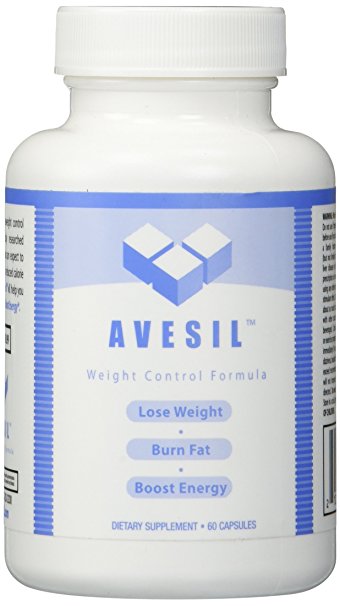 Ingredients
Avesil Ingredients
The old formula for Avesil included chromium, caffeine, decaffeinated green tea extract, and ashwagandha root extract. The current ingredient list includes:
Green Tea Extract
Meratrim
Chromium Chromate
Natural Caffeine USP
Although Avesil does contain caffeine, it has quite a few other ingredients that promote fat burning body temps.
A study published by the Diabetes Technology & Therapeutics shows that chromium reduces your insulin and promotes comparatively superior efficacy in glycemic and lipidemic control.
Caffeine is thought to boost metabolism, while decaffeinated green tea extract is usually consumed for its phytochemicals, antioxidants, according to AJAS. Ashwagandha root extract acts as a stress reliever, as claimed by research published by the African Journal of Traditional, Complementary, and Alternative Medicines.
So, the chromium keeps your insulin under control. The caffeine helps speed up that metabolism to get yourself into a fat-burning state. The green tea extract provides other needed nutrients (as well as some caffeine).
With some pros, the con of the product would be that it does contain soy, so anyone allergic to soy products should be careful when taking this supplement. If you are allergic in any way to any of the ingredients in Avesil, consult with your doctor before starting it.
Side Effects
Does Avesil Have Side Effects?
Avesil has a few side effects, such as sleepiness, jitteriness, and increased or rapid heart rate. These usually occur in individuals that may be sensitive to stimulants.
Some users claimed to suffer from mild gastric disturbance while taking Avesil. These are all trivial complaints, and there is no solid evidence found of any serious side effects.
A constant state of thermogenesis is safe. Users should not be worried about using Avesil for a long period, with physician permission.
Benefits
Avesil Health Benefits
The major benefit of Avesil is that its short ingredient list. Additionally, it contains no fillers, which is a plus.
The chromium in Avesil can stabilize blood sugar levels, and the caffeine can improve motor functions.
With the combination of ingredients and when used in conjunction with a healthy lifestyle, the benefits seem to create a complete weight loss package.
Avesil also offers a free trial to its customers, which is very enticing for anyone hesitant to believe it works.
Where To Buy & Cost
Where To Buy Avesil and What Does It Cost?
The research found the price for a 30 day supply was $89.95, but unfortunately, the main Avesil website is no longer running, and we are not sure why.
On Amazon, the item is "currently unavailable." The same can be said for the Walmart online listing.
Alternatives
What Are Avesil Alternatives?
Avesil vs. Garcinia Cambogia
Any metabolism-boosting product is going to be an alternative for Avesil.
Garcinia cambogia, in particular, has been endorsed by Dr. Oz and has shown to be popular amongst many dieters.
The science behind it claims that it "removes fat-creating bacteria" and provides you with good bacteria to assist your body with sugar control and digestion.
Although this is a different approach than Avesil, it is a weight loss pill and a get-slim-quick product.
Avesil vs. Hydroxycut
Hydroxycut is based on the same idea as Avesil.
It is considered an ingredient that creates a fast metabolism and gives you "fast-acting energy," but like Avesil, it must be used along with a healthy lifestyle.
Hydroxycut only needs to be taken twice a day, which has shown to be popular when it comes to weight loss supplements.
Avesil vs. Herbalife
Lastly, there is Herbalife, which is a lot different than Avesil. While Avesil is solely a pill, Herbalife is an entire weight loss product line.
This can be overwhelming for some people because it is more towards a lifestyle change, overall. They offer protein shakes, snacks, vitamins, energy products, even skin and hair products.
Herbalife is a nutritional transformation type of program, not your average get-slim-quick pill.
Directions
Directions for Taking (Using) Avesil
The directions for this product show to be straightforward. There are 60 capsules in a bottle. Directions state they are meant to be taken twice a day, meaning one bottle contains a month's supply.
With any medications you are adding to your diet, you should always consult your primary physician. Again, anyone with sensitivities towards stimulants should be careful and consult your doctor.
Women pregnant or nursing should not use Avesil, and if considering, you guessed it, consult your doctor.
Weight Loss
Avesil & Weight Loss
We know that Avesil is a weight loss supplement – in pill form – that claims to offer a safe and fast way to cut the pounds down.
With it reducing cravings, curbing your appetite, boosting your energy, and enhancing your natural fat-burning mechanism, we can say it piques interest in customers wanting all those things. As for when it will be back on the internet for sale, that we must wait for.
What Users are Saying
What Users Are Saying
"Two Thumbs Up – I have used this product in the past and have always had success. It is pricey but works for me."
"Waste of money! – This stuff doesnt work!!!!!!"
"One Star – Doesn't work."
Bottom Line
The Bottom Line – Does Avesil Work?
So, should you buy Avesil? Well, first and foremost, we appreciate that Avesil contains clinically tested, completely natural ingredients. On the other hand, it's unfortunate that this weight-loss formula is not readily available in stores. Then again, we like that it is suitable for women and men trying to lose weight, and it's easy to find on major websites such as Amazon. There are even some customer testimonials posted on the official website.
If you'd like to get rid of some serious pounds, we suggest you go with a weight-loss program that is backed by solid clinical testing and is easy to use anywhere.
Among the best products we've seen this year is one called Noom. It's made to help the user find a path to weight loss that's based on healthy lifestyle changes. These changes work to help the user keep the weight off.
The makers of Noom are so satisfied with their product they're offering a free trial offer – which is a good sign.
Learn More About Noom »