BiphedAdrene Review

- 23 Things You Need to Know
Claiming to promote weight loss through appetite suppression, BiphedAdrene isn't your grandmother's diet product. But with ingredients like Mate Leaf Extract that are not clinically proven to help with weight loss, we were immediately skeptical.
Our team of researchers was too. They looked deep into the full ingredient list, any possible side effects, and available scientific research while we looked into hundreds of customer testimonials. We've refined and condensed that information here for you today, to give you the Bottom Line on BiphenAdrene.
Overview
What is BiphedAdrene?
BiphedAdrene is a brand of diet pills aiming to promote weight loss. Generix Laboratories, the manufacturer, claims that it works by suppressing appetite, boosting energy levels and stamina, and improving the overall mood. It comes in two capsules, a purple and yellow one, which users need to take together.
BiphedAdrene promotes fat-burning through thermogenic processes, thus accelerating the body's natural fat-burning. Its reviews suggest that you should only use BiphedAdrene for significant weight loss. Those who are looking to lose five to six pounds should not take this product.
Generix Laboratories claim that BiphedAdrene is a two-part system: an aggressive thermogenic compound to boost stamina and burn fat, and a "complex phenylethylamine provisional" to improve customers' mood and energy while decreasing their appetite.
Products Similar to BiphedAdrene
How Did BiphedAdrene Start?
Generix Laboratories Ip Holdings LLC registered BiphedAdrene in October 2012, according to the United States Patent & Trademark Office. BiphedAdrene's active ingredient is a central nervous system stimulant, a class that includes mainly veterinary and medical preparations and pharmaceuticals.
BiphedAdrene appears to be Generix Laboratories' primary product. We know little about the production of BiphedAdrene except that the company makes it in Salt Lake City, and that they introduced it to the market in 2012.
Over the past decade, there has been a surge in the number of products that promise cheaper, quicker, and less painful weight loss. According to Bio-Medicine, in 2008, Americans spent about $55 billion on weight-loss products and services.
This means that competition is quite fierce and that customers will always favor any product that makes stronger claims than the alternatives. This explains the popularity of BiphedAdrene, as Americans search for an easy way to lose weight, while still enjoying their favorite meals.
Scroll below for one of the best products we've seen over the last year.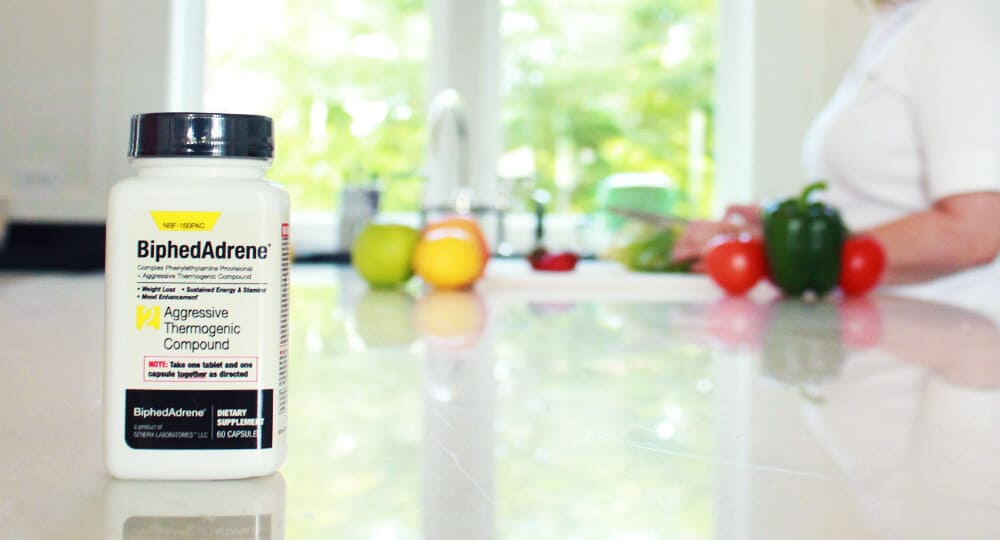 Ingredients
BiphedAdrene Ingredients
BiophedAdrene #1 (purple)
Trimethylxanthine
Paulinia
Arbutin
Phenylethylamine
Theobromine
Microcrystalline
Cellulose
Croscarmellose sodium
Stearic acid
Magnesium stearate
Polyvinyl
Polyethylene
Aluminum lake talc
Titanium dioxide
Caffeine
BiophedAdrene #2 (yellow)
Ilex paraguariensis extract
Guarana
Methylxanthine
Turnera
Capsaicin
Serotonin
L-dopa
Gelatin
Rice flour
Stearic acid
Magnesium stearate
Titanium dioxide
Silicon dioxide
FD&C Yellow
Claims
BiphedAdrene Claims
Generix Laboratories claims that BiphedAdrene can help suppress the appetite, which in turn promotes weight loss. A mood-enhancing effect and energy boosting properties support this. Although BiphedAdrene contains ingredients that have health benefits, there is no scientific research into the company's specific claims.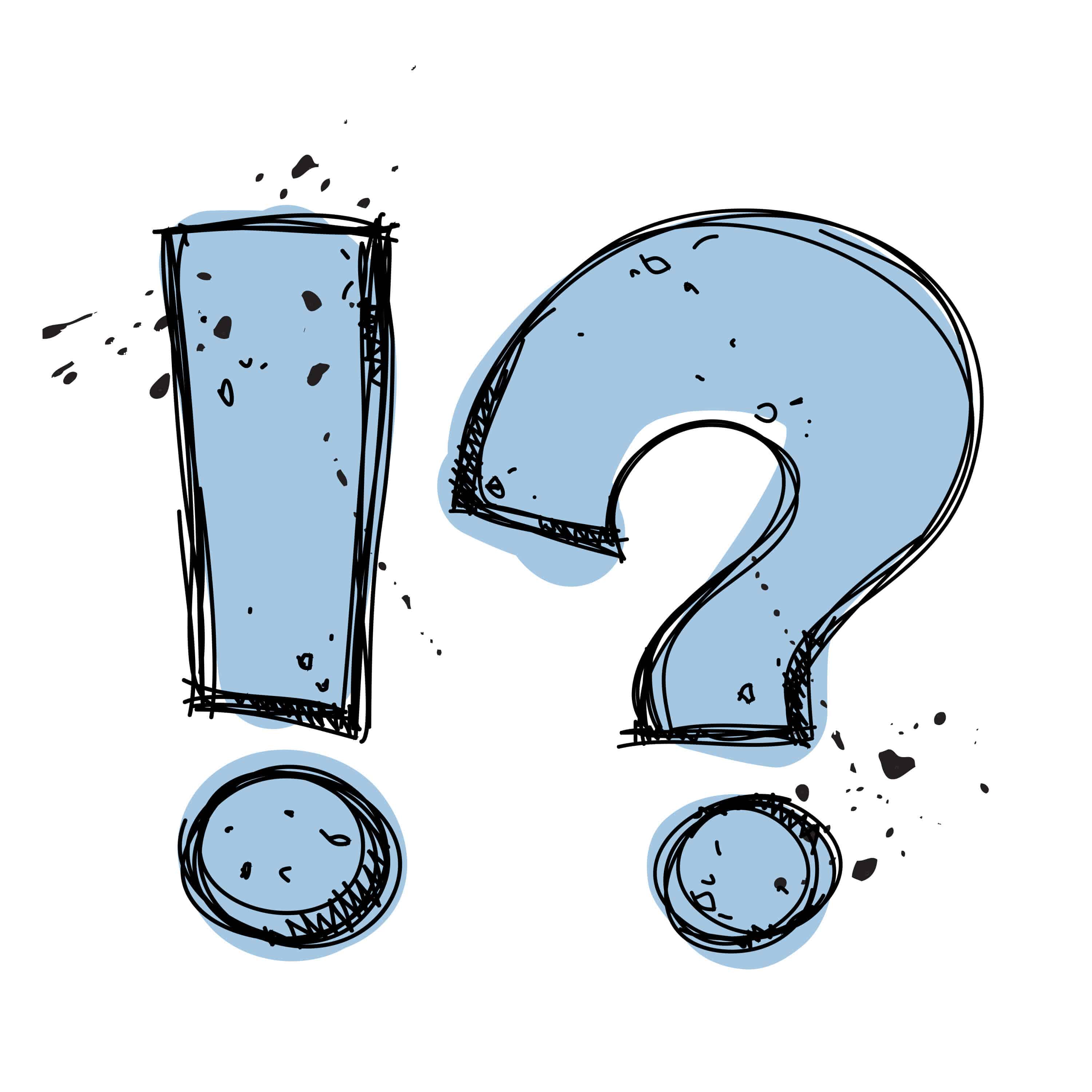 Mate Leaf Extract
BiphedAdrene's main ingredient is mate leaf extract, which allegedly helps with weight loss. According to the journal Nutrients, people also use it as a stimulant to fight mental and physical fatigue, as well as to promote heart health. Some also use a mate to treat urinary tract infections (UTIs).
Notwithstanding mate's health benefits, we do not currently understand how it might affect the complex processes that lead to weight loss.
Damiana Leaf Extract
The Mayans of Mexico used this ingredient as an aphrodisiac. People have also used it as a treatment for headaches, and constipation, and research has shown that damiana can promote weight loss.
You should note that, thankfully, the Food & Drug Administration (FDA) has approved damiana for human consumption and has given it a reasonable GRAS rating.
Cayenne Pepper
Cayenne pepper is another key ingredient in BiphedAdrene. According to studies by the journal Bioscience Reports, the oral administration of cayenne pepper leads to a short burst of heat, which boosts the metabolism and burns more calories.
Information on the exact amount of these ingredients in BiphedAdrene, though, is lacking. This makes it hard to link the studies supporting the efficacy of these ingredients to BiphedAdrene. This is because these ingredients may not be present in sufficient amounts for BiphedAdrene to act as an effective weight loss supplement. Likewise, there need to be some scientific studies to examine the before and after effects of BiphedAdrene.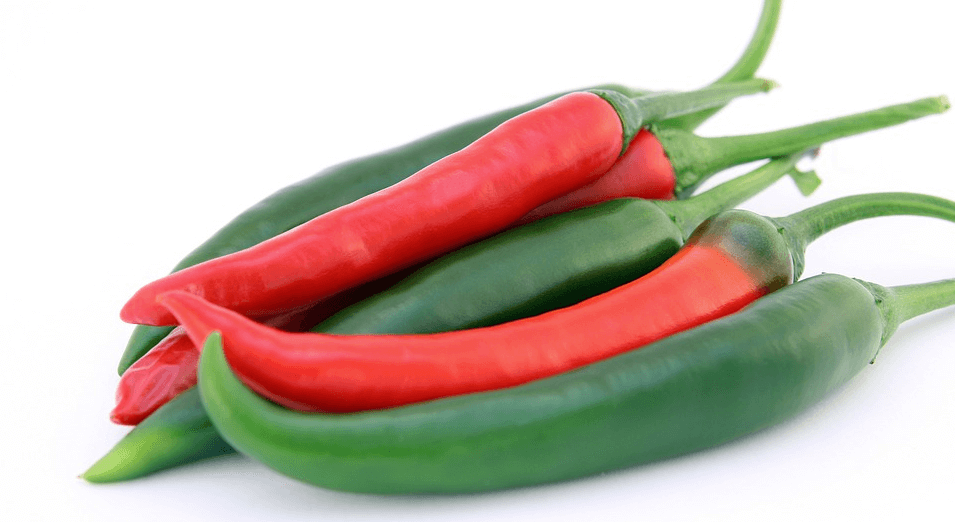 Does BiphedAdrene Work?
We found no scientific studies testing BiphedAdrene to determine its efficacy. Although there is research demonstrating the usefulness of individual components, there has yet to be any study that examines them in combination.
According to Nutrients, mate contains caffeine and other active ingredients that can stimulate the brain and other organs. This could improve metabolism, promoting weight loss.
A study by the McCormick Spice Company and National Institute of Health showed that cayenne pepper could help curb the appetite and burn calories. This is especially true for those who are not used to eating it, and thus may have a lower tolerance. According to the study, when they swallowed half a teaspoon of cayenne pepper in capsule form or with food, adults with normal weight burned extra calories over four hours.
We need further studies to examine if BiphedAdrene has a similarly short life.
Benefits and Results
BiphedAdrene Benefits and Results
According to the Cleveland Clinic, diet pills can help you shed some pounds, but the results won't last long. This is further complicated for BiphedAdrene reviews, as it is unclear if the positive results are just due to BiphedAdrene or the result of lifestyle and diet changes. However, there is some research that shows how some of the ingredients work. Damiana can effectively enhance users' sex life, and there are claims that mate is an effective treatment for some conditions. Overall, we require further research.
Regardless, the benefits of using BiphedAdrene, before and after meals, allegedly are:
Controlling hunger by suppressing the appetite
Mood enhancement
A unique combination, making it an exceptional diet pill
Thermogenic compounds that quickly burn fat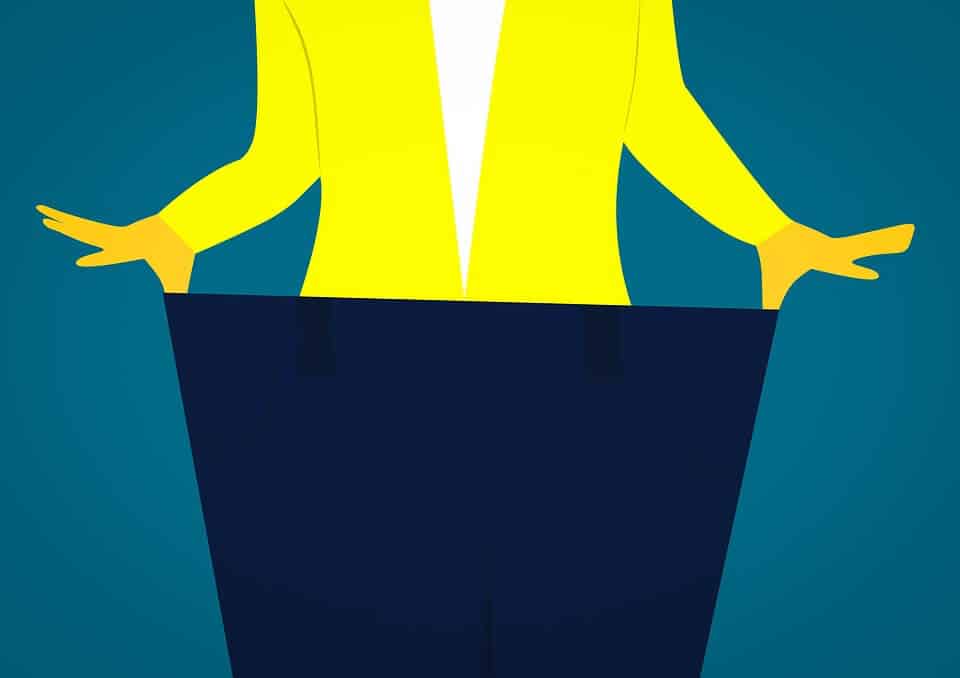 BiphedAdrene and Weight Loss
To date, there are no scientific studies on how BiphedAdrene affects weight loss. However, some studies have shown that its ingredients do have weight loss-promoting properties. For example, damiana can improve physical stamina and mate contains caffeine, which acts as a stimulant. The only ingredient, though, shown to have a direct link with weight loss is cayenne pepper. These links, while useful, do not help evaluate the positive customer reviews of BiphedAdrene, as there is no breakdown of the quantities of the ingredients in BiphedAdrene, which means that you cannot judge the specific impact of the supplement.
Directions
How to Take BiphedAdrene
The instructions on how to take BiphedAdrene depends on why you are taking it. Adults using the product to promote weight loss should take one yellow and one purple tablet with a full glass of water fifteen minutes before meals. For those who want to use BiphedAdrene to boost their energy levels, one yellow and one purple tablet should only be taken as required. Customers are also warned to not exceed three servings of each tablet within a twenty-four-hour period. Generix Laboratories also recommends that BiphedAdrene use is combined with a sensible diet and healthy exercise program.
Side Effects
BiphedAdrene Side Effects
One possible adverse effect of using a product that contains caffeine is the possibility of addiction. The lack of data on the long-term effects of prolonged use of the product also makes it hard to judge if BiphedAdrene works. It is common knowledge that, in the pharmaceutical world, any product with positive results can be rejected if its long-term effects are sufficiently negative.
Mate is also known to be very high in caffeine, which is problematic, as it is unknown how much mate is in BiphedAdrene. Guarana has also been linked to dizziness and nausea. The damiana in BiphedAdrene may also affect sugar levels in the bloodstream.
Even though cayenne pepper has been known to promote weight loss, due to its thermogenic properties, it is unknown how strong the effect is. The fact that there may only be a small amount of it in BiphedAdrene also means that it may not offer the fast-acting effects as claimed by the manufacturers. As with all supplements, you should consult your doctor before using BiphedAdrene, especially if you are taking any other pills or if you suffer from any ailments.
Product Warnings
BiphedAdrene Product Warnings
BiphedAdrene comes with a series of warnings from the manufacturer, written on the packaging. The first, and strictest warning is not to exceed the suggested daily serving size. Users are also advised not to consume more than one yellow and one purple tablet within four hours. Individuals under eighteen years of age and pregnant or nursing women should also not take BiphedAdrene. As it contains a significant amount of caffeine in each 300-mg serving, it should also be avoided by those who are allergic to caffeine or who use other stimulants.
Generix Laboratories advises potential consumers to consult their physician before taking BiphedAdrene if they are sensitive to stimulants or have a history of:
Seizures
Recurrent headaches
They also advise that you should immediately consult a physician if, while taking BiphedAdrene, you experience a severe headache, rapid heartbeat, shortness of breath, or similar symptoms. Generix Laboratories stresses that it is important not to exceed the daily dosage or take BiphedAdrene more frequently than instructed, as this may result in adverse side effects.
It is also claimed that those sensitive to niacin, or nicotinic acid, may experience flushing of the skin.
Lawsuits
Any BiphedAdrene Lawsuits?
We checked online but did not find any lawsuits pending against BiphedAdrene or Generix Laboratories. Historically, the FDA has been quite strict on supplements and their manufacturers if they have been viewed as potentially unsafe. The fact that there have been no lawsuits, or FDA action against BiphedAdrene to date, is a good sign.
BiphedAdrene Alternatives
The truth of these diet pills is that they often lighten the customer's wallets more than their body. Manufacturers' assertions are often unverified, and they sometimes do not work as claimed. Despite the wide variety of supplements available in the marketplace, many of them do not contain the same ingredients as BiphedAdrene. This means it is not possible to directly replace BiphedAdrene, but some of the best alternatives are:
Where to Buy
Where Can I Buy BiphedAdrene?
BiphedAdrene can be purchased on the websites of other major third-party retailers, such as GNC and Walmart. Those who prefer to buy their supplements in stores can find BiphedAdrene in GNC stores.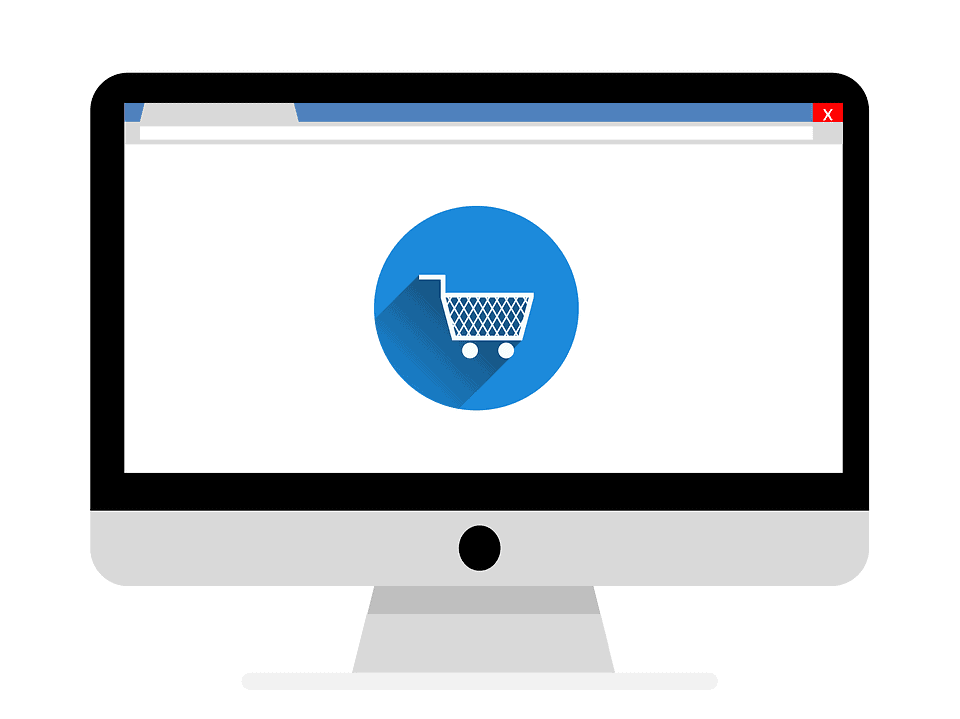 BiphedAdrene Money Back Guarantee
According to Walmart, GNC, and Amazon, whenever you buy BiphedAdrene, you get a 30-day money back guarantee so that, if you are not 100% satisfied with the product, you can get a refund. However, some customers complained that the details of the money-back guarantee were confusing, as there is no explanation of exactly where the customer should return it to get their money back. Also, customers point out that there is no information available on this 30-day, money-back guarantee on the official website. To this end, the third-party retailers have posted more information about the details on their websites.
Is BiphedAdrene FDA Approved?
The FDA has been known to pull drugs, such as Fen-Phen and Ephedra, from the market due to safety concerns. To date, there has been no attempt to remove BiphedAdrene from the market. The only FDA statement about BiphedAdrene is to warn that the claims made about the product have not been scientifically evaluated.
Cost
BiphedAdrene Price
The price of BiphedAdrene depends on where it is being sold. Here are the common prices are given for BiphedAdrene:
BiphedAdrene.com: $135
Amazon: $71.25
GNC: $59.99
How Many Tablets Are Contained in a Pack of BiphedAdrene?
Each packet of BiphedAdrene contains 120 tablets, covering the recommended dosage for a thirty-day course. This is broken down into:
60 tablets of the complex phenylethylamine provisional
60 capsules of the aggressive thermogenic compound
BiphedAdrene Discounts
Biphedadrene.com offers huge discounts to consumers, with the savings increase with the amount purchased. When you buy two packs of BiphedAdrene from the website, you get one free, meaning you save $135. This means you save more through the website, although the third-party retailers have some deals. When buying through GNC, you get free shipping; meanwhile, you get 5% off through Amazon.com.
When to Take BiphedAdrene
According to the manufacturers, BiphedAdrene is best taken with a full glass of water, before meals. Users should take one capsule each of the aggressive thermogenic compound and the complex phenylethylamine provisional.
What Makes BiphedAdrene Unique?
The manufacturers claim that BiphedAdrene is unique, as it contains a unique combination of ingredients. It is hard to substantiate this claim as the exact quantities of the ingredients are not specified. However, other weight loss pills contain similar ingredients, perhaps even in similar ratios.
When Will BiphedAdrene Begin to Work?
Most positive reviews claim that BiphedAdrene worked quite quickly, but there is no real understanding of the timeline. The lack of scientific backing for these claims also makes it hard to judge how long BiphedAdrene takes to work.
What Users Are Saying
What Users Are Saying
"I have been taking this for a couple years and love it….. I don't use it for weight loss…I use it for the energy boost and the mood elevator…I take 1 tablet and break it in half….take 1/2 when I get to work and the other 1/2 after lunch….I have low blood pressure and it gives me the boost I need to get through the day and keeps me in a pretty good place mentally, and being in customer service it can get trying…Please bring it back…."
"I took these for quite awhile and did not notice a difference in my weight."
"It works for me as I work long hours."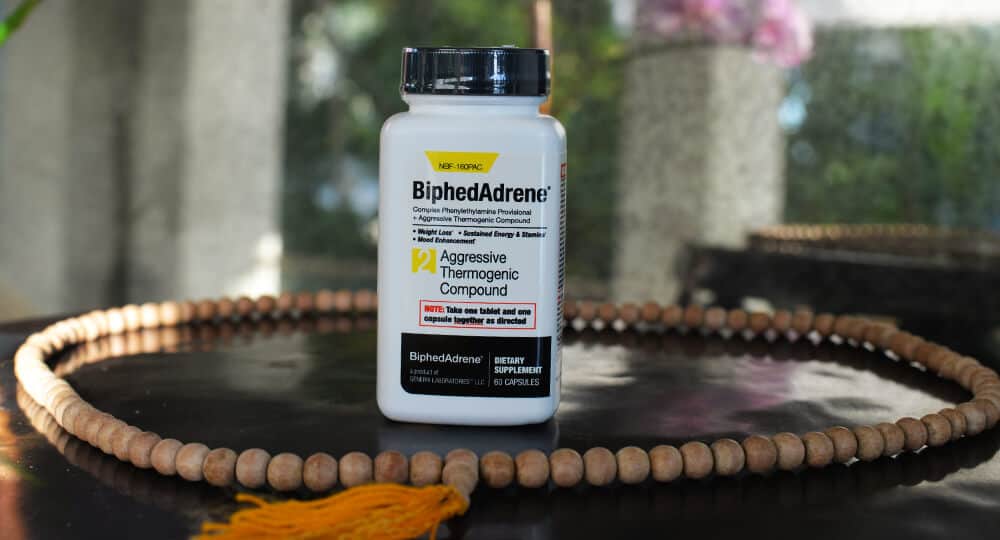 Bottom Line
The Bottom Line on BiphedAdrene
Well now, what can we say about BiphedAdrene? We like the favorable BBB rating and the money-back guarantee, but we have doubts about recommending it because of the lack of scientific research supporting the weight-loss claims. Plus, customer reviews are talking about negative side effects and limited results.
If you'd like to lose the fat, we recommend going with a product delivering great results and clinical support.
Among the best products we've seen this year is one called Noom. The idea behind the doctor-created app is to combine what works into one app so you don't have to search everywhere for the support you need. This includes human coaching and a completely personalized weight-loss plan.
Also, the company behind Noom is so confident in the program; they're offering a free trial, which is a good choice.
Learn More About Noom »