Brain Octane Oil Review

- 12 Things You Need to Know
Brain Octane Oil is a natural supplement that claims to amplify energy and mental performance. The company says that it's 18 times more powerful than coconut oil at fat-burning and boosting your energy levels. However, they offer no research to support this broad set of claims. Plus, the ingredient list indicates palm oil in the supplement, while the website claims it is 100% coconut oil.
Our research team was scratching their heads on how Brain Octane Oil can be 18 times more powerful than coconut oil if it just contains pure coconut oil… or is it palm oil? We had to get to the truth, so we investigated every aspect. Then, we summarized it all in this review to bring you the 411.
Brain Octane Oil can be purchased through their Official Site.
Overview
What is Brain Octane Oil?
First of all, Brain Octane Oil is a natural "amplified energy and mental performance" supplement. It's supposed to help your body burn fat while increasing energy, eliminating food cravings, and boosting cognitive function, similar to what Coffee Blocks claims to do.
It's ingredients include:
100% pure concentrated coconut oil
This oil provides C-8 caprylic acid MCT, which is said to be the driving force behind one of the most powerful "brain boosters" on the market.  We've all heard outlandish claims before – so let's dig into this supplement together to see if it's legit or just another brain-dead product.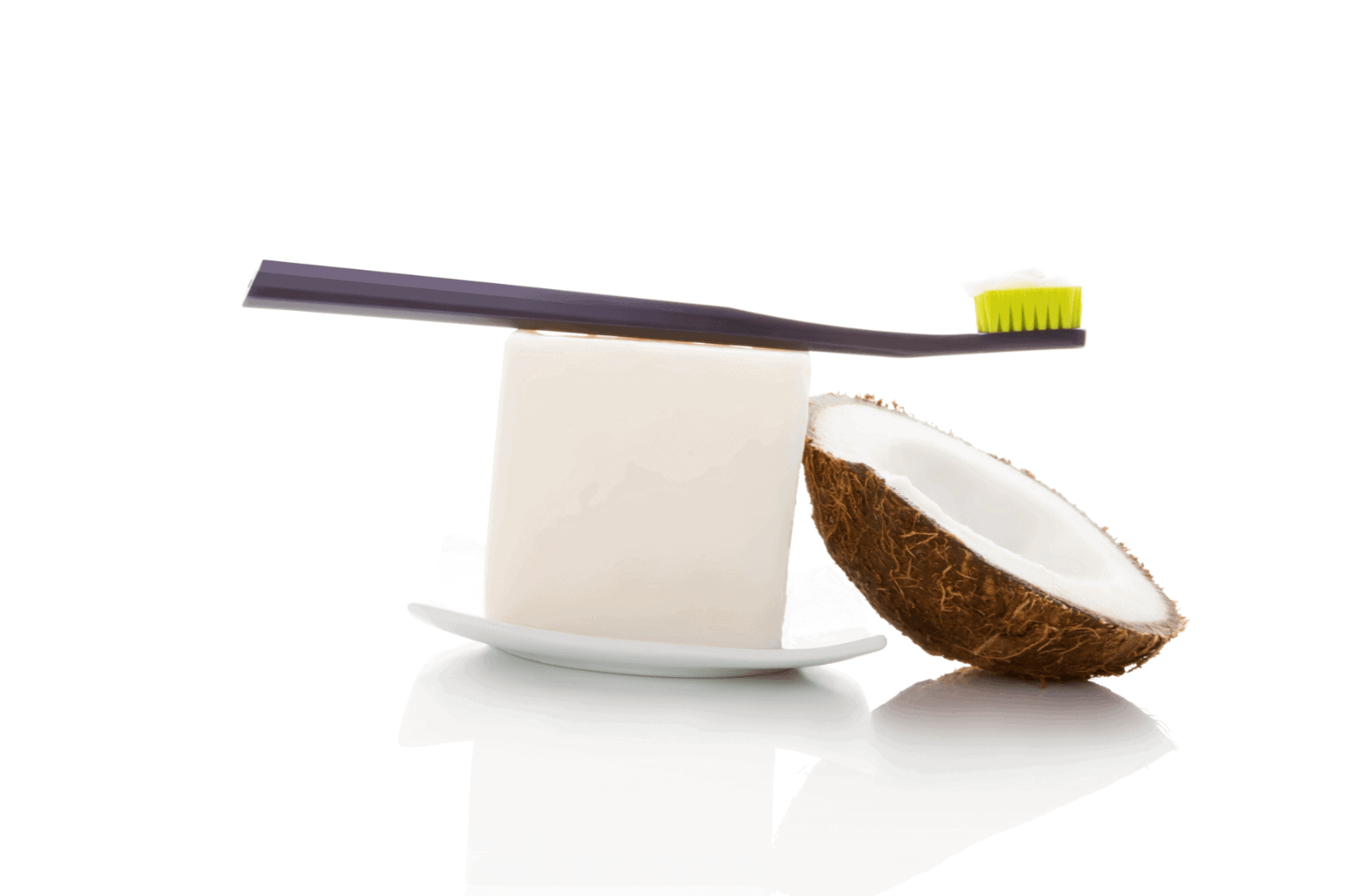 How to Use Brain Octane Oil?
According to the makers, Brain Octane Oil can be taken at any time during the day. They suggest blending into their Bulletproof Coffee; but, honestly, you can mix it into anything. Take one tablespoon per day, in a beverage or on food, and you're good to go. Also, the product can be stored at room temperature.
They do suggest starting at a teaspoon and seeing how your body handles it. If you start to build a tolerance, slowly increase the dosage to 1-3 tablespoons per day.
Mixing it with Food
They mention that this oil-based product is flavorless and odorless, so it won't interact with the beverage or food item you're tossing it into. What's the best food or drink to mix Brain Octane Oil with? The official website lists some ideas:
Tea
Smoothies
Salad dressing
In any food or drink
Poured over meat and vegetables
OK, so you can drip this stuff on anything you want and lose weight – got it. We want to know if it works.
Disclaimer: The FDA has not evaluated this product.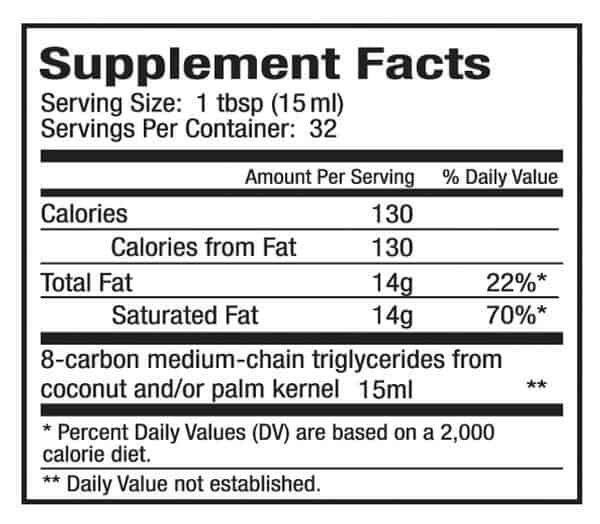 Products Similar to Brain Octane Oil
Ingredients
Brain Octane Oil Ingredients
Just reading about this product for a few minutes begs to have the ingredients investigated. The product claims to be stronger than regular caprylic acid while being "a quarter of the price." Some customers out there aren't seeing any results, so we wanted to dig deeper to discover the magic formula.
One of the things we noticed first was some comments from confused customers on the ingredients – more specifically, on the label.
According to the company that makes this supplement, the ingredients include 8-carbon medium-chain triglycerides made from coconut and/or palm kernel. Some users were flustered and confused when reading "and/or" on a supplement label.
To add to the confusion, the website says, "It's 100% pure coconut oil, cleaned with activated charcoal and refined using only heat, water and pressure. (Never palm kernel oil, which is connected to the destruction of orangutan habitats in Southeast Asia.)" So it's…not and/or palm kernel oil?
The makers also say that their ingredients are "sourced from sustainable local providers" worldwide, yet they don't mention where those places are.
What Are the Different Types of MCTs?
Before we get into the product's ingredients, let's glance at the different types of medium-chain triglycerides.
C6: Caproic acid or hexanoic acid.
C8: Caprylic acid or octanoic acid.
C10: Capric acid or decanoic acid.
C12: Lauric acid or dodecanoic acid.
Coconut Oil
Coconut oil comes from the nut of the coconut palm. The oil from coconut has been used for a variety of health issues.
The whole oil can be "fractionated" to pick apart the individual fatty acids in their purest form – each with a different use. Each fat varying in fatty acid chain length metabolizes differently. According to the Journal of Food Science and Technology, caprylic acid and capric acid (known as medium-chain triglycerides) are isolated for medical purposes, special diets, cosmetics, and even cooking.
So far, this supplement's ingredient seems to have some research behind it but not quite as compelling as we were hoping for. We'll have to dig deeper into the research to examine the cognitive benefits of this component and get to the bottom of some serious health warnings.
Scroll below for one of the best products we've seen over the last year.
Side Effects
Brain Octane Oil Side Effects
First, let's circle back around to those health warnings and take a look at some potential side effects and safety details of this claimed "brain-boosting supplement."
Some customers pointed out experiencing:
Stomach issues
Cramps
Diarrhea
Nausea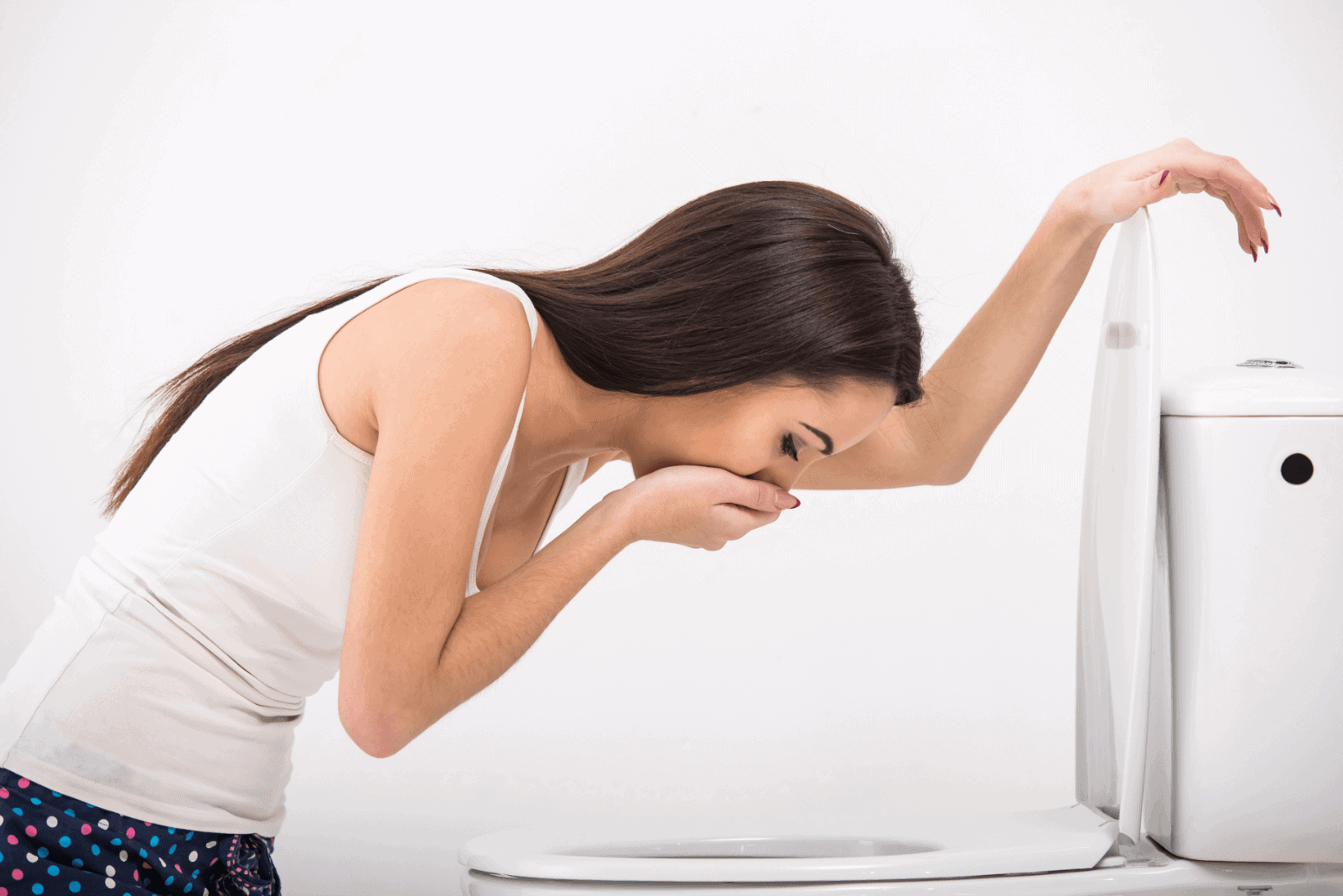 The high-fat content in this ingredient that can cause:
Although this ingredient is widely used in conjunction with a ketogenic diet, there are some serious concerns in the medical world about its high-fat content. Saturated fats can build up and cause blockages in our arteries.
The World Health Organization, United States Food and Drug Administration, British Nutrition Foundation, the United States Department of Health and Human Services, American Heart Association, American Dietetic Association, British National Health Service, and Dietitians of Canada warn that consumption of coconut oil should be limited or avoided altogether.
According, in part, to Mini Reviews in Medical Chemistry, medium-chain triglycerides side effects may include:
Diarrhea
Vomiting
Irritability
Nausea
Stomach discomfort
Intestinal gas
Bloating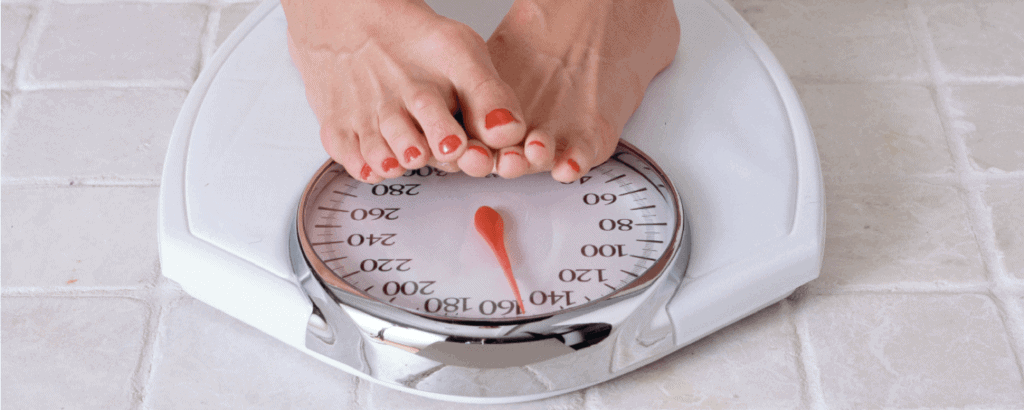 Benefits
Brain Octane Oil Benefits
All right, let's really break down the benefits of this supplement, as well as the potential perks of taking coconut oil or MCTs as a part of your daily routine.
This product promises to deliver:
Enhanced cognitive performance
Increased energy
A reliable and quick source of energy from fat – not sugar
Helps your body burn fat
BBA Clinical examined the effects of medium-chain triglycerides on participants with mild cognitive impairment, writing, "Intake of MCT oil increased serum ketone bodies and improved memory, while intake of placebo did not show improvement in any of the cognitive measures tested." Their conclusion showed promise but calls for larger randomized controlled trials.
We wanted to find some concrete evidence here, but we couldn't find a single study showing that drizzling coconut oil on foods and in beverages will lead to a cognitive enhancement for as long as we searched. And we're not the only ones, according to an article in Nutricion Hospitalaria.
Brain Octane Oil and Weight Loss
Brain Octane claims to use "the good" kind of fatty acid in their product. C8 MCTs are said to "metabolize more efficiently into ketone energy" than other oils. The company claims that your body will excrete these ketones through your urine and lungs – rather than store them as fat.
The Asia Pacific Journal of Clinical Nutrition backs up this claim by writing, "MLCT oil has been approved as FOSHU (Food for Specified Health Use) for use as cooking oil with a suppressing effect on body fat accumulation."
Naturopaths agree with some benefits, but not all of them will recommend it.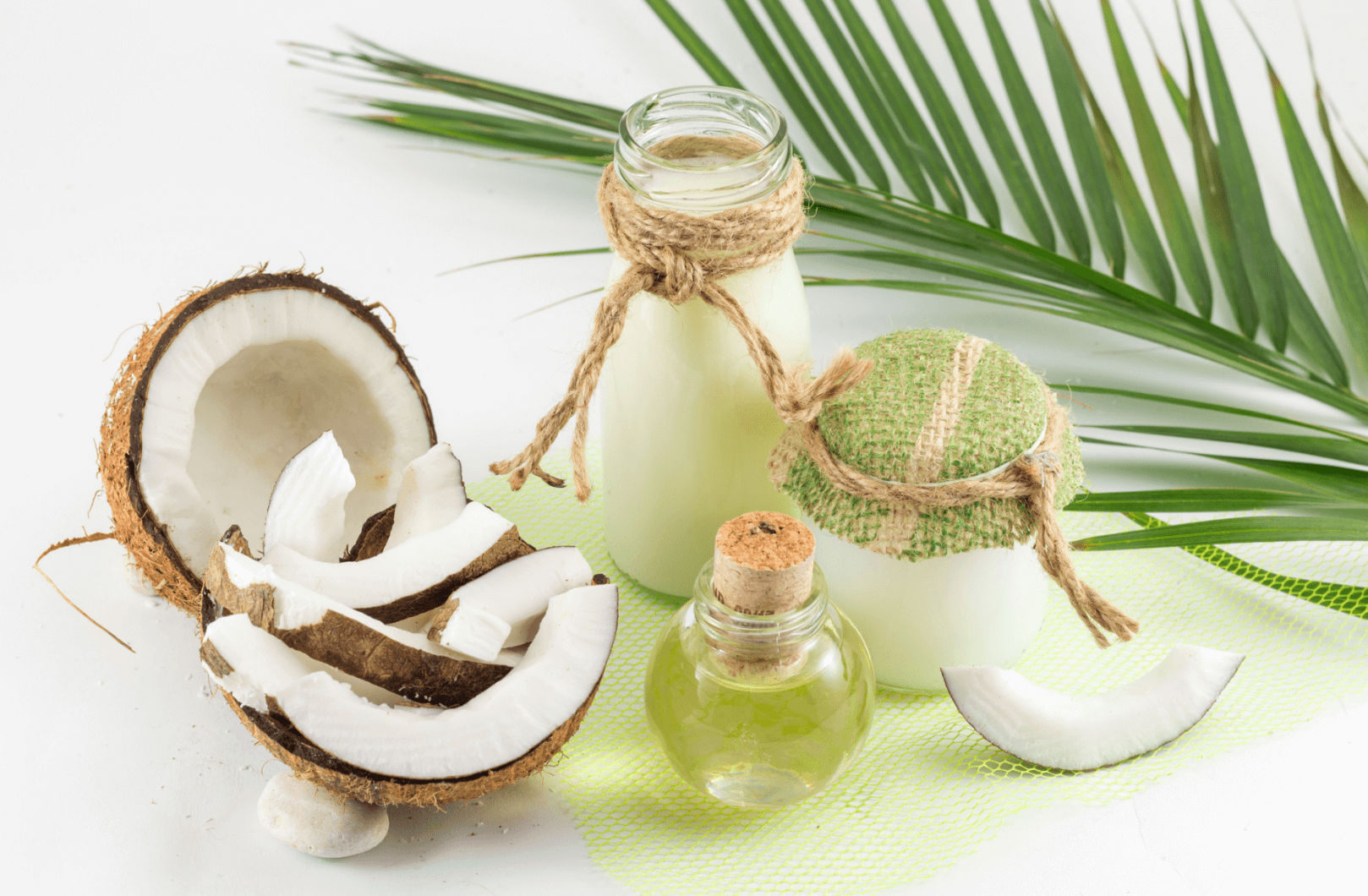 In addition to that, the Journal of Nutrition wrote a review concluding that "MCT increase energy expenditure, may result in faster satiety and facilitate weight control when included in the diet as a replacement for fats containing LCT."
But hold on a second before you start doing your happy dance. As we mentioned earlier, not all experts agree. In fact, one systematic review of the evidence found that overall results are inconclusive.
Nutricion Hospitalaria wrote, "Fourteen articles were selected presenting short and long-term intervention. Among these, six showed a decrease in body mass of individuals, with consequent loss of weight. The only one showed a positive effect on satiation, and four showed an increase in EE," going on to conclude that "results are inconclusive, and there is a need for further controlled studies."
Contradictions
As mentioned earlier, there is some confusion and conflicting information surrounding the use of coconut and/or palm kernel oil.
There's also another thing that had us scratching our heads and staring at each other in confusion. They mention several times that the oil in their supplement is "very different from coconut oil." This is fine, but is it really different? They mention their oil is "100% coconut-derived." So which is it?
And how can it be "18 times more powerful than coconut oil" when it's 100% coconut oil? We have more questions than Alex Trebek.
Alternative Uses
Believe it or not, MCT oil (coconut oil) boasts several alternative uses. They include:
Hair health (adds moisture and shine)
Body oil (moisturizing)
Lip balm
Cuticle softener
Makeup remover
Shaving cream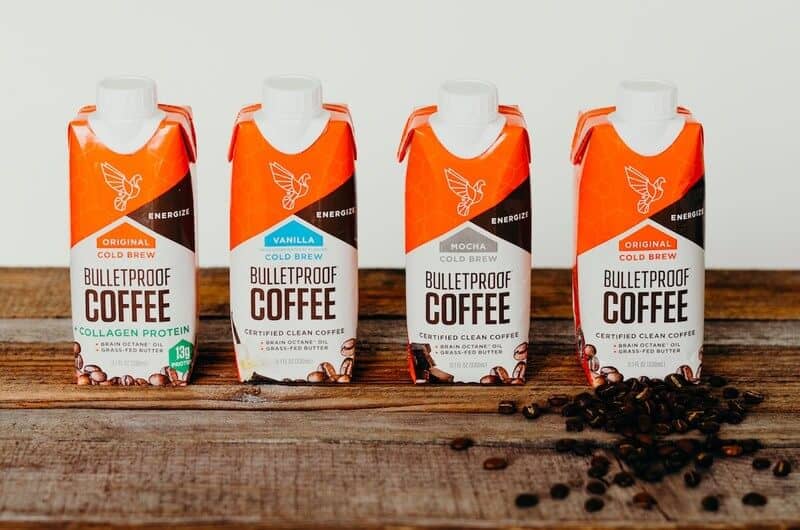 Cost
Brain Octane Oil Cost
This was one of the more positive things we found with this product. The cost of Brain Octane Oil seems to be fairly reasonable, with a lot of customer comments backing it up. The one thing we like to see is an affordable supplement – whether it will work for you or not is an entirely different question.
The website sells a 32-day supply (16-ounce bottle) of this cognitive enhancing oil for $24.95. The 32-ounce bottle runs $48.96, and the three-pack of 32-ounce bottles costs $132.17. They even offer your money back if you don't "feel the difference."
Brain Octane Oil 16-ounce bottle details:
Shipping weight: 1.3 lbs
Dimensions: 6.5 x 2.8 x 2.8 in, 1.1 lbs
The refund policy says you can return within 30 days of your purchase, minus shipping, and handling. Make sure you click "customer support" on their website to get an RMA (return merchandise authorization), you won't be getting anything.
Brain Octane Oil Company Information
The company, Bulletproof 360 Inc, makes brain Octane Oil. Dave Asprey, a businessman, author, and entrepreneur from Albuquerque, New Mexico, is the company's man. He founded the company in 2013 and has since created Bulletproof Coffee and the Bulletproof Diet.
Unfortunately, dietitians claim that there is no scientific evidence to back up the diet's promised benefits. They go on to say that it's just "a caffeine buzz," lending to the alertness of Bulletproof Coffee.
Other Bulletproof Products
KetoPrime
NeuroMaster
Sleep Mode
Bulletproof Affiliate Program
The Bulletproof 360 affiliate program gives men and women the chance to earn extra money selling Bulletproof products. The company claims to provide all tools necessary. The compensation program includes "competitive rates, product data feed updated daily, great selection of creative banners and links, … [and] a dedicated affiliate management team."
Is The Bulletproof Diet Legit?
This diet's idea is to get 50 to 60% of your daily calories from healthy fats, 20% from protein, and the rest from vegetables. This sounds fine at the surface, but when you start to peel away the layers, you find more and more experts calling it simply a "fad diet."
The diet claims that eating foods that are high in fat, low in carbohydrates, and moderate in protein will help you not only lose weight but enhance your cognitive function, energy levels, and even IQ – by up to 20 points.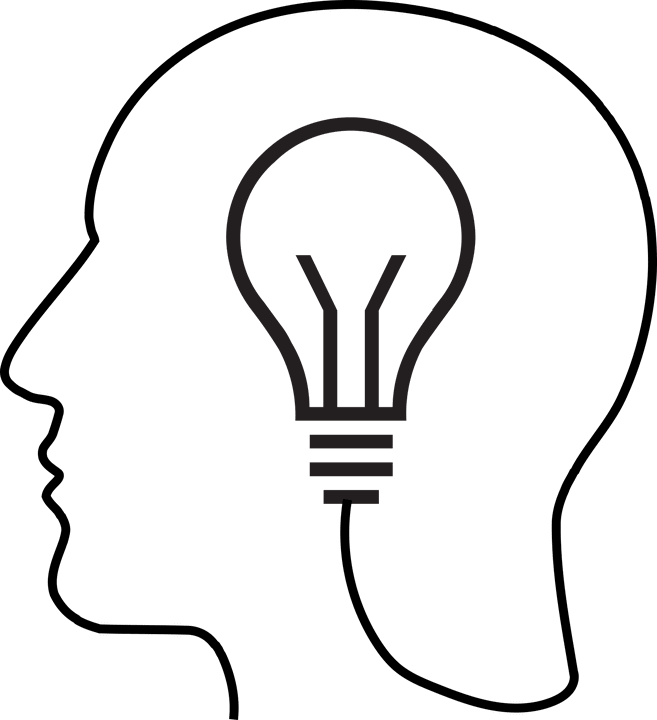 Recipes
Brain Octane Oil Recipes
There are a handful of recipes floating around the interwebs to help you get an idea of what you can create using this product. Among the most popular ideas is, of course, salad dressing. Here are a couple of salad dressing recipes you can make yourself using Brain Octane Oil.
Bulletproof Honey Mustard Vinaigrette
¼ cup Apple Cider Vinegar

1/8 cup Extra Virgin Olive Oil

1/8 cup Brain Octane Oil

3 tbsp organic mustard

2 tbsp raw honey (or xylitol)
Bulletproof Creamy Basil Vinaigrette
½ Avocado

¼ cup Extra Virgin Olive Oil

2 tbsp Brain Octane Oil

¼ cup Apple Cider Vinegar

A small handful of fresh basil leaves
Butter Coffee Recipe
Brew or buy hot coffee
Using a blender (not a spoon), blend in two tablespoons unsalted, grass-fed butter, as well as 1 tsp-2 tbsp of Brain Octane or XCT Oil.
Wholesome Yum posted a recipe for keto butter coffee, which is a bit lighter and contains fewer calories than your typical butter coffee.
8

 

oz

 

Coffee

 

(brewed, hot)

1/2

 

cup

unsweetened almond milk

 

(regular or vanilla)

1

 

tsp

 

MCT Oil

 

1

 

tsp

 

Butter

1

 

tbsp

 

Integral collagen

 

(optional)
What Users Are Saying
"I put this in my coffee every morning and I can really tell a difference! I seem to have a lot more energy and I barely feel hungry anymore!"
"I like how you cannot taste this oil. I have been putting it in my coffee. I started with half a tablespoon as a full tablespoon was harsh on my stomach and caused me to have diarrhea (I know, WTMI). I do not feel like it improves mental sharpness though. I am going to try a different brand once I am out of this one."
"Not sure what all the hype is all about. I didn't feel any difference when I was taking this stuff. It might be a placebo."
Bottom Line
The Bottom Line – Does Brain Octane Oil Work?
OK, so we're finding ourselves at the end of the road – are we about to walk into the Land of OZ, or are we still just sitting on that farm in Kansas? Will Brain Octane Oil spark mental performance, enhance focus and help you shed serious amounts of fat?
Look, there's some evidence behind coconut oil and the MCTs found in it – we like that. The product is relatively inexpensive and there is a money-back guarantee – we like that too! But we're not in Kansas anymore when it comes to all the negatives surrounding the product from both research and diet experts.
No research linking this formula to anything the product claims
Customer comments on poor quality and packaging
Possible side effects
The associated Bulletproof Diet is being called a "fad"
Too many contradictions
The product is not evaluated by the FDA
If you want to increase your energy, boost your metabolism and lose weight, you need to pick up a program that assess your body's needs and help you make healthy lifestyle choices.
One of the top weight-loss programs out there is Noom. With human coaching, personalized meal plans, and so much more, this system allows you to make healthy choices, track them, and lose weight. Plus, the entire Noom program is available on an easy-to-use app so that you can access your goals on the go.
To bring it home, we're so confident that you'll get the results you want, we have a free trial offer going on so you can get started on the path to success without having to go broke. In the business, that's called "a good thing."
Learn More About Noom »