If you haven't heard the whispers, there's a weight loss system for 2018 that's got executives in the diet industry interested. Out of the more than 300 products we've reviewed this past year, our premium supplement, a weight-control product called Burn HD, is worth a close look.
What is Burn HD?
Attention: Frustrated Dieters
Burn HD delivers powerful results with safe ingredients backed by science, instead of the usual fillers found in other products.
Burn HD is produced in San Diego in a GMP-certified facility and contains a blend of these scientifically supported ingredients:
Meratrim – an eight-week clinical study published in the journal Obesity showed Meratrim led to significant reduction in weight compared to placebo. Subjects taking Meratrim also experienced smaller waist circumference, according to studies in Lipids in Health and Disease and Journal of Medicinal Food.
ChromeMate (chromium polynicotinate) – Research in the Journal of Medicine shows ChromeMate supports healthy blood-sugar and glucose levels. ChromeMate does not claim to directly support weight loss, but according to Medical News Today, research shows that one of the common symptoms of blood sugar swings is hunger.
Green Tea Extract – shown in numerous studies, including one published in the American Journal of Clinical Nutrition, to result in moderate weight loss, when combined with a healthy diet and exercise.
Research
Burn HD Ingredients Supported by Science = Weight Loss Success!
Meratrim, the main active ingredient in Burn HD, is produced by InterHealth, a California-based company founded in 1987 whose 15 branded ingredients are backed by 251 research publications.
According to multiple clinical studies, Meratrim can help you lose significantly more weight than with diet and exercise alone. In fact, one Clinical Trial on Meratrim reported dieters saw results after just two months. After eight weeks, weight was reduced by an average of 11.5 pounds and waist and hip circumference were reduced by an average of 4.7 inches and 2.4 inches, respectively, compared to placebo. Clinical research into the weight loss benefits are on-going.
A 2016 study published in Lipids in Health and Disease adds even more support for Meratrim. According to the study findings, "Meratrim is a well-tolerated and effective ingredient for weight management in healthy overweight individuals over a 16-week study period."
Scroll below for one of the best products we've seen over the last year.
Non-GMO, Gluten-Free
Give It Up For Nature
What also sets Burn HD apart is the purity of its ingredients. The product doesn't contain artificial ingredients, fillers or binders. Also, it is gluten-free, non-GMO and made in the USA. To push Burn HD's commitment to integrity, each ingredient has been third-party tested for purity and potency.
Each bottle contains a one-month supply of 60 capsules, and with two easy-to-swallow capsules per day some users start seeing positive results within the first several days. Others hit significant weight loss goals within that first month. Women and men both equally enjoyed these types of results.
Our Team
The People Behind the Formula
Our success with Burn HD comes from the high level of trust we maintain with the 400,000+ customers we've served over 7 years. We spent years researching thousands of products. With this knowledge, we created a "best of the best" product that not only works, but contains ingredients backed by real science.
FAQs
Question & Answer
Q: What are the ingredients?
A: Burn HD is a proprietary blend of Meratrim™, ChromeMate™ and green tea extract.
Q: What are the side effects?
A: The product is all-natural and over 7 years and 400,000 customers we haven't found any mentions of serious side effects.
Q: Does it work?
A: Though results may vary, the ingredients in Burn HD are backed by science and shown to help boost metabolism, spark fat loss and increase energy.
Q: How should I take it?
A: Take one capsule in the morning and another in the afternoon, 30 minutes before meals. One bottle contains 60 capsules or a one-month supply.
Q: Do I need to combine Burn HD with a healthy diet and daily exercise?
A: Absolutely. To lose weight and keep it off long term, you should steer clear of refined carbs, sugary beverages and highly processed foods. In addition, we recommend you exercise at least 30 minutes/day (walking is fine).
Q: Is it easy to contact customer service?
A: Customer service is available at 1-844-964-3258. Average hold times are less than 30 seconds. You can send a message via the contact form and get a response within a few hours.
Q: Can I return my Burn HD order?
A: Yes, the product is backed by a Money Back Guarantee.
Q: How can I buy Burn HD?
A: The product is offered with a discounted price through Amazon and the official website. There, you can purchase the bottle with a pill case and MySpolight, a Getting Started Guide and a Cheat Food Guide.
What's The Deal With Burn HD? Drum Roll Please…
Our conclusion? Well, as it turns out, unlike some other weight-control supplements when used in conjunction with healthy diet and exercise, Burn HD helps you:
Bottom Line
What Users Are Saying
"Helps to raise my metabolism rate – My metabolism rate has been way down since undergoing extensive post-cancer radiation treatments. Now that I take Burn HD and one other metabolism boost supplement plus exercise, my metabolism is at least closer to normal again."
"Does not work. Lots of hype, no results."
"Great!- I just started taking the pills, I felt the increase of energy. We'll see at the end of the trial."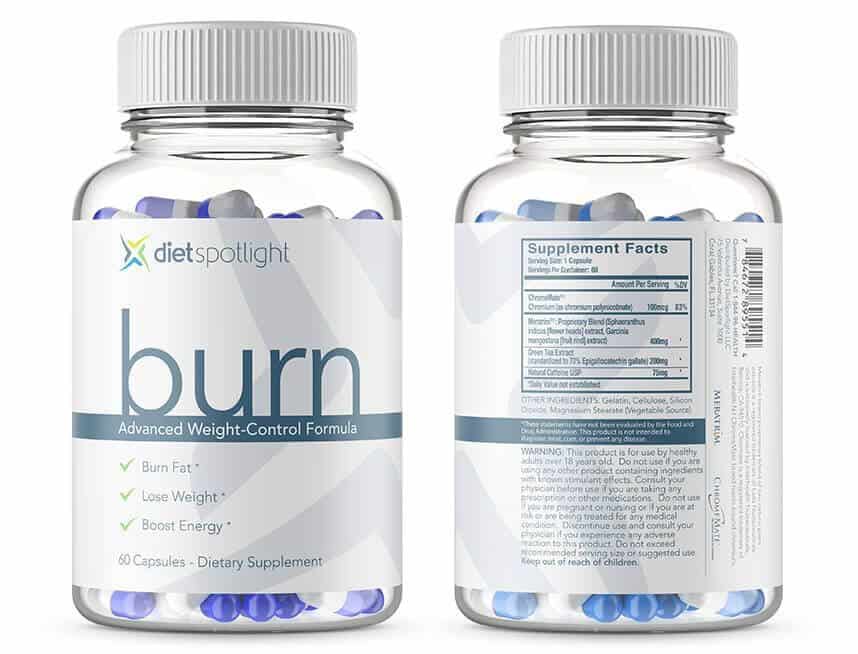 Bottom Line: The Sample Is Worth It.
If you're looking for a supplement to add to your weight-loss program – Burn may be one to try. It contains all the proven ingredients so you get what you're looking for all in one supplement.
We're also on board with using a weight-loss app that helps you get on track with healthy lifestyle changes and maintain those changes for good for lasting weight loss.
Among the best in apps we've reviewed in years is one called Noom. It's with careful research and clinical study that the creators of this weight-loss app put together the tools needed to ensure users are successful. These tools and resources include personalized, custom meal plans, human interaction via coaching and more.
Plus, since you're a Dietspotlight reader, you get access to a free trial offer of Noom for a limited time.
Learn More About Noom »