Catalyst Review

- 11 Things You Need to Know
Catalyst is an amino acid dietary supplement designed to help improve its user's strength and physique. Catalyst claims that it "Helps maintain muscle mass during exercise and weight management." During exercise, maintaining muscle mass would appeal to people involved in bodybuilding, but is there any proof of this claim?
Even though Catalyst has many of the ingredients found in other supplements claiming to help maintain muscle mass, we still needed to see proof that would support Catalyst's claims. To find out the truth about Catalyst's claims, our research team spent hours researching the ingredients in Catalyst to see its effects on the body. Here is what our research team discovered the ingredients in Catalyst.
Catalyst can be purchased through their Official Site.
Overview
What is Catalyst From AdvoCare?
If you work out regularly and have a healthy diet, you will gain muscle. In theory, this is true. But what usually happens is that we increase muscle for a while, and then we reach a limit.
We are practicing the same habits, but we stop gaining. Our metabolism adjusts to the new regimen, and one way we can restart our metabolism to achieve more muscle is through supplements like Advocare's Catalyst.
Simply put, the Catalyst is an amino acid supplement that works to nourish muscles, not fat, leaving our body toned and defined. Catalyst contains amino acids in branched chains that help support endurance and strength in conjunction with exercise.
Catalyst, also called "lipo in a bottle," can help preserve muscle and energy levels during calorie restriction and support muscle repair and recovery after exercise, but let's see what some of the research has to say:
Products Similar to Catalyst
About The Company Behind Catalyst
AdvoCare is a USA-based company that uses MLM strategies to sell different healthcare products for nutrition, weight loss, energy, and sports. It offers reasonable weight management solutions through individual products and its 24 Day Challenge, which promises to reduce weight when you take it with a healthy diet and exercise.
The company assures its users that they use high-quality herbal extracts with a high efficiency and safety ratio. However, although the FDA has approved them for use as food supplements, it has not evaluated their long-term safety or efficacy.
It is always advisable to consult a doctor before using these products to lose weight.
Scroll below for one of the best products we've seen over the last year.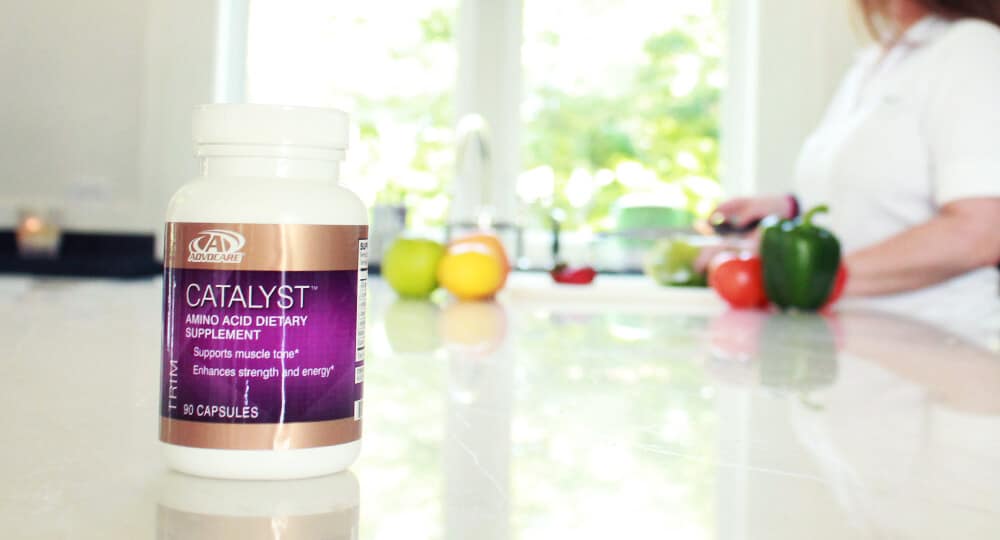 Ingredients
Catalyst Ingredients
Catalyst ingredients include several amino acids:
L-Glutamine
L-Leucine
L-Isoleucine
L-Valine
L-Arginine
Betaine
Gelatin
Directions & Results
Catalyst Directions & Results
The Catalyst dosage is three pills, 30 minutes before a meal, bedtime, or workout for people 12 or over, three times a day.
For women, the Catalyst dosage is contraindicated if they're pregnant or lactating. The most important thing is that a specialist doctor must supervise this type of treatment in such cases.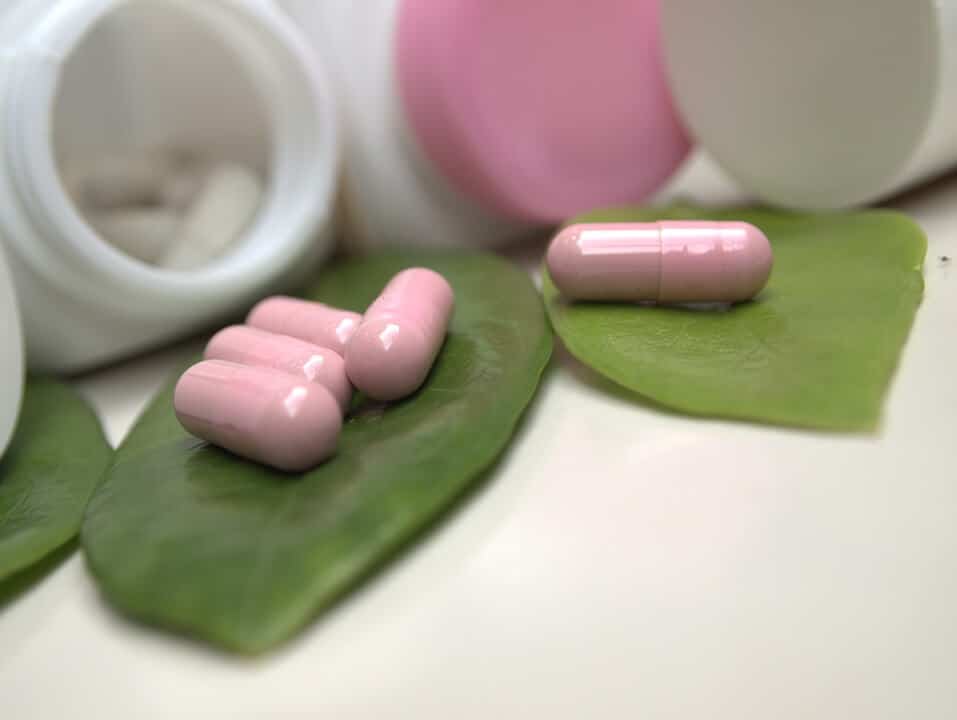 The effects that any supplement provides for muscle gain are strictly complementary; they are not the solution by themselves. Supplementary pills should never act as substitutes for necessities such as nutrition and calorie intake management, exercise and other forms of physical activity, motivation and dedication.
Pills and supplements are cannonballs, not the cannon itself. AdvoCare assures that you can expect a revolutionary change if you add Catalyst to your muscle gain program. But besides that, what Catalyst does for your body is an important question.
If you take Catalyst and work on muscle gain's fundamental principles, you can see the desired results.
Catalyst Fundamental Principles
There are many things we can do to increase muscle gain without having a painful life. They will allow you to gain muscle naturally without spending too much time and energy:
Proper nutrition is essential. Reduce sugar by 80%, refined flour (pasta, white bread), amylaceous carbohydrates (corn, white rice), and soft drinks. Do not be afraid to eat more fat (butter, salmon, coconut oil, linseed oil, nuts) and protein (lean beef from cattle, chicken, turkey, fish).
Drink a glass of water with lemon after getting up in the morning. Also, drink a glass or more of water 30 minutes before and 60 minutes after each meal. Avoid drinking water while you are eating.
Get used to going to sleep every day at the same time (ideally before 11 pm) and sleep at least eight consecutive hours. You may feel better after sleeping six or fewer hours, the important thing is that you rest, but the average person usually sleeps eight.
How Does Catalyst Work?
Catalyst's fact is suitable for research that says that meal replacement supplements are effective in muscle gain and weight reduction when you combine it with a balanced diet.
AdvoCare encourages dieters to continue taking the products even after completing the 24 days as part of a healthy lifestyle. Other complementary products in their 24 days package include Catalyst capsules, which contain branched-chain amino acids.
Catalyst suppresses your overall appetite, making it easier for your immune system to improve muscle.
It improves your metabolism, so you'll see that faster muscle gains than with other supplements. So
Last, but certainly not least, this solution also helps you produce fewer fat cells to gain muscle naturally, without having to make significant diet changes or start a strict exercise routine (of course, it would also be constructive to accelerate the results you want).
Side Effects
Catalyst Side Effects
Another drawback is the side effects. Some people who have tried this product experienced irregular heart palpitations, increased blood pressure, dizziness, tremors, chest pains, difficulty breathing, restlessness, and difficulties in performing necessary activities.
Other potential side effects include dry mouth, vomiting, or constipation. Despite the low incidence of side effects associated with frequent use of branched-chain amino acids, some myths still surround the Catalyst effects on liver function and the cause of hair loss.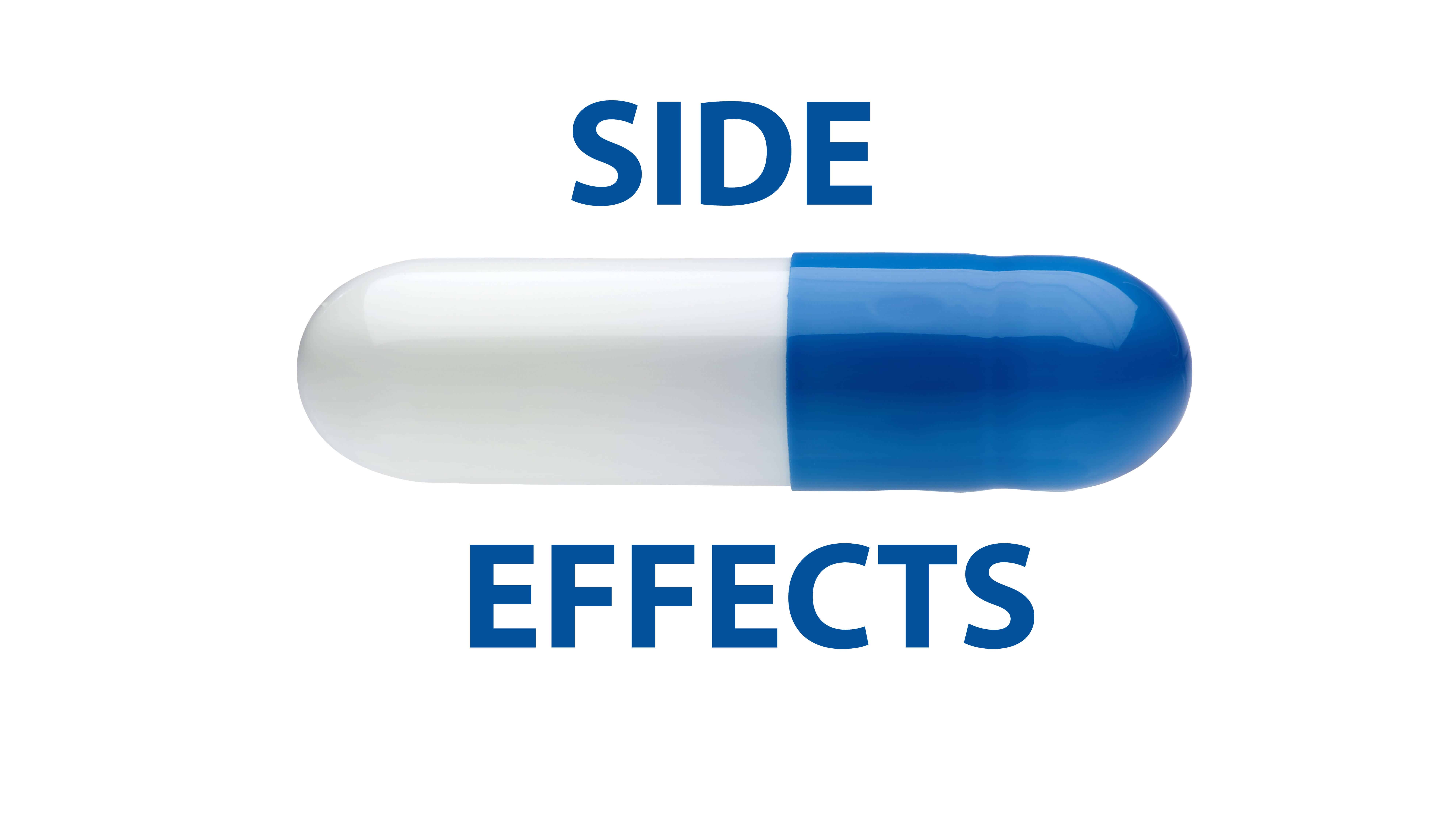 In some rare cases, side effects can be more complicated. Therefore, it is not recommended to take this medication without a thorough prior health examination.
Amino acid injections are frequently used in mesotherapy and are applied subcutaneously. Qualified professionals have to carry out this type of treatment.
This is because Catalyst's L-carnitine may cause specific side effects while injecting, such as vomiting, sickness, diarrhea, and abdominal cramps.
Lawsuits
AdvoCare, the company behind Catalyst, has been subject to a lawsuit involving the Federal Trade Commission.
In October 2019, the company was ordered to pay consumers $150 million in a settlement for running a pyramid scheme. According to the FTC, "the company, its former CEO, and two top promoters are permanently banned from multi-level marketing."
What are Amino Acids?
Amino acids link together to form proteins; they are the basis, building blocks, and proteins. Proteins are essential for life. Do not be alarmed; these building blocks are present in large numbers in our body, from muscles and tissues to cells.
Therefore they are part of many essential processes of the human body. They transport nutrients across the entire body.
They are also vital for the repair of muscle, skin, hair, and bone tissues and helping wounds heal.
Types of Amino Acids
Twenty amino acids make proteins up, although there are about 250 in the human body. We know that these 20 split into two groups:
Essential amino acids
Non-essential amino acids
Where to Buy
Where to Buy Catalyst
Amazon.com
eBay
Bike Exchange
Catalyst Research
Most consumers today are tempted to buy products that allegedly have natural ingredients. But before putting money into these products, you should examine if these ingredients can get you the promised results.
The truth is that many natural ingredients elements are still under medical research – it is best to get information about each of them before you begin any supplementation program.
These supplement studies are on people with high physical activity but low protein intake, below 1.5g  per kilo. We know that this level is the minimum recommended for muscle gain.  Furthermore, the study shows minimal benefit when supplemented with Catalyst in increasing protein synthesis, improving performance, or reducing fatigue.
Another point to keep in mind is that it is costly in comparison with some other brands. Besides the possibility of some side effects that this supplement can bring, you have to rethink and investigate further if it is a wise choice to use this product.
Have you already researched the available amino acid supplement in the market before reading this article, or are you going to extend your research further now?
What Users Are Saying
What Users Are Saying
"When taking this with diet and exercise I notice a big difference in how toned it makes me… very good for dropping weight and toning the muscle it's expensive but it works so it's worth the price."
"Useless – did nothing."
"Love this product. Gives me a lot of energy throughout the day. Also, to everyone that keeps posting about the company sending out expired product: T2010 is the item number, not the expiration. Please read your bottle more carefully, as the expiration date will give some "exp." or something like that along with a MONTH AND DATE for expiration and not just a year and will probably be in some type of black ink that is printed ON TOP of the label and not apart of the label design itself. Could you imagine how much money it would cost to constantly redesign every label for every single new batch of product?"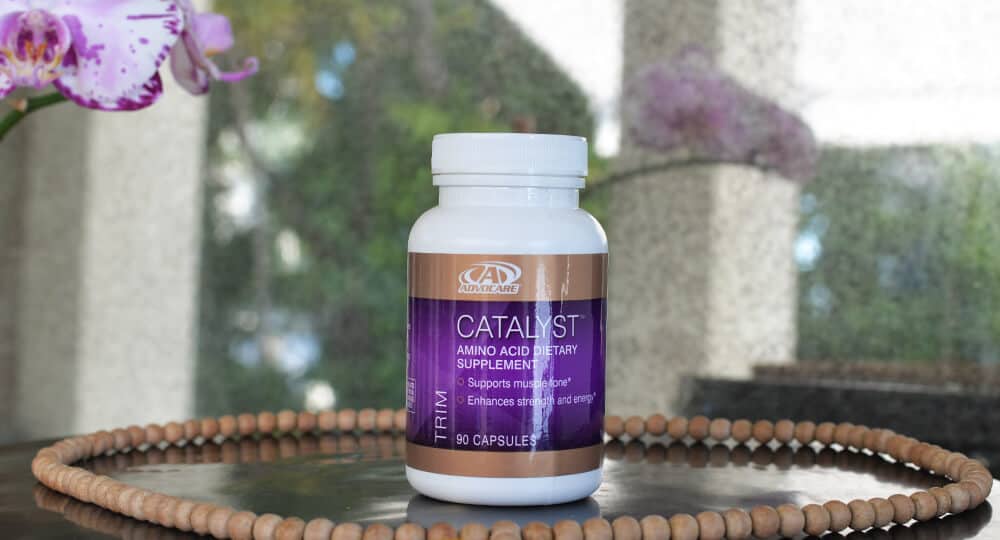 Bottom Line
The Bottom Line on Catalyst
We've got something to say about this one, so listen carefully. After an extensive review of Catalyst, we like that the company has a foothold in the industry, and we found some favorable customer comments. However, we're skeptical about it because there's insufficient clinical research backing up the claims.
We also have concerns about customers' comments about it not producing results and the adverse side effects.
If you're looking to make healthy lifestyle changes to promote fitness, muscle growth, weight loss, or other life changes, we have an app that may help.
Among the best in weight-loss and lifestyle apps available, this year is one called Noom. The program was created with human coaching, one-on-one support, expert nutrition and health articles, and so much more.
Plus, for a limited time Dietspotlight readers can access a free trial offer of Noom.
Learn More About Noom »