Down Dog App Review

- 10 Things You Need to Know
Down Dog App – can you pack everything you need for optimal fitness in an app? That's what Down Dog has tried to do, with more than one app, and our researchers are looking to find out just how well they work.
The team spent time looking through the details of each program. They signed up for a free online account, dug up information on the founders, and more. Check out the bottom line on Down Dog App.
Down Dog App can be purchased through their Official Site.
Overview
What is Down Dog App?
The Down Dog App is a series of fitness programs. Though Down Dog is often associated with Yoga, which the app does offer, there are other workout programs to choose from as well. The available workout apps include:
Yoga: personalized yoga fitness app
Yoga for Beginners: basic yoga introduction app
HIIT: high-intensity interval training app
Barre: ballet-inspired fitness app
7 Minute: total body workout app
Prenatal Yoga: gentle yoga for pregnancy app
If you'd rather work out on a larger screen, Down Dog also offers the programs online. You sign up with your email address, and you can start working out in fewer than three minutes. (It took us 10 seconds to sign up – literally).
Who Created Down Dog App?
Down Dog appears to be somewhat secretive about the company details. There is no About Us page, no Contact Us page, nothing. The website is nothing more than a list of apps and links to join online or download the app from a mobile store.
Based on a March 2020 press release, Carlos Ormachea is a co-founder of the company. Then, thanks to LinkedIn, we found out the second founder is Benjamin Simon.
Carlos has an economics education at Brown University, and he graduated from Harvard Law School in 2014. There's no mention on his LinkedIn profile of education or training in fitness.
Benjamin studied computer science at Brown University, graduating with his master's degree in 2011. Based on his LinkedIn profile, Simon earned a 200-hour yoga certification from Yoga Alliance.
At some point, the Down Dog App was associated with the Yoga Buddhi company. This is the name of the company listed on the iOS app store for each of the Down Dog programs. When you visit the LinkedIn page for Yoga Buddhi, you are taken to the Down Dog page.
How to Contact Down Dog App Customer Service
The sole means of contacting Down Dog customer service for the app or the online program is emailing help@downdogapp.com. There's no indication of how long you can expect to wait for an answer.
There's also the option to connect with the company on social media, resulting in a faster response.
Does Down Dog work?
MHealth — "App usage and effectiveness appears to have a connection to usefulness (attitude) and to perceived difficulties of exercising using apps (perceived behavioral control). Exercise and exercise using apps are not influenced by peer influence (subjective norm). Intention to exercise using these particular apps decreased (behavioral intention)."
JMIR mHealth and uHealth — "Our study highlights the necessity for careful considerations around the design of apps that promote weight loss or body modification through fitness training, especially when they are used by young people who are vulnerable to the development of poor body image and maladaptive eating and exercise behaviors."
Sports Medicine — "Few apps have been empirically tested, and among those that have, not all were valid or reliable. In addition, commercial apps were of low-to-moderate quality, suggesting that their potential for assessing CRF has yet to be realized."
Products Similar to Down Dog App
Cost
How Much Does Down Dog App Cost?
All Down Dog App programs are free to use. The main Yoga app does offer in-app purchases, but that option is not listed in the app store, for iOS or Android, for the other programs.
You are expected to pay either $7.99 a month or $49.99 a year for what we believe to be the "pro" version of Yoga.
Is There a Refund Policy?
To receive a refund for your Down Dog App purchase, contact customer service using the email address and explain your circumstances. The company will then decide whether or not to issue a refund. The qualifications for a refund are not provided.
How Do I Cancel My Down Dog App Subscription?
In the app and online, navigate to your settings and tap or click Subscription located under your Account tab. There you'll find a detailed description of how to cancel your subscription or make changes if desired.
Scroll below for one of the best products we've seen over the last year.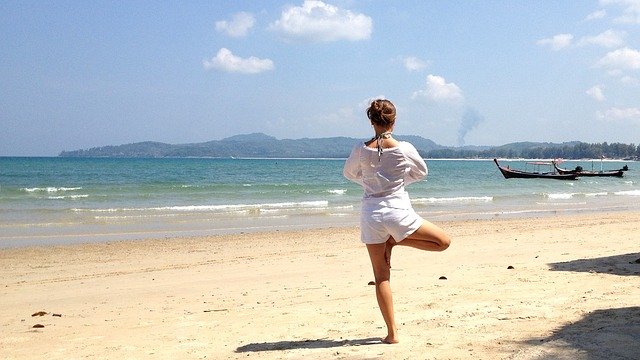 Claims
How Does Down Dog App Claim to Work?
Down Dog App doesn't make any express claims, likely because there is no main page to the website. The one statement shared by the company offers a little insight.
Down Dog offers "Great fitness anywhere."
Details
Details on the Down Dog App Program
The main Down Dog App is Yoga. To start your program, choose the length of time you want to work out, focus level, voice (instructor), and music.
For users having trouble with sound, video, or other issues, there is a FAQ page, or you can email customer service.
Integrations?
Does it Integrate With Wearables or Health Programs?
No, there is no integration between the Down Dog App and wearables or health programs. You can choose between mobile or internet interfaces.
Weight Loss
Down Dog App and Weight Loss
None of the Down Dog App descriptions mention weight loss. That's not surprising because making claims about a fitness program improving weight loss is not always the best choice, if only because it opens the door for negative reviews if someone doesn't lose the weight they thought they should have lost. The effectiveness of fitness programs for weight loss depends on various factors, including age, current fitness level, overall health, and others.
With that said, science says programs like Yoga and HIIT can promote weight loss.
The fantastic thing about Yoga is that it follows a whole-body approach to fitness, wellness, and weight loss. Research shared in Evidence-Based Complementary and Alternative Medicine in 2016 concluded that "yoga could offer diverse behavioral, physical, and psychosocial effects that may make it a useful tool for weight loss."
Based on self-reported data, yoga may also be beneficial for women who want to tackle abdominal obesity, according to research shared in a 2016 publication of Deutsches Arzteblatt.
What about HIIT? High-intensity interval training can burn many calories – often more than traditional workouts that last longer. A review of 18 studies published in Obesity Science and Practice in 2017 shared that HIIT can "reduce body fat percentage in adults with obesity compared to traditional exercise."
Warnings and Side Effects
Down Dog App Warnings and Side Effects
As is the case with any workout program, if you are concerned about working out using Down Dog App, seek your healthcare provider's advice. Some of the fitness programs are intense and, thus, not suitable for everyone.
Pros and Cons
Down Dog App Pros and Cons
What's the good and the bad regarding Down Dog Apps?
Pros:
All programs are available free.
You can follow via an app or online.
The paid version's subscription cost is only $50 a year, or $8 a month.
The main Yoga app has a 4.9 out of 5 stars on the iOS store (more than 160,000 ratings).
Cons:
Intense exercise (HIIT) isn't safe for everyone.
There's no mention of eating right or making other healthy lifestyle changes.
What Users Say
What Users Are Saying
"I am simply blown away by the down dog app and all their other products. Extremely user friendly, fully customizable, free to use, and excellent client relations. I use this more than once every day. I can't get enough!"
"They keep taking my money. Loved this app until i had to stop for a while, so I cancelled my subscription yet they keep taking my money and ignore my emails. Its been two years. Beyond disappointing that a calming yoga app would cause me so much stress…"
"The app is designed very well and easy to navigate but I had mine set at beginner and it was trying to get me to plank and other moves my body just can not do. I will maybe download once I am a bit more fit but right now it isn't for me."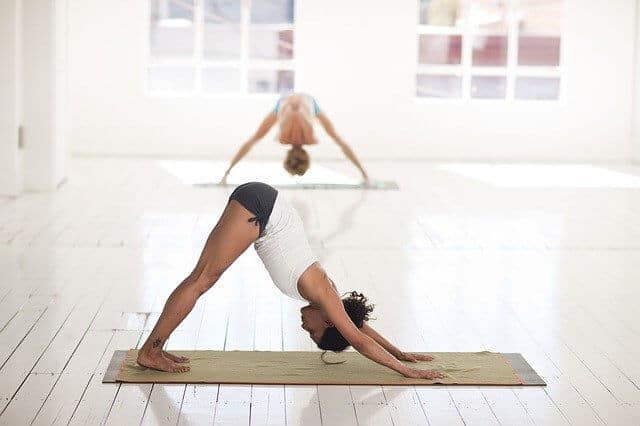 Bottom Line
Bottom Line on Down Dog App
We like Down Dog App, if only because you get to choose from multiple fitness programs available online and via mobile for free. With more than 160,000 ratings on the Yoga app alone (and a nearly 5-star average), the apps are clearly popular, but they lack in dietary and mental support.
Take a chance on a new way to lose weight with a program clinically-proven to help more than 75% of users lose weight.
Among the best in weight-loss programs available, today is Noom. The creators used psychology as the cornerstone of the program, so users are taught how to lose weight, and how to deal with any bumps in the weight-loss road that may happen along the way. All programs are personalized and come with a live, human coach.
Dietspotlight readers! You can access a special free trial offer of Noom for a limited time.
Learn More About Noom »