GreenBlender Review

- 15 Things You Need to Know
If you've ever wanted fresh smoothie components delivered to your door, you are part of GreenBlender's market. The company claims that they offer all-natural ingredient combinations that can assist with weight loss, and this is likely true. However, any diet plan in which you add nutritionally-dense seeds and vegetables while lowering your daily calorie intake will lead to weight loss.
On top of the murky weight loss claims, our research crew took issue with the price — $39-49 per box can be too much for most people. We looked at every GreenBlender detail to get to the Bottom Line. Find out our conclusions here.
GreenBlender can be purchased through their Official Site.
Overview
What is GreenBlender?
GreenBlender is a New York City company that delivers smoothies. Every week, they come up with five new smoothie recipes for their customers.
GreenBlender smoothie ingredients are allegedly chemical-free, organic, and contain no artificial flavors. They say they buy fruit and vegetables from the nearby local markets and food stores.
GreenBlender smoothies do not arrive at your door premade, though. The company claims users can order the smoothies of their choice from their home, ensuring you'll receive everything you need for your healthy smoothie.
Products Similar to GreenBlender
How Did GreenBlender Start?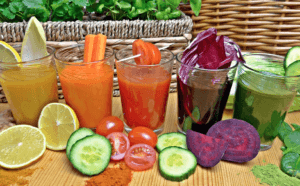 Jenna Tanenbaum and Amir Cohen started GreenBlender. The company first started when Jenna, a fitness and health care enthusiast, realized that she wanted to share the healthy and tasty smoothies she made at home with others.
They say GreenBlender's goal is to share the recipes with other people so that they can make healthy changes to their diet.
The company is now owned by Blix LTD.
Scroll below for one of the best products we've seen over the last year.
Claims
GreenBlender Claims
GreenBlender claims to use natural ingredients, which they say are better for users' health. They also claim that their smoothies can help users lose weight due to their unique ingredient combinations. They say the smoothies have many health benefits for their customers, including rapid weight loss and an immune system boost.
However, there is very little research backing these claims.
How Does GreenBlender Work?
When you sign up for a GreenBlender subscription ( week-to-week or longer), you choose a delivery day.
When you receive and open your order, the box contains the ingredient quantities you need for the smoothies and the weekly recipes.
There is no opportunity to choose the smoothies and it doesn't offer substitutes for ingredients that people may be allergic to.
Most GreenBlender ingredients are organic. If they are not organic, the company attempts to find the next best thing.
They pack all the ingredients in a cool box containing ice packs. All users need to is wash and chop up the food and refrigerate or freeze. After that, all you need is a blender, water, and ice.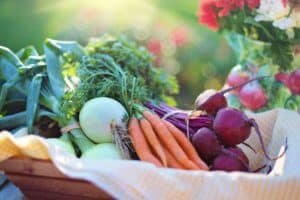 Ingredients
GreenBlender Ingredients
Depending on the smoothie recipes of the week, GreenBlender ingredients differ. Some of the frequent ingredients are:
Leafy greens and herbs
Bananas
Berries
Avocados
Stone fruits
Melons
Root vegetables
Apples
Leafy Greens and Herbs
The green leafy vegetables and the herbs are one of the most frequently used in the recipes of the GreenBlender. These ingredients are very rich in vitamins A, C and K, potassium, and fiber.
Bananas
Although bananas have a lot of calories and carbohydrates, they still have tons of nutritional value. In fact, bananas provide vitamins and minerals that a healthy body needs.
Berries
GreenBlender berries give the smoothies a sweet flavor and fragrance. They usually contain a high number of vitamins and minerals, though they differ depending on the kind of berry.
Avocados
Avocadoes are one of the most popular superfoods and you can find them in many smoothies. Their high amounts of monounsaturated fats are good for the heart as well.
They are also free of sugar, which is certainly a plus for those looking to reduce it in their diet.
Stone Fruits
Most stone fruits, including apricots, peaches, nectarines, cherries, and plums, are very rich in pectin. They are also very sweet when ripe and contain healthy amounts of vitamin C and potassium.
These fruits also provide a creamy texture to the smoothies. A good amount of stone fruits in the smoothies might also make you feel more active and alert.
Melons
Melons are a good source of vitamin C, A, B, potassium, niacin, thiamine, magnesium, vitamin K, and fiber.
Root Vegetables
Many root vegetables are in GreenBlender smoothies, like carrots, yams, turnips, beetroots, radishes, jicama, and ginger.
Apples
Apples are very high in vitamin C and free of fats and cholesterol, making them a good addition to many healthy diets and smoothie recipes.
Benefits & Results
GreenBlender Benefits and Results
Compared to most sodas, juices, and energy drinks individuals may drink, green smoothies have tons of health benefits.
All of the ingredients in the smoothies are supposedly organic and natural. Additionally, the company claims to have no artificial flavorings and colors.
According to GreenBlender, their smoothies promote a healthy lifestyle without its users having to sacrifice taste. They also say their subscription provides healthy fruits and vegetables to individuals that may not have the time or local resources.
Additionally, they claim these smoothies are rich in fiber, making consumers feel fuller for longer.
GreenBlender says these smoothies contain all the vitamins and minerals that a fit and healthy body needs. They also say you can drink these smoothies without worrying about gaining weight, unlike other supplements and smoothie services.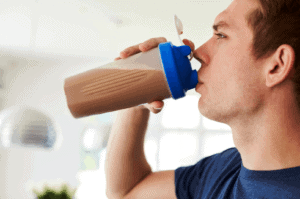 Directions
How to Take GreenBlender
Since they do not include the use of supplements, there are no real product directions.
However, the company recommends that you make and consume their smoothies for breakfast if you're trying to lose weight. By consuming the GreenBlender smoothies in the morning, weight loss is more achievable.
Nevertheless, people can drink these smoothes when they want without worrying. Just make sure to consume the smoothie within a couple of hours of making it.
Side Effects
GreenBlender Side Effects
Unfortunately, these smoothies don't last that long after they are made, which can be disadvantageous for those trying to meal prep to save time.
Additionally, some users complained of the amount of time it took to make the smoothies, instead wanting a faster way to lose weight without so much work.
Other user reviews cite a lack of convenience as another downside. Others noted a lack of results as an issue too.
Product Warnings
GreenBlender Product Warnings
Additionally, the company warns against storing fresh smoothies in the refrigerator overnight, as it could turn acidic.
Cost
GreenBlender Package Costs
Week-to-week subscription (one box): $49
Four-box subscription: $44 per box
12-box subscription: $39 per box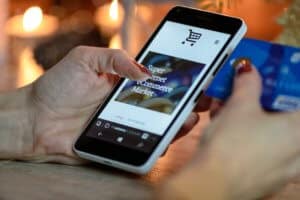 Where to Buy
Where to Buy GreenBlender
Pros & Cons
GreenBlender Pros & Cons
Pros
Organic and vegan ingredients.
Can prepare smoothies in five to seven minutes.
Low-calorie drinks.
Comes with its own straws.
Smoothies contain healthy protein sources.
Cons
Lack of directions.
Unclear on which smoothies to make first.
No research to support its health claims.
Sometimes inconsistent nutrition facts.
GreenBlender Alternatives
This is not the first company to focus on healthy smoothies for weight loss. Some of its notable alternatives include:
Simple Green
Daily Harvest
Naked Juice
Simple Green makes organic smoothies for customers based on their health requirements. Their product range includes workout smoothies, smoothies for good sleep, and heart-healthy smoothies.
Daily Harvest, just like GreenBlender, sends its customers ingredients and recipes for healthy smoothies.
Naked Juice makes organic juices with natural ingredients.
What Users Are Saying
What Users Are Saying
"Unlike with Daily Harvest, you don't get to choose your smoothies, you just get what's coming that week, so it may be hit and miss with your favorite flavors."
"I just got my first box from this company, and I will never order from them again! Daily Harvest is so much better! Greenblender simply sent me a box of extremely expensive produce including a moldy beet. Nothing was prepared or cut up. I could have run to my local grocery store and gotten the same thing… only fresher."
Bottom Line
The Bottom Line on GreenBlender
We know the benefits of smoothies, so what's our take on GreenBlender? Well, like that it's convenient and provides fresh fruits and vegetable to your door. Although there's limited research, we do like the focus on choosing healthy alternatives. The only concern is the cost.
Weight-loss is more than just one facet. We suggest adding a program with clinical research and positive comments support.
Among the best products we've seen this year is Noom. The idea behind this doctor-designed weight-loss app is to support the user in the journey through weight loss and teach them healthy lifestyle changes so the weight stays off.
Also, the company that makes Noom is so confident in their program, that they're offering a free trial.
Learn More About Noom »