I need to make a confession: I was obsessed with researching LeanFire XT. So, we at DietSpotlight came up with a comprehensive review, looking hard at the ingredients, side effects, and scientific studies. We additionally read all sorts of user comments and responses from all over the internet. Lastly, we summed up all of the information we collected to give you the relevant facts.
LeanFire XT Readers:
Click here
to find out why we're giving away samples of our product, Dietspotlight Burn.
What is LeanFire XT?
First off, LeanFire XT is an "advanced thermovigilance formula" for both women and men. According to the bottle, this supplement helps incinerate fat, amplify focus and clarity, and improve endurance levels. You need to take 1-2 capsules daily on an empty stomach. This formula contains Advantra Z (bitter orange), TeaCrine, caffeine anhydrous, green tea leaf, l-carnitine [1], cayenne pepper, l-theanine, yohimbine HCl [2], black pepper and DMAE [3].
From what we gathered, LeanFire XT was first released this year. It is made by Force Factor, a company located in Boston, MA. This is one of the several supplements available from this brand. There is a 30-day return policy posted on the official website. Also, some user testimonials are presented, read on…
LeanFire XT Ingredients – "Things Look Good"
The first issue we address is with LeanFire XT ingredients. According to our Research Editor, "This diet supplement contains a blend of herbs, such as bitter orange and caffeine. These are both strong stimulants that have been shown to help support metabolism."
One customer stated, "Gives me a boost before workouts. I think it helps reduce muscle fatigue."
Another commented, "It's not bad. Just don't take it in the evening or it [may] ruin your sleep."
Scroll below for one of the best products we've seen over the last year.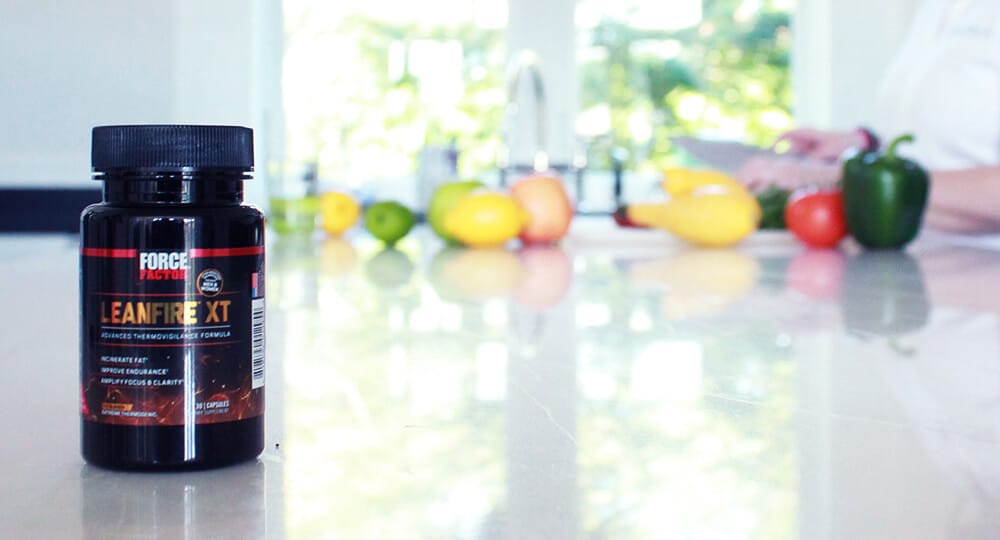 Customer Support – "People Are Happy"
We found that many customers who've taken the plunge and tried LeanFire XT liked the results they saw.
One individual stated, "Provides an energy boost. Take it before work in the morning."
"Gives you some energy, as long as you don't overdo it. Kind of like an energy drink or shot," revealed another.
According to our research, if there is a particular aspect of a diet pill or weight-loss supplement that is a concern (questionable ingredients, side effects, steep cost) the odds of real, long-term results are not good. It doesn't look like LeanFire XT has any of these issues.
The Science – "Find Any?"
LeanFire XT does contain some promising ingredients like green tea and caffeine to help boost metabolism [4] [5]. Even the bitter orange is a stimulant that can get calories burning [6]. Here at DietSpotlight, we love to see a formula that can honestly work, based on research.
The Bottom Line – Does LeanFire XT Work?
Now the moment you've been waiting for. This is our bottom line on LeanFire XT. To begin with, we like that this diet supplement is easy to use anywhere. It's also nice to see that this formula is sold with a money-back guarantee. The green tea, caffeine and bitter orange will undoubtedly get your metabolism rolling. Taking all this into consideration, this isn't a bad choice.
If you'd like to get rid of some excess pounds, then we encourage you to go with a product that is backed by solid clinical research, does not contain any dangerous ingredients and will not lead to harmful side effects.
Another formula that works with clinically tested ingredients is the supplement Dietspotlight Burn. It offers a blend of four essential ingredients chosen because results of research shows they can help with appetite, metabolism and fat loss. It's also impressive just how many people have tried it and reported amazing results.
Also, they're so confident in the product that they're offering you Special Trial Offer, a good sign.
Leanfire XT claims to help with "fat incineration." There are some beneficial ingredients in the formula, which is a welcome change when compared to so many other formulas on the market.
LeanFire XT Ingredients and Supplement Facts
Serving Size: 1 Capsule
Serving Per Container: 60
Amount per Serving
% DV
Peak Thermovigilance Triplex
721mg
*
- Fat Incineration Blend
*
*
-- Green Tea Leaf Extract
*
*
-- L-Carnitine
*
*
-- Cayenne Pepper Fruit Extract
*
*
-- BioPerine
*
*
- Metabolic Mind Matrix
*
*
-- L-Theanine
*
*
-- Caffeine Anhydrous
150mg
*
-- Teacrine
*
*
- Pure Energy Complex
*
*
-- DMAE
*
*
-- Advantra Z
*
*
Other Ingredients: Gelatin, dicalcium phosphate, magnesium stearate, microcrystalline cellulose, silica, titanium dioxide
We looked into the Leanfire XT ingredients to give you the details you need to make the most informed decision.
Green Tea Leaf Extract
Green Tea Leaf Extract is commonly found in Chinese and Indian tradition. It is an herbal version of green tea that contains antioxidants and is used in medicines.
What is it Supposed to Do?
Green Tea helps to lower cholesterol and blood pressure, increase athletic performance, and possibly help promote weight-loss.
Clinical Research
There have been many studies proving that green tea does in fact promote weight-loss. One of the studies done was in the International Journal of Obesity. They said, "Catechins significantly decreased body weight and significantly maintained body weight after a period of WL…", [1] thus, proving green tea helps people lose weight.
L-Theanine
L-Theanine is an amino acid analogue that is found in certain plants and fungus. In 1949, this amino acid was found in green tea.
What is it Supposed to Do?
L-Theanine is said to help relieve anxiety, improve cognition and reduce high blood pressure.
Clinical Research
According to a study published in Nutritional Neuroscience, "L-theanine and caffeine in combination are beneficial for improving performance on cognitively demanding tasks." [2] This may not be a connection to weight-loss, but it does show that some claims are backed by science.
Caffeine Anhydrous
Caffeine is a stimulant that effects the nervous system. It is typically put into drinks such as energy drinks and coffee to help increase energy levels.
What is it Supposed to Do?
Caffeine helps relieve headaches, increase mental alertness, and it has been said to promote weight-loss.
Clinical Research
In study found in the International Journal of Experimental and Clinical Pathophysiology and Drug Research, "It has been reported that caffeine ingestion elevated the metabolic rate and fat oxidation in vivo through lipolysis in fat cells and the release of catecholamines."
They continue on, saying, "Moreover, caffeine enhanced noradrenaline- or adrenaline-induced lipolysis in fat cells. We also obtained results which supported the anti-obesity activities of caffeine."
L-Carnitine
L-Carnitine is an amino acid that is a component in lipid metabolism in mammals.
What is it Supposed to Do?
L-Carnitine may help with kidney disease, chest pains, fatigue, and help decrease hair loss.
Cayenne Pepper Powder
Cayenne Pepper Powder is a powder derived from a red pepper with a Genus of Capsicum. They are in the same Genus with bell peppers, jalapeños, paprika, etc.
What is it Supposed to Do?
Cayenne Peppers help relieve Rheumatoid Arthritis related pain, back pain, and help relieve headaches.
LeanFire XT Side Effects:
Leanfire XT is a supplement that is used to burn off fat, increase focus, and improve endurance for men and women. Though most times side effects are rare, we located some user comments to prove they still happen.
"Leanfire XT gives me the energy boost I need."    Angel
"I'm more focused at the gym."    John
"I can feel my muscles getting bigger and stronger."    Jerry
"Laser-light concentration during leg day. I love it."    Anthony
"I'll take side effects like increased energy any day."    Sean
Want to try a supplement that will help you boost results? Then Dietspotlight Burn is for you. Click above to learn more.
Natural options cannot guarantee full safety in the world of weight-loss supplements. Even the most natural formulas have the ability to cause an adverse reaction. Leanfire XT side effects may be rare, but for some, they are a reality.
High Blood Pressure
High blood pressure (hypertension) occurs anytime your blood pressure is greater than normal for a like amount of time. [1] Normal blood pressure is 120/80 or lower, so anything higher is considered high blood pressure. However, if it is just slightly elevated, it may be known as prehypertension until it reaches about 140/90.
What causes high blood pressure?
Common causes of high blood pressure include weight, age, and diet. However, it can also be caused by smoking, lack of exercise, too much salt, too much alcohol, stress, genetics, sleep apnea or a thyroid disorder.
Fainting
Any sudden loss of consciousness may be classified as fainting, which is also known as syncope. Typically, this is temporary as the brain isn't getting enough oxygen for a short amount of time. It may also include low blood pressure.
What causes fainting?
Many things can cause fainting, but it's ultimately caused when the brain suffers from oxygen deprivation, usually from low blood pressure. Some of the common causes include an unpleasant or shocking sight, frightening experience, emotional disturbance, embarrassment, long periods of standing still, getting too hot, lifting heavy weight, dehydration and it can even be caused by supplements or food. [2]
Heart Attack
A heart attack (myocardial infarction) is a severe spasm or tightening of the coronary artery. It's usually a very frightening experience and causes chest pain or discomfort. It may also cause shortness of breath, jaw pain, and back pain.
What causes a heart attack?
One or more blocked coronary arteries may cause a heart attack. This is usually from a buildup of certain substances, such as cholesterol. Most heart attacks come from coronary heart disease, which means a waxy substance, known as plaque, has built up inside the arteries.
Stroke
When blood flow to one or more areas of the brain is cut off, and brain cells don't get enough oxygen, it's known as a stroke. Usually, this starts with definite signs of a stroke, which can also be called a brain attack. A stroke means your brain isn't getting the oxygen it needs and brain cells have started to die.
What causes a stroke?
When the blood supply to your brain has been reduced or cut off, it causes a stroke. It may be due to a blocked artery, blood vessel leaking or bursting or from other health conditions. Strokes are often seen in those with high blood pressure.
Leanfire XT side effects are not guaranteed, but some users have reported high blood pressure, fainting, heart attack, and stroke. Before taking any new supplement, consult with a physician to avoid a harmful reaction, especially if you suffer from a medical condition, take prescription medication, are under the age of 18, or you're pregnant or nursing.
LeanFire XT Questions & Answers:
We found and looked through hundreds of user comments about Leanfire XT to put together this helpful FAQ.
What are the side effects of Leanfire?
Leanfire XT side effects, according to a few customer comments, include mjld stomach pain if taken without food and jitteriness when additional forms of caffeine are consumed.
What are the ingredients in Leanfire XT?
Leanfire XT ingredients are Green tea leaf extract, l-carnitine, cayenne pepper powder, BioPerin black pepper fruit extract, l-theanine, caffeine anhydrous, TeaCrine theacrine, DMAE bitartrate, advantra z bitter orange extract, and yohimbine hcl.
Does Leanfire XT work?
On the official website, there's a section dedicated to discovering the science behind Leanfire XT. The company offers solid science relating to the ingredients. Specifically, the metabolic boost from caffeine [1] and the thermogenic effect of Advantra Z [2]. Based on the information, there's a chance you could notice results while using this supplement.
How much does Leanfire cost?
Leanfire XT costs $99.99 on the official website.
How should I take Leanfire XT?
You are supposed to take one capsule in the morning on an empty stomach.
Can I take Leanfire XT if I have a health condition?
You should talk to your physician prior to using any weight-loss supplement, including Leanfire XT, if you are taking prescriptions, under the age of 18, pregnant, nursing, or have health problems.
What do users like about Leanfire XT?
Users taking Leanfire XT have experienced an increase in energy, increase in focus, and a suppress in appetite.
What do users NOT like about Leanfire?
Some users didn't like that they experienced mild side effects while using Leanfire XT.
How do I contact the Leanfire XT customer service department?
You can contact the Leanfire XT customer service department by calling 1-877-204-3263 or by mailing letters to Force Factoor 105 Commerce Dr. Aston, PA 19014.
Can I contact Leanfire XT through social media?
Yes, you can contact Leanfire XT through Facebook and Twitter.
Who are the makers of Leanfire XT?
The makers of Leanfire is Force Factor.
If I am a coffee drinker, can I still take Leanfire XT?
Since Leanfire XT contains caffeine, you should talk to your physician before doing so.
Do you know of any special deals or discounts on Leanfire XT?
Yes, there are special deals and discounts on Leanfire XT. The company offers a trial offer. However, you can boost your results by adding one like Dietspotlight Burn. Click above to learn more about it.
LeanFire XT Scientific Abstracts:
Green Tea Leaf Extract
There is proof from in vitro as well as animal studies on the mechanisms of green tea catechins and their actions. There are human studies as well, using green tea catechins as a treatment for metabolic syndromes like obesity, cardiovascular risk factors, and type 2 diabetes. The long-term intake of green tea and its catechins may be helpful against high-fat diet induced obesity and type 2 diabetes and may decrease the risk of coronary disease. There needs to be further research which adheres to international standards, to monitor the clinical and pharmacological properties of green tea and to further study its mechanisms of action. [1]
L-Carnitine
The data showed that a high-fat diet greatly elevated final body weight, total cholesterol, triglycerides, and LDL concentration in comparison to controls. All of this while significantly reducing HDL, meanwhile the administration of L-Carnitine or Egyptian herbal treatment substantially normalized lipid profiles. Serum ALT, uric acid, urea, creatinine, CK-NAC, LDH, CK-MB were all substantially elevated in the high-fat diet group in comparisons with controls. The treatment of L-Carnitine or the herbal extract considerably decreased the effects of the high-fat diet. High insulin resistance, hyperglycemia, and hyperinsulinemia substantially increased in the high-fat diet group as opposed to the control group. High-fat diet elevated hepatic MDA and lipid peroxidation linked with the decrease in hepatic GSH and catalase activity. Treatment with L-Carnitine greatly ameliorated these hepatic differences. High-fat diet-induced obesity linked with a disturbed lipid profile, high values of insulin resistance parameters and poor antioxidant stability – which could have implications for the progression of issues related to obesity. L-Carnitine treatment improved obesity and the metabolic issues related to obesity. [2]
Caffeine
Resting energy expenditure was substantially elevated at all four time points and substantial elevations were seen for perceived focus (p = 0.05) and alertness (p = 0.026) at the first hour and energy at the first and second hours following treatment for the DBX (thermogenic dietary supplement) group (p = 0.008 and p = 0.017). In addition to this, fatigue was reduced at the first-hour mark (p = 0.010). There were no substantial differences noticed between DBX group and placebo group for anxiety, heart rate, blood pressure, hunger, ECG patterns or respiratory energy ratio. The outcomes of the study are in support of the blend of thermogenic aid and indicates that it has the potential to elevate respiratory energy ratio for 4 hours following ingestion while raising focus, alertness, and energy and reducing fatigue without triggering anxiety or any substantial changes in heart rate, blood pressure or ECG measurements in those who habitually consume caffeine. [3]
Learn More About Dietspotlight Burn »