Leptigen Review

- 6 Things You Need to Know
Update July 28, 2017: Dietspotlight has discontinued the sale of its product, Leptigen. Dietspotlight Burn replaced Leptigen.
We're continually listening to the market whispers looking for the next popular diet trend, and that's how we developed Leptigen. We dug deep into the companies behind the available weight-loss products, tons of tested ingredients, and customer reviews from third-party sites and forums. Here's all the information on the best supplement you're looking for.
Overview
What is Leptigen?
First off, Leptigen is a weight-loss supplement developed and sold by Dietspotlight. It is formulated with four ingredients that have excellent support in the research community. It's been shown to help many people burn more fat and have less of an appetite. A bottle of Leptigen comes with 60 capsules, a one-month supply. You take two capsules daily – one at least 30 minutes before breakfast and lunch.
The ingredients in the formula are:
Meratrim (400mg): According to NCBI, Meratrim is a combination of sphaeranthus indicus flower and Garcinia mangostana fruit. If you look at the research, there is some support with participants seeing a shrinking in the waist and hip circumference.
ChromeMate (100mcg): ChromeMate is a brand of chromium polynicotinate. This is not to be confused with chromium picolinate, which is commonly used in weight-loss products. What's interesting about this ingredient is that its primary function can support a secondary effect of weight-loss by helping keep glucose levels under control.
Green Tea Extract (200mg): ScienceDirect claims that green tea's effect improves when you pair green tea with exercise.
Caffeine (75mg): There is a long list of caffeine benefits, including improved motor function, increased energy, and weight loss. Caffeine is a common ingredient, but Leptigen contains less than other, similar products, reducing the risk of side effects.
Does Leptigen Work?
Free Radical Biological Medicine — "Trivalent chromium [ChromeMate] supplementation has the potential to decrease cellular oxidative stress, lower the blood levels of pro-inflammatory cytokines and lipids. The evidence that chromium can inhibit markers of vascular inflammation needs to be explored at the clinical level."
Journal of Medicinal Food — "The herbal blend [Meratrim] appears to be a well-tolerated and effective ingredient for weight management."
Journal of the Indian Society of Periodontology — "Catechins [in green tea] should be considered right alongside of the better-known antioxidants like vitamins E and C as potent free radical scavengers and health-supportive for this reason."
Leptigen Competitors
Ingredients
Leptigen Ingredients = Success?
We only use ingredients with a strong, direct connection to results. When Dietspotlight developed Leptigen, we had that in mind. There are numerous clinical studies on Meratrim, and based on the research, the formula can help you achieve substantially more weight-loss (compared to changes in just diet and exercise). Science hasn't finished researching Meratrim just yet.
Scroll below for one of the best products we've seen over the last year.
Reviews
Leptigen Reviews – What are Users Saying?
It used to surprise us how reviews of a product can vary so much, but we've grown accustomed to it now. Some users lose weight, and some don't – just like every other product.
This is even the case with Leptigen – Dietspotlight's very own product.
Sarah Jo says, "I don't usually make comments, but I just had to because unfortunately there aren't many reviews on Leptigen from legitimate customers. I loved it. I lost 15 pounds in a month, and I was lightly active with a normal diet."
Later, Dina came back to thank Sarah Jo for helping combat side effects. "Thank you so much for writing this review! It makes me feel more confident that it won't make me sick if I remember to eat after taking it."
But, there are always two sides to the story. Not all users were thrilled they tried Leptigen.
James said, "…kept me up all night with my heart pounding. I almost went to the ER. They need to make people more aware of this."
A side effect like this is not shared. According to NewsMedical, caffeine lasts about 10 hours in the body. So, if Leptigen, which contains 75mg of caffeine, is taken at noon, by 5 PM, there is 37.5mg left in the body, and by 10 PM, there's a good chance none is left.
Company Information
Who are the People Behind Leptigen?
The company behind Leptigen is Green Bracket, LLC – the owner of Dietspotlight.com.
What Users Are Saying
What Users Are Saying
"This product has worked for me, with added exercise it's even more efficient. I wouldn't buy it in Amazon because the price is absurd, but it works. It has the caffeine equivalent of one cup of coffee, everything I've ever tried give me jitters except this."
"Didn't work for me."
"So far so good."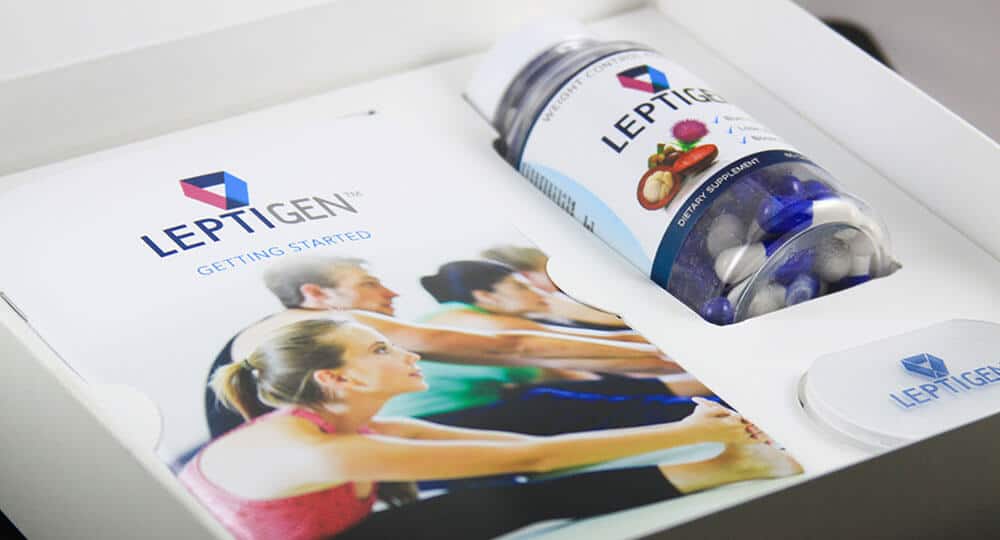 Bottom Line
Bottom Line – Is the Leptigen Sample a Keeper?
So what's the final word on Leptigen? Well, there's nothing to dislike about the product. All ingredients are generally considered safe, according to WebMD. And there are both negative and positive reviews (a sign that real people who've tried it are willing to speak up). The only reservation we have is that 75mg of caffeine will not be enough for some people. They may take that as the product not working when the other ingredients could be working well.
After discontinuing Leptigen, Dietspotlight developed Dietspotlight Burn. All ingredients have been clinically tested with some pretty fantastic results, and, like Leptigen, it is made in the USA.
To make it easier for people to try Dietspotlight Burn, there's a Special Trial Offer to jumpstart weight loss.
Learn More About Noom »