We're constantly listening to the market whispers looking for the next popular diet trend. Often these products disappoint, so we chose to create a weight-loss solution of our own. Executives and market experts have taken notice, and out of more than 300 reviews we've researched in 2017, we're confident about putting Leptigen at the top of the list.
Heads Up: Are You Frustrated?
Leptigen is formulated with clinically tested, effective ingredients in place of the fluff and fillers used far too often in the weight-loss industry.
We use a GMP-certified facility in San Diego for all Leptigen products. The ingredients in the formula are:
Meratrim (400mg): Meratrim is a combination of sphaeranthus indicus flower and Garcinia mangostana fruit. Some diet experts have called it "groundbreaking" for a good reason. Human clinical research has been completed with amazing results. According to research in the Obesity: A Research Journal, all it took was eight weeks to lower BMI, body weight and waist circumference in participants taking Meratrim.  Another in Lipids in Health and Disease offered similar results. This study measured reductions in body weight, waist circumference and BMI, in addition to hip circumference.  One more published in Endocrinology, Diabetes, and Metabolism gave additional support for these results, but it also found Meratrim helped reduce cholesterol and blood glucose. [1] [2] [3]
ChromeMate (100mcg): ChromeMate is a brand of chromium polynicotinate. This is not to be confused with chromium picolinate, which is commonly used in weight-loss products. What's interesting about this ingredient is that its primary function can support a secondary effect of weight-loss. (There's also a connection with lower cholesterol levels.) One study in the Journal of Clinical Biochemistry and Nutrition claimed taking chromium can help the body maintain healthy blood glucose levels. This is paramount in regards to hunger and cravings.  Based on a write-up in the Journal of Medicine, supplementing with chromium can reduce serum cholesterol levels significantly. Medline Plus and Medical News Today both back the idea that uncontrolled blood glucose levels can lead to hunger. Thus, keeping them in control could mean reducing hunger. [4] [5] [6] [7]
Green Tea Extract (200mg): Green tea extract is probably one of the most well-researched ingredients used in the weight-loss industry. Among the hundreds of human studies is one published in the American Journal of Clinical Nutrition. It says that green tea can promote moderate weight-loss when partnered with exercise and a health-focused diet. [8]
Leptigen also throws in 75mg of caffeine to help promote energy and stimulate fatty acid metabolism. This is less than half of what you'll find in that latte at your favorite coffee shop. [9]
Leptigen Ingredients = Success, Science Says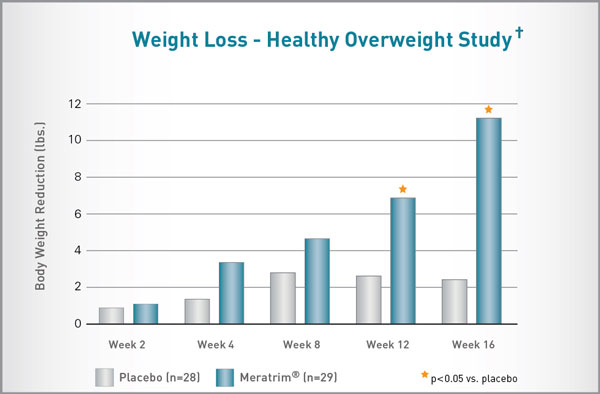 Above graph was part of study presented at 58th Annual Meeting of American College of Nutrition, 11/12/15, Orlando FL
The primary ingredient in Leptigen is Meratrim. This combination flower/fruit extract is produced by InterHealth, a company based out of California since 1987. They are also behind 15 additional ingredients supported by more than 250 pieces of research.
There are numerous clinical studies on Meratrim and based on the research, the formula can help you achieve substantially more weight-loss (as compared to changes in just diet and exercise.) As a matter of fact, one Meratrim study showed participants lost an average of nearly 12 pounds in 8 weeks. That's just two months. Other bodily changes included waist and hip circumference reductions of 4.7- and 2.4-inches, respectively (compared to placebo.) All this support and science hasn't finished researching Meratrim just yet. [10]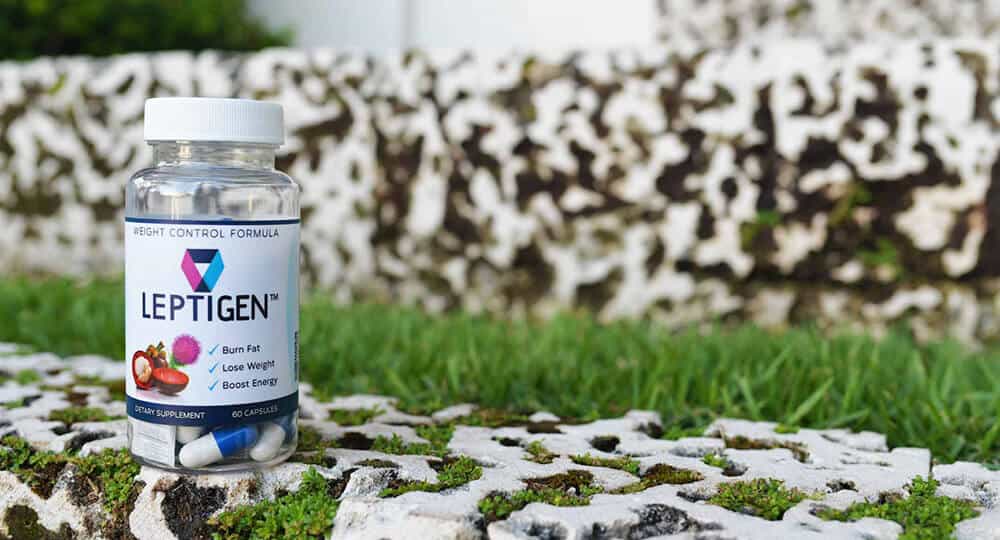 What Sets Leptigen Apart?
Leptigen is formulated with pure, natural ingredients – no fillers, binders or artificial anything. It's made in the USA, non-GMO and gluten-free. We're all about integrity and transparency, so we have every ingredient tested for purity and potency by a third-party.
Your bottle of Leptigen comes with 60 capsules; a one-month supply. You take two, simple-to-swallow capsules daily – one at least 30 minutes before breakfast and lunch. Our research has paid off as some users notice changes to their bodies in the first few days. From there, we've found many who reach remarkable weight-loss achievements in the first month. These results are similar to both men and women.
Plus, it thrills us to see that few people have experienced adverse side effects of any kind.
The People Behind It All
The success we've had with Leptigen is rooted in our dedication to the customer experience. We've thrived on maintaining the highest level of trust, which has helped us earn the respect of more than 400,000 customers over the last seven years. We've spent countless hours researching every new, popular, trending and obscure supplement on the market. It's with this huge collection of information that we've chosen the most effective ingredients to give you the "best of the best" packed with ingredients supported by science.
Though the formula is the at the heart of Leptigen, we also think unboxing should be something of an elegant experience. You'll receive your bottle of Leptigen in a custom box with compartments for the supplement and our free gifts to you. We've included a 28-page manual packed with expert tips and a pedometer among others just to show you how passionate we are to our customer's successes.
Let's Hear a Drum Roll for Leptigen…
Taking all factors into consideration and reading through thousands of customer experiences has convinced us that Leptigen when taken with healthy diet and exercise changes, can help:
Increase weight-loss
Boost fat burn
Spark metabolism
Also: claim your sample of Leptigen »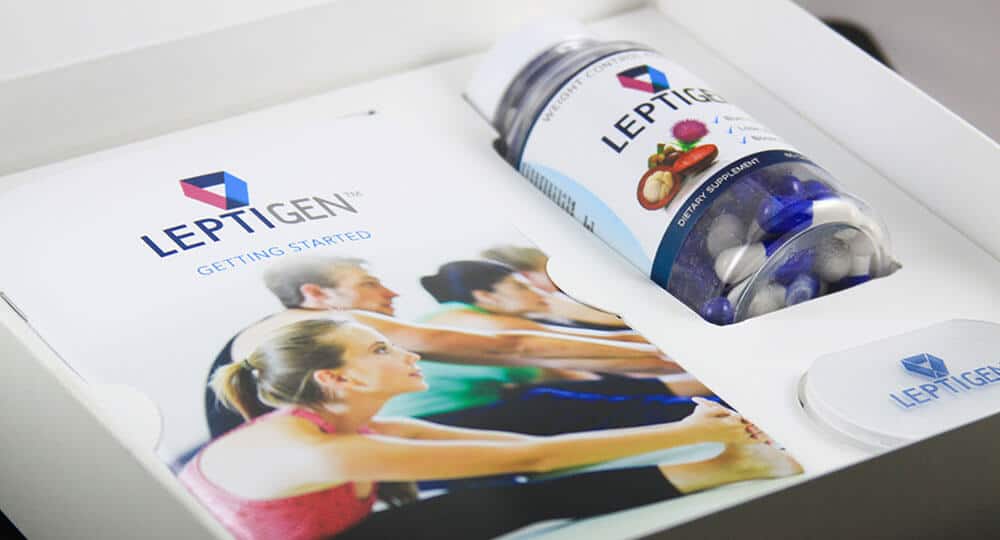 Final Take: The Leptigen Sample is a Keeper
We have confidence in our product, we for a limited time we've decided to give away samples. With your order comes a 15-day supply of Leptigen, 21 Cheat Foods Guide and a pill case to make things a little easier. Sign up today and get same-day shipping worldwide.
Click here if a 15-day sample of Leptigen interests you. Demand for samples has been hotter than we expected, so if you try to order, today and supplies are not available. Head back this way in a week or two to see if Slim is back in stock.
Leptigen Ingredients and Supplement Facts
Serving Size: 1 Capsule
Serving Per Container: 60
Amount per Serving
% DV
Green Tea Extract (standardized to 70% EGCG)
200mg
*
Meratrim (sphaeranthus indicus flower and garcinia mangostana fruit rind)
400mg
*
ChromeMate (chromium polynicotinate)
100mcg
*
Natural Caffeine USP
75mg
*
Other Ingredients: Gelatin, cellulose, sillicon dioxide, magnesium stearate (vegetable source)
ChromeMate
ChromeMate is a combination of chromium and niacin, combined to create a unique mineral complex.
What is it supposed to do?
ChromeMate assists in the balancing of cholesterol and blood sugar levels. It plays an important role in energy production and synthesis of glucose, fatty acids, and amino acids. Reports have been mixed, with some studies showing chromium to be an effective additive to a weight-loss regimen.
Clinical Research
The International Journal of Obesity wrote that "For body weight, a significant differential effect was found for chromium picolinate." It goes on to conclude that their meta-analysis indicated "a relatively small effect of chromium picolinate compared with placebo for reducing body weight." A publication from Harvard Medical School stated, "A new study reports a link between chromium levels and heart attack risk: the lower the levels, the higher the risk."
Meratrim
Meratrim is a unique dietary ingredient made from the extracts of the flower Garcinia mangostana and the herb sphaeranthus indicus.
What is it supposed to do?
Meratrim is said to decrease waist and hip circumference while reducing BMI (body mass index) and promoting weight-loss by preventing fat cells from multiplying. It is extremely well-tolerated, as pointed out by Food and Chemical Toxicology, "These results, combined with the tolerability of Meratrim in the human clinical trials, demonstrate the broad spectrum safety of Meratrim."
Clinical Research
In a systematic review using 12 randomized clinical trials, Journal of Obesity stated, "Garcinia extracts generate weight-loss on the short term." Going on to explain that the magnitude of the effects were small and that, "Future trials should be more rigorous, longer in duration, and better reported." The supplement is well-tolerated with no major negative side effects reported.
Caffeine
An extremely popular plant-based stimulant, caffeine is typically found in soft drinks, coffee beans, chocolate, teas, and some pain relievers.
What is it supposed to do?
Stimulating the central nervous system, caffeine can have a temporary energetic effect on the body, making you feel more awake and energetic.
Clinical Research
We found a study from The American Journal of Clinical Nutrition which wrote, "Caffeine ingestion stimulates both lipolysis and energy expenditure." It was concluded that most of caffeine's effects are mediated through the sympathetic nervous system and that caffeine's effects on lipid mobilization in resting conditions could be looked at in two different ways: "lipid mobilization alone is insufficient to drive lipid oxidation or large increments in lipid turnover result in small increments in lipid oxidation."
Green Tea Extract
Green tea extract derives from a typically Asian-grown tea leaf called Camellia sinensis.
What is it supposed to do?
Green tea is packed full of powerful antioxidants called catechins. Catechins are water-soluble polyphenols that boost metabolism and assist in the burning of fat. The most important of these catechins (due to their effect on metabolism) are called Epigallocatechin gallate, or EGCG.
Clinical Research
A report published by Chinese Medicine stated that "Long-term consumption of tea catechins could be beneficial against high-fat-diet-induced obesity and type II diabetes and could reduce the risk of coronary disease." The report also touched on the increasing attention of green tea on diabetes and obesity, concluding that "EGCG alone has the potential to increase fat oxidation in men and may thereby contribute to the antiobesity effects of green tea."
Leptigen Side Effects:
These days, there is an increasing number of weight-loss supplements being produced and playing important roles in more and more individual's lives. Even though the natural alternatives may seem like the safer choice, with any supplement, there is a chance for an adverse side effect. While Leptigen side effects are relatively uncommon, individuals may have different experiences.
Restlessness
Restlessness is typically described as an anxious or "fidgety" feeling accompanied with the inability to relax, sit still, or even sleep.
What causes restlessness?
Restlessness is triggered by a variety of pre-existing conditions such as ADD (attention deficit disorder), insomnia and bipolar disorder. Another main cause of restlessness is anxiety. Certain medications can also trigger this symptom, as well as excessive caffeine or alcohol consumption.
Increased Heart Rate
Increased heart rate (or tachycardia) is when the human heart reaches 100 bpm (beats per minute) or more. This usually begins within the heart's lower ventricles and has been documented causing dizziness, shortness of breath chest pain, and lightheadedness.
What causes increased heart rate?
Pre-existing health condition like hypertension, muscle disease, insufficient blood supply to the heart, tumors, and infections could cause increased heart rate, as well as alcohol consumption, caffeine consumption, and anxiety.
Nausea
Nausea is the uncomfortable feeling in your stomach, typically preceding the act of vomiting. This symptom is usually accompanied by diarrhea, fever, faintness, and sweating.
What causes nausea?
Nausea can be triggered by systemic disease, acute gastritis, alcohol consumption or inner ear disease. Some other potential causes of this symptom include gallstones, food poisoning, and medicine such as nonsteroidal anti-inflammatories, aspirin, digitalis, antibiotics, and narcotics. Nausea may cause your fingers and hands to feel numb and tingly, while your forehead will usually become clammy and damp.
Insomnia
Insomnia is chronic sleeplessness or the inability to fall or stay asleep, usually during a period where sleep should be occurring. Individuals suffering from insomnia may become dissatisfied with their sleep habits, find it difficult to focus, and could experience feelings of fatigue and mood swings throughout the day.
What causes insomnia?
There are a large number of causes including psychiatric and medical conditions. Depression and anxiety could be a cause of insomnia, as well as medical conditions like arthritis or other such ailments that cause intense pain and discomfort. In some cases, insomnia could be triggered by specific neurotransmitters in the brain known to be linked with sleep and wakefulness.
Although Leptigen side effects are few and far between, it doesn't necessarily mean they don't exist for some users. Individuals have reported increased heart rate, restlessness, insomnia, and others. Before taking any supplement, it's always best practice to consult a physician to steer yourself clear of any potential negative side effects.
If you are under the age of 18, have a pre-existing medical condition, are pregnant or nursing, or are currently taking medication, you should seek the advice of a doctor before consuming any supplement.
Leptigen Questions & Answers:
We searched extensively on the internet for reviews on Leptigen to create this helpful FAQ.
What are the Leptigen side effects?
From the customer reviews and experiences we've researched, there were no mentions of Leptigen side effects, other than a small number of people who're extremely sensitive to caffeine.
What is in Leptigen?
The main ingredients in Leptigen are ChromeMate, Meratrim, green tea extract, and caffeine.
What is the active ingredient in Leptigen?
Both ChromeMate and Meratrim are the main active ingredients in this supplement.
Does Leptigen work?
Through our extensive research on various clinical trials and studies on Leptigen ingredients, we discovered that there is a good possibility you will see some positive results. The specific formula boosts metabolism and triggers fat loss. We found that the caffeine and green tea content in the supplement also increases energy, among other benefits.
How much does Leptigen cost?
A one-month supply of Leptigen costs $109.95, but the company who makes the supplement offers a Special Trial Offer. There are 60 capsules in one bottle.
What is Leptigen's BBB rating?
The BBB (Better Business Bureau) rating for the company is a B.
How should I take Leptigen?
Recommended doses are one capsule in the morning with another capsule in the afternoon, 30 minutes before a meal.
Can I take Leptigen if I have a health condition?
We feel that everyone should benefit from the proven ingredients of Leptigen, but it's always wise to consult a physician before taking any weight-loss supplement, especially if you are pregnant or nursing, under 18, have any medical condition or are taking prescription medications.
What do users like about Leptigen?
Going strictly on the reviews, consumers raved about the increase in energy and noticed results in as little as
What do users NOT like about Leptigen?
Users did not like the wait time while calling customer service during the busiest hours of the day. That was the only thing we found regarding users not liking Leptigen.
Will the caffeine in Leptigen make me jittery?
The caffeine content in Leptigen is 75mg, which is much less than you would see in any other weight-loss supplement, but just the right amount to be clinically proven. If you are a habitual coffee drinker or find yourself consuming caffeine throughout the day and add this supplement to your routine, you may feel some jitters, but this is not a common side effect.
Can I return my Leptigen order?
Scouring the internet, we did find that some people sent back their Leptigen order. The company's return policy is 120 days to request a return.
How do I contact Leptigen customer service?
Leptigen customer service is available by phone at 1-800-555-3951. You can also email a representative at info@leptigen.com or send a message via the contact form.
Can I contact Leptigen through social media?
You can contact Leptigen through their Facebook.
Does Leptigen come with a guarantee?
Yes, there is a 120-day money-back guarantee.
Claim Your Sample »