Primal Plants Review

- 19 Things You Need to Know
We like Gundry MD. They offer products such as Vital Reds and Prebiothrive. So, our research team was excited when they heard people talking about Primal Plants. Can this concentrated polyphenol blend improve health? Let's find out by taking a closer look at the ingredients, potential side effects, and research backing the claims. Then, we compiled the details to give you the facts.
Primal Plants can be purchased through their Official Site.
Overview
What is Primal Plants?
Primal Plants is a green apple-flavored dietary supplement powder from Gundry MD that provides an essential superfood blend to improve digestion and overall wellness. Since many people do not get enough fruits and vegetables in their diets, this can lead to health issues such as weight gain, low energy levels, and a dull appearance or complexion.
This product offers various greens, probiotics, digestive enzymes, and plant polyphenols to deliver short and long-term health benefits. It's free of sugar, soy, lecithin, and artificial sweeteners and aims to boost energy levels, improve digestive health, promote healthier skin, and help you get your body weight under control, but what does the ingredient research have to say?
Products Similar to Primal Plants
How Did Primal Plants Start?
It all began with Dr. Steven Gundry, the creator of Primal Plants supplement powder. Gundry is a heart surgeon, cardiologist, author, and medical researcher with 40 years under his belt. In 2002, he left his position at the Loma Linda University Medical Center to start The Center for Restorative Medicine. Here he studied the human microbiome and focused on the principles of Holobiotics.
Holobiotics is a concept or belief that optimal health begins with your body living "in a state of cooperation with trillions of microbes" that are present inside and around your body.
Gundry MD now offers more than 20 different health supplements, and according to the Better Business Bureau, they first got started in 2016. Along with Primal Plants, their other favorite products include Vital Reds, Prebio Thrive, and Total Restore. The company also offers an ambassador program, where individuals can receive 20% commission.
Scroll below for one of the best products we've seen over the last year.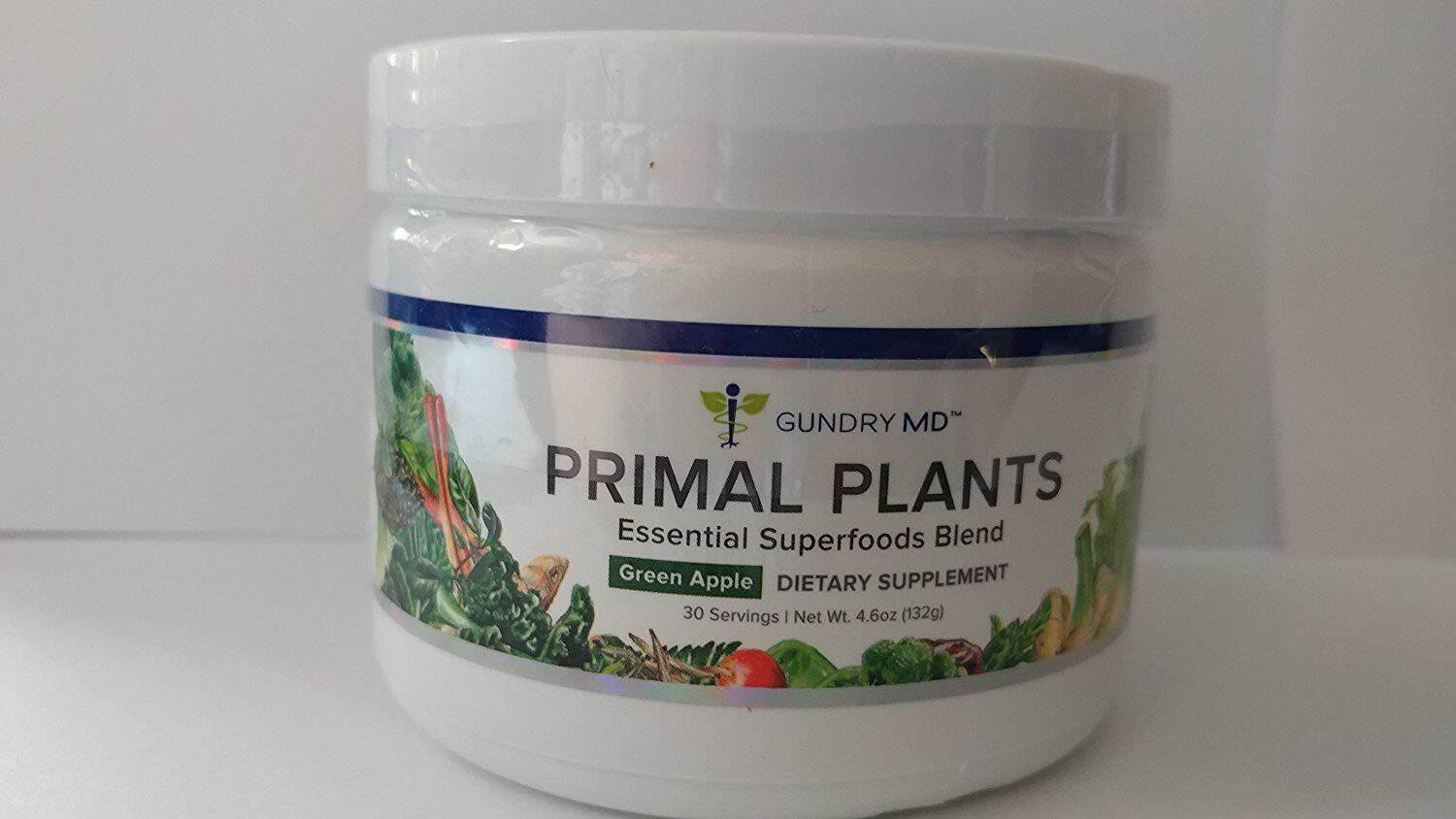 Claims
Primal Plants Claims
We noticed that Primal Plants makes some pretty hefty claims. This superfood drink mix is touted as a powerful supplement that can help you by:
Improving skin health and appearance
Increasing energy levels
Promoting good digestion
Reducing gas and bloating
Getting body weight under control
On top of all that, Primal Plants is delicious, safe, and 100% natural. It is manufactured in the USA and only contains ten calories per serving. Therefore it should not lead to any additional weight gain. But we're still a bit skeptical about all of those health and beauty claims.
Essential Superfood Powders
You may have noticed the vast array of superfood powders and greens supplements on the market today. Primal Plants is merely one of the dozens. These products are intended to give you all the nutrients you miss out on from your diet's lack of fruits and vegetables. According to Gundry MD, 80% of Americans don't eat enough vegetables and fruits. This is partially due to the fast-paced lifestyles many people lead. There is less time to prepare meals and eat healthily, so many people just eat out.
But is this type of essential superfood supplement necessary? The idea is to drink a greens powder shake or smoothie once a day, and suddenly you have all the essential vitamins, minerals, nutrients, and antioxidants for optimal health and wellness. If it only worked that way.
The reality is your body receives much more nutrition and benefits from actual whole foods, and research has shown this is where you should get most of your daily nutrition, not from supplements, reports research in Europe PMC.
Ingredients
Primal Plants Ingredients
If you want to understand Primal Plants, you have to look at the ingredients. This supplement offers some good vitamins and minerals, but the key ingredients can be broken down into four different blends:
Super Food Greens Blend
The Super Foods Greens Blend includes:
Gymnema sylvestre
Greens
Rhodiola rosea root
Cinnamon bark
Fennel seed
Diindolylmethane
Berberine hcl
Pine bark
Mulberry leaf
These ingredients provide polyphenols, which are antioxidants that help ward off damaging free radicals and boost energy levels, says the Harvard T.H. Chan School of Public Health. Polyphenols are commonly found in fruits and vegetables, states the European Journal of Clinical Nutrition.
Metabolic Enhancing Blend
The Metabolic Enhancing Blend contains:
Green tea leaf
Bitter melon fruit
Ginger root
White tea leaves, black pepper, and turmeric root, all included to support a healthy metabolism and spark energy levels. Studies have linked green tea to fat loss due to its catechins and caffeine content.
Digestive Support Blend
The Digestive Support Blend contains:
Bromelain
Fructooligosaccharides
Citrus pectin
This blend helps your body break down food and convert it into energy.
Probiotic Blend
The Probiotic Blend contains:
Bacillus coagulans
Lactobacillus reuteri
Bifidobacterium lactis
Lactobacillus acidophilus
These four probiotics are considered potent strains and help balance good and bad bacteria levels in the gut. According to the National Center for Complementary and Integrative Health, they are living microorganisms that help break down food, prevent diarrhea and constipation, boost the immune system, and help with good digestion.
Does Primal Plants Work?
Before investing in any supplement, you probably want to know if it's effective. Does Primal Plants live up to the marketing claims? To start, the official website does state that this supplement is based on medical and scientific research. Also, this superfood blend was formulated by a licensed physician.
We scrutinized the website for clinical studies on Primal Plants powder. Unfortunately, we didn't find any documented research that specifically involved this product. There are published studies and citations posted on the website related to the ingredients in this greens powder.
These studies show the benefits of consuming antioxidants, probiotics, fruits and vegetables, polyphenols, digestive enzymes, prebiotics, and green tea. So, it is clear that Gundry MD has done their homework regarding science backing the ingredients they use.
Now, will Primal Plants make good on all of its claims – that's another story. This superfood supplement drink does provide some nourishment, including critical daily vitamins, minerals, and antioxidants. This may help you supplement your regular diet and get some extra nutrients you might be lacking. That said, no solid research backs up the weight loss and youthful skin claim Gundry MD makes.
Benefits and Results
Primal Plants Benefits and Results
The benefits of Primal Plants are stated on the main website and include:
Better skin
More youthful appearance
Improved digestion
Less gas and bloating
Weight control
More energy
As for the Primal Plants results, we had to look at user reviews and comments posted around the web. Some customers said this greens powder drink mix helped improve their complexion, and others said it helps with digestive function. A few people also mentioned it boosts energy levels, but we did not find many customer remarks about weight loss.
Some people mentioned that this drink helps reduce or curb cravings for sweets. However, we did not see any noticeable weight-loss testimonials for Primal Plants.
Details on Primal Plants and Weight Loss
First and foremost, Primal Plants is pushed as a superfood blend that helps improve energy, youthfulness, and digestive health. But it is also claimed to get your body weight under control. So, how does it help with this?
We honed in on the ingredient blends, and this supplement does contain green tea extract and bitter melon. These are the only ingredients we noticed that might be helpful if you're trying to shed some extra pounds.
Green tea is an unfermented variety that contains EGCG, which is a type of polyphenol or antioxidant. It also provides some caffeine, which is a stimulant. Research in the Journal of Research in Medical Sciences has shown that it can help promote fat loss and elevate metabolism, especially when combined with a healthy lifestyle.
However, the actual amount of these ingredients in Primal Plants is unclear because they are both parts of a blend. This means the portions could be minimal, which would make them less efficient for weight loss, or not effective at all.
Directions
How to Use Primal Plants
To use Primal Plants, follow these simple steps each day:
Get a glass of water, tea, juice, or another beverage of your choice
Add one scoop of Primal Plants powder
Stir well
Drink by itself or with a meal
You only need to drink this super-food supplement once daily. It digests quickly, and there is no particular diet program or workout routine you need to follow.
Side Effects
Potential Primal Plants Side Effects
No matter what supplement you choose, all products have some pros and cons, and you may notice a few unwanted effects. This mainly depends on how your body responds to the ingredient formula. Here are some potential side effects for Primal Plants:
Gas
Bloating
Upset stomach
Abdominal cramps
Nausea
These are the Primal Plants side effects mentioned by some users. However, from what we saw, most people do not experience adverse results from this product. The official website does not mention any potential side effects at all. Nor does the product label.
Actual Primal Plants Reviews
There are hundreds of user reviews for Primal Plants – many of which are posted on the official website.
One thing we noticed is that virtually all of the user reviews on the main website are positive. This seems a little odd. Can we believe that everyone who tried Primal Plants liked it and saw substantial benefits?
Check out the customer comments on Amazon to get a little more diversity. These user reviews seem a bit more authentic. All in all, this product was rated 3.4 out of 5 stars on Amazon. People's main issue is the taste of this powder, and some said it does not mix well.
On a side note, we checked out customer remarks on the official BBB website as well. These are for Gundry MD, the actual company. 60% of customer feedback is negative. Many of these user complaints are about the 100% 90-day money-back guarantee Gundry MD offers. Apparently, some people are not getting the refund they were promised when the product does not deliver the advertised results.
Product Warnings
Primal Plants Product Warnings
We did not find any severe warnings for Primal Plants supplement powder. Even so, it's wise to take a close look at the ingredient label before you try this product. It does contain a broad assortment of plant extracts, probiotics, digestive enzymes, vitamins, and minerals. If you have any specific allergies, you need to consider these beforehand.
Also, we noticed at the bottom of the ingredient label that this supplement contains milk.
Lawsuits
Any Primal Plants Lawsuits?
No lawsuits were found involving Primal Plants or Gundry MD. It does not look like anyone is filing any legal suits against this company or product. At least not so far. On the other hand, some customers have posted scam warnings about Gundry MD and their 90-day return policy. We even found one on Rip Off Report. Does this company stand behind their satisfaction guarantee?
Where Can You Buy Primal Plants
You will not have any trouble finding Primal Plants online. Here is a quick look at the websites that offer this supplement:
Official Gundry MD website
eBay
Note that the official website does offer a 100% 90-day satisfaction guarantee. This means you can try Primal Plants to see if you are satisfied with the benefits, and as long as you return it within 90 days of the purchase date, you can get a full refund. Sadly some customers have reported that the return policy does not work as advertised, and they never got their money back.
Cost
Primal Plants Price – How Much Does it Cost?
The cost of Primal Plants is $99.99 per container. This is the regular price posted on the official website, and it is 30 servings, which lasts for 30 days. This also includes free shipping and handling. There are two other pricing options available, which are:
Three containers for $284.97 (90 servings) plus free shipping
Six containers for $539.94 (180 servings) plus free shipping
You should also be aware that first-time customers can use a coupon that's provided on the website. To get the coupon code, you need to sign up with your name and email address for the free newsletter.
For $100 a month, you could buy plenty of real fruits and vegetables to add to your daily diet. Eating whole foods daily would be more healthy than drinking processed powder.
Other Gundry MD Products
Aside from Primal Plants powder, there are 20 other health supplements available from Gundry MD. These include:
Lectin Shield
Omega Advanced
24 Strain Probiotic
Glucose defense
Pro-Forta Men
BCAA Blend
Red Superfruit Polyphenol Blend
Vitamin D 5000
Advanced Basil Formula
Herbal Mood Support
Enhanced Circulation Formula
Mediterranean Olive Leaf Extract
Essential K2
Biomax Curcumin
Perilla Seed Oil
ProbioPulse
TriTrim Multipack
These products are available directly from the company website, and the same 90-day satisfaction guarantee backs all.
What About Primal Plants Alternatives?
There is no shortage of superfood supplements and greens powders, so you won't have trouble finding alternatives to Primal Plants. Here is a list of a few other options:
Amazing Grass Green Superfood Antioxidant
Athletic Greens Premium Superfood Cocktail
Purely Inspired Organic Greens
Orgain Organic Superfoods
Garden of Life Perfect Food
Just be aware that these superfood powders, like Primal Plants, are mainly intended for boosting health and digestive function, as opposed to helping you lose weight.
What Users Are Saying
What Users Are Saying
"I have been taking primal plants once a day for a few years. My skin looks 8-10 years younger than anyone my age. I'm 46 and I'm in the sun as a landscaper all summer. I can honestly say this primal plants scoop is the only real thing I'm consistent about. It's not cheap and I really stocked up last time buying 1 1/2 years supply which runs over $800 with all his discount offers. In the end I feel like this is the difference in how my skin is aging. I stocked back up!"
"Great product but pricey – I have been using this product for quite a while now and I do absolutely think it is a quality product. One of the few green drinks that does not have grass in it. Dr.Gundry says grass is not meant for human consumption, and I agree. That being said for me it is like a nutritional Metamucil type product. It helps keep me very regular which to me is well worth it. With the added bonus of more vitamins and some vege's. The downside is that is is very expensive and that is why I gave it 4 stars. I have been contemplating using it every other day and find some other drink more reasonably priced with it."
"We have been using this product for about 2 years now. It's a great way to get your daily vegetable nutrients. In addition to the nutritional value, it has worked wonders in eradicating a rash on my daughter's hands. She has an adverse reaction to airborne chemicals from harsh cleaning supplies used in restaurants and hotels. Finding this product on ebay at a discount and not having to enroll in a monthly delivery program was amazing."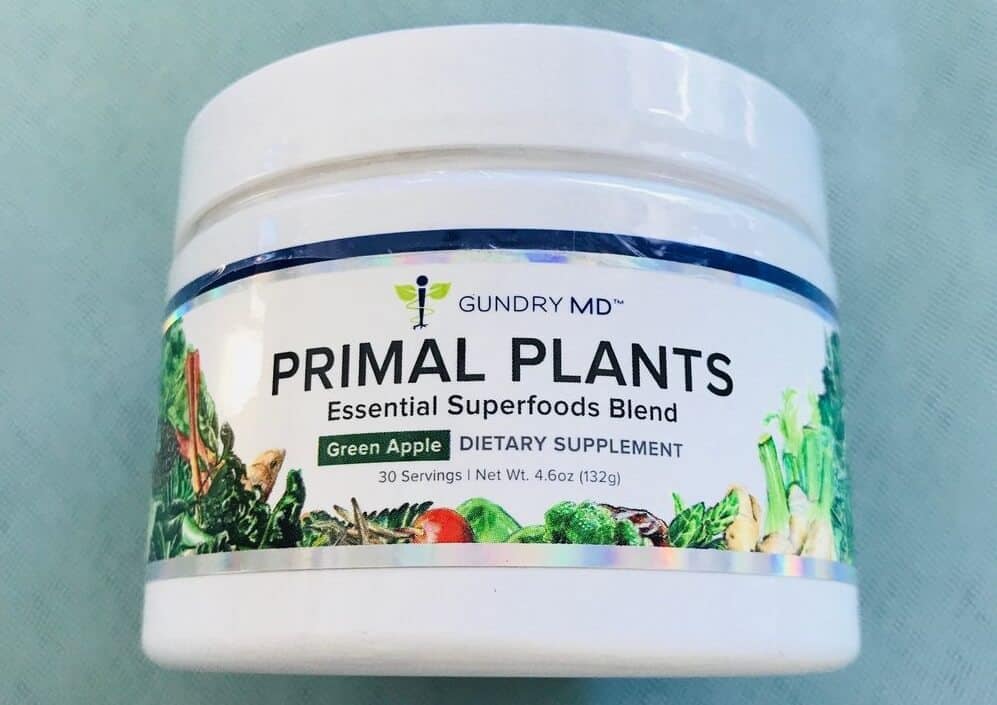 Bottom Line
The Bottom Line on Primal Plants
We like it when a supplement such as Primal Plants offers natural ingredients and research to support claims. We also like that it comes from a trusted name in the industry. One of the concerns we have is the cost. At more than $99 for a 30-day supply, some may consider this one too expensive for their budget. However, Primal Plants isn't the only supplement out there showing promise.
If you're looking to lose weight and ready to make lifestyle changes, but you don't know where to start, there's an app that can help with that.
Among the best products we've seen is called Noom. The app brings along human coaching, food and exercise logging, personalized meal plans, and more for users.
The team behind Noom wants to offer readers a free trial offer as a sign of confidence in their program.
Learn More About Noom »