PS1000 Review

- 9 Things You Need to Know
Losing weight, as most people can attest to, can be quite challenging. This is where PS1000 comes into play.
Sure, the basics of losing weight are simple, but not easy. Weight loss involves lowering your calorie intake while coupling it with a good exercise regimen.
However, many more variables come into play when it comes to this process. The major hindrance to a weight loss program is when the individual reaches a plateau that they cannot push through, causing multiple factors.
Drastically cutting your calorie intake will often cause food cravings, which most individuals find hard to resist. Once their fortitude is broken and they indulge, the whole plan goes to waste.
Another factor that results in the plateau is fatigue. Lowering your calories while on an exercise plan will induce fatigue due to the low energy levels, which leave you feeling tired, irritable, and unmotivated to work out or follow your program.
So could PS1000 help you lose weight while counteracting the above effects?
PS1000 can be purchased through their Official Site.
Overview
What is PS1000?
PS1000 is a weight-loss system consisting of a diet drop supplement and an actionable nutritional plan that uses proven clinical science results to help you lose weight in the most naturally and healthily way possible.
Unlike most plans being promoted by the weight loss industry, it does not offer a magic pill that will see you cut weight unrealistically fast.
Instead, it promotes a healthy lifestyle coupled with the right supplements as the best way to lose fat.
The system's whole concept is to reduce your calorie intake without leaving you with feelings of hunger and fatigue.
This is enabled by using their diet drops created by a team of dietitians, nutritionists, and healthcare experts.
Does It Work?
PS1000 Competitors
Diet Drops
What is PS1000 Diet Drops?
The diet drops are specialized supplement drops that have nutrients necessary to counteract the effects of lowering your calorie intake. These drops are taken during the first phase of the plan.
Metabolic Burst Drops
The metabolic burst drops are types of diet drops normally taken during the weight loss and maintenance phase to help deal with the plateaus associated with weight loss. Metabolic Burst Drops work by:
Limiting appetite
Boosting thyroid function
Improving stamina
Preventing catabolism
All factors that are due to be experienced when on a restrictive diet.
Energy Burst B-Complex
The Energy Burst B-Complex is another component of the diet drops. The Energy Burst B-Complex also works to:
Minimize cholesterol levels
Support the cardiovascular system
It also helps raise energy levels and increase the metabolism of proteins, carbohydrates, and fats.
Program Booklet
The program booklet is a detailed guide on executing the plan during its three phases and contains instructions on using the diet drop supplements properly.
Support System
The 360 support system comprises a network of weight loss enthusiasts who support each other throughout the weight loss journey.

Scroll below for one of the best products we've seen over the last year.
The Phases
The Three Phases of PS1000
Before you begin using the product, it is recommended that you undergo a two-day period of preparing the body for the withdrawal syndrome. It may suffer because of the sudden cut of starch and sugars. During this period, you are advised to consume rich foods in Omega 3 and maintain a clean diet. Additionally, you are also advised to replace all caffeinated and sugary drinks. This is done to prepare the body for the liquid supplement that is going to be used.
Phase 1
Also known as the rapid weight loss phase, the phase lasts for 90 days. This is when most of the weight loss will occur, and the majority of the program's benefits are derived. During this phase, the calorie intake will be dropped to 1000 per day. The diet will consist of entirely clean food while the diet drops will be taken daily.
If an effective workout routine is incorporated during this phase, the weight cut could be accelerated. However, experts caution against overtaxing yourself because the low-calorie intake often translates into deficient energy levels in the body. Thus it will not have enough energy to power through workouts. Exercise is, therefore, an option and not a requirement.
Phase 2
The second phase involves the individual creating a new weight set point. This stage will last for 21 days, during which the dieter will try and reach their ideal weight. The calorie intake, however, changes. The program instructs an additional 500 calories to the previous 1000, totaling 1500 calories a day. During this period, the user will discontinue the use of diet drop. Additionally, your food choices open up, and you can enjoy some of the food that is not considered entirely 'clean.' The plan states that after the second phase, the user may proceed to the next stage or revert to the first phase if they want to further their weight loss.
Phase 3
During the third phase, the user is advised to slowly add their starch and sugar intake as per their body requirements. However, the healthy lifestyle that they had to adopt for the weight loss should be continued.
The biggest point to take home when it comes to the product is the alternative lifestyle that it preaches. Certain users might find it hard to adapt, especially during the first stage, where sugars and starches are eliminated.  This might hinder the effectiveness of the program to them as a result.
Ingredients
PS1000 Ingredients
Tyrosine
Tyrosine is a type of amino acid used in the synthesis of hormones responsible for pleasurable effects. These hormones include epinephrine, dopamine, and norepinephrine. Tyrosine also helps in the manufacture of chemicals that play crucial functions and roles in the body. Tyrosine, therefore, plays a critical role in decreasing stress levels and raising alertness and focus.
Numerous studies have attributed tyrosine to boosting cognitive function, improving mood, enhancing sex drive, suppressing appetite, and burning stored fat, Examine.com reports.
Glutamic Acid
Glutamic acid, an essential amino acid, is used primarily in protein synthesis. Its roles include ion regulation, energy production, supporting immune system health, and good digestive health, says PubChem.
Glutamic acid assists in detoxifying the body, boosting brain functions, improving heart and prostate health. Additionally, it acts as a source of energy during strenuous activities due to its ease of absorption into the body.
The recommended dosage of Glutamic acid lies between 500-2000 mg each day.
Maca Root
Going by the scientific name of Lepidium meyemii, maca root is a member of the radish family and is grown in Peru, where it is cultivated as a vegetable. Studies show that the maca root is used in enhancing stamina, energy, and athletic performance. Additionally, it is also used to stimulate sexual desire, treat menstrual problems, and boost the immune system.
The maca root is essential in enhancing libido in both males and females. Maca is tolerable at recommended dosages.
Beta-Alanine
Beta-Alanine is another essential amino acid used to build muscle mass, improve athletic performance, and boost overall physical function. Beta-Alanine's effectiveness lies in its ability to ensure the efficient use of energy. Studies done on Beta-Alanine subjects showed that it aided in boosting their physical performance, weight loss, and gaining muscle mass. It is safe when used at the appropriate dosage.
Rhodiola Rosea
Also known as the arctic root, Rhodiola is mainly found in Alaska, Europe, and Asia. The arctic root is used to raise energy levels, improve sex drive and athletic performance, and treat heart-related problems.
According to Examine.com, studies done on Rhodiola show that it helps boost cognitive functions and reduce fatigue and stress. Additionally, the plant also has appetite suppression properties that help prevent binge eating. Experts recommend that you should take the arctic root for a maximum of ten weeks.
African Mango
The African Mango's documented abilities include lowering blood sugar levels and raising one's energy. Additionally, it affects the sensitivity of leptin. All these factors contribute to its effectiveness in weight loss.
Major studies in the Journal of Agricultural and Food Chemistry on the African Mango have revealed its effectiveness in the waist and weight reduction and a string of other benefits such as reducing glucose levels in the blood, cholesterol reduction, and controlling the levels of leptin and adiponectin. Taking 150 mg of the African Mango extract twice a day resulted in participants losing up to 10 pounds with no change in their lifestyles.
Soluble Fiber
The body is not able to absorb soluble fiber in its natural state. It is therefore dissolved in water to form a gel-like solution. Soluble fiber works in helping to lower glucose and cholesterol levels in the blood. Additionally, it also assists in the maintenance of healthy body weight.
Potassium
Potassium is an element that is useful in reducing stress.
Vitamin E
Vitamin E is an antioxidant that boosts immune function, regulates gene expression, and is actively involved in cell signaling.
Vitamin B6
It's an essential vitamin boosting immune function, helps form hemoglobin, is involved in gluconeogenesis,  and helps prevent premenstrual syndrome.
Vitamin B12
Vitamin B12 is essential in neurological functions and the formation of red blood cells, says the National Institutes of Health. Additionally, it is also used in DNA synthesis, protein, and fat metabolism. It also enhances energy.
The studies done on Vitamin B12 reveal that it does help in the reduction of body weight.
Glycine
Glycine is useful in protecting the liver and enhancing memory.
L-Arginine
L-Arginine is useful in the treatment of erectile dysfunction. It also assists in recovering from surgery.
L-Ornithine
L-ornithine is essential in boosting physical performance, treating brain complications, and assists in blood clotting.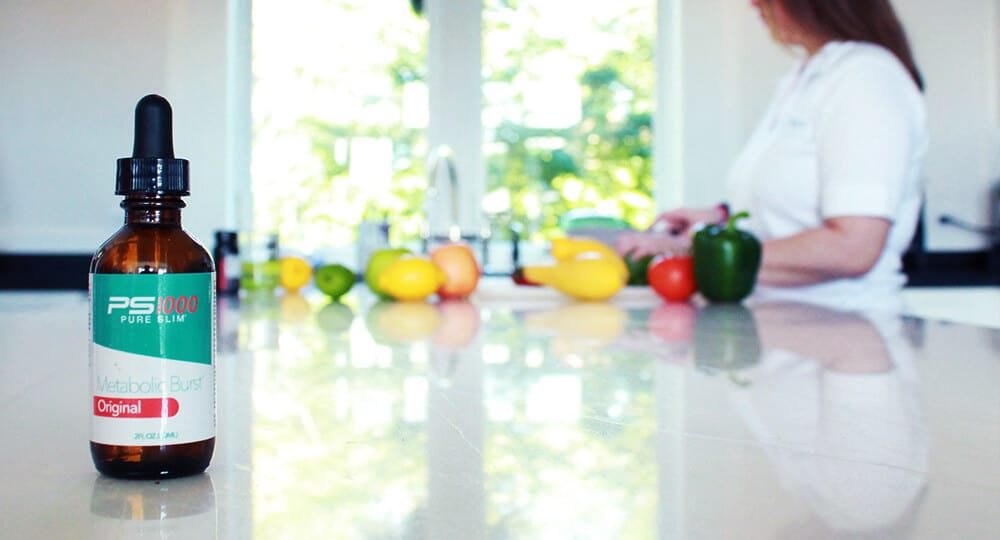 Directions
How to Follow the PS1000 Plan
The PS1000 plan looks difficult on paper, but it is quite easy to execute. The program comes with a diet plan from which the user can choose a recipe. The PS1000 recipes are simple but fulfilling. This is because they contain a lot of protein, which helps you stay fuller for longer.
Additionally, the support system consists of fellow dieters following the same diet, making it easier for you to stay determined to reach your goal.
Recipes
Sample PS1000 Recipes
A PS1000 recipe needs to contain protein, carbohydrates, and essential fats for it to be effective. You will have to eliminate sugar from your tea or drinks. Here is a sample recipe.
Breakfast:
A quarter cup of rolled oats
Half cup of unsweetened almond milk
2 scrambled eggs
Total Calories: 233
Mid AM snack:
Half cup blueberries
Half cup strawberries
Total Calories: 65
Lunch:
3 ounces of grilled chicken
2 tablespoons of guacamole
Wrap
Total Calories: 203
Mid PM Snack:
14 raw almonds
Total Calories: 98
Dinner:
8-ounce salmon
One bunch of asparagus
Total Calories: 176
This totals to 775 calories. This leaves us with 225 calories to reach our 1000 calorie goal. You can fill this up with dessert before you go to bed.
Benefits
Benefits of the PS1000 Diet
Has natural ingredients
Is effective in weight loss
Has no side effects
Promotes a healthy lifestyle
The liquid formula is easy to take
What Users Are Saying
What Users Are Saying
"Lose weight quickly and it lasts!"
"This product provides some great nutritional information but absolutely fails in recommendations on how to implement. No recipes, one basic meal plan for each level. Most of the support sites are not available or ask you to connect to another site that may or not be available. So for $90 (minus the drops) they put a nutritional plan out there and depend on the community to come up with meal plans and recipes to support it. And who know if these resources are following it. Their is no recommendation from PS 1000 that they are. For instance there are recipes out there that have the PS1000 logo that recommends cooking with coconut oil yet the PS1000 says not to cook with coconut oil instead use light olive oil. Sadly disappointed with a product that has such poor execution."
"Absolutely awesome. Follow plan and it works."
Bottom Line
The Bottom Line on PS1000
The PS 1000 is a game-changing weight loss program. The most important aspect of this plan is that it uses natural ingredients in its diet drops that help counteract dieting. It also encourages a healthy lifestyle that improves your performance in various aspects of life. This program teaches hard work and discipline, which translates to a better quality of life.
For a limited time, Dietspotlight readers have access to a special free trial offer of Noom – check it out!
Order PS1000 Today