Relora Review

- 16 Things You Need to Know
Relora is one that's caught our attention. So, we decided to research the ingredients, side effects, relevant clinical studies. Then, we picked apart the user testimonials. Finally, we summarized and refined it to give you the info you need.
Relora can be purchased through their Official Site.
Overview
What is Relora?
Relora is a supplement that combines two Chinese herbal extracts: Phellodendron and Magnolia Officinalis, for stress relief and to aid with weight loss.
Studies of obesity have revealed that obesity is linked to high cortisol (the stress hormone) and poor sleep quality. Based on its manufacturers' information, Relora works by reducing cravings for sweet things, lowering stress levels, and increasing sleep quality, and this is what some of the research has to say:
Nutrition Journal: Relora was found to be effective at treating small amounts of stress or anxiety, though it was found to have no effect on sleep.
Journal of the International Society of Sports Nutrition: Research into Relora found that "These results indicate that daily supplementation with a combination of Magnolia bark extract and Phellodendron bark extract (Relora®) reduces cortisol exposure and perceived daily stress, while improving a variety of mood state parameters, including lower fatigue and higher vigor."
Alternative Therapies in Health and Medicine: A combination of magnolia and Phellodendron extract may help reduce perceived stress, which can indirectly help patients maintain body weight.
Relora Competitors
How Did Relora Start?
Relora was originally produced by Next Pharmaceuticals, a company based in California. Next, Pharmaceuticals was later bought by InterHealth Nutraceuticals. InterHealth Nutraceuticals was created in 1987, and they are known for producing different varieties of blends, like Relora, which are taken directly as supplements or used as ingredients for other products.
InterHealth Pharmaceuticals was later purchased by Lonza, which now owns the Relora patent. Note that the Relora supplement is not only manufactured by Lonza (Next Pharmaceuticals). Other pharmaceutical companies that manufacture the supplement include Lindberg, Lifetime, Source Naturals, NOW, Best Vite, and The Vitamin Shoppe.
It is believed that the Relora label is being "rented" by these other companies and that all the Relora products they manufacture contain the same proprietary extracts.
Scroll below for one of the best products we've seen over the last year.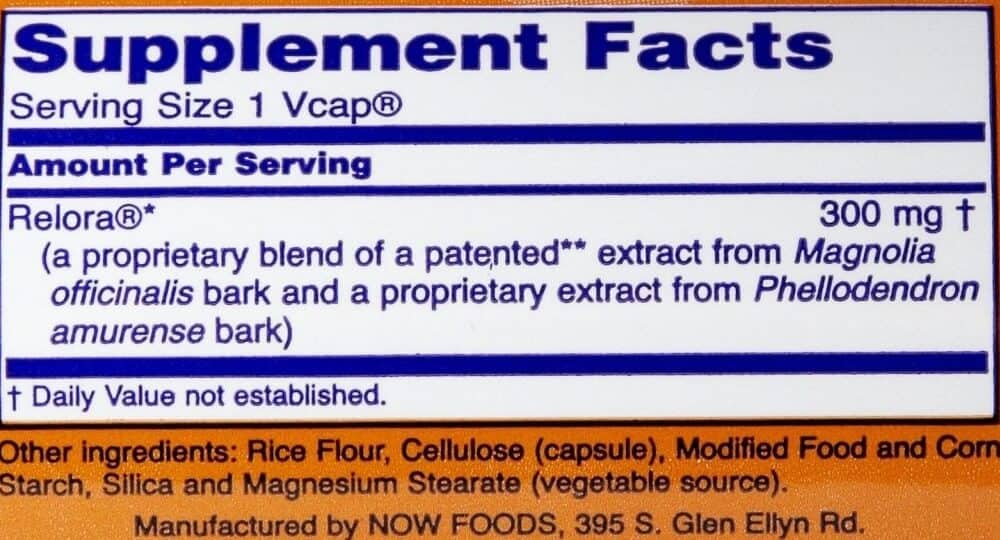 Claims
Relora Claims
There are claims that Relora helps to improve sleep quality and reduce stress levels. Manufacturers of the Relora supplement also claim that it can aid weight loss. The Relora blend works by decreasing cortisol levels, the stress hormone that encourages the storage of fat in the belly area.
According to the Journal of the International Society of Sports Nutrition, another study to check the weight-loss claims of Relora found that women who took the supplement lost weight while those who took a placebo gained weight.
Ingredients
Relora Ingredients
Relora is a blend of just two natural extracts:
Phellodendron Amurense
Magnolia Officinalis
These extracts are obtained from the tree barks of two different Chinese trees – the magnolia and cork trees.
In-depth Look at Relora Ingredients
To give you a better idea of how the Relora works, we decided to take a deeper look at the two ingredients present in the Relora blend.
Magnolia Officinalis
Magnolia Officinalis is a tree plant belonging to the magnolia species. These trees are found mainly in China. Plants of the magnolia species contain a group of similar chemical compounds secreted in their barks. Two chemical compounds – Magnolol and Honokiol- are regarded as the active ingredients in these plants.
Preclinical studies have shown that magnolol and honokiol have anti-microbial, anti-oxidant, anti-microbial, and anti-inflammatory properties.
Magnolol and honokiol also have weight loss benefits. A study showed that when mice were given magnolol or honokiol in a fat diet, there seemed to decrease fat gain.
Magnolia extracts have also been found to be effective in the treatment of Periodontitis, a common inflammatory dental condition. The anti-inflammatory attributes of magnolol and honokiol make them suitable for the treatment of this condition.
According to Examine.com, the chemical compounds in magnolia officinalis do not appear to have any side effects.
Phellodendron Amurense
Phellodendron amurense belongs to tree species in the family Rutaceae. Phellodendron is also known as a ca oak tree. Extracts obtained from the tree were used traditionally as painkillers.
Phellodendron Amurense has also been found useful in treating eye infections, urinary tract infections, abdominal pain, and diarrhea.
Extracts from both Phellodendron amurense and magnolia officinalis are also used for weight loss.
According to Phytotherapy Research, Phellodendron is unsafe for pregnant women, nursing mothers, and infants.
Does Relora Work?
You are probably now interested in finding out if Relora works. Well, as with most other supplements, there are mixed reports on the effectiveness of Relora. Some users reported that there were no changes in their stress levels after taking the supplement. But there are positive reactions too. Some reviewers said they experienced weight loss while taking the supplement.
Looking beyond reviews, manufacturers of Relora claim that the supplement is effective for stress relief, good quality sleep, and weight loss. Next Pharmaceuticals, one such manufacturer, sponsored four studies to examine the effectiveness of the Relora blend.
Two of the studies were set up to investigate the impact of Relora on weight loss, while the other two checked its effect on stress levels.
One study conducted on weight loss found that Relora supplementation truly worked to aid weight loss. The study produced the following results:
People who used Relora during the study did not gain significant weight, while their counterparts who took a placebo gained weight.
There was no significant change in cortisol production levels for persons in both groups.
There were some criticisms of the study. They include:
The placebo used wasn't stated.
There was no significant reduction in cortisol levels due to Relora.
Benefits
Relora Benefits
You might ask at this stage if there are benefits to using Relora as a supplementation. Yes, there are benefits. Relora health benefits include:
Relora is made purely from the combination of two natural ingredients: magnolia Officinalis and Phellodendron amurense.
Relora for weight loss: the Relora supplement helps with obesity, weight loss, and weight management.
It improves sleep quality.
Relora decreases stress levels in your body.
Relora reduces cravings for sweet things.
Relora and cardiovascular advantages: Aside from the benefits listed above, Relora is also known to have some cardiovascular benefits. Phellodendron, one of the two herbal extracts in the Relora blend, was found in a 2008 study to reduce fasting glucose and lipid.
Details on Relora and Weight Loss
We wanted to know if Relora had any effect on weight loss. Its manufacturers claim that it does. Relora is touted as especially effective for overweight individuals who do 'stress-eating.' A study found that the blend of natural Chinese herbs – Phellodendron and Magnolia- in Relora helps reduce stress levels and stabilize the body by decreasing the levels of cortisol (the stress hormone).
Obesity has been linked to high levels of cortisol in the body. The stress hormone cortisol is the hormone that is responsible for stress reactions in your body. When you are stressed, and you feel like eating, that's your cortisol hormone working. Relora works by reducing the levels of this cortisol hormone in your body, causing you to relax. The consequence of this is that you become less likely to turn to stress-driven sensations like stress-eating.
Directions
How to Use Relora
The two ingredients present in Relora – Phellodendron and magnolia officinalis – form a proprietary blend. As a result of this, there is no information on the exact amounts of each ingredient present in the Relora blend.
However, the Relora supplement was once featured on the Dr. Oz show. Dr. Oz recommended that a dosage of 250 mg Relora capsule be taken three times daily with meals (a total of 750mg of Relora doses per day). This is in line with the Relora dose administered to participants in one of the studies we described above.
It is important to note that several companies manufacture Relora, and there may be differences in the constituents of the Relora capsules of each company. Some Relora labels show pills of 300 milligrams while some show pills of 250 milligrams.
If you find yourself confused about the amount of the supplement to take, read the label of the Relora product you bought for the recommended dosage. If this information is not on the product label, we recommend starting small and progressively increasing the dosage. There are some Relora contraindications. Read on to our product warning section to find out.
Side Effects
Potential Relora Side Effects
As is the case with other supplements, people reacted in different ways to Relora. While some users had no complaints, others reported that they experienced some adverse effects from using the supplement. Some potential Relora side effects include:
Headaches
Difficulty breathing
Heartburn
Pain in the joints
These side effects also stand in as Relora contraindications. You are advised to look out for these Relora contraindications before purchasing and using the supplement.
Product Warnings
Relora Product Warnings
Do not use Relora if you are an adolescent.
Do not use Relora if you are pregnant.
Relora should be kept away from infants and children.
Do not use Relora for weight loss treatments if you are a nursing mother.
Do not use without consulting your doctor.
Consult a medical practitioner if side effects result from the usage of the supplement.
Relora Lawsuits?
We did not find any lawsuits registered against the Relora supplement or any manufacturers of the supplement.
Where to Buy
Where Can I Buy Relora?
You can purchase Relora at grocery stores, health food establishments, or a local drug store close to you.
You can also order from Relora online by visiting the website of any manufacturer of the product, or from Amazon.
Relora Alternatives
If you are wary of some of the Relora dangers and side effects we highlighted, there are some alternatives that you can check out. Some of these include variations of the Relora blend, like Relora plus and Relora plex.
Patience is key when deciding on which Relora alternatives to choose. First, check if the FDA approves the supplement. Then, take the time to research the ingredients and side effects of the alternative supplement. It would help if you also looked at customer reviews and feedback about reviews. All this information will guide and help you make the right choice.
Variations of the Relora Blend
Some Relora supplements contain more than Phellodendron and Magnolia Officinalis. Variations have been developed by adding vitamins and other chemical substances to the original blend. Below, we take a look at some of these supplements.
Relora Plus
Relora Plus is a supplement created by Thorne Research and marketed as a stress relief and weight loss supplement. Relora plus contains the original proprietary Relora blend of Magnolia Officinalis and Phellodendron and other ingredients like dilate and Vitamins B6, B12, and B2.
Relora Plex
Relora Plex is another variation of the Relora blend manufactured by Douglas Labs. Like Relora Plus, this supplement also combines the original Relora blend with some vitamins.
HPA Balance
HPA Balance is a supplement created by VitalPlan. This supplement contains the Relora blend, in addition to extracts of l-theanine and ashwagandha. HPA Balance works to boost stress resistance in the body.
Relora vs. Rhodiola
Some customers didn't find the combination effective.
What Users Are Saying
What Users Are Saying
"Been taking this for a week in conjunction with Wellbutrin, which I've been on and off for 5-6 years. Have a very high stress lifestyle, (entrepreneurial husband, running multiple businesses, large homeschool family, several health conditions). I've struggled with yelling when I really DON'T want to be that mom or wife. This last week has been the calmest I've felt in over a decade. I still find myself feeling irritated at the usual craziness, but it's like my mind is slowing down enough to process the feelings instead of going haywire, and I've got way better control over my emotions. I love it!"
"It made me dizzy with migraines. Maybe it's the brand but not ordering again."
"It works well against loss of hair, which is fantastic."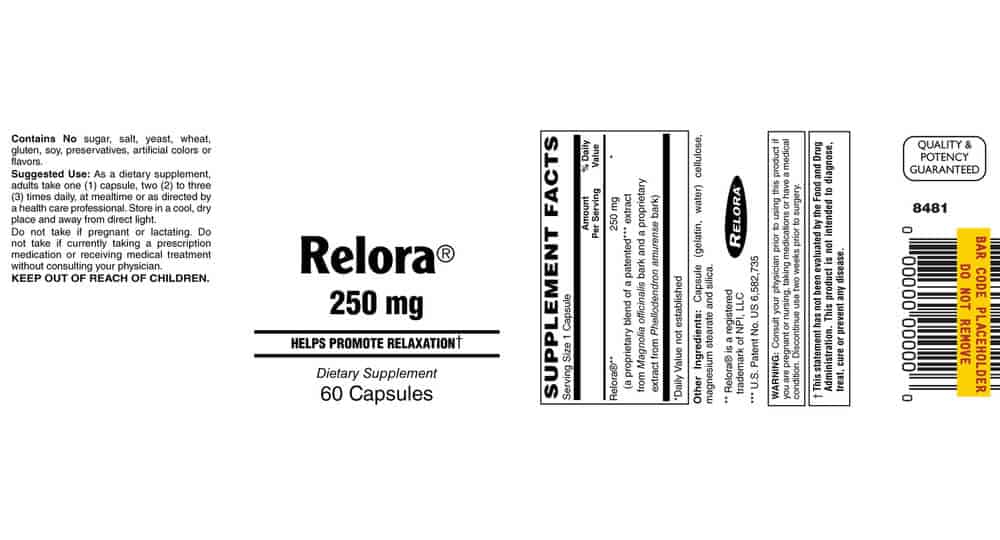 Bottom Line
The Bottom Line on Relora
Well, we were intrigued by the possibility that Relora might have a positive impact on someone trying to lose weight, but our research has left us on the fence. There is a proven connection between stress and weight gain. So, relax and weight-loss should be a result. We have to take the reports of side effects into consideration, and some people saw no effects of taking the supplement at all. Additionally, none of the various studies showed beneficial evidence.
If you're on the path to losing more weight, it's often best to look for a weight-loss program that can be personalized to meet your individual goals.
We've been through hundreds of reviews this year, and the best we've found is called Noom. With personalized meal plans, human coaching, interactive support groups, and so much more, Noom allows you to start making healthier choices and lose weight along the way.
Another good sign – the makers of Noom are offering Dietspotlight readers a free trial offer, which means the only thing you have to lose is those extra few pounds!
Learn More About Noom »