Sensolin has made claims about helping with weight loss by aiding in blood glucose control. While the product contains a number of ingredients known to have a positive impact on blood sugar control, including chromium and cinnamon, there aren't ingredients in the formula meant to stimulate rapid fat loss.
We handed it over to our research team to find out all of the details on the product. Our team scoured the internet for the complete ingredient list and any related side effects, as well as available clinical research, and compiled the information for you. Read on to get the Bottom Line on Sensolin.
Sensolin Readers:
Click here
to find out why we recommend trying Burn TS.
Overview
What is Sensolin?
The ingredients in Sensolin tablets increase insulin sensitivity, which supports the body regulate glucose in the bloodstream. This product can be used by anyone who experiences mood swings, energy crashes, fatigue, and hunger and cravings.
Sensolin is created and manufactured by Truth Nutraceuticals, or Truth Nutra, a company that makes supplements to help naturally regulate hormones and manages imbalances. The company claims that each ingredient in Sensolin has been clinically researched and is included in the product in its most bioavailable form. They also offer a 60-day money-back guarantee for customers who are dissatisfied with the quality or effectiveness of the product. We'll review the ingredients, the research behind the ingredients, and let you know what Sensolin is all about.
Ingredients
Sensolin Ingredients
According to the company, each Sensolin ingredient comes directly from nature and is safe for most people to use. The company claims that the ingredients work even better when combined and can produce the best possible results.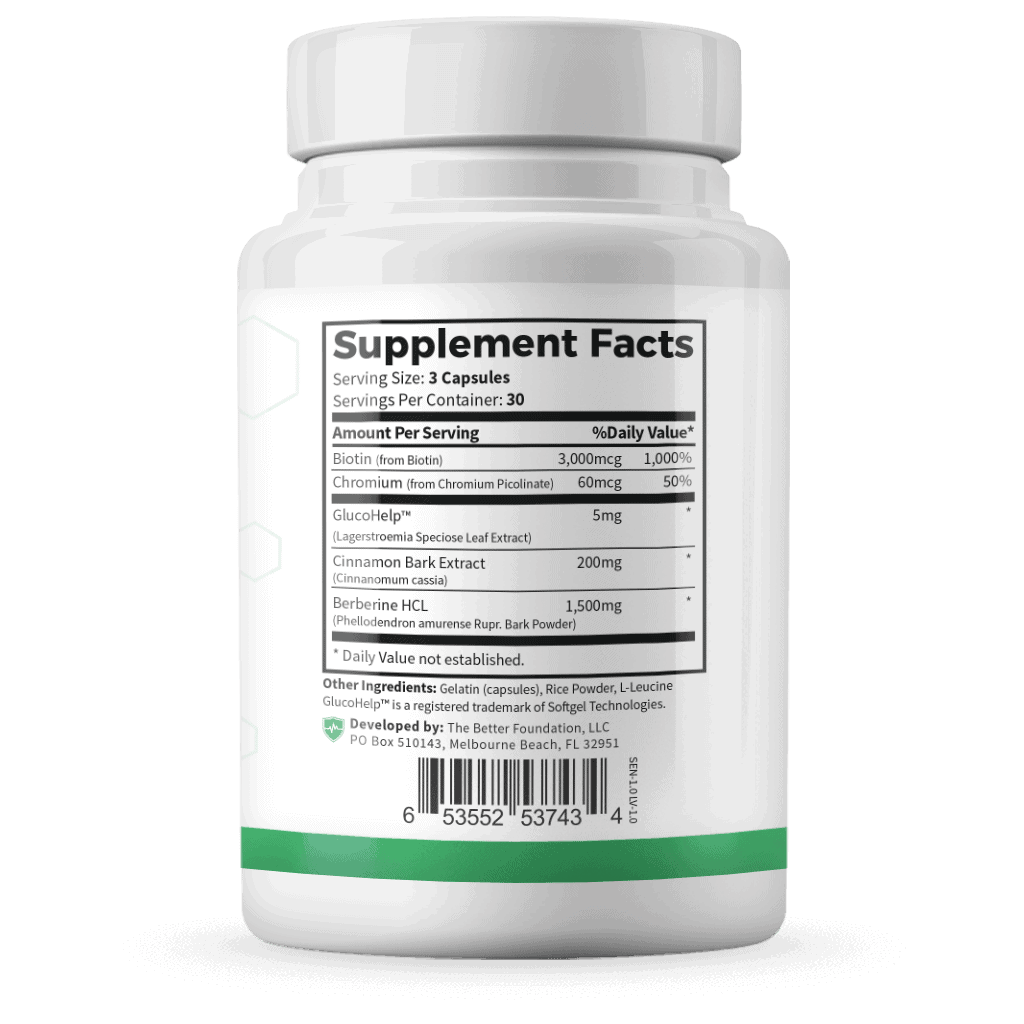 To keep it simple, Sensolin only uses three main ingredients to achieve these results including:
Berberine HCl
Cinnamon Ceylon Oil
Chromium
Other ingredients in this product include:
These ingredients are added for texture, and the company uses bovine, or beef, gelatin. Leucine is an essential amino acid used in the production of proteins and a branched chain amino acid; like valine and isoleucine. With these ingredients, Sensolin is free of soy, eggs, gluten, lactose, sugar, and GMO products. We'll give you an in-depth look at the main ingredients of Sensolin and how they influence blood sugar levels in the body.

Berberine HCl
Berberine HCl is a chemical alkaloid found in a variety of berries and plants like European barberry and goldenseal. Several studies support the claim that Berberine impacts and controls blood sugar.
According to ScienceDirect, studies on animals have documented that Berberine increases insulin receptor expression and improves glucose utility, and these findings have also been mimicked in human studies.
Cinnamon Ceylon Oil
The cinnamon in Sensolin comes from cinnamon bark which is used in alternative medicine for a host of ailments. Also, according to SAGE Journals, ingesting cinnamon has been shown to increase antioxidant activity, prevent weight gain, and decrease the bonding of sugar molecules to proteins.
According to ScienceDirect, cinnamon comes from cinnamon trees which are primarily found in Asia and Australia. It has been used as a spice for thousands of years, in addition to being used in traditional medicine practices as a remedy for respiratory, digestive, and gynecological issues. In fact, it was used in ancient Egypt, and references to cinnamon can even be found in the Bible. It is commonly used in Ayurvedic medicine for a variety of purposes as well. Its inclusion in Sensolin enhances the hypoglycemic properties of Berberine HCL and works to stabilize blood sugar levels around meal times further, according to BMC Complementary and Alternative Medicine.

Chromium
Chromium is an essential mineral that is often ingested through food and sometimes through supplements. Foods that contain chromium include fruits and vegetables, cheeses, and whole grain cereals and bread.
This essential nutrient is required for sugar and fat metabolism, which means it turns energy into fuel and helps the body function properly. Also, some people are not receiving adequate amounts of chromium in their diet, and added supplementation can help them regulate their blood sugar levels, according to the NIH Office of Dietary Supplements.
Scroll below for one of the best products we've seen over the last year.
Nutrition
Sensolin Nutrition Facts
The complete nutrition facts for Sensolin can be found on the bottle label as well as online on the product's main site and other retail websites. Each serving of Sensolin capsules contains:
1 gram of cinnamon bark powder
500 milligrams of Berberine HCl
300 micrograms of chromium picolinate
The established daily value percentages are not given for all of the ingredients listed. However, the label does include the daily value of chromium in Sensolin capsules. When a user takes three pills or one serving of Sensolin, they receive 250% DV of chromium. The calories and other information are not listed for this product.
What Does Sensolin Do?
When questions were asked about Sensolin; does it work, and how does it work, it's important to review the role of insulin in the body. According to The National Institute of Diabetes and Digestive and Kidney Diseases, insulin is a hormone produced by the body's pancreas, a glandular organ that sits behind the stomach. NIDDK also claims that insulin helps to control blood sugar levels by signaling to various parts of the body, like muscle and fat, to absorb glucose (sugar) from the bloodstream for energy. Besides, insulin lowers blood sugar levels by limiting the amount of glucose the liver can produce. When a person is insulin resistant, the body does not respond properly to insulin and cannot absorb and use the glucose in the bloodstream efficiently, keeping blood sugar levels high.
The natural ingredients used in Sensolin work to aid insulin's role in the body and keep blood sugar levels in the normal range. This is especially important around meal times when blood sugar levels can spike and the need for insulin increases. This is why Sensolin is designed to be taken with meals. The ingredients support what the insulin in the body is trying to do and help to regulate post-meal blood glucose levels and keep them steady throughout the day.
Does Sensolin Work?
While the research mostly supports the claim that the Sensolin individual ingredients enhance insulin in the body, no clinical studies have been conducted on the actual Sensolin formula. Cinnamon, chromium, and Berberine work well individually to maximize insulin use in the body according to some researchers. However, the specific Sensolin blend that is intended to enhance insulin use in the best way possible for Sensolin users has not been tested in clinical studies. We can get a better idea of Sensolin does it work, and how well does it work by taking a look at some Sensolin reviews by real customers. Regardless of user reviews, I think having scientific studies to back it up would make me feel more comfortable overall.
The customer reviews were as mixed as could be expected for any product, especially a supplement that claims to control blood sugar levels. While some customers found it to be very useful, others had problems with the price, and still, others found it to be completely ineffective. This shows that while Sensolin can work very well for some people, it won't necessarily work for everyone.