Snarky Tea Review

- 9 Things You Need to Know
Snarky Tea is a line of tea beverages that come in different flavors and offer general health benefits to the consumer. The company that makes the product claims that the simple drink is "incredibly healthful" and contributes to your "physical and mental well-being." We doubt that the drinks contain any unique ingredients that would cause the benefits of consuming them to be anything beyond the ordinary.
While all teas contain ingredients that offer some health benefits, we believe that there are aspects of the flavorings that are added to Snarky Tea that do more harm than good. Our research team has examined all of the ingredients and come to a conclusion as to the overall health benefits of Snarky Tea. Here is a summary of the research we've done.
Snarky Tea can be purchased through their Official Site.
Overview
What is Snarky Tea?
If the names Fierce B*tch, Calm the F**k Down and Get Your A** in Bed seem familiar to you, it's because you've probably heard about Snarky Tea and already asked yourself, "What is this stuff all about?"
That's a great question with a rather simple answer:  It's basically tea – with ingredients that include:
Green rooibos
Rose black tea
Green tea
Chamomile
Lemongrass
Yerba Mate
Ginger
These foul-mouthed teas are meant to calm you down before bed, wake you up in the morning and to deliver the energy you need for everything in between – with a twist.
The twist here isn't an amazing new ingredient or formulation, it's in the marketing. Fierce B*tch isn't exactly a tea your Grandma would make you.
First appearing on Shark Tank, Jenni-Lyn Williams and her Snarky Tea got themselves a deal and she hasn't stopped since.
Snarky Tea offers whole leaf tea inside of "sachets" to preserve a full flavor. With natural antioxidants and anti-inflammatories, the tea offers a little something more than just flavor.
If you peel away the snark and the naughty words, you uncover some hard-hitting promises made by the company:
"Our blends are sourced through an FDA registered importer and recognized leader in the evolving specialty tea industry. With a satellite office in Nanjing China, they take a firsthand look at the working and environmental conditions where the teas are grown and take pride in positively impacting the planet and industry. Each of our teas are blended right here in the U.S.A!" – Snarky Tea
It's a nice promise and certainly something we can appreciate, but there has to be more to this tea than meets the eye. Does it work? Why are people complaining about taste? There are too many questions that need to be answered here.
Products Similar to Snarky Tea
Ingredients
Snarky Tea Ingredients
One of the best ways to get to the bottom of these questions is to dive straight into the ingredients of these teas. There's not much in the way of outside ingredients, and there are no claims of weight loss, so we'll have to focus on the general quality and health benefits of each.
Here, we'll break down each product and the main tea/ingredients used to find out what the medical and science communities have to say.
Calm The F**k Down
The name says it all; drink it for a comfortable and relaxing night's sleep. It contains green rooibos, which is used for its calming effects on stress. It's said to reduce inflammation and is available in coconut and fruit flavors, which we think is pretty f**king awesome.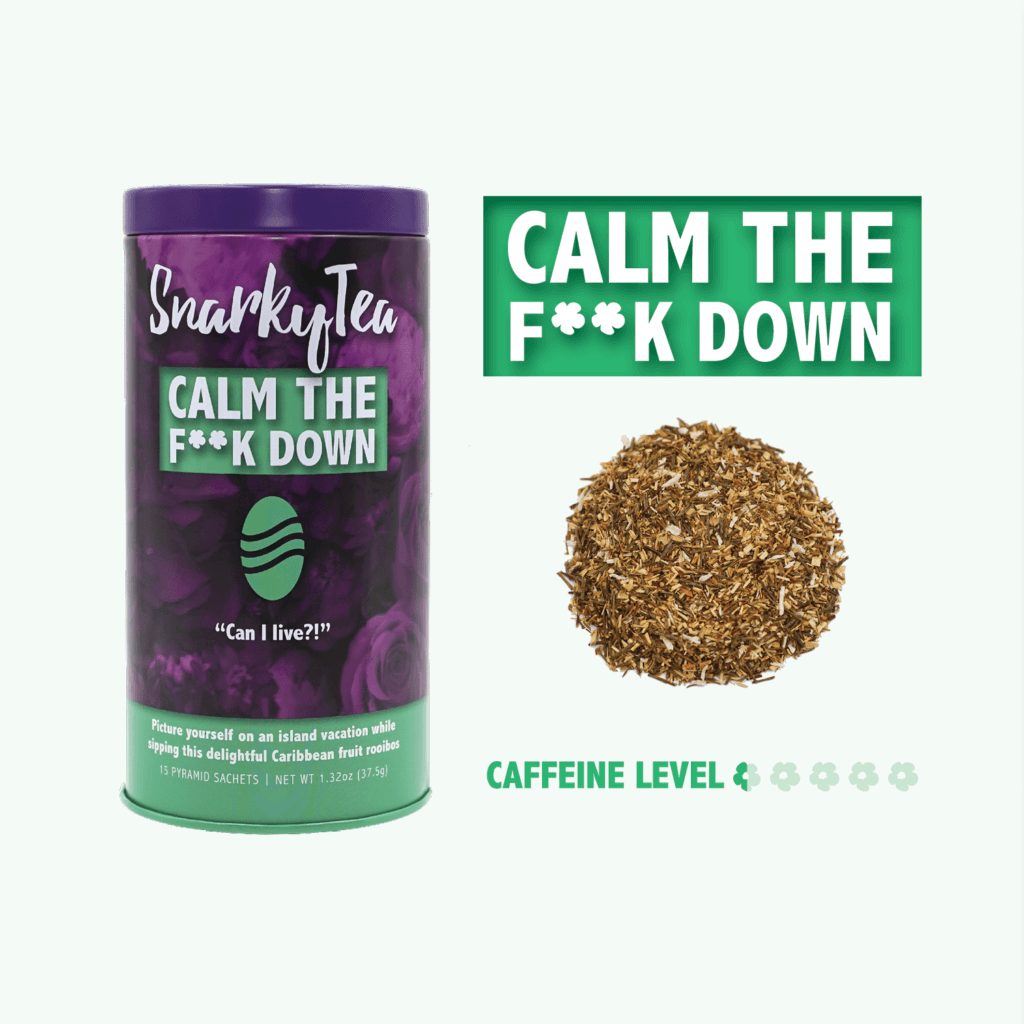 Green Rooibos –  Aspalathus linearis leaves are used to make herbal tea or Bush Tea, which is popular in South Africa. Green Rooibos is processed differently than Red Rooibos, by not undergoing the oxidation process – leaving them in their natural form.
Rooibos is rich in antioxidants and is used to help protect the heart.
Oxidative Medicine and Cellular Longevity performed a study on the tea's antioxidant effects on rats, writing "Rats consuming the rooibos-derived commercial supplement had the highest (P < 0.05) daily total polyphenol intake (169 mg/day) followed by rats consuming the unfermented rooibos (93.4 mg/day) and fermented rooibos (73.1 mg/day)," going on to conclude that, "This study confirms rooibos herbal tea as good dietary antioxidant sources and, in conjunction with its many other components, offers a significantly enhanced antioxidant status of the liver in an induced oxidative stress situation."
Fierce B*tch
This gluten-free rosy black tea claims to bring a sweetness to its flavor accompanied by a nice aroma. Rose tea is also rich in antioxidants called polyphenols.
Rose tea is said to help the immune system, speed healing, improve digestion, and detoxify the body – among others.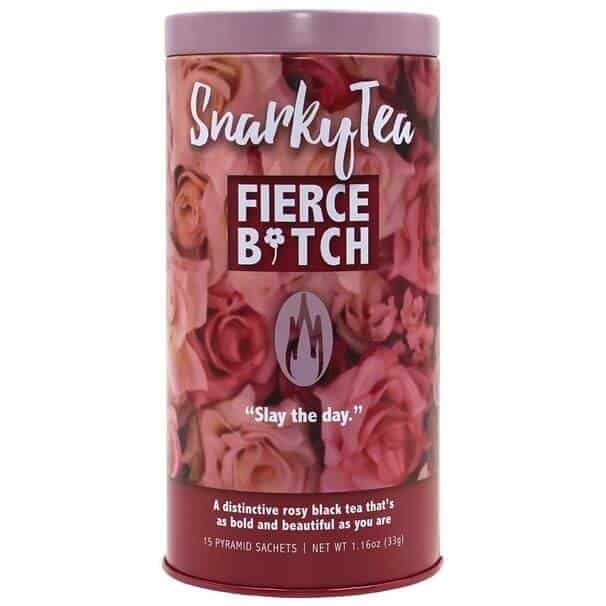 A study by the Journal of Midwifery & Women's Health wrote, "The results showed that compared with the control group, the experimental group perceived less menstrual pain, distress, and showed greater psychophysiologic well-being through time, at 1, 3, and 6 months after the interventions. Findings suggest that drinking rose tea is a safe, readily available, and simple treatment for dysmenorrhea, which female adolescents may take to suit their individual needs."
Get Your A** In Bed
This tea includes lemongrass, lavender and chamomile – all known to help you calm down and reduce stress. It's designed to help you fall asleep and to eliminate stress by increasing glycine in the body.
Chamomile is one of the most ancient herbs out there and is used for anything from inflammation, to stress reduction.
Molecular Medicine Reports wrote that, "Traditionally, chamomile preparations such as tea and essential oil aromatherapy have been used to induce sedation (calming effects). Chamomile is widely regarded as a mild tranquilizer and sleep-inducer. Sedative effects may be due to the flavonoid, apigenin that binds to benzodiazepine receptors in the brain."
Get Your Sh*t Together
This brutally honest tea doesn't mess around. The focus is green tea, which we know is backed by science to have a variety of different benefits. Green tea delivers stimulating effects and the ability to boost metabolism. Ginger and lemon are added to this blend to help settle the stomach and eliminate the feeling of nausea.
Namaste Motherf**ker
This potty mouth also contains green tea with a hint of raspberry and orange peel. The citrus flavor and the green tea are meant to combine to boost metabolism and enhance brain function.
So, will the green tea help boost metabolism and aid weight loss? According to MedlinePlus, "Eating foods like green tea, caffeine, or hot chili peppers will not help you shed excess pounds (kilograms). Some may provide a small boost in your metabolism, but not enough to make a difference in your weight."
Wake the F**k Up
This tea doesn't beat around the bush when it comes to showing customers what it offers. Among all the Snarky Tea products, this one has the highest amount of caffeine.
Other ingredients in this tea include:
Yerba mate
Black tea
Ginger
Gotu Kola
Wake the F**k Up is made to increase energy levels, boost mental alertness and help physical fatigue.
Yerba Mate – The leaves and twigs are typically dried over a fire and steeped in hot water to be used for tea.
The Korean Association for Laboratory Animal Science wrote that, "Yerba Mate treatment affects food intake, resulting in higher energy expenditure, likely as a result of higher basal metabolism in Yerba Mate-treated mice," concluding, "Yerba Mate can potentially be used to treat obesity."
Of course, this study was performed on mice – not humans.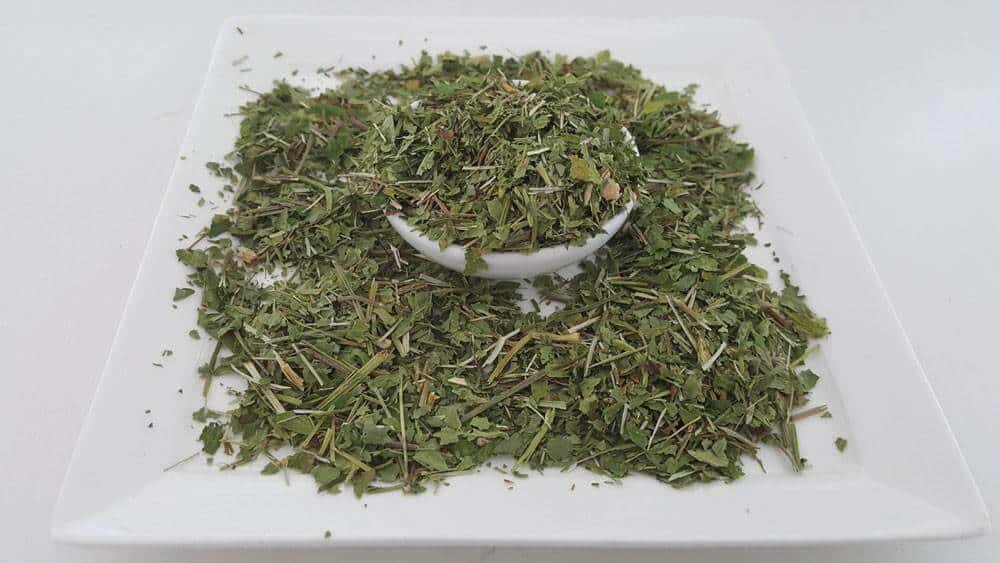 The Journal of Clinical Psychopharmacology conducted a human study using gotu kola, since animal studies were showing so much promise. As it turns out, the human results weren't as compelling.
Scroll below for one of the best products we've seen over the last year.
Benefits
Snarky Tea Benefits
Written on the website, "the blends were meticulously created to match their names, deliver on their promise AND taste amazing."
As a kind of refreshing twist on most other products we review, Snarky Tea doesn't seem to claim a miracle weight-loss formula or "increased IQ by 150!" or anything else we might see when investigating benefits. The list of benefits these products promise to give is long, but generally tame and not thrown in your face. They include:
Increased energy
Boosted metabolism
Weight management
Improved sleep
Mental focus
Antioxidants
Weight loss and management are shown in studies to be among benefits of green tea and caffeine, but in the right dose. We don't know the formula here, so there's no way of linking those benefits to this product.

Side Effects
Snarky Tea Side Effects
Side effects from a tea?! You bet your a**. A lot of tea contains caffeine, a stimulant known to cause some unwanted side effects. In addition to that, since everyone is different, there's always a chance for a negative reaction with any product.
The stimulant is possibly unsafe when taken by mouth in large doses. In fact, it can cause side effects like:
Nervousness
Nausea
Vomiting
Stomach irritation
Yerba Mate is another ingredient that can deliver some unwanted effects if taken for a long enough period of time. It may cause:
Nervousness
Restlessness
Trouble breathing
Headache
Rooibos tea is generally safe, but has been linked to an increase in liver enzymes when consumed in large amounts.
Cost
Snarky Tea Cost
Here's a simple layout of all the products they offer and what they cost:
Calm The F**k Down – $12.99
Fierce B*tch – $12.99
Get Your A** In Bed – $12.99
Get Your Sh*t Together – $12.99
Festive As F**k – $12.99
Basic B*tch – $12.99
Namaste Motherf**ker – $12.99
Wake The F**k Up – $12.99
Bouquet of Snarky Tea – $74.99
Bad B*tches Drink Tea Mug – $14.99
One of the bigger concerns with this product was the price. After all, it doesn't claim weight-loss benefits, magic mental wizardry or anything of the kind – it's just tea. Sure, it could help relax you, but for a fraction of the price you can get some non-vulgar tea to do basically the same f**king thing.
Snarky Tea offers a money-back guarantee and multiple ways to contact customer service.
Snarky Tea Alternatives
You can find a bevy of teas out there from brick and mortar stores to sites like Amazon, iHerb, Walmart, and others. Some will make outrageous claims, while others might just bring a brand name and unique gift idea for your friends. Among some alternatives are:
Puritan's Pride
Yogi Tea
Herbalife Green Tea
Snarky Tea and Shark Tank
She called it, "Snark Tank," while standing alone in front of the panel of millionaires (and billionaire – sorry, Mr. Cuban). Jenni-Lyn Williams was pitching her product, Snarky Tea, as a sassy product for women with attitude.
Almost immediately, some of the Sharks pointed out the problem with marketing exclusively to women, while some had an issue with the price point. Lori Greiner had an issue with the product names. She argued that the company wouldn't last with names like, "Wake the F**k Up."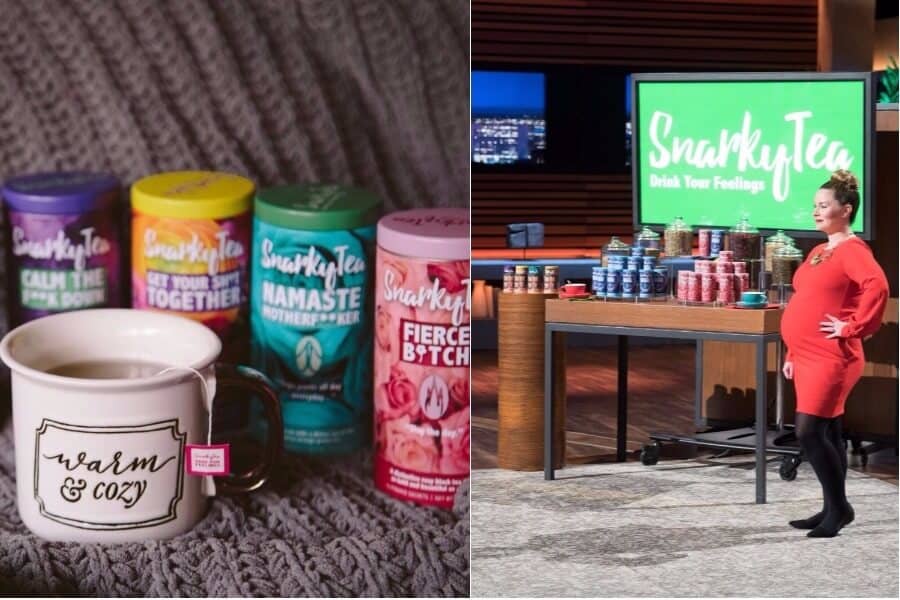 Lucky for her, other Sharks didn't give a sh*t. O'Leary went in with guest shark Bethenny Frankel, offering $150,000 for 50% of the company. Jenni-Lyn accepted and now here we are – with some mixed reviews from fans of the show.
What Users Are Saying
"Literally the best tea I've had. I keep my cupboard stocked with each flavor. Not only does it taste wonderful I just love the smell. I highly recommend!"
"It's OK. The taste isn't that great and I didn't notice any calming effects."
"As much as I love the way this tea is presented, I can't get past the overpowering feeling that it tastes like a cup of hot potpourri water. It's waaaaay too floral and almost soapy tasting."
Bottom Line
The Bottom Line – Should You Give Snarky Tea a Try?
Whether the product is unique or more for a niche market of sassy women who don't give a f**k about what people think, we believe they aren't hurting anyone here. Is this tea going to deliver on any claims? Probably not, and that shouldn't matter. Snarky Tea seems more like a fun Christmas gift for a girlfriend rather than a product that will help you lose any weight.
In addition to this, we think the tea can lend energizing benefits due to the caffeine – but that's where the buck stops.
Snarky Tea Cons:
High price
Niche market
No scientific research backing the formula
If your goal is to be sassy and to take on the day with a snarky, no-caring attitude, this might be the product for you. If you want to lose weight, boost your metabolism and increase energy levels – you may want to keep shopping.
Among the best programs out there is Noom. This revolutionary weight-loss app was created by doctors for people who want to lose weight and maintain that weight loss for good. Behind the scenes are nutritionists who maintain the extensive database and experts who offer in-depth articles on how to live healthier. You also gain access to personalized meal plans, human coaching and exercise tracking.
In addition to all that, the company is so confident that you'll see the results that they decided to offer a free trial of Noom to Dietspotlight readers.
Learn More About Noom »