With all this hype about beetroot, why are people talking about SuperBeets? We cut through the hype and focused on the ingredients, side effects, and clinical research. Furthermore, we tackled hundreds of customer experiences and comments over the last few weeks. Then, we summarized and refined it all give you the info you need.
SuperBeets Readers:
Click here
to find out why we're giving away samples of our product, Dietspotlight Burn.
What is SuperBeets?
First off, SuperBeets is a nitric oxide booster. It contains non-GMO beetroot powder, natural apple flavor, malic acid, and stevia. [1] Put one scoop in water and drink once per day. The makers say to look for improved energy, performance [2] and a change in blood pressure. Let's see.
Humann (previously known as Neogenis Labs), the people behind SuperBeets, has been around since 2011. The official website sells the product, as well as some third-party retailers. We like that it contains natural ingredients and we found favorable customer comments, but read on…
Price – "Breaking the Bank?"
Our first concern with SuperBeets ingredients is the high price. "You pay for quality and effectiveness," said our Research Editor. "But if a company charges you more than expected (or it's worth), is the product really a value?"
"They're charging $150 for beet juice, that's too much" said a customer. [3]
"Seems a bit pricey, considering it only lasts for less than two weeks," stated another.
On the other hand, there are some dieters that didn't have concerns with the cost of SuperBeets.
"If I'm getting 3 beets in every shot of Superbeet juice then I can't match that with fresh beets for the price," commented a user.
Scroll below for one of the best products we've seen over the last year.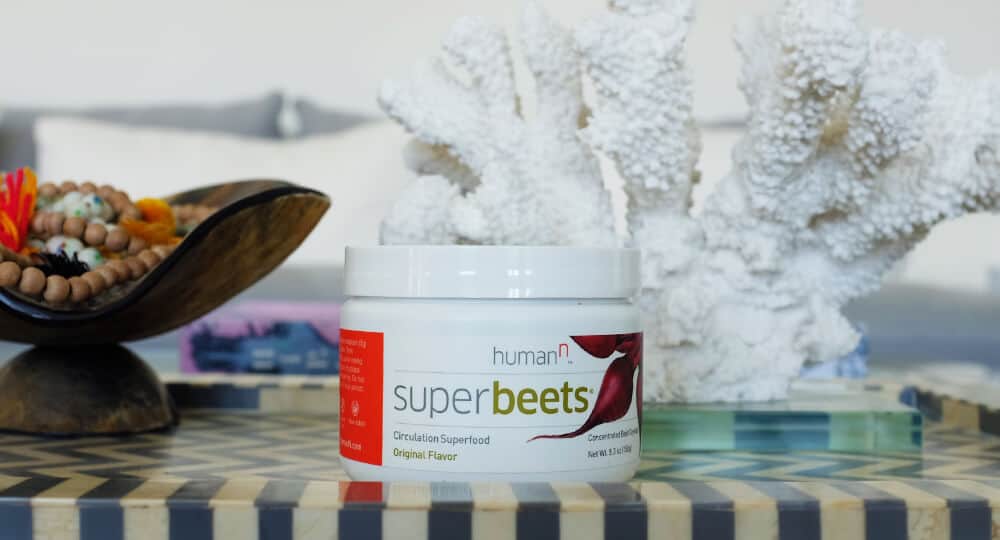 SuperBeets Side Effects – "But, It's Just Beets?"
Customer complaints about SuperBeets side effects were a bit concerning; we have to say. "I tried them for over a week as directed, and immediately my sleep became restless," said a dieter. [4]
"The regularity I had enjoyed was interrupted. I just couldn't go to the bathroom," said a user.
"I tried to drink it, but my stomach began to cramp up, so I had to stop," reported another. [5]
While side effects were mentioned by some users, we found others did have the same experiences. [6]
"Been taking Superbeets for 3 months. It gives me energy, without the side effects and the taste is not bad," commented a customer.
We've done the research and found that if something is concerning to customers, like side effects, the chances of long-term success are limited. If SuperBeets does cause adverse reactions, this could kill the deal.
The Science – "Any Evidence of Weight-Loss?"
There is quite a bit of clinical research supporting beet juice and extract intake in humans. (This is not to say there's the same amount on Superbeets) Benefits may include fighting cancer [7] improved muscle contraction, improved endurance, lower blood pressure and improved brain health. However, similar to Vital Reds, not a single study we located mentioned anything about weight-loss, appetite or metabolism. Here at DietSpotlight, we want to see solid science backing a supplement. If there's none, we tend to raise the red flag. [8]
Also: read our Dietspotlight Burn Weight-Loss Kit review »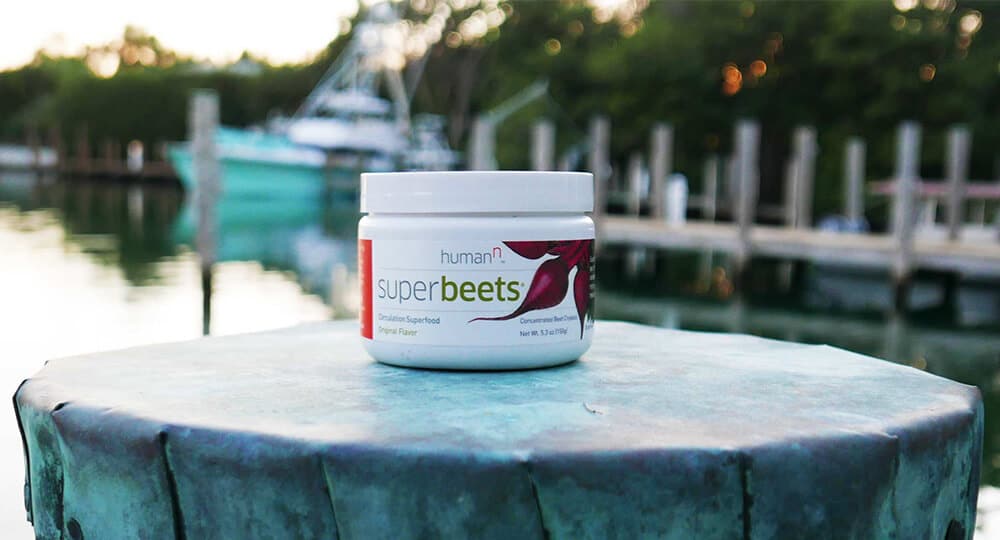 The Bottom Line – Does SuperBeets Work?
Are you heading out for a tub of SuperBeets? Well, we like that we found some favorable customer comments and that it uses natural ingredients, but we're skeptical about it because there's just no research to support a connection to weight-loss. We're also hesitant because of reports of side effects and the high price. [9]
If you're looking for an energy boost or weight-loss support, we suggest a formula with clinically-tested ingredients, dieters sharing real results and a price that customers can afford.
Among the best products we've seen this year is a product called Dietspotlight Burn. The formula contains four clinically-tested ingredients. Results of research show they can help boost metabolism and fight hunger while supporting fat loss. We also believe it's impressive that so many testimonials talk about outstanding results.
Plus, they're so confident that you'll love the supplement that we're offering customers a Special Trial Offer, which is a good sign.
Superbeets is a "superfood" that's supposed to boost nitric oxide levels. Claimed benefits, which we've read on other weight loss supplements reviews about Superbeets, include blood pressure support and increases in stamina and energy. Each serving is equivalent to three beets. It supplies 15 calories, 1g of protein and 4g of carbohydrates (3g of sugar). It doesn't look like any research has been completed on this product.
SuperBeets Ingredients and Supplement Facts
Serving Size: 1 TSP
Serving Per Container: 30
Amount per Serving
% DV
Non-GMO Beetroot Powder
*
*
Non-GMO Beetroot Powder (fermented)
*
*
Stevia Leaf Extract
*
*
Other Ingredients: Malic acid, natural flavors
We dug into the SuperBeets ingredients to give you the details you need.
Beetroot Powder
Beetroot is the taproot part of the beet and it is part of the Beta vulgaris family.
What is it Supposed to Do?
Beetroots can be used to help improve circulatory function, lower triglyceride levels, and lower blood pressure.
Clinical Research
There was no clinical research tying beetroot powder to weight-loss.
Malic Acid
Malic Acid is a chemical that is found in certain products such as apples, rhubarb, wine, and artificial vinegar flavoring.
What is it Supposed to Do?
It can be used for fibromyalgia, tiredness, sun damage, and dry skin.
Clinical Research
Malic Acid does not offer weight-loss support.
Stevia
Stevia is a sweetener that is made from the leaves of the Stevia rebaudiana plant. It has up to 150 times the sweetness of regular sugar.
What is it Supposed to Do?
Stevia [1] is used as a replacement for regular sugar in some cases.
Clinical Research
Research showed that while using Stevia, it helps you cut your calorie intake compared to if you used sugar. The sugar substitute may also have an "anti-hyperglycemic" effect. "It is postulated that the Stevia rebaudiana Bertoni plant could benefit the community medicinally through several different pathways, all eventually leading to its anti-hyperglycemic qualities." [2]
Natural Apple Flavor
Natural Apple Flavor is the chemical that was in an apple that makes is taste the way it does.
What is it Supposed to Do?
Natural Apple Flavor is used to make non-apple tasting foods or drinks taste that way.
It's all about the ingredients when you're looking to improve health and wellness. We've been around quite a while and we've stumbled on formulas every now and then that stand out – like Dietspotlight Burn.
SuperBeets Side Effects:
When you think of natural supplements you need to keep in mind that they are not always side effect-free. There is a possibility for an adverse reaction with any formula. While Noory Superbeets issues are rather rare, some individuals may encounter a negative experience.
Stomach Ache
Symptoms are cramping, sharp, or dull pain in the stomach or abdomen area. Often accompanied with bloating, and sometimes gas, stomach aches can prove to be unpleasant. Severe pain in the abdomen area can be much more serious.
What causes stomach aches?
Stomach aches and abdominal pain have many sources. They can range anywhere from parasites, infections, and disease to poor eating habits, medications, and stress. Infections in the throat can send bacteria into the digestive tract, also causing pain. [1] Inflammation or irritation to any organ in the body can cause stomach aches.
Muscle Cramp
Muscle cramps (commonly called a charley horse) are the sudden and involuntary contractions of one or more muscles in the body – often the calf. Muscle cramps can affect any muscle under your voluntary control, from a small area of the body to a group. Pain can range from minimal to severe, sometimes lasting fifteen minutes or longer.
What causes a muscle cramp?
A compression of nerves in the spine could cause cramping, as well as calcium (hypocalcemia), potassium (hypokalemia), or magnesium (hypomagnesemia) deficiencies. Dehydration plays a common role, as well as poor blood circulation.
Diarrhea
Diarrhea is the frequent release of loose or liquid bowels. This condition can last up to three days or more, sometimes resulting in dehydration from loss of liquids.
What causes diarrhea?
Intestinal infections, parasites, and other bacteria are common causes of diarrhea. Consumption of food with certain parasites or contaminated drinking water can also play a part, as well as certain medications.  Diarrhea can occur when there is an increased amount of fluid being secreted into the intestine or a reduced absorption of fluid.
Vomiting
Vomiting is a result of a triggered emetic reflex which causes the contents of the stomach to forcefully exit through the mouth. There is a vast array of endogenous and exogenous factors that could trigger the emetic reflex. [2]
What causes vomiting?
Due to the wide variety of factors that can trigger the emetic reflex, it's often difficult to pinpoint a direct cause. Migraines, stomach infections, alcohol consumption, and overeating can cause vomiting. In addition, a blow to the head could lead to an increase in pressure on the brain and brain stem. This can cause a variety of neurological symptoms including nausea and vomiting.
Superbeets side effects are quite rare, but there have been reports of vomiting, muscle cramps, diarrhea, among others. If you are under 18, have a pre-existing medical condition, pregnant or nursing, or currently taking medications, talking with a doctor is always a good idea when it comes to adding supplements to your daily routine.
Superbeets is a super food that is used to improve bodily functions. Side effects don't always happen, unfortunately, we did find reports of a few during our research.
"Perhaps the worst part of it was having to run to the bathroom about 3 minutes after drinking my first shot. Not just once but again and again, about 12 times a day." Jason
"I tried them for over a week as directed, and immediately my sleep became restless even though I took my dosage in the morning." Tricia
"What it 'does' do, is give you a real bad stomach ache and an unpleasant trip to the toilet." Justin
"Approx. 15 minutes after drinking one shot mixed with 6oz of water, stomach became upset and nauseous." Charlie
"After a week, it was causing muscle cramps in my legs and I stopped using it." Melvin
"Didn't really notice any impact other than a slight headache." Patrick
"It made me vomit. Literally, 30 min after drinking it, it all came back up." Silah
"First day…diarrhea…2nd and third days, No energy increase while at the gym." Mike
"Made me sick." Julian
After years of research, we've found that side effects are an issue all too often. Our suggestion is to find a product with strong customer support and amazing reviews, like Dietspotlight Burn.
SuperBeets Questions & Answers:
After analyzing dieter reviews about SuperBeets, we made this helpful FAQ.
What are the side effects of SuperBeets?
Super Beets, with a space in between, side effects, reported by customers, include upset stomach, nausea and headache.
What are the ingredients in SuperBeets?
Super Beets ingredients include non-GMO beetroot powder, natural apple flavor, malic acid and stevia.
Does SuperBeets work?
There are studies on the official SuperBeets website showing some of the ingredients are proven to improve endurance and lower blood pressure. Unfortunately, the information didn't relate to this product, but others from HumanN. Beetroot has been researched for effects on nitrate levels and exercise performance, pulmonary circulation and metabolism, but results are not definitive. [1]
How much does HumanN SuperBeets cost?
SuperBeets cost $39.95 for one canister, $79.90 for two and $149.90 for four. You'll receive a discount on multiple-bottle purchases.
How should I take Super Beets?
You should take one scoop of Super Beets per day. One container lasts 30 days.
Can I take SuperBeets if I have a health condition?
Women who are pregnant or nursing, those with health conditions, anyone taking prescription medications or people under 18 years of age should contact a healthcare professional prior to using any dietary supplement, including SuperBeets.
What is Superbeets Dana?
A television commercial for Superbeets cast Dana Loesch.
What do users like about SuperBeets?
The taste was something users liked about SuperBeets, the improved energy and overall wellness.
What do users NOT like about Super Beets?
According to some Beets reviews, users didn't like not seeing results.
How do I contact the SuperBeets customer service department?
You can contact the SuperBeets customer service department by sending messages through the feedback form, mailing correspondence to Neogenis Labs 1120S Capital of Texas Hwy. Austin, TX 78746, by calling an agent at 1-855-636-4040 or by visiting the official website.
Can I contact HumanN SuperBeets through social media?
Yes, you can contact them through Facebook and Twitter. This is the ideal way to get Superbeets information.
Superbeets; where to buy?
It looks like you can only order Superbeets from Humann, the company behind the supplement.
Will I need to diet and exercise while taking SuperBeets?
No, you don't need to diet and exercise while taking SuperBeets. But the company recommends eating a balanced diet [2] and adding fitness in order to better results.
How many calories are in Beets?
Each serving of SuperBeets contains 15 calories.
How often can I use SuperBeets?
You can use SuperBeets up to five times per day.
Does SuperBeets come with a guarantee?
SuperBeets come with a 90-day guarantee.
There are many different angles with which to look at overall health and wellness. SuperBeets addresses one. Another is living at a healthy weight. For that, we like products with clinically tested ingredients, like Dietspotlight Burn.
SuperBeets Scientific Abstracts:
Stevia Leaf Extract
The effects of preloads containing stevia on food intake, postprandial glucose, and insulin levels, and satiety we tested on healthy and obese participants from the age of 18 to 50 years old. In these separate food tests, they received preloads consisting of stevia (290 kcal), sucrose (493 kcal), or aspartame (290 kcal) before lunch and dinner. Hunger and satisfaction levels were reported before and after meals, every hour. Subjects had provided blood samples directly before and twenty minutes following the lunch preload. Notwithstanding the caloric difference (290 vs. 493 kcals) in preloads, the individuals didn't compensate by consuming more at lunch and dinner when given stevia as opposed to sucrose in preloads. (MD in food consumption throughout the day between stevia and sucrose = 301 kcal, p < .01; aspartame = 330 kcal, p < .01). Stevia preloads greatly reduced postprandial glucose levels as opposed to the sucrose preloads (p<.01), as well as postprandial insulin levels versus the aspartame and sucrose preloads (p < .05). [1]
A recent study published by Nutrition Today explains stevia's use in foods and beverages, assisting with energy reduction. Stevia is a natural sweetener which is helping to increase choices for reduced sugar and energy food and drinks. Stevia exhibits great results and is a promising tool for reducing energy intakes, which could cause the reduction and the prevention of obesity. [2]
Non-GMO Beetroot Powder
Beetroot contains high quantities of biologically active ingredients including inorganic nitrate and betalains. The amounts were determined using a variety of compounds (sugars, betalains, oxalic acid, phenolic acids, and minerals) in juice containing seven distinct beetroot varieties. Vast differences were discovered between the selections for some substances (like nitrate), as the others exhibited only minor variations (specific sugars and minerals). Altogether, the betalain content was found to be between 0.8 and 1.3 g/L fresh juice (approximately 60% betacyanins and 40% betaxanthins) which made up 70 to 100% of the phenolics content. Other phenolics were hydroxycinnamic acids, which made up 2.6% of the phenolics. Sugars were similar, with the average being 7.7%, consisting of 95% sucrose. Also, other commercial juices were tested for their nitrate content, as the metabolic product nitric oxide has been known to deliver cardiovascular benefits. A broad range of nitrate levels has been found, ranging from 0.01 to 2.4 g/L. This is necessary for the development and production of beetroot juice supplements with great success. [3]
Learn More About Dietspotlight Burn »