Updated: 02/14/2018
- Site operated by Burn HD
In the diet industry, don't mistake marketing for evidence. This time around we took the time to write a detailed review of Sweet Sweat, examining the side effects, ingredients, and scientific studies. Also, we read countless dieter reviews and user comments from around the web. Lastly, we summed up all the data we found to give you with the bottom line.
Sweet Sweat can be purchased using their Official Site or through Amazon.
Sweet Sweat Readers:
Click here
to find out why we're giving away samples of our product, Burn HD.
Overview
What is Sweet Sweat?
Sweet Sweat is not your average workout supplement or tool, as it is a workout enhancer in the form of a sculpting cream. It has a unique goal: to improve the physical aspects of working out that your body already engages in; namely, sweating. It also aims to improve blood circulation and reduce the risk of exercise injuries.
The goal of this product is to be a "workout enhancer that greatly accelerates and enhances circulation and sweating during your workout." It says it does that by generating a thermogenic atmosphere on the skin where applied and, therefore, increasing blood flow to the muscles that you exercise. Sweet Sweat claims that users experience a better warm-up, recovery, performance, and less risk of soreness and injury.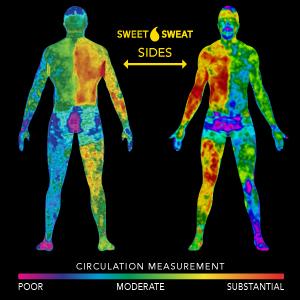 Jeff Pederson, who is a fitness expert and former athlete, made the supplement in 1977. Shortly after testing and spreading news of his product, Sweet Sweat hit the market and has been evolving ever since.
Sweet Sweat comes in a jar- or stick-form. The scents are Original, Coconut, or Scentless, and they come in 6.4 ounces, 6.5 ounces, or 13.5 ounces. The prices range from $33-50, depending on the size and flavor you choose.
Products Similar to Sweet Sweat
Sweet Sweat Company Bio
According to the official website, Sports Research is a Family Run Company that has provided health and wellness products for more than 35 years.

Name: Sports Research Corp.
Headquarters: San Pedro, CA, United States.
Address: 784 Channel St., San Pedro, CA 90731
Year founded: 1980.
Company type: Sole Proprietorship.
Company size: 11-50 employees.
Specialties: Health supplements, weight-loss supplements, vitamins, and weight management products.
Working Days & Hours: Monday – Friday, 9 am – 5 pm (PST)
Phone: (800) 633-9308.
Email: support@sportsresearch.com
Better Business Bureau (BBB) Accreditation: Yes, since 08/19/2015.
BBB & Customer Review Rating:
Scroll below for one of the best products we've seen over the last year.
Ingredients
Sweet Sweat Ingredients
Sweet Sweat contains a variety of natural ingredients, including:
White Snow Petrolatum
Brazilian Carnauba Wax
Acai Pulp Oil
Organic Coconut Oil
Pomegranate Seed Oil
Organic Jojoba Oil
Virgin Camelina Oil
Other Sweet Sweat ingredients include olive oil, aloe vera extract, vitamin E, and natural fragrances.
White Snow Petrolatum
The first ingredient is White Snow Petrolatum, which we commonly use as a skin moisturizer. It also helps protect the skin from irritation when it is wet. [1]
Brazilian Carnauba Wax
This wax is an all-natural vegetable wax that we derive from the Brazilian palm tree. Brazilian carnauba wax is the hardest wax and we most commonly use it in the cosmetic, food, and even automotive industries. [2]
Acai Pulp Oil
Acai pulp oil is from the acai berry, which has many health benefits, including:
Boosted Immune System
High Amount of Vitamin C
Reduced Risk of Cancer
Decreased Aging
Increased Antioxidant Levels [3]

Organic Coconut Oil
Organic coconut oil is a well-known ingredient that is safe to use for clearer skin, heart health, and as an anti-viral, -fungal, and -bacterial, as well as for activity and increased energy. [4]
Pomegranate Seed Oil
This product uses pomegranate seed oil to deeply penetrate the skin. It has significant sources of beneficial flavonoids and punicic acids. You can most commonly find this product in cosmetic products and is highly recommended for external use. [5]
Organic Jojoba Oil
Organic jojoba oil is a moisturizing oil that helps clean clogged pores and prevents oily residue.
Virgin Camelina Oil
Virgin camelina oil is a crucial ingredient for this product because it has Omega-3 fatty acids and Vitamin E.
Olive Oil
Olive oil is a Mediterranean oil that not only treats a wide variety of physical ailments, but it also contains antioxidant polyphenols and oleic acids. [6]
Aloe Vera Extract
Aloe vera extract is another key ingredient in Sweet Sweat because it provides softening and calming effects on the skin. It also protects the skin while reducing any redness.
Vitamin E
D-alpha tocopherol, or vitamin E, helps prevent rancidity in cosmetic products and also acts as an antioxidant. Also, it is very rich in the delta and gamma tocopherols.[7]
The Sweet Sweat ingredients also contain natural fragrances due to the combining of these ingredients.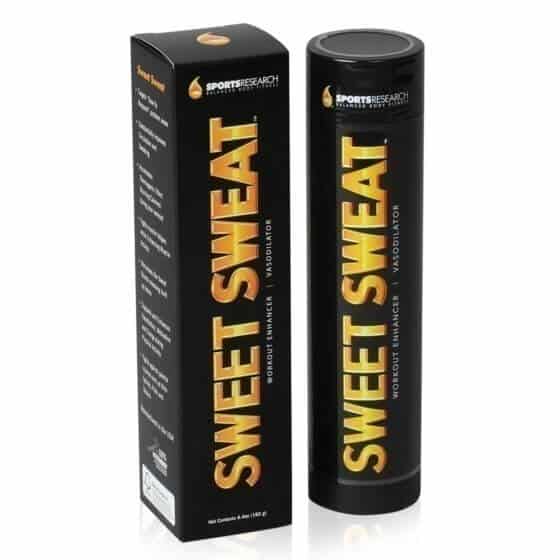 Health Benefits
Sweet Sweat Health Benefits
Sweet Sweat is a topical gel that you use to enhance your workout by promoting blood circulation, energy, and sweating during exercise. The company also claims it improves warm-up and cooldown sessions.
Sweet Sweat targets injured or tense areas of the body, like muscle pulls and cramps, that take longer to warm up and stretch out or use during exercise. This apparently provides the user with time efficiency, while nurturing the body parts that need some extra TLC.
There's no doubt that Sweet Sweat contains beneficial skin oils that will not only nourish the user's skin but also leave a clean fragrance during and after the workout. However, its use for weight-loss is questionable.
Directions
Sweet Sweat Directions
Sweet Sweat is a product that you can easily apply to any area of the skin. Its design allows it to work under clothes, in addition to the Sweet Sweat Waist Trimmer or Sweet Sweat Belt.
When to Use Sweet Sweat
During cardio, circuit or high-interval training
In a dry or infrared sauna
The official Sweet Sweat website states that you can use the gel as often as you'd like, as it is safe to use with every workout.
You can apply Sweet Sweat by hand or with the Sweet Sweat Stick. The consumer should apply the cream before they work out, with no need to wait for it to dry; they can head right into their routine.
How Does Sweet Sweat Work?
Sweet Sweat works best when you apply it onto clear, dry skin and not in addition to other lotions or oils. Sweet Seat benefits are much better under cardiovascular circumstances because a higher heart rate activates it. So the more vigorous the exercise the better results you'll achieve.
To remove the product, the manufacturer recommends that the individual wipes it off with a towel and then rinses off any residue by taking a shower.
You should store the product in a cool dry, place, out of direct sunlight. It could liquefy at temperatures above 95F. If this happens, the manufacturer recommends placing it in a refrigerator until it hardens again.
The scent of the oils might remain after they remove the cream.
Who Can Use Sweet Sweat?
Various individuals are encouraged to use Sweet Sweat, but performance athletes are the main target audience. For an athlete, every little advantage counts when participating in a sport.
The main goal of this product is to improve circulation during intense movement, as well as prime injuries or tense areas during an activity.
These are important and necessary advantages for the athlete and are key to their performance as well as recovery and overall health.
From warm-up to cooldown, it claims to provide various health benefits, in addition to priming your body for performance, aiding injured areas, and facilitating blood circulation and natural heat that comes from intense activity.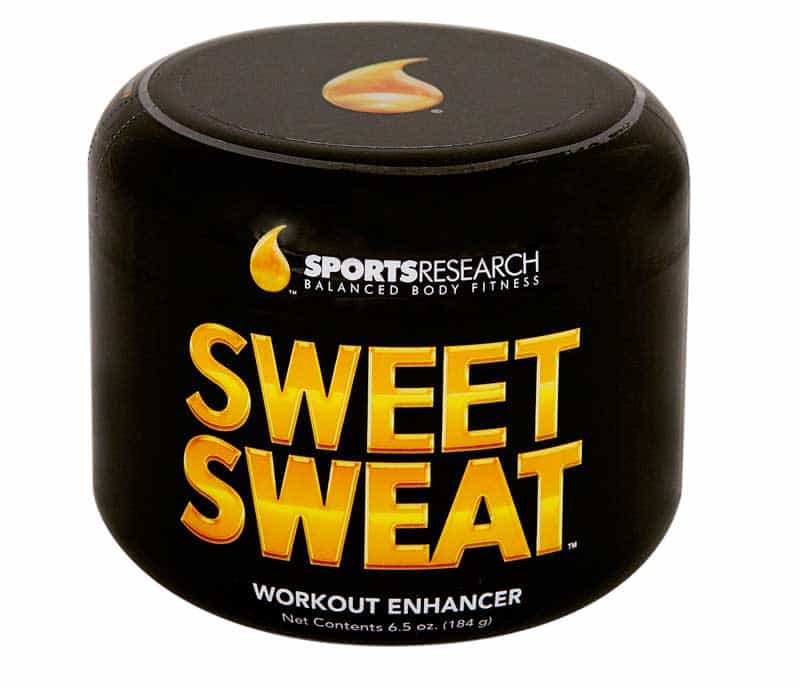 Sweet Sweat Research
Exercise physiologist Dr Robert A. Wiswell, PhD, conducted an independent study on Sweet Sweat in 1984.
His study showed that the product "has the effect of increasing heat production in the muscles used during exercise" and has "observed that the thermal effect was significant in all subjects tested."
Clinical research exists on some of the individual ingredients and they all have specific health benefits. There are recommendations to use them as an asset to a healthy lifestyle.
The reviews are far and wide, with some customers claiming success and others claiming failure and a waste of an investment.
Sweet Sweat ingredients can have different effects on an individual, so they don't guarantee success. In addition, the website claims that it will accelerate weight loss results, but this is not a fact that evidence supports.
Side Effects
Sweet Sweat Side Effects
The side effects are low, considering that the product includes a majority of natural ingredients. The main side effects users may have are skin irritations or allergic reactions to the various oils, waxes, and even fragrances.
White snow petrolatum may cause burning, stinging, irritation, or redness, but it is overall a safe product to use and there are few instances of these reactions occurring.
Brazilian carnauba wax is hypoallergenic and non-toxic; therefore, any side effects are non-existent due to the small doses the product contains.
The same goes for acai pulp oil if the amount is not enough to produce negative side effects.
Organic coconut oil has possible side effects for pregnant women and children. However, when used in safe amounts it is beneficial to the skin and there are no negative side effects other than specific users needing to take precautions.
Pomegranate seed oil is a safe ingredient. The only consideration is a possible allergic reaction or irritation when you apply it to the skin.
The same goes for the organic jojoba oil, virgin camelina oil, olive oil, aloe vera extract, vitamin E, and natural fragrances.
Mainly, the consumer must only be aware of possible skin irritations or reactions.
Belts & Trimmers
Sweet Sweat Belts and Trimmers
Sweet Sweat also carries other products that the makers have designed to further the effects of the original product as well as to improve the effects of weight loss.
The Sweet Sweat Waist Trimmer is a core-tightening, sweat-inducing, supportive belt that wraps around an individual's waist.
The Sweet Sweat Trimmer's design is for use during a workout session in addition to the gel. It can increase sweat and heat production as well as support the lower back.
The Sweet Sweat Trimmer is of safe material, specifically non-latex neoprene, and it repels the absorption of moisture when in use. It comes in two colors (black and pink), is available in sizes small through to XXL, and it comes at $29.
Other Sweet Sweat Belts include the Arm Trimmer and Thigh Trimmer. Both neoprene trimmers have the same benefits, effects, and safe material as the waist trimmers.
Both are available in pink and yellow, come in sizes regular and large, and adjust to your particular size and shape.
Products
Other Sweet Sweat Products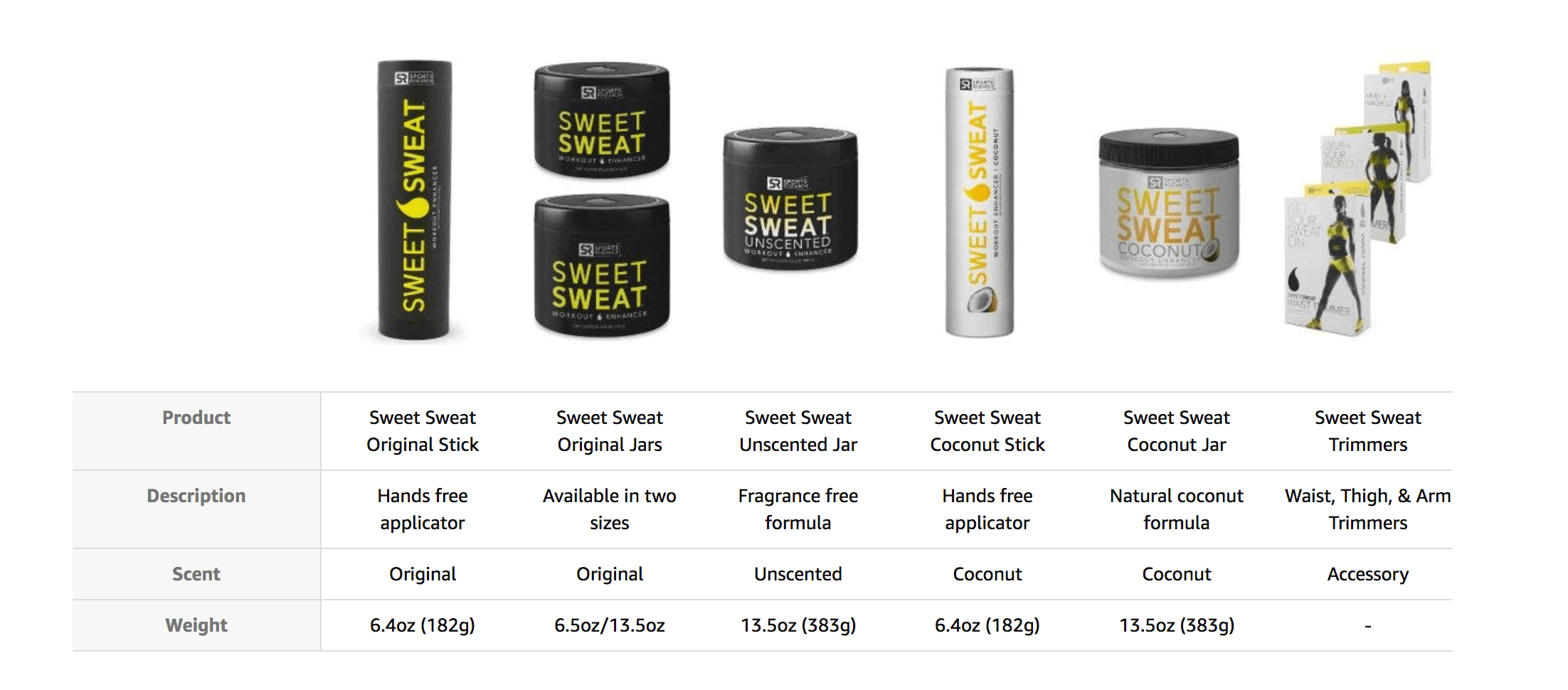 The company also sells Sweet Sweat Coconut and Gel Sticks. It has all the benefits of the original Sweet Sweat product but comes in a larger size and contains a larger amount of organic coconut oil.
Aside from the Original, Sweet Sweat Coconut provides more moisturizing and hydrating properties, as well as a coconut aroma.
The Sweet Sweat Coconut Jar comes in the largest size, containing 13.5 ounces for the price of $50.
The Sweet Sweat Gel Stick is a roll-on stick that can easily fit in your gym bag and its quick use won't get your hands dirty. The gel stick comes in both Original and Coconut scents and contains 6.4 ounces, selling for $33-35.
Does Sweet Sweat Work?
The ingredients have all-natural, safe, and effective oils and other substances to minimize possible side effects and to work with the body in an advantageous way.
There is research on all individual ingredients of the product that shows many health benefits for the body. Sweet Sweat Trimmers and other belts are also of a durable material that enhances their results.
Reviews from previous customers of the product show that Sweet Sweat has not reliably worked for all people.
While it can be hard to decide if an individual will reap the benefits of Sweet Sweat here are three things the customer can consider.
First, there is no trial period for Sweet Sweat. It is a one-time purchase that you cannot refund after use. This is a downside for the product and company considering that the research on the product is minimal and within the company.
The next thing to consider is that the product is on the expensive side, especially considering the amount of gel you need to use for a single workout session.
The Sweet Sweat Gel Sticks may be the best option for resolving this issue as it applies the perfect amount of gel to the target areas.
The last issue to consider is the individual effects the ingredients may have on your body. Side effects vary per person, and it is up to the customer to know and accept the risk of possible reactions they may have due to the use of the various oils that are in the product.
Where to Buy
Where to Buy Sweet Sweat
Bottom Line
The Bottom Line – Does Sweet Sweat Work?
So, are you heading to the gym with Sweet Sweat? Well, we like that it contains a few natural ingredients and that longevity of the company, but the lack of research supporting the claims is a bit concerning. We're also skeptical about this one due to negative customer comments about it not working.
If you want long-term weight-loss results, we suggest going with a product containing some clinically-tested ingredients and is supported by positive customer feedback.
Among the best products we've seen this year is a product called Burn HD. The formula is a blend of four ingredients. All clinically-tested with results often published in journals such as The American Journal of Clinical Nutrition.
Also, they're so confident that you'll love Burn HD, that they're offering a 2-Week Sample, which is a good sign.
Learn More About Burn HD »