Updated: 01/11/2018
- Site operated by Burn HD
There's been plenty of buzz about ThermoPlus botanical weight loss pills, so we did some in-depth research on the side effects, ingredients, and science behind this formula. Next, we sorted through all of the customer reviews we could find. Last but not least, we compiled everything into this review to give you the bottom line on this Advocare supplement.
ThermoPlus Readers:
Click here
to find out why we're giving away samples of our product, Burn HD.
Overview
What is AdvoCare ThermoPlus?
ThermoPlus is a plant-based, botanical vitamin and herbal weight-loss supplement. It stimulates metabolism, manages appetite and enhances weight loss results. ThermoPlus contains some powerful fat-burners and appetite suppressants.
Fat-burners like ThermoPlus work by increasing your metabolism while giving you more energy, suppressing your appetite, or blocking carbohydrate and fat absorption.
ThermoPlus contains these key botanical ingredients:
Oolong tea extract (200mg), from the leaf – Camelia Sinensis, which can combat inflammation and high cholesterol.
Thiamine (3mg) Added as HCI which is also found in spinach, rice, legumes
Sage leaf extract (300mg) which is used for its essential oils that are extracted from the leaves. Sage is known to give consumers a natural high, which may reduce stress and anxiety.
Niacin (20mg) which catabolizes fats, carbohydrates, proteins, and alcohol. It also does the important job of repairing DNA. I may even lower your risk of cardiovascular disease
Guarana extract (90mg) which helps regulate blood flow throughout the body which can help reduce fatigue. It can prevent inflammation and high cholesterol.
ThermoPlus can be used on its own or in conjunction with Advocare Core, MNS or any of the Metabolic Nutrition System color packets.
Products Similar to ThermoPlus
Benefits
 AdvoCare ThermoPlus Benefits
ThermoPlus is meant to be used in conjunction with diet and exercise and the combination can provide some great additional benefits such as:
Better appetite control
A healthier metabolism
Helping the body convert fat into energy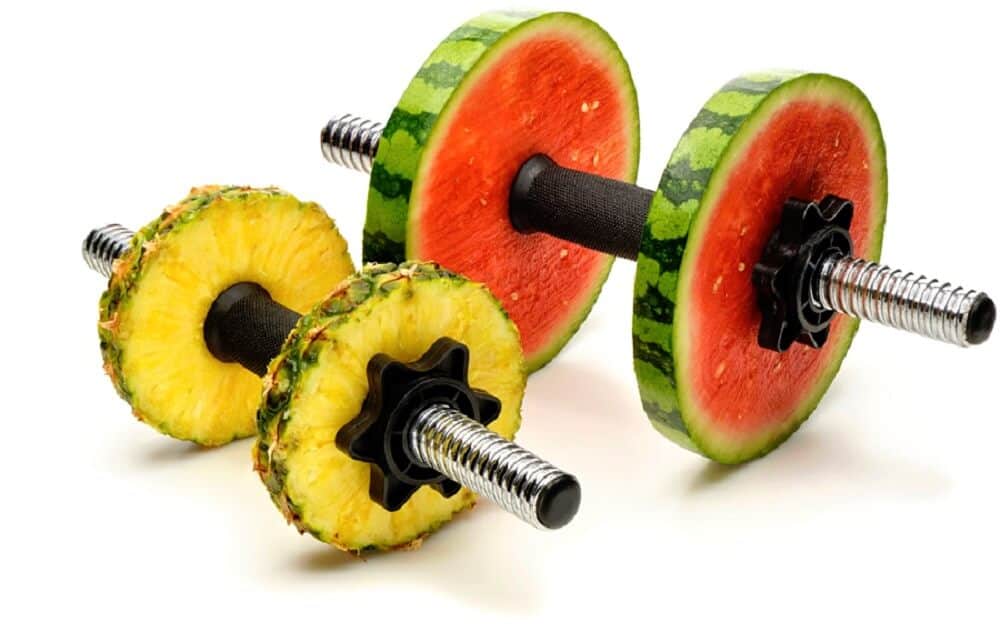 Scroll below for one of the best products we've seen over the last year.
About the Product
Botanical fat-burning combination

Cutting-edge weight-loss enhancement

Works with the body's natural ability to convert fat into energy

Promotes a healthy metabolism

Appetite suppressant

Contains oolong tea and sage extracts
Supplements
About AdvoCare Supplements
Advocare International, L.P. is a multi-level marketing company that was started in 1993. It's based in Plano, TX, and offers an array of supplements for health and wellness, weight management, workouts, energy and focus, digestive support, muscle building and core nutrition. If you're looking for the best Advocare products, here are some of the other supplements they offer:
Advocare 24 Day Challenge
Advocare Slam
Directions
AdvoCare ThermoPlus – How Many Times a Day?
If you're asking yourself "Can I take ThermoPlus twice a day?" there's no need. The directions say to take this diet supplement once daily, 30 minutes before a meal.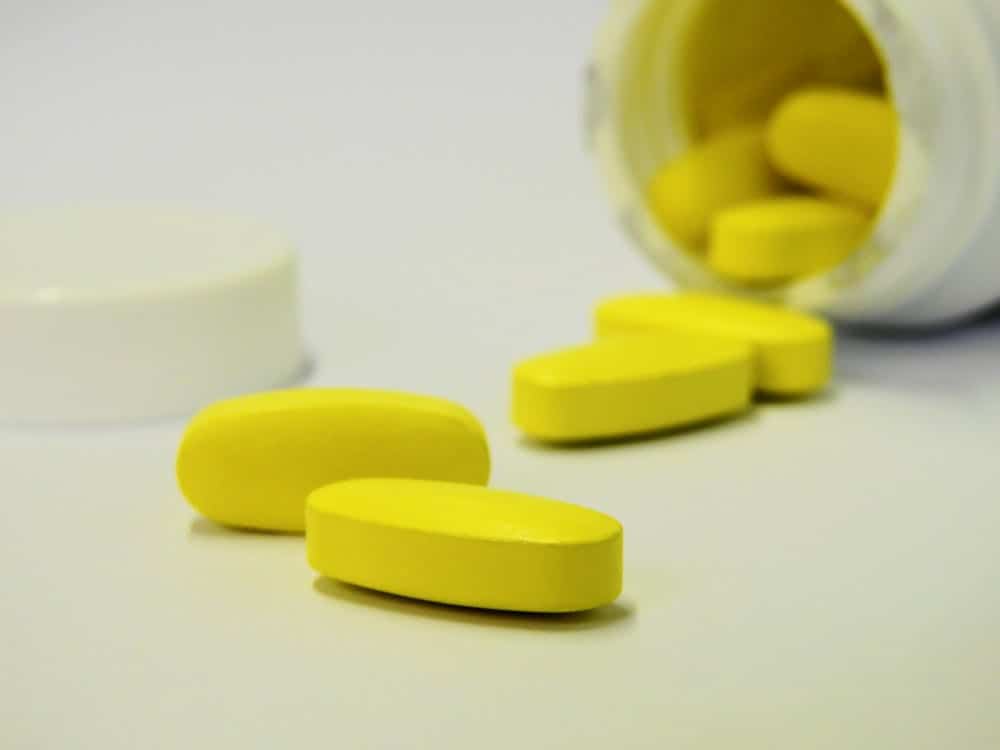 The instructions on how to use Thermo Plus are printed on the bottle's label.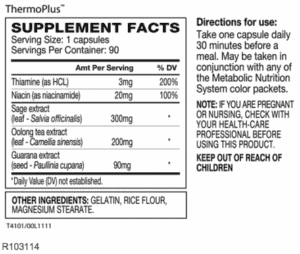 Is ThermoPlus Medical Weight Loss?
No, ThermoPlus is not a medical-grade weight loss option or prescription drug for treating obesity. It is an over-the-counter herbal supplement that aims to help you lose weight when it's combined with regular diet and exercise.
There are no scientific studies posted on the official Advocare website explicitly supporting ThermoPlus capsules.
Ingredients
ThermoPlus Ingredients
Here is a closer look at the key ingredients found in ThermoPlus pills, and any research that supports them.
Oolong tea
A traditional Chinese tea that is partially fermented and contains caffeine. It's often consumed as a hot beverage and is said to boost mental alertness, energy levels, focus, and even weight loss results.
LiveStrong reports, "Consuming oolong tea for six weeks helped participants in a study published in the Chinese Journal of Integrative Medicine in February 2009 to decrease both their weight and their body fat." [1]
WebMD says, "Drinking oolong tea or other caffeinated beverages throughout the day seems to maintain alertness and mental performance." [2]

Sage leaf
An herb used to season foods and make some traditional medicine. It is often said to improve memory, enhance mental performance and boost alertness.
WebMD tells us, "Taking a single dose of common sage (Salvia officinalis) or Spanish sage (Salvia lavandulaefolia) by mouth seems to improve memory, alertness, and attention in healthy adults. When used as aromatherapy, these sage species seem to improve alertness, but not attention and memory." [3]
A study in the Journal of Traditional and Complementary Medicine says, "Some chemical compounds like flavonoids, terpenoids, and essential oils are present in different species of Salvia (sage). Studies suggest that Salvia species, in addition to treating minor common illnesses, might potentially provide novel natural treatments for the relief or cure of many serious and life-threatening diseases such as depression, dementia, obesity, diabetes, lupus, heart disease, and cancer." [4]
Guarana
Also called Paullinia Cupana or Brazilian cocoa, this plant grows in regions like Brazil. It contains the stimulant caffeine, and is sometimes used to increase energy, focus, athletic performance and weight-loss results.
"Guarana might promote weight loss when used in combination with mate and damiana. However, more evidence is needed to rate guarana for this use," states WebMD. [5]
Drugs.com notes that, "The appetite suppressant effect is related to the caffeine content. The energy that guarana tablets are reported to give also is due to caffeine." [6]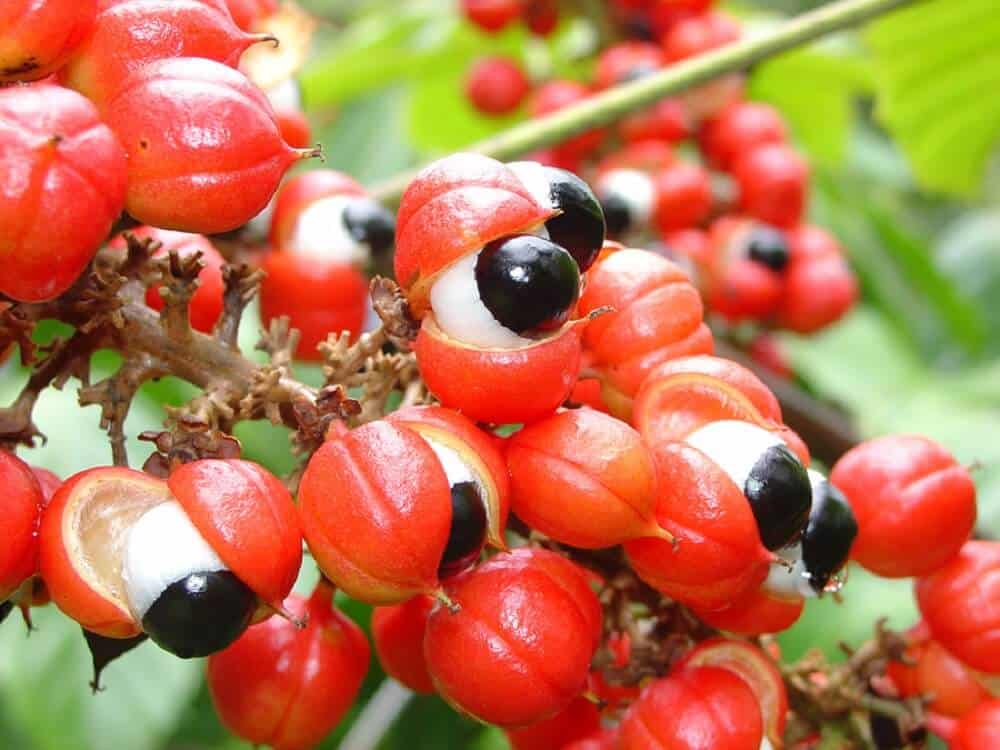 Niacin (niacinamide)
A form of vitamin b3, which supports digestive system health, energy production, and overall wellness. Some research has linked niacin to lower risk for high cholesterol and diabetes.
Mayo Clinic says, "Niacin is a B vitamin that's made and used by your body to turn food into energy. It helps keep your nervous system, digestive system and skin healthy." [7]
The University of Maryland Medical Center reveals, "In type 1 diabetes, the body's immune system mistakenly attacks the cells in the pancreas that make insulin, eventually destroying them. Niacinamide may help protect those cells for a time. More research is needed. Researchers have also looked at whether high-dose niacinamide might reduce the risk of type 1 diabetes in children at risk for the disease. One study found that it did." [8]
Thiamine
Also called vitamin B1, this nutrient is found in foods such as nuts, fish, pork, seeds, whole wheat bread and green peas. It helps the body process carbohydrates and produce energy.
"Thiamin (vitamin B-1) helps the body generate energy from nutrients. Also known as thiamine, thiamin is necessary for the growth, development and function of cells. Most people get enough thiamin from the food they eat," says the Mayo Clinic. [9]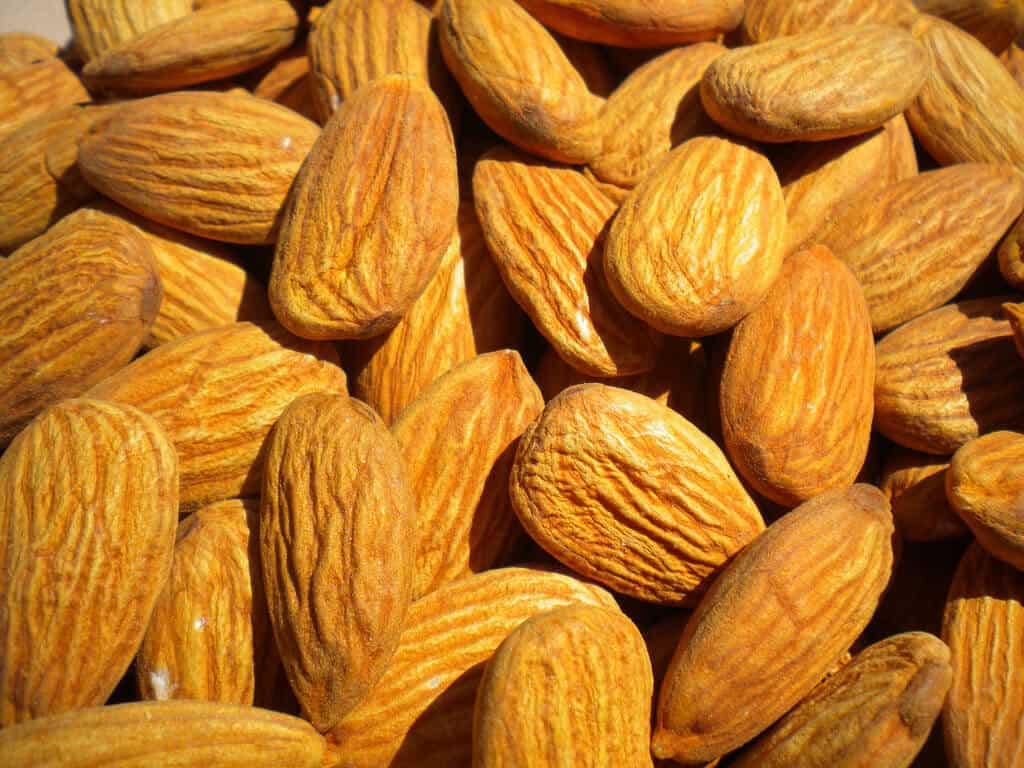 Side Effects
ThermoPlus Side Effects
The official Advocare website does not mention any side effects for ThermoPlus. However, based on user reviews and the ingredients in this diet supplement, you may notice the following unwanted effects:
Upset stomach
Increased urination
Sleeplessness
Burping
Dizziness
Research referenced in trusted publications and government websites like the National Institutes of Health refer to these side effects based on the ingredients in Thermoplus, not Thermoplus in particular. [10] [6] [5]
Where to Buy
Where to Buy ThermoPlus
You can buy ThermoPlus directly from the official website, as well as via online dealers such as Amazon.
The cost of ThermoPlus is $31.95 (90 capsules), but you can get the preferred customer price of $25.56 if you sign up with Advocare.
The price of ThermoPlus on Amazon is $33.50 ($0.37 / count) & free shipping.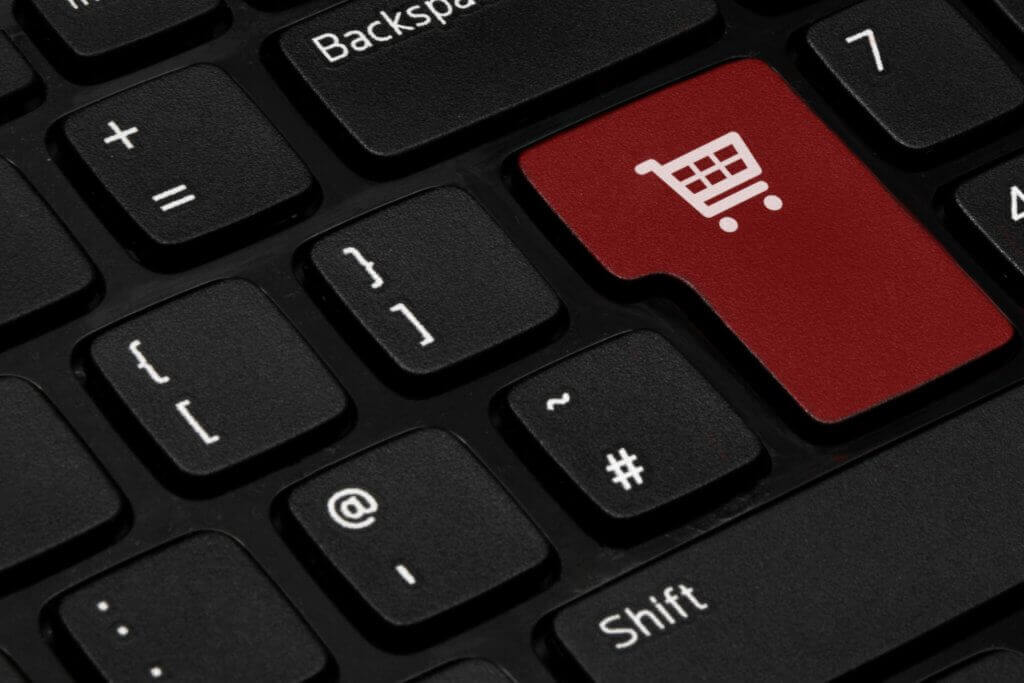 Other AdvoCare Weight Loss Products
Additional Advocare weight loss supplements include the following:
All of these Advocare products are sold directly from the official website.
Products
AdvoCare Products – Any Research Provided?
There is one small section on the AdvoCare website that mentions science. Here is what it actually says:
"AdvoCare relies on the latest scientific knowledge and high-quality ingredients to create safe and effective products. The AdvoCare Science team includes professionals dedicated to product research & development as well as training and education for AdvoCare Independent Distributors. The science behind AdvoCare products helps improve lives through superior nutrition and wellness."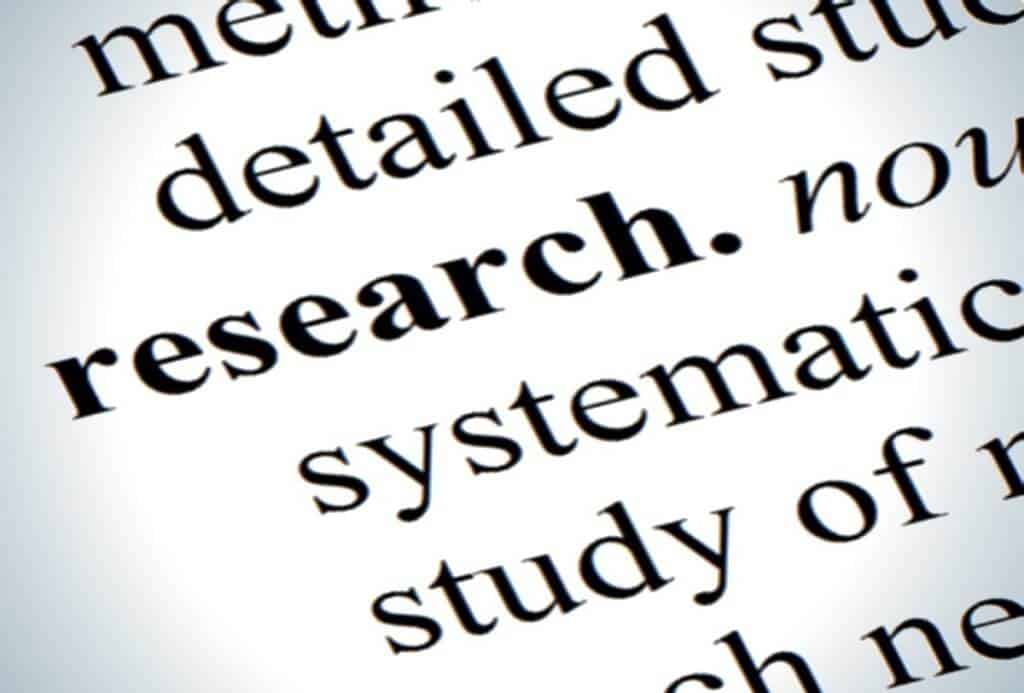 Results
AdvoCare ThermoPlus Results
How long it takes to see results with ThermoPlus just depends on the user. There is no time frame mentioned on the main website regarding weight-loss results.
You are likely to see faster results if you incorporate a healthy, low-calorie eating plan and regular exercise while taking ThermoPlus.
AdvoCare ThermoPlus Alternatives
There are some alternative weight loss supplements to consider as well. Some of which are:
Energybolizer
Thermobol
Thermoxyn
These diet products also contain herbal formulas and are available without a prescription.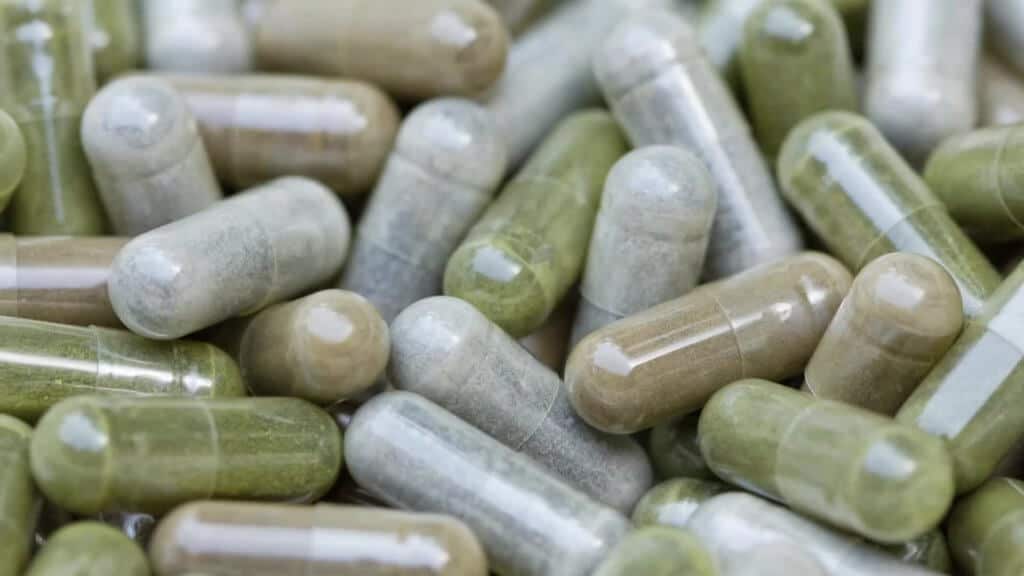 Thermoplus vs Leptilean
AdvoCare Thermoplus vs. Leptilean
LeptiLean was another weight loss product available from Advocare. Like ThermoPlus, it helps control appetite and boosts metabolism to promote weight loss. However, it's no longer available on the official website, which means it was likely discontinued. The ingredients in Leptilean are:
LeptiCore
PhosphoLean
Naringin extract
Cat's claw extract
This product is not intended for pregnant or nursing women. It is intended for use in ages 18 and older. Keep out of reach of children. In case of accidental overdose, seek professional help immediately.
ThermoPlus Pros and Cons
Our research lead us to a few pros and cons, based on what real users experienced. These include:
Pros
Can help speed along weight loss
Helps keep your energy levels high
Cons
Ingredient doses are too low, based on the amount used in studies
What Users Are Saying
"Love these products and they make you feel great, and they work if you stick to a healthy diet and exercise routine!"
"I think this pill serves its purpose for the most part. I did think I would have a little more of a reaction from it but I cant complain to much on the purpose of it. I will say if you do not like sage avoid this product and maybe opt for the liptilean instead. It has a sage extract in it and I burp it all day when I take this product, horrible taste!!"
"It may be a great supplement for metabolism but definitely affects sleep. It is a stimulant so beware if you want to sleep even if you take this early in the morning"
Bottom Line
The Bottom Line on ThermoPlus
Let us first say that ThermoPlus is a botanical supplement that contains natural sources of caffeine, which may help boost metabolism, focus and energy levels to some degree. After all, this stimulant is backed by some actual research. We also like that a 30-day satisfaction guarantee is posted on the website. But, we did find a few things we don't like about this herbal diet supplement:
Quite a few users saw no results at all.
Some of the key ingredients lack solid weight loss research.
Customer feedback is not posted on the official website to support ThermoPlus.
If you want to slim down and see better weight-loss results, think about trying a botanical supplement not only backed by positive user comments, but also with an ingredient formula supported by solid science.
After sorting through hundreds of diet products, one that really stood out is Burn HD. It's backed by a solid money-back guarantee and contains four key ingredients shown to help ignite metabolism, spark energy levels and improve fat loss results.
Also, you can try a 2-Week Sample of Burn HD hassle-free, and get started dropping those pounds.
Learn More About Burn HD »