Updated: 01/11/2018
- Site operated by Boost
We're always on the lookout for effective testosterone products, and we noticed Ultimate Testo Explosion has gained traction as a prominent men's supplement and testosterone booster. So we took a close look at the supplement, examining the pros & cons, potential benefits, side effects, ingredients, and scientific research on this testosterone booster. Then we took a peek at actual user feedback to see what guys are saying about Ultimate Testo Explosion. Lastly, we compacted all the information we found to give you our final verdict on the supplement.
Ultimate Testo Explosion Readers:
Click here
to find out why we're giving away samples of our product, Boost.
Overview
What is Ultimate Testo Explosion?
Ultimate Testo Explosion is a "testosterone booster for extreme performance." Testosterone-boosting supplements have become extremely popular in the marketplace, and Ultimate Testo Explosion aims to take their piece of the pie with aggressive marketing.
Many men attempting to optimize their physique will add or consider adding a testosterone-boosting supplement to their regimen. Ultimate Testo Explosion is a maximum strength formula that aims to boost libido, accelerate fat loss, build muscles and help with male virility and stamina. It offers "dual-blend technology" and contains several herbs to improve strength and endurance while speeding up recovery. Ultimate Testo explosion is marketed as organic and effective as a pre-workout supplement.
Ultimate Testo Explosion is manufactured by a company called Massive Muscle, LLC. The company headquarters for Massive Muscle LLC appears to be located in Los Angeles, CA. From what we can tell, Ultimate Testo Explosion appears to be the only product marketed by this particular company. This makes us think that Massive Muscle LLC is a 'shell' company specifically attached to Ultimate Testo Explosion. The copyright date on the official product website is 2016. As far as we can tell, there is no sort of company history, 'About Us' section, links or other such information on the website. The web link only serves as a sales page and infomercial for Ultimate Testo Explosion.
Ultimate Testo Explosion is part of an automatic monthly subscription service. Some companies offer "free trials" of their supplements, in which the purchaser pays only shipping and handling or a nominal fee. However, the purchaser is automatically enrolled in a subscription plan in which their credit card is billed as additional bottles of a supplement are mailed. This will be discussed further in the Cost section.
Products Similar to Ultimate Testo Explosion
Ingredients
Ultimate Testo Explosion Ingredients
Here is a closer look at the herbal ingredients in Ultimate Testo Explosion. Unfortunately, customers must order the product in order to see the full ingredient list.

There are many male performance supplements that offer similar ingredients, including Pure Testo Explode and Monster Test.
Tribulus Terrestris
Sometimes called puncture vine, this is a Mediterranean plant that has been used in supplements to treat poor athletic performance, sexual issues, bad circulation, and low testosterone levels.
The International Sports Sciences Association (ISSA) gives some insight Tribulus, saying:
"…taking Tribulus terrestris supplements may maximize natural production of testosterone, which is thought to be the primary reason this plant increases libido and sexual performance in both males and females."
However, scientific studies on Tribulus are less-encouraging regarding effectiveness.
One study concluded that Tribulus was flat-out ineffective at increasing free and total testosterone levels. [1]
Another study concluded the following [2]:
After 5 weeks of training, strength and fat free mass increased significantly without any between-group differences (tribulus versus placebo) . No between-group differences were noted in the urinary T/E ratio. It was concluded that T. terrestris did not produce the large gains in strength or lean muscle mass that many manufacturers claim can be experienced within 5-28 days.
Finally, one more study had this blunt conclusion on the correlation between Tribulus and optimal body composition [3]:
Supplementation with tribulus does not enhance body composition or exercise performance in resistance-trained males.
Bottom Line: Tribulus continues to have a reputation as an effective supplement for increasing testosterone levels and performance despite substantial evidence to the contrary. Perhaps this is because some varieties of Tribulus are very inexpensive to formulate, and that Tribulus does have a mild aphrodisiac effect in some trials.
Fenugreek extract
A plant native to western Asia, the Mediterranean and southern Europe. It's often used to treat low libido, digestive problems, erectile dysfunction, and infertility.
One study in the Journal of the International Society of Sports Nutrition revealed, "It is concluded that 500 mg of this proprietary Fenugreek extraction had a significant impact on both upper- and lower-body strength and body composition in comparison to placebo in a double-blind controlled trial. These changes were obtained with no clinical side effects." [4]

Our previous investigations into fenugreek have provided conflicting reports on its effectiveness as a testosterone-booster. Fenugreek supplementation has been correlated with fat loss, but also with the promotion of prolactin production. Prolactin is a significant antagonist of testosterone. [5] [6]
Saw palmetto
The fruit from this plant is used as an alternative treatment for health conditions like enlarged prostate and BPH (benign prostatic hypertrophy).
NCCIH tells us, "Saw palmetto is used as a dietary supplement for urinary symptoms associated with an enlarged prostate gland (also called benign prostatic hyperplasia or BPH), as well as for chronic pelvic pain, decreased sex drive, migraine, hair loss, and other conditions." [7]
Drugs.com says, "It is used primarily for its activity in benign prostatic hyperplasia (BPH). Saw palmetto is used to treat symptoms of BPH, including reducing urinary frequency, increasing urinary flow, and decreasing nighttime urination. Saw palmetto may delay the need for prostate surgery. The mechanism of action of saw palmetto is unknown." [8]
Bottom Line: Saw Palmetto is not contraindicated and has generally positive effects on inflammation and prostate health. Its inclusion in a men's formula such as Ultimate Testo Explosion is likely benign and possibly beneficial.
Coleus forskohlii root
This plant contains a chemical called forskolin that is used to treat obesity, asthma, and heart problems such as high blood pressure.
Forskolin is frequently utilized for optimizing physique and improving body composition. One study that focused on the effect of forskolin on obese and overweight men concluded that "Oral ingestion of forskolin (250 mg of 10% forskolin extract twice a day) for a 12-week period was shown to favorably alter body composition while concurrently increasing bone mass and serum free testosterone levels in overweight and obese men. The results indicate that forskolin is a possible therapeutic agent for the management and treatment of obesity." [9]
Another study conducted on mildly-overweight women concluded the following:
In conclusion, this study was performed in an attempt to further investigate the effectiveness of CF (coleus forskohlii) on body composition and general markers of health. The findings suggest that 12-weeks of CF supplementation in free-living subjects have limited effects on body composition and no apparent clinically significant side effects. However, CF has the potential to positively influence the loss and management of overall body weight possibly as a means of maintaining weight after weight loss. Still, future research is needed to further explore its capabilities.
According to information collected from four studies into the connection between coleus forskohlii and weight loss, there is a "moderate" chance of losing weight. [10]
Bottom Line: Overall, the results on forskolin are inconclusive. It may be an effective aid in weight and body composition. Potential side effects are discussed below.
Milk thistle seed
A flowering plant native to the Mediterranean, milk thistle seed has antioxidant properties to combat harmful free radicals. It is known as an effective antioxidant for the liver. It is sometimes used to treat health conditions such as liver disease, diabetes, and indigestion.
WebMD states, "Silymarin is the main active ingredient in milk thistle. Silymarin is both anti-inflammatory and antioxidant." [11]
Alpha Lipoic Acid (ALA)
An antioxidant and fatty acid found in foods like broccoli, spinach, potatoes, yams, carrots, and rice bran, Alpha Lipoic Acid (ALA) may help reduce free radical damage and treat obesity.
"Alpha-Lipoic Acid is an antioxidant made by the body. It is found in every cell, where it helps turn glucose into energy. Antioxidants attack "free radicals," waste products created when the body turns food into energy. Free radicals cause harmful chemical reactions that can damage cells, making it harder for the body to fight off infections," says the University of Maryland Medical Center. [12]
WebMD says, "Research suggests that taking 1800 mg of alpha-lipoic acid daily for 20 weeks reduces body weight in people who are overweight." [13]
L-Arginine and L-Citrulline (Nitric Oxide)
L-Arginine and L-Citrulline are two naturally-occurring amino acids, and have been added to Ultimate Testo Explosion to serve similar functions: promote the release of Nitric Oxide (NO) in the body.
Both L-Arginine and L-Citrulline are popular additions to pre-workout supplements due to their ability to improve blood flow and vascular health.
L-Arginine has been shown to improve exercise metabolism and blood flow to skeletal muscles:
"L-arginine administration improves endothelial function in various disease states. In addition, L-arginine infusion at rest increases plasma insulin, growth hormone, glucagon, catecholamines and prolactin. Such hormonal changes affect metabolism. There has, however, been very little examination of the effect of increases in L-arginine availability during exercise. This is important to study as there is preliminary evidence that L-arginine infusion, probably via increases in nitric oxide (NO), alters skeletal-muscle metabolism during exercise." [14]
L-Arginine has a number of positive effects on health, one of which is stimulating the natural production of Nitric Oxide. Given that L-Arginine is a naturally-occurring amino acid and has no contraindications in reasonable amounts, we see it as a worthwhile inclusion in a men's supplement.
One study on L-Citrulline concluded the following:
The serum nitrogen oxide (NOx, the sum of nitrite plus nitrate) and NO metabolic products were significantly increased only in the L-citrulline group (p<0.05, versus placebo). Plasma citrulline, arginine and the ratio of arginine/asymmetric dimethylarginine (ADMA), an endogenous inhibitor of NO synthase (arginine/ADMA ratio) were significantly increased in the L-citrulline group compared with the placebo group (p<0.05, p<0.01, p<0.05, respectively). Moreover, there was a correlation between the increase of plasma arginine and the reduction of baPWV (r=-0.553, p<0.05).

These findings suggest that short-term L-citrulline supplementation may functionally improve arterial stiffness, independent of blood pressure, in humans. [15]
L-Citrulline has also been found to help with mild erectile dysfunction, likely another reason it was included in Ultimate Testo Explosion. [16]
L-Turaline
L-Turaline is a curious inclusion, as it is listed on the Ultimate Testo Explosion ingredients list but is not one of the 20 naturally-occurring amino acids. We suspect it may be a derivative of L-Glutamine, or perhaps a misspelling of L-Tyrosine, but because Ultimate Testo Explosion is a proprietary blend, we do not have more information on L-Turaline.
Longjack root (Eurycoma Longifolia)
Also called Tongkat Ali, this Southeast Asian shrub is often used in traditional medicine to treat low testosterone levels, erectile dysfunction, and infertility in men. Eurycoma Longifolia has been used in various traditional systems to treat erectile dysfunction.
The International Journal of Preventative Medicine reveals, "Eurycoma Longifolia Jack (ElJ) has been shown to elevate serum testosterone and increased muscle strength in humans." [17]
We investigated Tongkat Ali thoroughly. We think that Tongkat is a safe and effective testosterone-booster with the ability to reduce stress.
Epimedium extract
A substance found in horny goat weed that has been used for years in Chinese medicine to treat erectile dysfunction and sexual problems.

Bottom Line: The research we found leans on the positive side, with science showing there is a good chance horny goat weed may, in fact, help support testosterone production, "Icariin improved the condition of reproductive organs and increased the circulating levels of testosterone." Icariin is related to horny goat weed. [18]
Black pepper seed (piperine)
Sometimes referred to as piper nigrum or the trademark name BioPerine, this extract of black pepper is often added to supplements to improve the body's absorption of other key ingredients.
Yohimbine
We also investigated Yohimbine at length. Here is an excerpt from another study conducted on professional soccer players [19]:
There were no changes in exercise performance indicators (bench and leg press, vertical jump, dribble and power test results, shuttle run) within or between. trials (p > 0.05). No subject reported any side effects from yohimbine. The results of the current study indicate that supplementation with yohimbine combined with resistance training does not significantly alter the body mass, muscle mass, or performance indicators in professional soccer players. Nonetheless, yohimbine supplementation appears to be suitable as a fat loss strategy in elite athletes.
Bottom Line: We have consistently found Yohimbine to be effective in assisting with fat loss, and testosterone levels tend to naturally rise as body fat goes down. But there is nothing intrinsic in Yohimbine that directly raises or lowers free and total testosterone levels.
Scroll below for one of the best products we've seen over the last year.
Cost
Ultimate Testo Explosion Cost
Following the "free trial" period in which the buyer only pays Shipping and Handling, the price of Ultimate Testo Explosion is $98.49 per bottle, if purchased from the main sales page. However, we did find this product on Amazon for $74.99 (plus $4.49 for shipping and handling).
In either case, the cost is quite high compared to similar supplements. Here is a quick comparison of costs for a one-month supply of several similar supplements:
Alpha Male by Biotest – $49.95
Maca Man by GNC – $9.99 + shipping
EVL Test by Evlution Nutrition – $34.99
Pro Series Alpha Test by Muscle Tech – $19.89 + shipping
As you can see, Ultimate Testo is quite expensive compared to similar products. We generally don't like subscription or automatic enrollment plans, especially if the customer is not very well-informed prior to purchase. The Ultimate Testo Explosion sales page has an automatic subscription plan in the fine print, which we don't like.
Money Back Guarantee (MBG)
Fortunately, Massive Muscle LLC allows potential buyers the opportunity to try Ultimate Testo Explosion via a 14-day money-back trial period. The only charge involved is a minimal shipping and handling fee. After the order, the company sends the customer a 60-day supply of capsules. The customer is allowed to defer payment of the product for a full fourteen days while testing it out to see if the results are everything promised by the manufacturer. Once the trial period has ended, the customer's credit card on file will be charged the full amount for another 30-day supply of the product, which will remain in effect until the customer calls customer service to cancel. Customer service can be contacted at any time to modify or cancel an order.
If a user is less than satisfied with the results gained through the use of Ultimate Testo Explosion, they are advised to simply call the customer service number provided within thirty days of the date of order. The support representative will then provide them a Return Authorization Number (or RMA number), and instructions to return the product. Unfortunately, in order to be eligible for a refund, the bottle must be returned within thirty days of order unopened with the safety seal in place. Many customers may be opposed to this policy since there is no way for them to test the product if they can't open it.
This doesn't sound like a free trial to us. With the exception of a few customers who have immediate buyer's remorse, we think the current policy will end up trapping many customers with a product they ultimately may not want. Given the cost, we think this is something potential buyers should carefully consider before joining any subscription service.
Pros & Cons
Ultimate Testo Explosion Pros and Cons
As with most supplements, there are a number of Pros and Cons to consider before entering a purchase. We've broken everything down into the main things you should consider before making a final decision on Ultimate Testo Explosion below.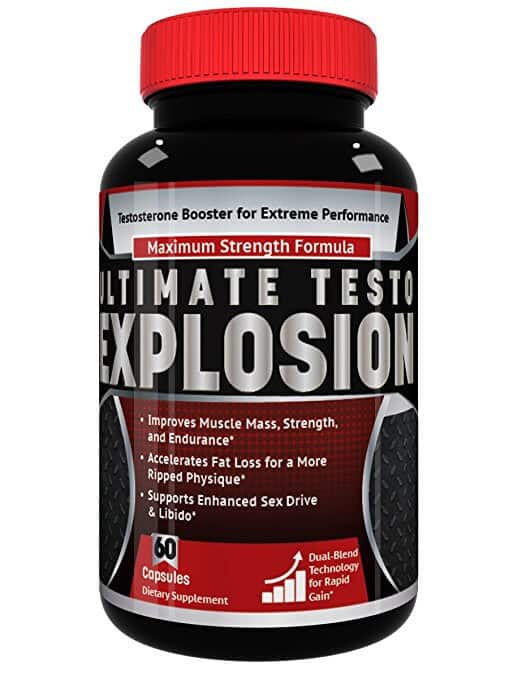 Pros
According to the online advertisements for Ultimate Testo Explosion, this supplement offers incredible benefits to a man looking to boost his testosterone.
Here is an overview of the benefits from one of the sales page:
EXTREME TESTOSTERONE BOOSTING FORMULA with proprietary dual-blend technology: Testo-ACTIVATE and Testo-EXTREME blend combine to form the ultimate combination

SPIKE ATHLETIC PERFORMANCE Break through your training plateaus and restore your vitality by naturally increasing your body's testosterone production, recharge your libido, and up your energy and stamina. This one-of-a-kind pill promotes free testosterone levels with powerful boosters to combat feelings of lethargy and loss of muscle mass while restoring your passion for life.

ACHIEVE A LEAN & MUSCLED BODY FAST Accelerates fat loss for a more ripped physique; get shredded; get ripped NOW!!!

ENHANCED SEX DRIVE & LIBIDO last longer with shorter recovery times; Pump up your workouts and energy levels with an increase in endurance while promoting lean muscle mass. You don't have to be a bodybuilder to see benefits – Ultimate Testo Explosion promotes a faster recovery time between workouts and enhances your body's natural ability to reduce body fat while promoting muscle growth.

100% MONEY-BACK GUARANTEE – LOVE IT or DON'T PAY FOR IT We offer a 60-day, 100% Money-Back Guarantee-even if you've used the entire bottle. If you don't experience a powerful boost in testosterone, libido, and energy, we'll repay every penny. Because we're committed to more than just making powerful supplements. We're also committed to your satisfaction.
Unfortunately, none of this is substantiated in clinical trials. While we like some of the ingredients in the blend, we also think that some of them are fillers that have been proven to be ineffective. The claims made about Ultimate Testo Explosion in the sales page have not been supported in any scientific studies.
We like that there is a money-back guarantee (MBC), though we cannot vouch for how well this program works or how quickly funds are returned to the buyer.
We cannot verify that Ultimate Testo Explosion has a positive effect on metabolic rate or metabolism. While several of the ingredients in the blend have been clinically-proven to assist with fat loss and body recomposition, there is no specific ingredient that upregulates metabolism.
Cons
As noted above, we aren't on board with some of the ingredients in the blend, for reasons expressed above.
There is no hard science or clinical trials supporting Ultimate Testo Explosion's claims of treating erectile dysfunction or libido.
No information about this supplement is provided on the company website or other sources on the net. We found it very difficult to locate the most basic information about the company and the formula.
Ultimate Testo Explosion is quite expensive (see "Cost") following the free trial period.
Who Can Benefit from Ultimate Testo Explosion?
Athletes, bodybuilders, weightlifters, and recreational fitness enthusiasts can possibly benefit from Ultimate Testo Explosion. We would advise all student-athletes subject to drug-testing to carefully review the ingredients list before ingesting Ultimate Testo Pro.
Can Ultimate Testo Explosion Improve Stamina?
There is no scientific evidence that any of the ingredients in Ultimate Testo Explosion or the collective compound will improve a man's sexual performance or stamina.
In an exploration of scientifically-proven herbal aphrodisiacs, Tongkat Ali was shown to be among the most effective herbal treatments for low libido and overall sexual health. Yohimbine was almost mostly-effective for treatment of men with mild erectile dysfunction. [20]
But because there are no scientific studies or clinical trials on the Ultimate Testo Explosion compound, we cannot verify that the supplement improves stamina.
Side Effects
Ultimate Testo Explosion Side Effects
Based on some of the ingredients found in Ultimate Testo Explosion, you may experience some side effects. These effects can include:
Upset stomach
Nausea
Headaches
Bloating
Gas
Again, because there are no clinical trials related to the product, there is no information specifically concerning the side effects of Ultimate Testo Explosion.
Most of the herbal ingredients in Ultimate Testo Explosion have few or no contraindications in healthy men. Forskolin has a reputation for causing gastrointestinal problems. [21]
Bottom Line: We're not aware of any Ultimate Testo Explosion side effects related directly to the supplement, just the ingredients inside. Talk with a doctor or health professional before taking any potent supplement. [22] [23]
Directions
How to Take Ultimate Testo Explosion
The recommended dosage for Ultimate Testo Explosion is two capsules per day. The supplement is meant to be taken in conjunction with regular exercise, and weight training will improve your results.
However, there is no particular diet or fitness program recommended by the manufacturer. Like most testosterone supplements, Ulitmate Testo Explosion is not for pregnant women or men under the age of 18.
Where To Buy
Where to Buy Ultimate Testo Explosion
If you're curious about Ultimate Testo Explosion and where to buy it, the supplement is sold on Amazon and elsewhere online. It is not available at most retail locations.
The Ultimate Testo Explosion price is $98.49 per bottle if purchased from the main sales page. But, we did find this testosterone product on Amazon for $74.99 (plus $4.49 for shipping and handling).
Ultimate Testo Explosion is currently only available in America.
Ultimate Testo Explosion Subscription Program
When you order Ultimate Testo Explosion, the only immediate fee is $4.95 for shipping and handling. This fee covers a 14-day trial period that allows you to try the test booster. After the 14 days are up, you are then charged an additional $98.49 monthly. Every 30 days afterward, you will then be billed the same amount and sent a new bottle of Ultimate Testo Explosion pills. The program can be canceled at any time per the instructions above.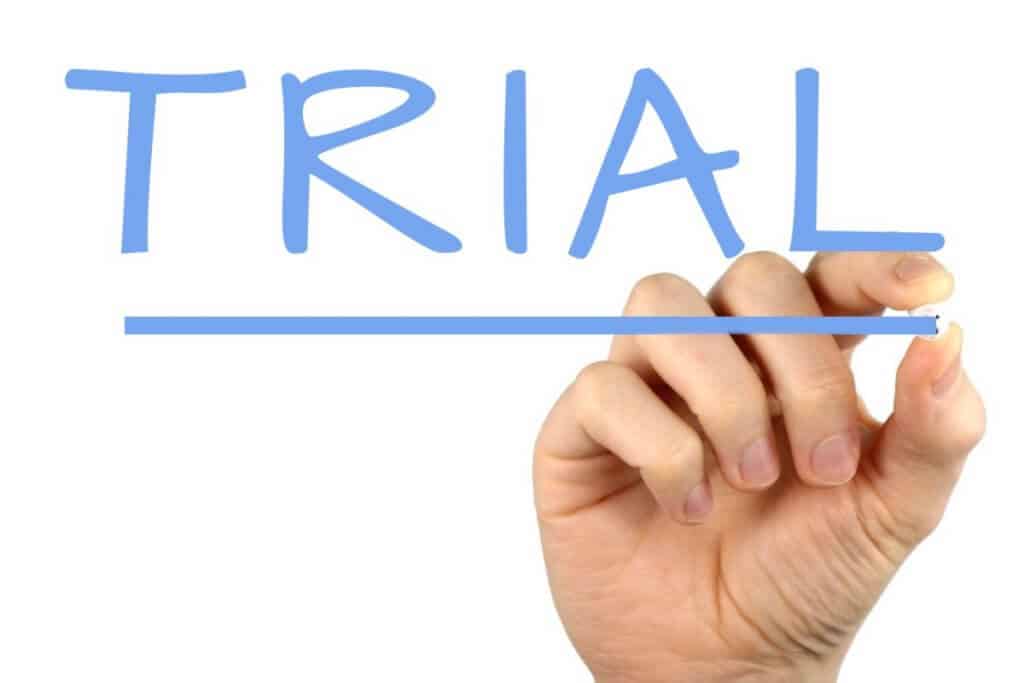 Some supplements have programs like this in which the purchaser is automatically enrolled in a subscription plan following a free trial. We strongly suggest you review the terms and conditions carefully if you opt to purchase Ultimate Testo Pro from the main sales page.
What Users Are Saying
"I found this to work for me. My sex life has improved with only half of the bottle."
Bottom Line
The Bottom Line – Does Ultimate Testo Explosion Work?
Ultimate Testo Explosion contains some potential beneficial herbs like Yohimbine, Eurycoma Longifolia, and Tribulus Terrestris. All of these herbal ingredients which have been shown to have positive effects on testosterone levels, muscle strength, and libido. This testosterone booster is also all-natural, organic, and made in the USA. Then again, there are a few drawbacks we noticed as well:
Numerous negative user reviews on Amazon. It only received 2.1 out of 5 stars.
The actual amount of each key ingredient is not listed, which means certain ingredients may be minimal.
No information is presented on the company behind Ultimate Testo Explosion.
If you want to see higher testosterone levels, improved libido, and better muscle pumps, consider a supplement that contains effective amounts of key ingredients backed by science, and is rated well by customers.
One testosterone booster to consider is Pronabolin. Not only is this male performance supplement packed with a potent eight-ingredient formula supported by documented science, but users are raving about the good results they've seen.
You can give Pronabolin a shot by ordering the risk-free Free 15-Day Sample right now. This supplement is even backed by a solid refund guarantee.
Learn More About Boost »