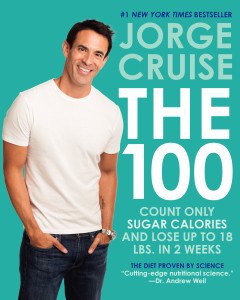 I'm here to cut through the noise and get you the bottom line on Jorge Cruise. We've heard a lot of people talking about the fitness guru, so we conducted an in-depth review of the ingredients, side effects, customer service quality and scientific research behind his claims. We looked at hundreds of experiences and comments online. Then we compiled all the information we found to give you the information that you need.
EDITOR'S TIP:
Click here
to combine Jorge Cruise with a proven fat burner such as Leptigen for better results.
What You Need to Know
To begin with, Jorge Cruise is a fitness guru who offers multiple different rapid weight-loss plans. Some of his plans include The 100 Diet, 3 Hour Diet, 8 Minutes in the Morning and more. His books and diets are readily available online and most of them can be followed with very little in additional purchases and no significant increase in spending.
Jorge Cruise has been in the weight-loss industry since 2002, when he published his first book. He promotes healthy living and programs that don't take too much time. The longevity of his influence in the industry is encouraging and the affordability of his programs allows anyone to participate, but read on…
Lack of Results – "Minimal Effects?"
The first thing that concerned us was the lack of results. Regardless of the cost of a diet or fitness program, it's important that it delivers on its claims. Many users say that they have either lost very little weight with Jorge Cruise's programs or they have gained. "When you head out to buy one of these books, you are ready to start down the path to weight-loss," says our Research Editor. "If you aren't successful in the time frame you expect, that can quickly turn hope into disappointment."
"I lost a little bit of weight with Jorge Cruise, but the titles of his programs are very misleading," said one user.
"I gained weight with Jorge Cruise's 100 Diet. I changed my sugar intake, but my overall intake caused weight gain," offers another.
Scroll below for one of the best products we've seen over the last year.
Unsafe Weight-Loss – "Troublesome"
For some of those that did lose weight, the loss can be unhealthy. Jorge Cruise claims that you can lose 18 pounds in just two weeks, while exercise professionals recommend a maximum of 1-2 pounds in this time. Losing more than this can cause side effects as your body struggles to adjust to rapid changes. "I lost weight initially, but because my body couldn't adjust to the weight-loss, I ended up gaining weight in the long run," said one review.
"Losing weight at this pace is unsafe and dangerous, I lost 22 pounds in one month, then gained 25 pounds the following month," explained another.
Our research has shown that when there is a particular element of a program that is difficult or troublesome (cost, taste, unsafe practices, lack of results, etc.) dieters are less likely to maintain results long-term. If Jorge Cruise's weight-loss plans really are unsafe and unreliable, it could be difficult for dieters to lose and keep it off.
The Science – "Valid?"
The Jorge Cruise diets have been featured on Good Morning America, Dr. Oz and many other popular news and health outlets, but it seems more like a fad than a program based on science. The lack of published scientific research is troubling and without the ability to back up their weight-loss promises with unbiased proof, it's difficult to trust any of the claims. At DietSpotlight, it's important to have clinical studies proving that yours is a more effective alternative than competing products. That's not the case with Jorge Cruise.
The Bottom Line – Does Jorge Cruise Work?
Drum roll please. There are a few things to like about Jorge Cruise. He has developed a following with his multiple books over the past 13 years and his programs are affordable, but because they don't have any unbiased studies proving their claims, we can't recommend this as a weight-loss product. The promises they make sound great, but losing with the 100 Diet or 8 Minutes in the Morning may be unsustainable. We also have concerns about the safety of rapid loss and lack of results that many users have seen.
If you're looking to melt off the weight, we suggest a supplement that offers safe, scientifically backed weight-loss with a formula that has proven ingredients that promote steady loss.
Among the best products we've seen in 2016 is one called Leptigen. This supplement contains a proprietary blend of just four ingredients, with no known side effects. The formula has been researched in unbiased, published scientific studies and has been proven to help improve weight-loss by sparking metabolism and fat loss. It's also a positive that dieters are reporting some amazing results.
Plus, the makers of Leptigen are offering a Special Trial Offer, which is a sign that they're confident in their product.