Updated: 10/06/2015 - Sponsored by Leptigen
Ultra Cavitation Review - Does This Liposuction Alternative Work?
Are negative doctor reviews and ineffectiveness deal breakers?
PUBLISHED: 09/28/2015 | BY: SUMMER BANKS, SENIOR REVIEWER
Editor
's Review:
3.5
/ 5.0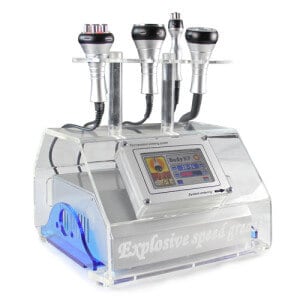 Ultra Cavitation is a cosmetic procedure that interested us, so we took a deeper look into the process, side effects and clinical research. We reviewed customer comments by reading through hundreds of posts. Then, we condensed and refined to give you the info you need.
EDITOR'S TIP:
Combine Ultra Cavitation with a proven fat burner such as
Leptigen
for better results.
What You Need to Know
Firstly, Ultra Cavitation is an ultrasound weight-loss procedure available at salons and other outlets. A doctor doesn't need to be present for the treatment. After multiple sessions, users are supposed to see a reduction in inches, not pounds. You don't have to work with a physician, helpful.
There's no information on when the treatment first started. We know any person or business can buy an Ultra Cavitation machine online. We like that some users report positive results and treatments are less expensive than cosmetic alternatives, but read on…
Doctors Aren't Convinced
The first issue we came across when we asked – does Ultra Cavitation work – were negative doctor reviews. "When salons are spending thousands for a machine you can expect they'll charge customers a hefty price to recover the cost and make money," explains our Research Editor. "The trouble with this procedure is that doctors are not convinced that emptying your wallet is worth it."
"You may get some limited results. We do not offer that type of treatment because I see too many patients each year that had it elsewhere and feel they wasted their money," says Ronald V. DeMars, MD.
"Many of us see patients who have been disappointed with their results from this expensive technology," explains Marshall T. Partington, MD, FACS.
Laura A. Sudarsky, MD offers, "Ultrasonic cavitation damages the fat cells, but does not remove them…You have multiple treatments, and will see minimal results."
Scroll below for one of the best products we've seen in 2015.
It Doesn't Work
A second issue we found through customer reviews was ineffectiveness. This is especially important considering users are spending hundreds or thousands of dollars on treatment. "I'm a guy and to be very honest and upfront, I tried this and am now on my 7th visit! Results are zero! This just does not work," says a person who tried the Ultra Cavitation weight-loss technique.
"Tried 12 treatments…utter waste of time and money," offers another disappointed dieter.
Cost effectiveness was a common concern, "I had treatment in a salon and after three treatments there was no change in my appearance. Very disappointed and felt like I waisted my money."
It's with years of research that we've found a connection between negatives, like ineffectiveness, and lesser chances of long-term success. If Ultra Cavitation doesn't work, why would anyone spend money on the procedure?
The Science
When you're expected to pay a large sum, there better be science to back up procedure claims. We found a study published in the Journal of the American Society of Plastic Surgeons that says, "Clinically, the ultrasound treatment caused a significant reduction of abdominal fat." This statement is completely false. According to researchers in Sweden, and the majority of the medical community, 10% of adipose tissue dies every year, but "the number of fat cells stays constant in adulthood in lean and obese individuals, even after marked weight loss." If Ultra Cavitation does slim out the area treated, the effect is temporary, at best.
The Bottom Line
Our look into Ultra Cavitation was interesting, and we were able to come to a firm conclusion. We like that treatments don't require invasive techniques, but we can't recommend a procedure that is proven ineffective. Plus, it worries us that doctors aren't sold on the long-term benefits.
If you want to slim down for good, we suggest going with a supplement with clinically proven ingredients backed by published scientific studies.
Among the best of the supplements we've encountered in 2015 is Leptigen. Each of the ingredients in the proprietary blend is clinically proven to help assist with fat loss and increase metabolism. Side effects are not part of any dieter review we found, but we read numerous reports of users seeing great results.
Also, Leptigen's makers are confident enough in the formula to offer a special trial offer, not your average bonus.