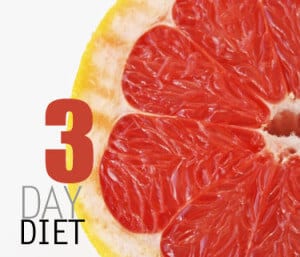 Fad diets generate a lot of popularity before dissolving into obscurity, and the 3 Day Diet has become one of the most popular fad diets around. Because of its growing popularity, we conducted a detailed review, looking at the 3 Day Diet's side effects, meal plans, and scientific research.  We then summarized what we found to provide our readers with the information they need in this condensed review.
EDITOR'S TIP:
Combine 3 Day Diet with a proven fat burner such as
Leptigen
for better results.
What You Need to Know
3 Day Diet promises great results, but the name can be a bit deceiving. The 3 Day Diet doesn't end after 3 days, but the majority of the weight loss is done over the period of the 3 days. The diet works by restricting caloric intake over 3 days and maintaining a healthy diet the remaining 4 days. This cycle is meant to be repeated on an ongoing basis to continue weight loss. Meal choices include grape fruit, chicken, tuna, toast with peanut butter, and ice cream. The diet is easy to follow because it comes with a detailed food plan.
The 3 Day Diet has gone by many names, but nobody knows exactly where it came from. The first mention of a 3 day diet was in 1985, so it has withstood the test of time for 30 years, which is a good sign. The diet plan is free and easy to find online, the required foods are all affordable, and people do seem to lose weight with this weight loss program, but read on…
Lack of Results–"Fluctuating Weight"
Our first concern with the 3 Day Diet is the lack of results. Some users saw significant weight loss followed by weight gain during the 4 day "off period," while others saw minimal weight loss while their body adjusted to the restricted caloric intake. "Most dieters will lose 3-7 pounds during the 3 Day Diet," said our research editor,  "but that weight is gained back during the following 4 days, creating an unhealthy roller coaster of weight loss and weight gain with no permanent results."
"I was optimistic after losing 5 pounds in 3 days, but after the first week, my net change was less than 1 pound," said one user.
"I was on this diet for 2 months, and my constantly fluctuating weight caused me to stop," said another.
Scroll below for one of the best products we've seen over the last year.
Health Concerns–Another Issue
Something else that caught our attention with the 3 Day Diet was the same health concerns raised by many of the fad diets out there. According to one online reviewer with some medical experience, "serious nutrient deficiencies can lead to repeated cycles of weight loss and gain, which weaken organs and immune systems and increases your risk of gallstone or heart problems." At just 500 calories per day during the 3 Day Diet, the caloric deficiencies can be dangerous.
"I ended up at the doctor's office on a regular basis during the year that I tried the 3 Day Diet. My doctor told me many of my issues stemmed from the roller coaster of weight loss and weight gain," said another review. Many people saw health concerns that resulted from the constantly fluctuating weight, and studies have shown that this type of weight loss is not sustainable.
Our research with diet supplements has shown that if there is a part of a workout or diet plan that is particularly troublesome (restrictive diet, painful workout routine, harmful side effects, long term health concerns, etc.), the likelihood of long-term weight loss is reduced. If the 3 Day Diet really does cause long-term health concerns, it could make it difficult for those looking to lose weight and keep it off.
The Science
Minimizing caloric intake is one of the best, proven ways to lose weight quickly, but the 3 Day Diet takes that to an extreme by limiting calories to just 500 per day during the 3-day period. These low calorie contents can lead to significant health concerns, and they can lead to weight fluctuating with your caloric intake. In addition to the health issues stemming from a fluctuating weight, scientific research suggests that the rapid weight loss that occurs over the 3 days is unhealthy as well. The rapid weight loss can lead to increased risk for heart failure, and other organs are often overworked as you lose weight too quickly. We value scientific research at DietSpotlight, and when the science suggests that a product or diet program may not be a safe way to lose weight, we see major red flags.
The Bottom Line
We like the longevity of the 3 Day Diet, the simplicity and availability of the plans, and the affordability of the plan and the foods. Unfortunately, scientific research gives us reason for concern. The rapid weight loss and fluctuating weight can lead to long-term health concerns, and there is no research proving that a diet that restricts caloric intake to 500 calories is safe or effective for long-term weight loss. We're also concerned about the lack of permanent results and the lack of support for this diet plan.
If you'd like to slim down and get to your goal weight, we suggest you go with a product that offers affordable results with safe ingredients that are proven to help you lose weight.
One of the best products we've seen so far in 2015 is called Leptigen. With a proprietary blend of four ingredients, Leptigen minimizes harmful side effects and health concerns by avoiding a complicated ingredient list. The ingredients in this supplement have been featured in scientific research, and published results back up Leptigen's claims that it helps dieters lose weight by increasing fat loss and boosting metabolism. It also has been studied in clinical trials and has consistently outperformed placebos.
Right now, the makers of Leptigen are making their product available as part of a special trial offer, showing that they're confident that you'll lose weight with their products.