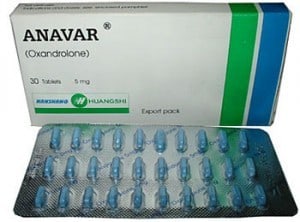 We're hearing a lot of buzz about Anavar steroids, so we conducted an in-depth review, examining the side effects, ingredients, customer service and clinical research. Plus, we took a close look at all sorts of user comments and responses we found on the internet. At this point we compressed all of the facts and feedback we found to give you the info you need.
EDITOR'S TIP:
Click here
to combine Anavar with a proven testosterone booster such as Pronabolin for better results.
What is Anavar?
Firstly, Anavar is classified as a steroid and it is typically prescribed to people who need help gaining weight. Since this drug is a controlled substance, it's not available over-the-counter. The generic name is oxandrolone. Typically, users are directed to take it two-four times daily, but the directions can vary. It has an anabolic effect on the body and some bodybuilders take it to bulk up, build muscle mass and increase overall strength. However, you should note that it does not improve the production of testosterone.
This steroid was originally created by Searle Laboratories back in 1964. It's only available with a prescription, though supplement companies use similar names to sell over-the-counter versions. It is regulated by licensed doctors and it can be beneficial if your body weight is too low, but read on…
High Cost – "Yikes?"
The first thing you have to consider with Anavar ingredients is that they will be extremely expensive. "From what we could gather, it costs anywhere from $2 to $3 per pill. This is obviously not affordable for many people to keep up with," says our Research Editor.
One user commented, "These cost me $2.50 per tablet. Gees!"
Another customer said, "Can't afford these anymore. Paid $80 per 30 count."
There were users that felt the price was good or they got a deal.
"Went from 195lbs to 210lbs. Got a amazing price too! 50$ per bottle of 50 pills (20mg pills)," said a buyer.
Another claimed, "In the grand scheme of bodybuilding anavar is very cheap in fact all drugs are."
Scroll below for one of the best products we've seen over the last year.
Side Effects – "Watch Out"
There are several Anavar side effects that can occur while taking this drug. One user stated, "I was taking Anavar and I have had reactions for the past week such as fluid retention, rash, drowsy, aching joints, insomnia and the list goes on."
"Made me ill. Not taking it again," said another person.
Side effects were not an issue for all users.
As one user put it, "I never seen any bad side effects from using it, Taking 10mg(1pill) a day for 3 months."
One more claimed, "Had a little higher blood pressure in the evening, but nothing serious."
The research we have conducted has shown if there is one specific part of a product that is very troublesome (high price, too many adverse reactions, questionable ingredients) the real likelihood of long-term success is rather minimal. Therefore, if Anavar does in fact lead to side effects in a lot of users, this could be a deal breaker.
The Science – "Any Proof?"
At DietSpotlight, we prefer to see real science that supports the product or supplement and the ingredients it uses. In regards to Anavar, this steroid has been shown to help with weight gain. However, this drug has not been proven to elevate testosterone levels. Furthermore, it is not prescribed to bodybuilders and those looking to increase muscle size or bulk up just because they want to. This controlled substance is only available via a doctor.
The Bottom Line – Does Anavar Work?
Hold on for a minute before you run out to pick up your first bottle. Even though Anavar is given to people who are underweight in order to help them with gains, we are skeptical about recommending this steroid to those wanting to build bigger muscles, elevate testosterone levels and boost stamina. Not only is it not for this, but it also can lead to a number of side effects.
If you really want to naturally boost testosterone levels, build lean muscle mass and improve vitality, we suggest a supplement that is packed with clinically tested ingredients, sells at an affordable price and does not cause harmful side effects.
Among the best products we've seen in 2016 is one called Pronabolin. This supplement uses a proprietary blend of nine ingredients, which are clinically tested and shown to help you elevate testosterone levels, boost vitality and increase muscle strength. There are no complaints of harmful side effects and user comments found online show people are seeing great results. Plus, the price beats prescription medications hands down.
The makers of Pronabolin are so confident user will see results they're offering every customer a 120-day money-back guarantee and multiple-bottle discounts.