Updated: 09/29/2015 - Sponsored by Leptigen
Eternal Lean Review - Does This Diet Supplement Really Work?
Are fad diet ingredients and lack of clinical results deal breakers?
PUBLISHED: 09/12/2015 | BY: SUMMER BANKS, SENIOR REVIEWER
Editor
's Review:
3.5
/ 5.0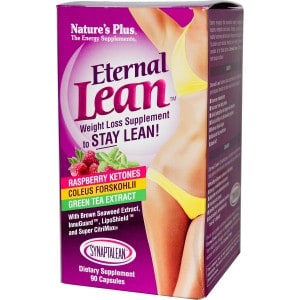 We've seen plenty of discussion online about Eternal Lean capsules, so we conducted an in-depth review, focusing on the ingredients, side effects, customer service and clinical studies. We also examined hundreds of customer reviews and user comments from all over the web. At this point we condensed everything we found to give you the important facts you need.
EDITOR'S TIP:
Substitute Eternal Lean with a proven fat burner such as
Leptigen
for better results.
What You Need To Know
Eternal Lean is claimed to assist the body in several ways, which include the following; increase metabolism, improve lean body mass, encourage fat loss, balance blood sugar, block the absorption of sugars and starches, lower stress levels, elevate energy, suppress appetite, modulate fat production and block fat activity. This supplement is directed to be taken daily (three capsules). As for the ingredients used in Eternal Lean, they include; Raspberry Ketones, Coleus Forskohlii, SynaptaLean (optimizes willpower), InnuGuard (fiber), Brown Seaweed Extract, LipoShield (promotes metabolism), Super CitriMax (inhibits fat production), Green Tea Extract, Rhodiola Rosea and Ginger.
From what we could gather, Eternal Lean was released in 2013. This supplement is available online for $26.71 (90 capsules). Natural ingredients are used in this diet product and you can purchase this supplement directly from the website, but read on…
Fad Diet Ingredients!
According to our Research Editor, "This diet product uses fad weight loss ingredients such as Raspberry Ketones, which has not been proven in clinical studies to encourage fat reduction. Naturally this is concerning."
According to one user, "I tried this and didn't really like the way it felt, more like hurting my stomach."
Another customer stated, "Didn't make me lose any pounds."
Scroll below for one of the best products we've seen in 2015.
Lack of Clinical Results – Another Concern
We did not find any clinical trial results posted online to support this supplement. In fact, one user commented, "Does not work like it says."
"Been using this product for four weeks and no fat loss," said another dieter.
Our research has revealed that if there is one aspect of a weight loss pill or diet program that is especially bothersome (a painful/difficult exercise routine, lack of clinical
results, fad weight loss ingredients) the real probability of long-term fat loss is low. In other words, if Eternal Lean does not yield real weight loss results in numerous users, this could be a major issue.
The Science
While the official website for Eternal Lean does present some information on the ingredients used in this diet pill, there is no real science provided to support the fat loss claims. At DietSpotlight, we must see documented scientific studies that support the weight loss product or else we only see a red flag.
The Bottom Line
We appreciate that Nature's Plus, the company that makes Eternal Lean, has been around since the 1970s. Clearly this brand has stood the test of time. However, due to the fad diet ingredients and lack of clinical results, we would not recommend Eternal Lean for fat loss and long-term weight management. Also, we did not find a 100% satisfaction guarantee posted on the official website.
If you wish to see more fat loss results and a slimmer figure, we recommend you select a diet product or weight loss formula that is supported by clinical studies, does not contain fad diet ingredients and is affordable as well.
One of the most impressive diet products we've spotted in 2015 is Leptigen. This supplement uses a proprietary blend of four ingredients, which have been proven in documented clinical research to increase fat loss and elevate metabolism. We have not found any complaints of harmful adverse effects and dieter reviews on the web express people are seeing substantial results.
Also, the makers of Leptigen are so confident in their product they're offering a special trial offer, which is a good sign.