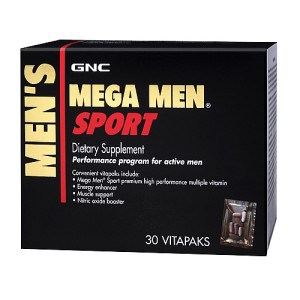 You're about to learn everything you need to know about GNC Mega Men Sport as we looked closely at the ingredients, side effects, scientific research and customer service. Plus, we read hundreds of experiences from all over the internet. Then, we summarized and refined it all to give you the bottom line.
What is GNC Mega Men Sport?
Firstly, GNC Mega Men Sport is broken down into proprietary blends to support joint health, creatinine production and sports performance. They are combined with multivitamins to enhance body function during exercise. Creatine is designed for athletes who want to promote muscle growth and recovery. It can cause weight gain in those who do not exercise regularly. You can take this one with you anywhere, one positive.
GNC Mega Men Sport is produced by GNC, which was started in 1935. We like that the company has been around for years and that there are stores both online and offline, but read on…
Taste – "Not Appealing?"
Our first issue with GNC Mega Men Sport ingredients was the taste. "When a product isn't good, it's hard to find the motivation and desire to continue using it," said our Research Editor.
"The taste is awful. the pills are so giant and hard to swallow. I did notice that it does provide some extra mental energy and also improves my digestive system," said one user.
"Awful taste," said another.
Scroll below for one of the best products we've seen over the last year.
No Real Results – "A Concern"
You take a multivitamin every day to support overall health, but if the dieter does not notice changes in their body, they may not stick with the program for very long.
One user said, "I have found more negative evidence of vitamins than positive. I am not going to consume these any longer."
"I don't know if it's doing anything to me. other than make my pee nuclear yellow. which is kinda awesome," said another.
Our research indicates that if there's part of a diet program that's difficult, like the taste, it is harder for users to maintain long-term use. If GNC Mega Men Sport is something dieters can't keep down, what's the sense in spending money on it?
The Science – "Validated?"
This product is mostly vitamins the body needs to be healthy. However, the addition of green tea in GNC Mega Men Sport is supposed to boost weight-loss. The formula does not include enough, even when factoring in how often you have to take it, to support a healthy metabolism. At DietSpotlight, it's the science that sets one supplement apart from another. If there's no reason to think this one is better, then why buy?
The Bottom Line – Does GNC Mega Men Support Work?
Are we racing around from store to shop trying to find this one? We were looking forward to reviewing GNC Mega Men Sport because it appeared to be a good supplement from a solid company. We were disappointed to see a number of complaints about the taste and the fact that dieters simply saw no results.
If you'd like to drop weight, we recommend choosing a supplement that gives you a safe and effective formula and value for your money. Having enough of the proven ingredients is critical.
Among the best products we've seen in 2016 is Leptigen. It is made with a unique blend of four scientifically proven ingredients known to help boost metabolism to burn more fat. As we searched the internet, we were not able to locate any negative comments about side effects. What we did find were numerous dieter reports that they've achieved great results.
We're thrilled to see the makers of Leptigen are so confident in their product they're giving new customers a Special Trial Offer.