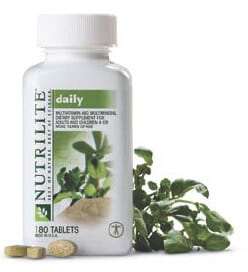 No joke- over 50% of diet products simply don't work. So what about Nutrilite Daily? We took some time and did one of our in-depth reviews, focusing closely on the side effects, ingredients, clinical studies and customer care. Furthermore, we looked at hundreds of dieter comments and customer reviews from all over the web. Lastly, we compressed all of the data and feedback we found to give you the bottom line.
EDITOR'S TIP:
Combine Nutrilite Daily with a proven fat burner such as
Leptigen
for better results.
What You Need To Know
Nutrilite Daily is a multivitamin supplement available from Amway. According to the official website, this product is supposed to promote overall health and well-being. It provides 13 essential vitamins and 11 minerals. This supplement also contains concentrates such as; carrot, Acerola Cherry, alfalfa, parsley, watercress and spinach. In order to use Nutrilite Daily, you simply take one tablet each day, along with a meal. Put simply, this supplement is intended to provide the vitamins and minerals your daily diet lacks.
It appears that Nutrilite Daily has been available since 2011. This product is sold on Amazon for $19.99 (180 tablets) and is completely kosher. Furthermore, Amway is rated well by the Better Business Bureau, but read on…
Poor Product Quality – A Concern?
According to our Research Editor, "There are quite a few customer complaints posted online concerning the quality of this product. Needless to say, this is very concerning."
One dieter stated, "The supplement facts label (part of the original package label) states Iron and Vitamin K. Then there is a bare code sticker that states the contrary (no iron or vitamin K). I don't know which to trust. I don't like these 2 labels with conflicting information on the same product."
Another person said, "The bottle was very dirty when I received it. The sticker was also not on all the way. It was sloppily put on with air pockets all over in between the bottle and sticker."
Scroll below for one of the best products we've seen over the last year.
Lack of Real Science
We did not find any real science presented on the company website to support Nutrilite Daily tablets. Therefore it's difficult to determine if this supplement actually does what it claims. One customer commented, "I don't believe these vitamins are actually beneficial. I was speaking to my doctor, and he told me you should not even take a vitamin unless your are lacking specific vitamins, and are directed to take one by a doctor."
Another user said, "These vitamins are not so good. Give me a stomachache whenever I use them."
Our research has revealed that if there is one particular part of a diet supplement or weight loss pill that is especially bothersome (a painful/difficult exercise routine, lack of real science, poor product quality) the chances of long-term success are not good. Therefore if Nutrilite Daily does lead to a lot of customer complaints about poor quality and lack of results, this could be problematic.
The Science – Solid?
We at DietSpotlight need to see scientific research that supports the product we're reviewing. As for Nutrilite Daily, there is no actual science presented on the company website to back up the claims regarding this supplement. This will surely leave customers wondering how effective it actually is.
The Bottom Line: Does Nutrilite Daily Work?
Now the moment you've been waiting for: our bottom line on Nutrilite Daily. Well, we like that Nutrilite Daily is easy to buy online and this company has a good BBB rating. But we have some reservations about this supplement because it's not backed by any real science. Also, we're concerned about the customer complaints and poor product quality.
If you'd like to shed more pounds of fat, then we advise you to try a product that is backed by clinical research, comes with great customer service and is supported by plenty of positive user reviews.
Among the best products we've seen in 2015 is one called Leptigen. This supplement uses a blend of four key ingredients, which have been proven in documented clinical studies to help ignite metabolism and enhance fat loss. Furthermore, we can't find any discussion of harmful adverse effects and dieter comments on the internet indicate people are seeing excellent results.
Plus, the makers of Leptigen are so sure of the supplement, they're offering a Special Trial Offer, which is a good sign.