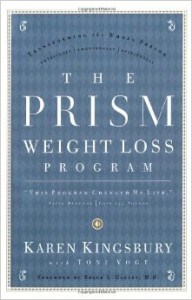 This review is what happened after I obsessed for weeks over Prism Weight Loss. We did one of our in-depth reviews, closely scrutinizing the side effects, ingredients, scientific research and overall customer care. We additionally read dozens of dieter comments and customer reviews we found online. Finally, we summed up all of the facts and details to give you the important info you need.
EDITOR'S TIP:
Combine Prism Weight Loss with a proven fat burner such as
Leptigen
for better results.
What You Need To Know
Prism Weight Loss is a diet program that involves permanently changing your eating habits and reducing your daily caloric intake. It's fine for women and men of all ages. More specifically, this is a Christian weight loss program that incorporates restoring overall health, emotional stability and spirituality. Prism Weight Loss was founded by Toni Vogt and Karen Kingsbury. This diet is supposed to help you ditch yo-yo dieting methods and get rid of unwanted pounds once and for all. Discipline and self-worth are important aspects of this diet, as is understanding food addiction.
The Prism Weight Loss method has been around since 1990. Children can also use this diet plan. Furthermore, healthy foods are encouraged with this diet and many unhealthy foods are cut out, but read on…
Diet Restrictions – A Consideration?
"It's important to understand that you must permanently change your eating habits when you embrace Prism Weight Loss. Processed and refined foods are cut out, which some dieters do not like. Furthermore, you are expected to eat only 1,200 to 1,400 calories per day," says our Research Editor.
According to one person, "I can't stick to the low calorie amount, so the Prism Weight Loss method just didn't work for me. Also, don't care for the Christian aspect."
Another dieter commented, "Too much calorie counting. I hate that! And sweets are a no no. I really hate that!"
Scroll below for one of the best products we've seen over the last year.
Lack of Solid Science – Another Concern
We were unable to find solid science that supports the Prism Weight Loss method. Sure, anyone can shed excess pounds if they cut calories, but this is nothing exclusive to this diet plan. One person stated, "This approach did not help me lose weight. It actually made me eat more."
"What research has been done to prove this diet plan works? It just seems very basic. I don't see what makes it new or more effective than others," said another dieter.
According to our research, if there is one facet of a diet program or supplement that is especially problematic (too many diet restrictions, high price, lack of real science) the odds of lasting weight loss are not good. In other words, if Prism Weight Loss does in fact have too many diet restrictions for numerous people to handle, this could be a major dilemma.
The Science – Is There Any?
At DietSpotlight, we prefer to see documented clinical research that backs the claims made about the diet plan or weight loss product we're looking at. As for Prism Weight Loss, we were unable to find any solid science presented with this diet program. Needless to say, this is concerning.
The Bottom Line: Does Prism Weight Loss Work?
So, should you spend your hard-earned money on Prism Weight Loss? Well, we like Prism Weight Loss's longevity as a diet program and some positive comments we saw about it online. Then again, we have some reservations about this weight loss program because it's not backed by solid science. Moreover, we're concerned about the diet restrictions that apply to this program, because there are a number of dieter complaints.
If you'd like to get rid of more weight, we encourage you to try a diet program or supplement that is backed by real science, does not require difficult diet restrictions and is supported by plenty of encouraging user reviews.
Among the best products we've seen in 2016 is one called Leptigen. This supplement uses a blend of four ingredients, which have been proven in published clinical research to help speed up fat loss and elevate metabolism. We can't locate any complaints of harmful adverse effects and user comments posted online show people are seeing substantial results.
The makers of Leptigen are so satisfied with their product they're offering a Special Trial Offer, which is a good sign.