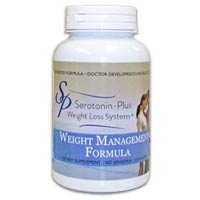 You may be surprised by what I say in this Serotonin-Plus review. We dug deep and created a detailed evaluation, examining the ingredients, side effects, scientific research and overall customer care. We also focused on hundreds of comments and reviews from around the web. At last, we summed up the data we found to give you the bottom line.
EDITOR'S TIP:
Combine Serotonin-Plus with a proven fat burner such as
Leptigen
for better results.
What is Serotonin-Plus?
to open with, Serotonin-Plus is a weight-loss program for women and men of all ages and body types. It involves weekly visits to the nearest clinic, as well as personalized direction/instructions. Your personal condition is assessed and then you are instructed on how to proceed so you can reach your goals. You are also given a serotonin supplement to take. Robert Posner, M.D. is the licensed physician that acts as the director.
The Serotonin-Plus weight-loss program has been available since 2000. There are numerous clinic locations across the United States and some success stories are posted on the official website. Also, the website is very informative, but read on…
High Cost – "A Concern?"
Firstly, we can't give a proper review of the plan if we don't mention the price. According to our Research Editor, "From what we gathered, the Serotonin-Plus weight-loss program costs about $100 per week. Clearly this rate is not affordable for everyone, and it will certainly get very expensive over time."
One dieter stated, "It's just too expensive to keep up with. Not for me!"
"I don't have the $1,200 they want upfront. This diet is definitely not cheap," said another person.
Scroll below for one of the best products we've seen over the last year.
Limited Clinic Locations – "Another Drawback"
While there are Serotonin-Plus clinic locations in 16 different states, this is obviously not ideal for all dieters. One customer commented, "No clinics in my area. I'm definitely not traveling out of state for this diet program."
Another dieter said, "They need more clinic locations!"
Our research has shown if there is a certain facet of a diet program that is especially burdensome (high cost, limited support, serious adverse effects) the odds of long-term success are not good. So, if Serotonin-Plus does not provide the clinic locations that dieters need to participate in this weight-loss plan, this could be problematic.
What About The Science?
At DietSpotlight, we like to see some documented science that supports the weight-loss product or program in question. In regards to Serotonin-Plus, this is a physician-supervised diet plan, so it is backed by some solid medical research. However, results do vary from person to person.
The Bottom Line – Does Serotonin Plus Work?
So, should you try Serotonin-Plus for weight-loss? Well, we appreciate this company's longevity and we did find some positive comments about it online. But we have some reservations about the high cost of this diet program. Also, we're concerned about the lack of clinic locations, which makes this system unsuitable for many people.
If you'd like to shed more pounds, we advise you to go with a diet program or supplement that is affordable, does not require regular trips to a clinic and is backed by all sorts of positive customer feedback.
Among the best products we've seen in 2016 is one called Leptigen. This supplement contains a blend of four key ingredients, which have been shown in documented clinical tests to help accelerate fat loss and ignite metabolism. We can't locate any talk of harmful side effects and customer comments around the web reveal people are seeing excellent results.
The makers of Leptigen are so confident in their product they're offering a Special Trial Offer, which is very encouraging.