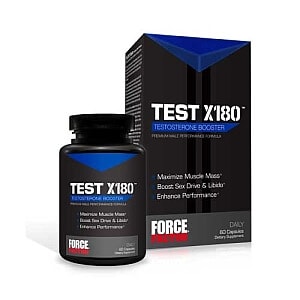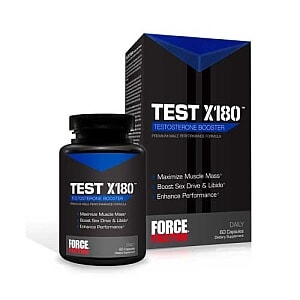 Why are people talking about Test X180? We did one of our in-depth reviews, scrutinizing the ingredients, side effects, clinical studies and customer-service quality. Furthermore, we checked out hundreds of user comments and reviews from all over the web. Lastly, we condensed the data we collected to give you the information you need.
EDITOR'S TIP:
Combine Test X180 with a proven testosterone booster such as
Pronabolin
for better results.
What You Need To Know
Test X180 is a testosterone booster for men. It retails for $69.99 and is available without a prescription. In order to use this product, you need to take two capsules each day, one with breakfast and one with lunch (or before your workout). This supplement is claimed to maximize muscle mass, boost sex drive and libido, elevate testosterone levels and enhance overall performance. It contains the following ingredients; Vitamin D (200IU), Vitamin B6 (2mg), Vitamin B12 (10mcg), Testofen Fenugreek Seed, Siberian Ginseng Root, Panax Ginseng Root, Cordyceps Sinensis and Tribulus Terrestris Fruit.
Test X180 has been available since at least 2012, and it can be purchased directly from the official website. This company has a good BBB rating and there are some positive comments posted online regarding this supplement, but read on…
Class Action Lawsuit – Concerning?
According to our Research Editor, "There was a class action lawsuit filed against Force Factor in January of 2015. Put simply, Test X180 has been called into question by the defendant because it did not help increase testosterone as advertised."
One customer stated, "These representations were materially false and misleading because the Test X180 Products, and the proprietary blend of ingredients contained therein, do not significantly boost testosterone levels in men. Nor do Test X180 Product increase lean muscle mass, burn fat, or boost one sex drive or libido."
"I followed the directions exactly for 2 months and saw or felt absolutely no positive effect from taking the supplement. Test X180 does not live up to the advertising claims. I am sorry to say but it was a total waste of money," said another user.
Scroll below for one of the best products we've seen over the last year.
Serious Side Effects – Another Concern
There are several customer complaints regarding adverse effects caused by Test X180. One customer complained, "After 3 days of use my blood pressure skyrocketed to 227/117, and I had to be admitted to the hospital emergency room. I have had no previous issues with blood pressure."
Another user said, "I tried the 30-day trial and on day 23 I had a stroke. My brain started bleeding. The crap almost killed me, do not consume this product."
Our research has proven that if there is a certain part of a workout program or testosterone supplement that is especially troublesome (a painful/difficult exercise routine, class action lawsuit, serious side effects) the likelihood of long-term success is slim. Therefore if Test X180 does cause serious adverse effects in a lot of people, this could be problematic.
The Science – Any?
Unfortunately we could not find any solid science to support the claims made about Test X180. While this product does contain Testofen, an ingredient that can help increase testosterone levels, the actual amount used in Test X180 is unclear. Here at DietSpotlight, we need to see published clinical research that backs up the product's claims and ingredients. With Test X180, we only see a big red flag.
The Bottom Line: Does Test X180 Work?
So, should you buy Test X180? Well, we like that this company has a good BBB rating and we did find some positive user comments posted online. Then again, we are very concerned about the lack of solid clinical research. Moreover, we're definitely leery about the class action lawsuit and serious side effects Test X180 can cause.
If you really want to naturally boost testosterone levels, build lean muscle mass and improve overall vitality, we suggest you go with a product that is packed with clinically proven ingredients, does not have any lawsuits against it and does not cause harsh adverse effects.
Among the best products we've seen in 2015 is one called Pronabolin. This supplement uses a proprietary blend of nine important ingredients, which are clinically proven to help you increase natural testosterone levels, boost vitality and improve overall muscle strength. There are no user complaints of nasty side effects and customer comments posted on the web show people are seeing excellent results.
The makers of Pronabolin are so excited about their product they're offering every customer a 120-day money-back guarantee and multiple-bottle discounts.