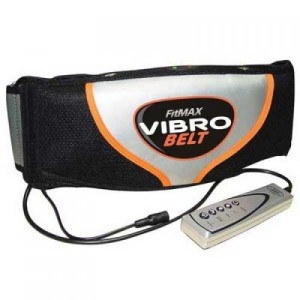 The results of my research into Vibro Belt were somewhat surprising. We at DietSpotlight conducted an in-depth review, looking closely at the side effects, ingredients, customer care and scientific studies. We additionally read through dozens of user comments and reviews we found online. Finally, we summed up all the facts and feedback we discovered to give you the info you need.
EDITOR'S TIP:
Combine Vibro-Belt with a proven fat burner such as
Leptigen
for better results.
What You Need To Know
Vibro-Belt is a "toning belt" that can be used by men and women alike. This device is essentially strapped around the midsection and constantly vibrates to target the abdominals. This belt is claimed to strengthen the muscles, firm up the abdominals and make your midsection appear leaner and flatter. The Vibro-Belt can also be used on the thighs, shoulders, calves, arms and glutes. This device provides a heated massage therapy to treat sore muscles as well. Basically, this belt uses a "unique oscillating massage" to aid the muscles, as opposed to electric shocks (like other belts). This fitness tool has multiple settings to suit different individuals. Furthermore, the Vibro-Belt has an automatic 10-minute shut-off feature.
The Vibro-Belt has been available since 2010 and it sells on Amazon for $79.88. A nutritional guide and CD come with the Vibro-Belt. Also, this fitness device is compact and can be used anywhere, but read on…
Low Amazon Rating – Concerning?
According to our Research Editor, "The Vibro-Belt is only rated 2.4 stars on Amazon, which is quite low. It's clear that there are numerous negative customer reviewsposted on Amazon, and this is concerning."
One user stated, "After using it less than 6 times the remote no longer worked so you can't turn the belt off, the manual function is useless and it only vibrates at the highest level. There is no warranty included with the manual and when browsing the web to see if there was a place where it could be repaired…it appears the manufacturing company in China has declared bankruptcy. I now have a very expensive vibrating paperweight, so beware."
"As soon as I plugged it in it sparked and started to smoke. Not sure if it still works but I don't want to use it and electrocute myself. I had high hopes for this one," said another customer.
Scroll below for one of the best products we've seen over the last year.
Lack of Real Results
From what customers are saying about the Vibro-Belt, the results are simply not there. One user commented, "This doesn't deliver the results it promises. The belt can't be tightened sufficiently to actually contract the muscles. It vibrates over the skin causing chaffing."
Another person stated, "Sorry, Vibro belt does not live up to its claims, it didn't do anything for me."
The extensive research we've done has shown if there is one facet of a diet programor weight loss product that is especially burdensome (low Amazon star rating, lack of real results, too many side effects) the odds of long-term success are not good. Therefore if Vibro-Belt does fail to produce real results for a lot of people, this could be problematic.
Any Real Science?
At DietSpotlight, we need to see documented clinical research that supports the fitness product we're reviewing. As far as Vibro-Belt is concerned, we were unable to locate any solid research or science that proves this belt works as claimed. Unfortunately, this is a red flag.
The Bottom Line: Does Vibro-Belt Work?
Now the moment you've been waiting for: our bottom line on Vibro-Belt. Well, we like that Vibro-Belt can be used at any time and it does come with a free nutritional guide. However, we are concerned about this fitness device because it's not backed by any solid clinical research or studies. Also, we're leery about its low Amazon star rating and lack of real results.
If you'd like to drop more weight, then we suggest you go with a product that is backed by actual clinical test results, is rated well by numerous users and comes with excellent customer service.
Among the best products we've seen in 2015 is one called Leptigen. Its formula is a unique blend of four potent ingredients, which have been proven in published clinical studies to help speed up fat loss and ignite metabolism. Also, we can't find any negative comments of harmful side effects and customer feedback around the web shows people are seeing excellent results.
The makers of Leptigen are so confident in their product they're offering a Special Trial Offer, which is a good sign.