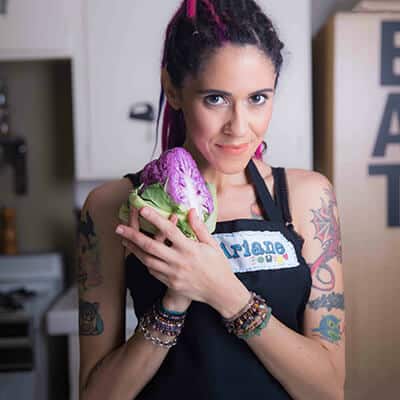 Ariane Resnick, CN
Nutritionists like Ariane Resnick teach people about eating better and chefs bring those ideas to fruition. We've nominated Resnick to our list of nutritionists to watch, because she does both – and well!
Resnick is a wildly-popular chef who focuses on special diets. She's also an experienced nutritionist who has certification on her side. She concentrates on farm-to-table meals and organic cuisine. Her priority as a chef is to teach the world about the beauty of whole foods. Resnick is an example of a chef who takes a clean approach to cooking and meal preparation in general.
Resnick has many famous fans. Seemingly countless public figures have enjoyed her dishes. Examples of these celebrities are:
Vincent Kompany – soccer player
Chris Martin – Coldplay frontman
Gwyneth Paltrow – actor
Neil Strauss – writer
Pink – singer
Jeff Franklin – director
Cooking isn't Ariane's only pastime. She's also an avid writer who has penned in-depth recipe, nutrition and wellness pieces for a host of prominent websites. Many media outlets have taken notice of Resnick and her culinary talents like:
ABC News
Cosmopolitan
Huffington Post
Star magazine
Forbes
Refinery 29
Resnick offers comprehensive nutrition and wellness services. She also offers exhaustive culinary instruction, diet chef training and private chef services.
This food expert is someone who has a deep and unwavering commitment to strong health and well-being. She's successfully conquered Lyme disease and chemical poisoning. She took a holistic recovery approach to both conditions – an approach she now shares with her clients.