Here you'll discover unique insights and tools in your pursuit of weight loss, health and wellness. Since our founding in 2008, we've grown into a trusted resource for tens of millions of women and men around the world. To date, we have received over 135 million visitors to our website.
We're also proud that we ranked #995 in the Inc 5000 list of fastest-growing private companies in America. Here's our Inc 5000 Profile.
At our core is our ability to tap into the brains of the top nutritionists, dietitians and health journalists to bring you in-depth reviews on weight-loss programs, specific diets, products and equipment. We feature over 2,000 thoroughly researched and edited reviews, each averaging over 2800 words or 5.5 full pages. Reviews feature multiple citations to authoritative sources, Q&A sections and over 100,000 total user comments. See our review guidelines.
We also feature articles on topics and ingredients related to nutrition and weight loss that have been reviewed by well-known nutrition experts like Anthony Dugarte MD, Roxanne Moore RDN, Natalie Rizzo RD, Danielle Omar RDN, Devon Golem RD, Erin Peisach, RDN, and Arlene Semeco RDN.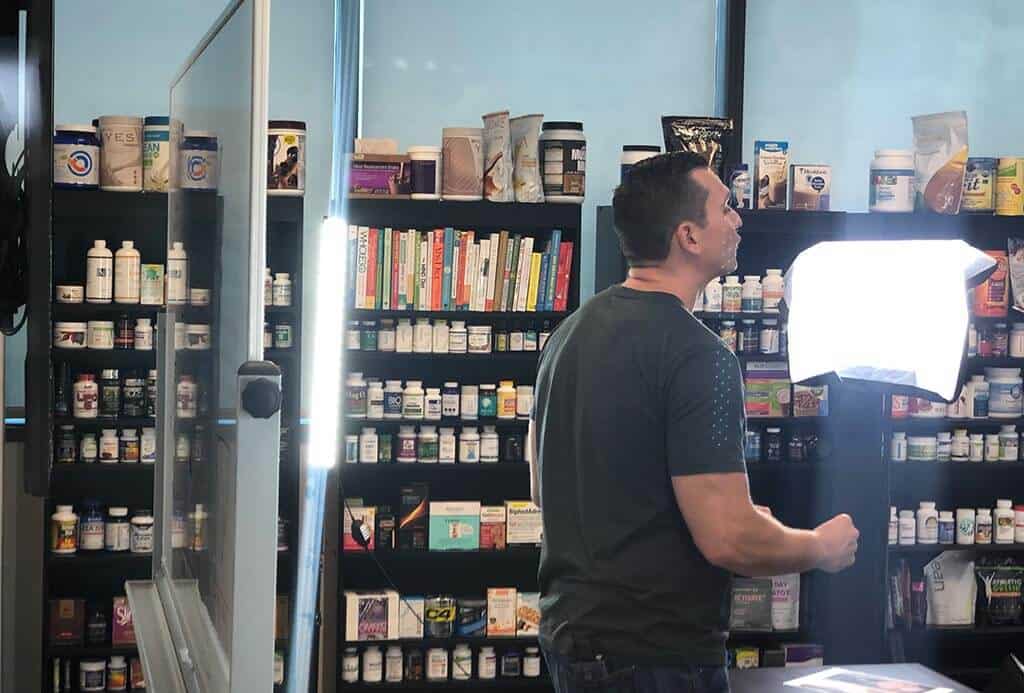 Recording a product review in the Dietspotlight video studio. In line with our comprehensive approach, we purchase many of the products we review.
Also on the site you'll find hundreds of long-form pieces on weight-loss tips, recipes, nutrition and supplement ingredients.
We do moderate, and occasionally edit, the comments we receive. Please see our Review Guidelines, which includes information about how we edit comments, for more information. It should be noted the content on our site is not meant to be a substitute for medical advice. Please see our Medical Disclaimer for more information.
We make a majority of our revenue through an affiliate partnership with Noom, which is among the most-effective, best-researched, all-encompassing solutions we have seen to help people lose weight and lead healthier lives.
100% of our site visitors use the site completely free of charge. Scroll below to see more information on how we fund our operations.
Throughout the site, we clearly disclose the commercial connection between Dietspotlight and our affiliate partner, Noom. See our Advertising Disclosure page for more information.
Guiding Principles
Guiding Principles
Our view on dieting and weight loss, which goes against conventional wisdom but is nonetheless backed by abundant scientific research, is that dieting success is all about maintaining a reasonable diet, as well as by putting into practice a set of long-term habits. Unfortunately, most people looking to lose weight are taught to count calories, which engages the dieter in a losing battle with his or her biology. It's also the main reason why 95% of dieters gain weight back within just two years.
It's true that most dieters are all-too-familiar with the "dieting merry-go-round", which looks like this:
Restrict calories to lose weight.
Walk around hungry and obsessed with food.
Overeat.
Gain weight.
Repeat.
As the cycle above demonstrates, calorie restriction or calorie counting, which is what most dieters have been taught to do, doesn't help for long-term weight loss.
Instead, dieting success is all about eating a reasonable diet and putting into practice a set of long-term patterns and habits.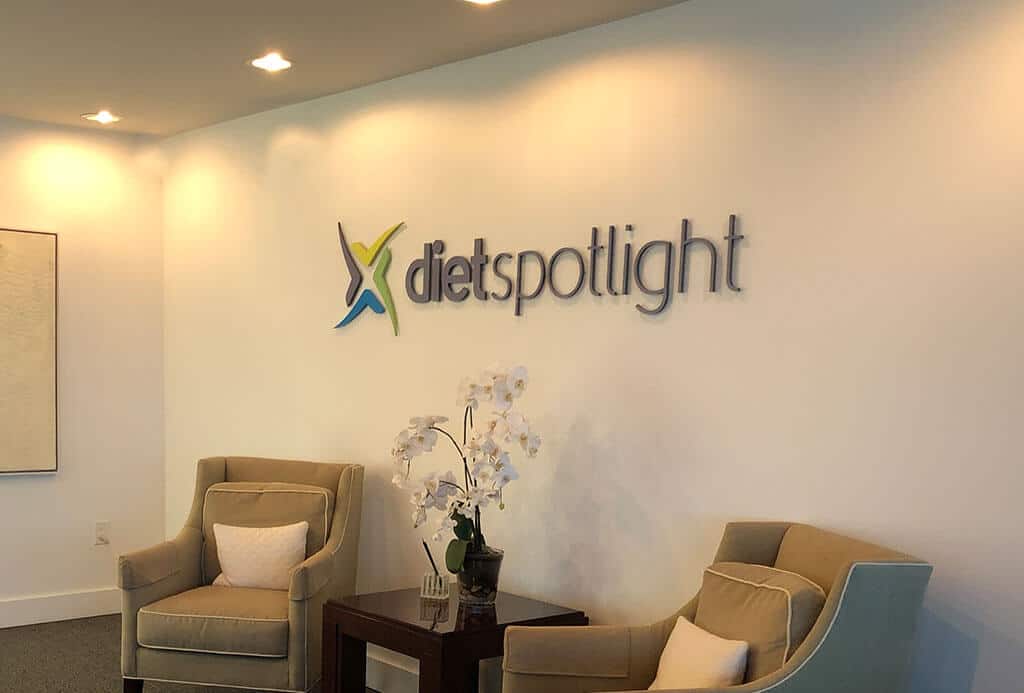 Lobby of the Dietspotlight headquarters in Coral Gables, Florida
To this end, everything we do at DietSpotlight is steered by these Guiding Principles:
Avoid the "calories-in, calories-out" model of dieting. Dieters who count calories as the foundation of their diet often fight a losing battle with their biology.
Lower your intake of highly processed foods, refined grains and added sugar. The result is lower insulin levels, which in turn guides you to sustainable weight loss.
Learn best practices such as:
Set a goal of reaching and maintaining the livable, low end of your body's natural set point. As a result, you'll increase the chances of getting off the dieting merry-go-round, no longer walking around frustrated, hungry or obsessed with food.
Realize weight loss is not related to willpower. In fact, fifty years of research shows willpower isn't correlated with losing weight and keeping it off.
Partner with your doctor and, if needed, other medical professionals.
Exercise at least 30 mins/day. Walking is perfectly fine. It not only helps weight loss but heart health, according to Progress in Cardiovascular Diseases.
Keep a detailed food journal.
Join a support group.
Bottom line, our mission is to help our readership understand the "eat-less, move-more"  or "calories-in, calories-out" philosophy of weight loss is both outdated and scientifically unsupported.
Indeed, the research shows losing weight and keeping it off is much more about clear of highly processed foods, combined with exercise and a healthy lifestyle. As it turns out, dieting success is not about increasing your willpower, counting calories or eating low-fat foods.
Our Team
Our Team
Executive Team
Expert Contributors
Content Team
How We Make Money
How We Make Money
As mentioned above, we make money through an affiliate partnership with Noom, which is among the most-effective, best-researched, all-encompassing solutions we have seen to help people lose weight and lead healthier lives.
It should be noted we receive no "kick-backs" or compensation of any kind (including free product) from any products we review.
Ways to Support DietSpotlight:
Feel free to sign up for a trial of Noom. Their system is backed by ample research and we believe is among the most-effective, safe ways to lose weight and keep it off.
Word of mouth – Please tell your family and friends about us.
Social sharing – Share us on Facebook, Instagram and Twitter.
Add a link – Consider adding a link to DietSpotlight from your blog, website or social-media account.
Check out our disclosure page for more information. Thanks for your support!
Giving Back
Giving Back
Giving back is at the heart of our culture.
One cause close to our hearts is fighting childhood hunger. To this end, we started the Donate the Weight initiative. The idea is simple: for every product we sell, we feed a child in need. Our money goes directly to The Malilangwe Trust, which funds feeding stations in Zimbabwe. Members of our team visited these feeding sites in person prior to any donations. The program provides a balanced meal every school day to Zimbabwean children, most of whom are under the age of five.
In addition, each year since 2013 we sponsor the Dietspotlight Essay Scholarship. This program offers extraordinary students across the United States an opportunity to win up to $3,000 each in financial aid to pursue studies related to diet and nutrition.
Contact Us
Contact Us
If you have a question or comment, feel free to contribute in the section at the bottom of each page. DietSpotlight's readership is well informed and, if you get a reply, it will be emailed to you. Alternately, you can reach out through our contact page.
Also, connect with us on social media: Twitter, Facebook, Google+, GlassDoor, TrustPilot, YouTube, Pinterest and CrunchBase.
Interested in joining the team? Check out our careers page for new opportunities.
Thanks to Clark Optimization for their SEO guidance.
LAST MODIFIED: 2/17/2023