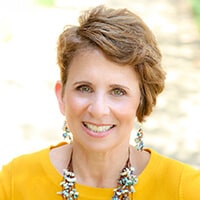 Jill Weisenberger, MS, RDN, CDE, CHWC, FANDNutritionist
Jill Weisenberger, MS, RDN, CDE, CHWC, FAND, is an author, health communicator, consultant and motivational speaker with a career that more than qualifies her as a nutritionist to watch.
Noted for her talent for turning science bulletins into actionable tips, she was featured on U.S. News and World Report's "10 Dietitians You Need to Follow on Social Media" list. Before she became a registered dietitian, Jill worked in public relations (once for the Kennedy Space Center), and she is often in demand as an expert consultant for various media outlets.
She is the author of Diabetes Weight Loss:
Week by Week (American Diabetes Association, 2012)
The Overworked Persons Guide to Better Nutrition (2014)
21 Things You Need to Know About Diabetes and Your Heart (2015)
Prediabetes: A Complete Guide (2018)
Organizations and publications that have published Jill's articles include the American Institute for Cancer Research, Diabetic Living magazine, Eating Well magazine, Environmental Nutrition, and Today's Dietitian magazine. She is often called upon to create healthy and delicious recipes, such as her Italian-style barramundi recipe featured in Food & Nutrition. She also publishes on Food & Nutrition Solutions by Jill.
Jill's advice focuses on sensible eating tips based on solid science that help people prevent and manage diabetes and other chronic diseases. She is certified in adult weight management. Jill earned master's degree in food science and human nutrition from the University of Florida. Her credentials include Registered Dietitian Nutritionist (RDN), Certified Diabetes Educator (CDE), Certified Health and Wellness Coach (CHWC), and Fellow of the Academy of Nutrition and Dietetics (FAND).
"My philosophy is that nutrition science should be understandable, realistic and oh so delicious." – Jill Weisenberger