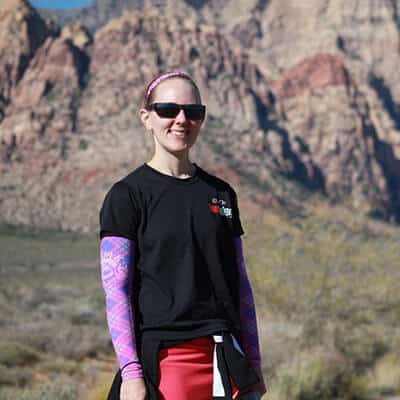 Jill Whitaker
Jill is a distance runner, a Road Runners Club of America (RRCA)-certified running coach and the blogger behind Jill Will Run. She spent four years coaching the endurance running team of the Crohn's and Colitis Foundation of America. At her "day job" her title is Director of Web Services. Jill is married with one daughter. Jill is someone people can relate to, and there's not enough of that in fitness and nutrition, so we think she's a nutrition professional to watch.
Her journey as a distance runner began in 2008 when she completed her first marathon. She learned from the experience that she needed to train smarter the next time. She earned her coaching certification in 2009. Jill's work has been featured in the New Balance/Komen Foundation documentary Running On Hope and in national online and print publications that include:
Runner's World Magazine
Shape Magazine
Women's Running Magazine
She's been named as one of Naked Nutrition's Top Fitness Bloggers, among other accolades.
On her health and fitness blog, Jill writes about her struggle with anorexia nervosa. After moving to a new city, she had adjustment issues and would use exercise and dieting as a way to keep her feelings at bay. She began to over-exercise and restricted her calories to the degree that it became a health issue for her. Jill realized she needed help and sought treatment when she had to drop out of a race without finishing because she was dangerously underweight.
Although she has partially recovered, she still has to deal with the issues and is working on herself quite candidly and helping others in the same situation through her blog.