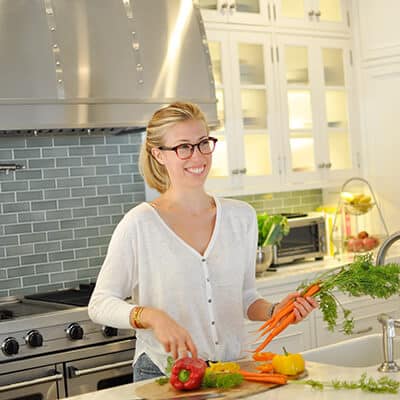 Shira Lenchewski, RD
As a results-oriented, professional nutritionist, Shira Lenchewski understands the importance between what a person eats and how it affects their body. With her love of good food and her education at New York University in nutritional science, Shira designs individualized eating plans that are sustainable, even by her clients that lead challenging lifestyles. Shira is a nutritionist to watch.
Shira understands how to build a healthy lifestyle around the demands of dining out, social interactions and traveling. She helps her clients find clean menu choices when they dine out at their favorite restaurants. She also builds nutritional plans around any food allergies her clients suffer.
Shira's success as a nutritionist can be attributed to her forward-thinking approach. Not only does she incorporate the latest science and technology to help build nutrition plans for her clients, but she also takes the time to visit her clients so she can get to know their daily routines and habits. This methodology helps Shira's clients make informed nutritional decisions while they are "on-the-go."
Shira's work has been featured in reputable publications such as:
Glamour.com
Refinery 29
Shape.com
The Real Girl's Kitchen
PopSugar Fitness
Her emphasis on a clean-eating lifestyle includes introducing her clients to big flavors from natural and organic foods. Shira coaches her clients through the difficult process of portion control and how to eat their favorite meals and snacks in moderation. Her nutritional plans include building a positive relationship between body and food. Shira earned her undergraduate degree at U.C.L.A and her master' in clinical nutrition from New York University.