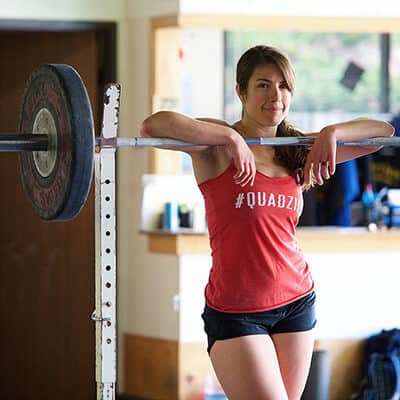 Steph Gaudreau
Stupid Easy Paleo is a company run by Steph Gaudreau. Gaudreau isn't like most Paleo trainers out there. She has an incredible combination of formal education and teaching experience. There's something familiar and easy going about Steph, so we had to list her as a nutritionist to watch.
She received her undergraduate degree in biology and human physiology and spent the next 12 years teaching science. She is a Certified Holistic Nutrition Practitioner and passed the National Board Certification.
She started her blog Stupid Easy Paleo because of her passion for creating Paleo food that still tastes great. In 2014, she published the best seller The Paleo Athlete: A Beginner's Guide to Real Food for Performance. She also published The Performance Paleo Cookbook: Recipes for Eating Better, Getting Stronger & Gaining the Competitive Edge, a cookbook designed for those seeking to improve their performance with nutrient dense and tasty paleo meals.
She is also an international speaker who has been a panelist at talks like:
AHS
AHS New Zealand
PaleoFX
She has been listed as one of the 15 Must—Read Health and Happiness blogs by Greatist and has been featured in SELF, Triathlete and Outside Magazine.
Gaudreau also founded the incredibly popular Woman's Strength Summit. This event is geared towards helping women feel more comfortable in their skin by bringing together more than 24 female strength experts to provide strategies on nourishment, exercise, mindsets and creating an exceptional life by blasting through comfort zones.
Gaudreau is the host of the podcast Harder to Kill Radio. In this podcast, Gaudreau interviews experts in nutrition, sleep, fitness and mindset to help the audience apply the lessons to their own lives. Improving health and wellness through a holistic approach allows the listener to spend more time enjoying life instead of slaving away to the latest diet and exercise trends.