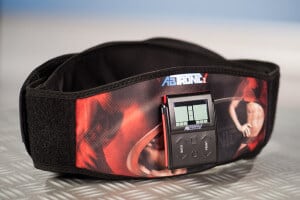 There has been plenty of discussion about Abtronic, so we took some time to create a comprehensive review, examining the side effects, ingredients, clinical studies and level of customer care. Furthermore, we read through hundreds of dieter reviews and customer responses from around the web. At this point we condensed all of the data we discovered in order to give you the facts you need.
EDITOR'S TIP:
Combine Abtronic with a proven testosterone booster such as
Pronabolin
for better results.
What You Need To Know
Abtronic is a fitness device/system that uses EMS or Electro Muscle Stimulation. The purpose of this product is to burn off fat, tighten the abdominals and exercise the muscles while you relax or do other things. The Abtronic is a belt, which can be strapped onto different parts of the body. These include the abdominals, buttocks area, legs and arms. This device has 10 different levels of intensity and six different exercise programs to select from. In order to use Abtronic, you just strap it on for 10 minutes at a time. An application gel is provided with this device, and should be applied to the skin beforehand. Put simply, this device causes "deep pulsations," which contract the muscles.
We are unsure when the Abtronic was initially released, but it has been around since at least 2001. This device is fine for men and women alike, and it can be used anywhere, but read on…
Poor Product Quality – Watch Out!
According to our Research Editor, "There are a lot of customer complaints about the overall quality of the Abtronic device. Many people say this abdominal system stops working quickly or simply breaks."
One customer stated, "I am disappointed, I could only use ABTRONIC for a week. Then, it stop working."
"I haven't had it for a month and it's already broken," said another user.
Scroll below for one of the best products we've seen in 2015.
A Lot of Consumer Complaints
If you check out websites such as Consumer Affairs, you will notice a high number of customer complaints regarding Abtronic. In fact, one user said, "This item came in and was majorly defective. I'm having to send it back for a refund."
Another customer complained, "My Abtronic did absolutely nothing, and I want my money back."
Our research has revealed that if there is a certain part of a fitness product or diet program that is especially concerning or problematic (a painful/difficult exercise routine, pills that make you jittery, a lot of customer complaints, poor product quality) the probability of long-term success is low. This means if Abtronic does in fact cause a high number of user complaints, this could be a serious issue.
The Science
From what we could gather, there is no real clinical research or studies that prove this abdominal device works as claimed. This is unfortunate, because we at DietSpotlight need to see documented science that supports the workout product or supplement. With the Abtronic device, we only see a big red flag.
The Bottom Line
We appreciate that Abtronic is intended to help you tone up the abdominals, strengthen the core and improve overall fitness. However, we do not believe that this device yields the results it claims. Judging from the customer feedback and consumer complaints we found online, there are several problems with Abtronic. Therefore we do not recommend this abdominal fitness device.
If you're ready to improve muscle strength, increase stamina levels and enhance overall vitality, we suggest you go with a product that uses clinically proven ingredients, sells at an affordable price and comes with great customer service.
One of the finest products we've spotted in 2015 is Pronabolin. This supplement contains a unique blend of nine ingredients clinically proven to increase strength, enhance vitality and boost testosterone levels. Furthermore, we can't find any complaints of adverse effects and user reviews all over the internet reveal people are seeing excellent results.
The makers of Pronabolin are so confident in their product they're offering every customer a 120-day money-back guarantee and multiple-bottle discounts.