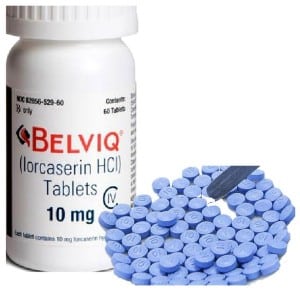 If you haven't looked closely at Belviq, here's your chance. We did one of our comprehensive reviews, examining the side effects, ingredients, clinical studies and overall customer care. Plus we scrutinized hundreds of dieter responses, which we found online. At this point we summarized the information we found to give you the bottom line.
EDITOR'S TIP:
Click here
to substitute Belviq with a proven fat burner such as Leptigen for better results.
What You Need To Know
First off, Belviq is a prescription weight-loss drug. It was approved by the FDA and must be obtained through a licensed physician. This pill is only suitable for individuals who're considered obese or have a BMI (body mass index) of 30 or greater. The purpose of Belviq is to send a signal to the brain, telling it you are full and satisfied. This way you eat fewer calories. The ingredient used is loraserin hydrochloride. A healthy diet and exercise plan are mandatory while taking Belviq. As for the proper dosage, your doctor will decide what prescription is right for you. It may also assist with improving blood pressure, cholesterol and blood sugar levels.
Belviq was first approved for weight-loss in 2012. This drug was developed by Arena Pharmaceuticals and it can be used by both women and men. Pill use is regulated by licensed doctors and there is an official website that provides plenty of information on Belviq, but read on…
Side Effects – "Be Cautious?"
The first thing dieters should take into consideration with this one is the potential for Belviq side effects. According to our Research Editor, "Belviq can lead to all sorts of reactions. These include low blood sugar levels, constipation, fatigue, nausea, slow heartbeat, back pain, dry mouth, drowsiness, bladder pain, cold sweats, bloody urine, chills, depression, cough, headache and fast heartbeat."
One dieter stated, "Serious headaches and bloating."
Another user said, "I just cannot deal with the headaches, which is why I will have to stop taking them."
Scroll below for one of the best products we've seen over the last year.
Negative User Reviews – "What's Up?"
There are quite a few discouraging dieter reviews posted online for Belviq. In fact, one user said, "The first week I had horrible headaches but the cravings were still there. After the first 30 days, I called my doc about feeling bloated. She prescribed me a water pill. Meanwhile, I had NO weight-loss on Belviq after the 30 days."
"It didn't help me at all. I craved chocolate all the time. Not worth the 75.00 a month," commented another dieter.
Our research has proven that if there is a specific part of a weight-loss program or diet pill that is quite burdensome (too many side effects, negative customer reviews, high cost) the chances of lasting results are slim. So, if Belviq does lead to a lot of reactions, this could be problematic.
The Science – "Clinical Evidence?"
There have been some clinical studies done with Belviq. These have shown that this diet pill can help with satiety. The initial report involved 8,000 different participants. However, Belviq does not work for everyone and some people are not eligible to use this weight-loss drug. We at DietSpotlight like to see solid research that supports the product before we recommend it.
The Bottom Line – Does Belviq Work?
Should we be on the run to be first in line for this one? First off, we appreciate that Belviq is approved by the FDA to assist with weight-loss in obese individuals. However, there are clearly a lot of adverse effects that go along with this diet pill. Also, you are not even eligible for Belviq unless you have a BMI of 30 or greater. Not to mention, this drug is quite costly and there is some talk of lawsuits (online).
If you want to lose more weight and get fit now, we recommend you go with a diet product that is backed by real clinical studies, is available to all adults, but does not cause harsh side effects.
Among the best products we've seen in 2016 is one called Leptigen. This supplement contains a blend of four unique ingredients that are proven in published clinical studies to help increase fat loss and elevate metabolism. We have not located any discussion of adverse effects and customer comments posted online reveal people are seeing significant results.
Also, the makers of Leptigen are so confident in their product they're offering a Special Trial Offer, which is a good sign.