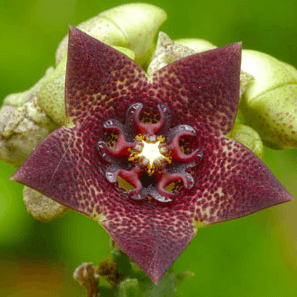 Caralluma fimbriata isn't your grandmother's diet product. We took the time to write a detailed review, examining the ingredients, side effects, customer care and clinical studies. We additionally read through countless dieter reviews and user comments from all over the web. Lastly, we condensed all the data we found to give you the info you need.
What You Need To Know
Firstly, caralluma fimbriata is a natural cactus plant extract used in all sorts of dietary products on the market today. This succulent plant comes from India, and it's supposed to decrease appetite. Typically caralluma fimbriata is taken once or twice daily, which is around 1,000 milligrams. It's claimed that this it affects the hypothalamus of the brain, which in turn reduces hunger. Many supplements sell for around $15 to $40 per bottle.
Although caralluma fimbriata has been around for centuries, it gained popularity as a diet pill in the last five years. Many of these supplements are easy to acquire online and in vitamin shops. Also, there is plenty of customer feedback posted online and some products are sold with a money-back guarantee, but read on…
Lack of Scientific Research – "No Proof?"
The first issue that bothered us with this one was a lack of clinical support. According to our Research Editor, "Caralluma fimbriata has not been proven in studies to aid with weight-loss and obesity. In fact, according to experts, this supplement needs further testing to be considered for any health condition."
One customer said, "It did absolutely nothing that it claimed it would. This product is worthless and I just wasted money on it. Will never purchase it again."
Another complained, "Does not suppress hunger. Probably enhances hunger. Don't waste your money."
Though the percentage of positive experiences is small compared to the negatives, we did find dieters who saw changes. One claimed, "It makes me eat less and has given me a little boost in energy."
Another who didn't have any complaints shared, "I found that the Caralluma Fimbriata product was effective in handling those late afternoon hunger pangs."
Scroll below for one of the best products we've seen over the last year.
A Lot of Dieter Complaints – "Oh No!"
After taking a look at a number of caralluma fimbriata supplements online, it's clear that many dieters have complaints. One customer stated, "I don't recommend. I gained six lbs in the first two weeks, so stopped this product. Didn't work for me."
"I would NOT recommend this product!! I used it as directed for 30 days and I gained one pound," said another user.
We advocate looking for science to prove a supplement works, but we can't ignore the fact that some dieters saw results, if only a small bit. As one said, "I think this supplement helps me focus on better foods and smaller portions."
Another suggests taking the supplement as part of a lifestyle change. The dieter said, "You still need to have a healthily diet and excercise."
Our research has revealed that if one aspect of a fat-loss supplement or diet program is especially troublesome (no clinical support, bad taste, multiple user complaints) the probability of success for the long run is slim. So, if caralluma fimbriata causes a lot of issues with dieters, this could be a very serious issue.
The Science – "Justified Claims?"
While there is plenty of speculation and hype surrounding caralluma fimbriata, this cactus plant has not been proven in documented clinical research to increase weight-loss or aid with obesity. We at DietSpotlight must see actual documented science that supports the product as an effective formula. If that's not available, the dieter may want to turn the other way.
The Bottom Line – Does Caralluma Fimbriata Work?
Wow, we found out quite a bit about caralluma fimbriata. While we appreciate that this one is a completely natural plant ingredient, we are skeptical about recommending this supplement for weight-loss. Not only is there no published clinical data to support it, there are quite a few customer complaints.
For dieters who wish to slim down and drop excess pounds of fat, we suggest you go with a dietary supplement that has been proven to work in clinical studies that does not cause any harmful effects.
Among the best products we've seen in 2016 is one called Leptigen. This diet pill contains four key ingredients, which have been proven in published scientific studies to help ignite metabolism and improve fat loss. We can't locate any discussion of harmful side effects and user reviews posted online indicate people are seeing amazing results.
Plus, the makers of Leptigen are confident in the formula so they're offering a Special Trial Offer, which is a positive.