Updated: 09/22/2015 - Sponsored by Leptigen
Caralluma Fimbriata Review – Does This Weight Loss Supplement Really Work?
Are lack of scientific research and dieter complaints deal breakers?
PUBLISHED: 08/26/2015 | BY: SUMMER BANKS, SENIOR REVIEWER
Editor
's Review:
3.5
/ 5.0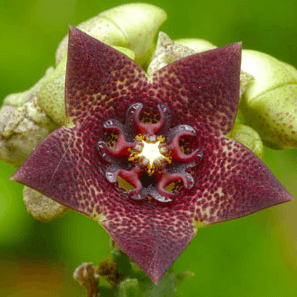 There's been plenty of buzz concerning Caralluma Fimbriata supplements for weight management, so we took the time to write a detailed review, examining the ingredients, side effects, customer care and clinical studies. We additionally read through countless dieter reviews and user comments from all over the web. Lastly, we condensed all the data we found to give you the important facts.
EDITOR'S TIP:
Combine Caralluma Fimbriata with a proven fat burner such as
Leptigen
for better results.
What You Need To Know
Caralluma Fimbriata is a natural cactus plant extract used in all sorts of dietary supplements on the market today. This succulent plant comes from India, and it's claimed to decrease appetite. Typically Caralluma Fimbriata is directed to be taken once or twice daily, which is around 1,000 milligrams. This cactus plant was used by Indian tribesmen to suppress appetite during long hunting trips. It's claimed that this plant affects the hypothalamus of the brain, which in turn reduces hunger. Many Caralluma Fimbriata supplements sell for around $15 to $40 per bottle.
Although Caralluma Fimbriata has been around for centuries, it gained popularity as a diet pill in the last five years. Many of these supplements are easy to acquire online through stores like Amazon. Also, there is plenty of customer feedback posted online and some Caralluma Fimbriata supplements are sold with a money-back guarantee, but read on…
Lack of Scientific Research
According to our research editor, "Caralluma Fimbriata has not been proven in clinical studies to aid with weight loss and obesity. In fact, according to WebMD, this cactus plant extract requires more research and evidence to be considered a weight loss aid."
One customer said, "It did absolutely nothing that it claimed it would. This product is worthless and I just wasted money on it. Will never purchase it again."
Another complained, "Does not suppress hunger. Probably enhances hunger. Don't waste your money."
Scroll below for one of the best products we've seen in 2015.
A Lot of Dieter Complaints!
After taking a look at a number of Caralluma Fimbriata supplements online, it's clear that many dieters have complaints about these products. One customer stated, "I don't recommend. I gained six lbs in the first two weeks, so stopped this product. Didn't work for me."
"I would NOT recommend this product!! I used it as directed for 30 days and I gained one pound," said another user.
Our research has revealed that if one aspect of a fat-loss supplement or diet program is especially troublesome (no clinical research, bad taste, too many user complaints) the probability of success for the long run is slim. So, if Caralluma Fimbriata causes a lot of dieter complaints, this could be a very serious issue.
The Science
While there is plenty of speculation and hype surrounding Caralluma Fimbriata, this cactus plant has not been proven in documented clinical research to increase weight loss and aid with obesity. We at DietSpotlight must see actual documented science that supports the product as an effective weight loss formula.
The Bottom Line
While we appreciate that Caralluma Fimbriata is a completely natural plant ingredient, we do not recommend this supplement for weight loss. Not only is there no published clinical data to support this ingredient, there are quite a few customer complaints regarding dehydration from this plant extract. Also, some people experienced diarrhea while using this supplement.
For dieters who wish to slim down and drop excess pounds of fat, we encourage you to choose a dietary supplement that has been proven to work in clinical studies, and does not cause any harmful adverse effects.
One of the top weight loss products we've come across in 2015 is Leptigen. This diet pill contains four key ingredients, which have been proven in published scientific studies to help ignite metabolism and improve fat loss. Also, we can't locate any discussion of harmful side effects and user reviews posted online indicate people are seeing amazing results.
Also, the makers of Leptigen are so confident in their product they're offering a Special Trial Offer, which is a good sign.
(Feel free to scroll below for our previously published full-length reviews of Caralluma Fimbriata)
Previous Caralluma Fimbriata Review (Updated February 19, 2014):
What You Should Know
Click Here To See Our Highest Rated Review
Caralluma Fimbriata is a succulent star shaped plant that has been eaten in rural India for centuries. It is eaten raw as a vegetable, with spices or preserved in chutneys or pickles. It is also traditionally known in India as a famine food since it supposedly suppresses hunger and appetite. As a result of this, manufacturers of weight loss products are becoming increasingly interested in Caralluma Fimbriata and we are beginning to see it as a featured ingredient used by some weight loss supplements.
Ingredients
Caralluma Fibrianta is not the name of a weight loss supplement, but rather the name of an ingredient, which has captured the interest of manufacturers of weight loss supplements.
Product Features
Caralluma Fimbriata is being increasingly compared to the wildly popular appetite suppressant Hoodia Gordinii. Hoodia Gordinii is, of course, a cactus that has become an extremely common ingredient in weight loss products. Hoodia Gordinii is used by tribesmen in South Africa to stave off hunger while they are hunting, and it is for these reason that Caralluma Fimbriata is said to have similar properties. This Indian plant is also used by tribesmen in India to stave off hunger while on long hunting trips. Caralluma Fimbrita is thought by some weight loss manufacturers to be the perfect alternative as a weight loss ingredient to the now banned metabolic stimulant Ephedrine. A small clinical trial carried out in India has shown that Caralluma Fimbrita does have modest appetite suppressing qualities. One of the main weight loss products that contains Caralluma Fimbriata is a product called Slimaluma. Slimaluna can be ordered from online stores and costs $19.99 for sixty capsules.
Advantages
Weight loss products containing Caralluma Fimbriata can be ordered online.
It is traditionally used in India as an appetite suppressant.
Information about Caralluma Fimbriata can be found online.
Disadvantages
Caralluma Fimbriata is still a very new ingredient, meaning that its long-term effects are still uncertain.
There has not been enough detailed research or clinical trials carried out regarding Caralluma Fimbriata.
There is no proof that Caralluma Fimbriata is superior to other weight loss ingredients on the market.
Doctors are currently weary of appetite suppressants and there are concerns that heavy users may miss out on necessary nutrition.
Conclusion
Manufacturers of weight loss products are becoming increasingly enthusiastic as regards Caralluma Fimbriata. Some diet experts, however, urge caution as they say that there simply has not been enough research carried out on Caralluma Fimbriata. No one wants to see a repeat of the recent ephedrine recall. Doctors say that although some clinical trials to date have shown modest appetite suppressing benefits there is no evidence that the small amount of Caralluma Fimbriata present in some products is actually enough to yield weight loss benefits. Best to wait and see what further research into Caralluma Fimbriata turns up.