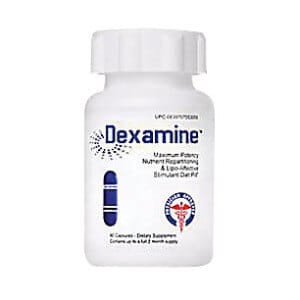 We're here to cut through the noise and get to the facts about Dexamine. Is this supplement worth it, or is it just another pill that doesn't follow through on its promises? To find out if this product was worth trying, we took a look at the ingredients, side effects, scientific research, and the company behind Dexamine. We also read hundreds of comments and reviews online to find out what actual users thought about this product. This review is a summary of what we found, and should help our readers make a decision on Dexamine.
EDITOR'S TIP:
Substitute Dexamine with a proven fat burner such as
Leptigen
for better results.
What You Need to Know
Dexamine contains synephrine, magnesium, gelatin, rice flour, gojilean, caffeine, and a few other ingredients. There are plenty of antioxidants, which make this product beneficial for overall health. It's taken daily, one to two capsules per day, with 2 glasses of water. The product is easy to take, and convenient enough to take on the go.
Dexamine is produced by Giant Sports Products, a sports nutrition company that was founded by 3 nutritionists with a combined 75 years of experience, which is encouraging. The products are readily available online through the manufacturer's website or various other websites. Dexamine has some good ingredients, is somewhat affordable compared to similar products, and they offer a 100% satisfaction guarantee, but read on…
Lack of Results – Does it Work for Weight Loss?
Dexamine boasts dramatic results and life changing weight loss, but most people see minimal weight loss or no weight loss at all. "Dexamine does have some benefits, but the weight loss claims that it makes aren't always seen," said our research editor. "Many people either stop taking these because of the side effects or because they aren't losing weight quickly enough."
"Weight loss was too slow to me," said one user.
"Didn't see any movement on the scale," said another.
Scroll below for one of the best products we've seen over the last year.
Side Effects – Safe Ingredients?
One thing that stood out immediately and was discouraging for us was the side effects that many people saw. Unfortunately this supplement contains synephrine, which mimics the performance of a banned drug and has known side effects. "This made me feel dizzy and caused an increased heart rate and difficulty breathing," said one customer online.
"I ended up with projectile vomiting and nausea from this product," said another. Some other people saw a variety of side effects including restlessness, sweating, irregular heartbeat, increased blood pressure, headaches, and more. "If you do try Dexamine, start with just one pill a day and make sure your body can handle the formula," offered one customer.
When a diet program or supplement has a certain aspect that is difficult or troublesome (painful workout, pills with harmful side effects, bad tasting supplements, etc.), our research shows that long-term success is less likely. If Dexamine really does have harmful side effects and known health risks, this could make permanent weight loss difficult.
If you do try Dexamine, we recommend that you start with just 1 pill a day. Pills with this range of side effects can be dangerous, so it's important to make sure that your body can handle them before increasing to the maximum dosage. We also recommend that you talk to a doctor before taking a product with synephrine to make sure that it's safe for you.
The Science – Safe and Effective?
Dexamine does have some good science backing up its claims. There are 2 studies that link Dexamine to an increased metabolism and a reduced waist size, but we would like to see a little more information about the safety of the formula used in this product. We do like a product that has scientific proof that it works, but we also want to make sure that a product is safe for our readers. Unfortunately while it does seem that Dexamine offers proven weight loss, it's unable to prove that it is also a safe way to lose weight, which gives us cause for concern.
The Bottom Line
We like the experience behind the Giant Sports Products, the availability of Dexamine, and the science backing up some of its claims, but without research proving that it's a safe and effective way to lose weight, we're skeptical of Dexamine. We're also concerned about the side effects some people saw when taking Dexamine, the lack of results, and the long term health risks associated with synephrine.
If you'd like to slim down with a product that offers great value and proven results, go with a supplement that has proven results that are backed up by science and ingredients that aren't linked to harmful side effects.
Among the best products we've seen in 2015 is one called Leptigen. Its formula is a proprietary blend of four ingredients that are proven to help you lose weight by burning fat and boosting metabolism. The claims have all been reviewed by unbiased research, clinical trials, and scientific studies, and it has even outperformed a placebo in blind studies. Customers online seem to agree that Leptigen offers proven weight loss without any mention of harmful side effects.
Also, the makers of Leptigen are offering a special trial offer to show how confident they are that you'll lose weight with their product.