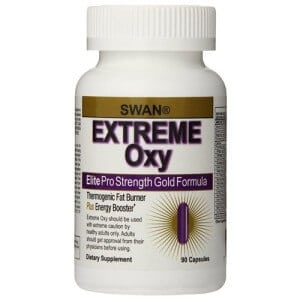 Recently, we've heard a lot of buzz about Extreme Oxy. We decided to see what all the fuss is about by taking a closer look at the product, the formula, customer service, and user reviews. We summarized and condensed all the information for you here.
EDITOR'S TIP:
Substitute Extreme Oxy with a proven fat burner such as
Leptigen
for better results.
What You Need to Know
First off, Extreme Oxy is a weight loss supplement that claims to be able to boost your energy levels, and increase fat burning power. Ingredients include: Ginkgo Biloba Leaf, Caffeine Anhydrous, Cabbage Palm, Acai Fruit, Cola Seed, Eleuthero Root, Green Tea Leaf, White Willow Bark, Bee Pollen, Yerba Mate Leaf, Guarana Seed Extract, Foti Root, Saw Palmetto Berry, Asian Ginseng Root, American Ginseng Root, Coenzyme Q10, and Citrus Aurantium. You can find a supplement online for about $35 a bottle.
The official website for Extreme Oxy provides little information about the company itself. We don't know how long they've been in business.We like the availability of product information, but read on…
"Scary" – Potentially Harmful Ingredients
The main concern with Extreme Oxy is the ingredients. Our biggest concern with the formula is the inclusion of the bitter orange, which has been banned by the FDA for its potential to cause a number of serious health problems, such as an increased risk of heart attack or stroke. The official website for this product mentions thing you should not take this product if you have any kind of pre-existing medical conditions such as high or low blood pressure, cardiac arrhythmia, stroke, heart, liver, kidney, or thyroid disease, seizure disorders, psychiatric disorders, diabetes, or prostate enlargement. If you are using prescription medications including MAO-B inhibitors, MAOIs, SSRIs, you should not use this product.
"A product like this must be approached with caution. Talk with your doctor to make sure you are healthy enough to use it before starting something like this." said our Research Editor.
"What a waste of money.. Gives you a headache.. Does not give you energy or appetite control. Loved oxyelite. Not even close to it." said one user.
Scroll below for one of the best products we've seen over the last year.
Several Reports of Ineffectiveness
Though some users have seen success with this product, many users have said it is an effective. A variety of testimonials indicated it did nothing to help them with weight loss or energy. Some users reported negative side effects such as headache, and insomnia.
"Didn't do anything for me. Thought it would be like Oxy Elite Pro, before it was taken off market, but it's not." , said one user.
Another user said, "This products it's sucks doesn't work at all. DO NOT spend your money doesn't compare to Oxy Elites sadly product is out of the market."
Our research shows that if something has problems, like if it's too expensive or doesn't provide results, users aren't going to stick with it.
The Science
Extreme Oxy doesn't provide any links to published clinical research. The research we were able to find indicates that the ingredients are either harmful, or that the ingredients that don't actually produce weight loss results.
The Bottom Line
We were initially excited to review Extreme Oxy because it looked like it would be a good quality supplement. However, after digging a little further we determined the formula isn't likely to produce the results it claims. It's important to remember that if you do try to use the supplement, you should use it for no more than eight consecutive weeks. Take a four-week break before starting another cycle..
If you're trying to drop some pounds, we suggest choosing a clinically proven safe and effective supplement that delivers a good value for your money.
One of the best products we've seen in 2016 is Leptigen. Made with four clinically proven safe and effective ingredients, this fat burner is designed to help strengthen your metabolism to make weight loss easier. As we conducted research for this review, we couldn't find negative comments, which tells us users are getting good results.
The makers of Leptigen are so certain their product works, they're providing new customers with a special trial offer, which is always a good sign.