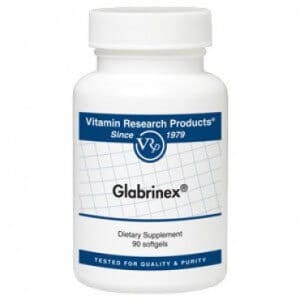 If you want the bottom line on Glabrinex, give me two minutes of your time. We took a detailed look at the ingredients, side effects, customer service quality and clinical research. Hundreds of user reviews were read, to see what people are saying. Then, we condensed and refined to give you the info you need.
What is Glabrinex?
To start with, Glabrinex is a dietary supplement that "suppresses the formation of visceral fat" with licorice flavonoid oil. You take three capsules every evening and that's supposed to slim down your midsection. Unless you're out and about in the evening, you don't have to take them with you.
The supplement, released by Vitamin Research Products sometime after 1979 when the business started, uses only natural ingredients, a good choice. Purchases can be made on the official website and through third-party retailers. We like that the company has been around for more than 30 years and there are some supportive comments, but read on…
Lack of Results – "Just Doesn't Work?"
The first worry we had is in regards to Glabrinex ingredients. "This is a simple product that makes extraordinary claims," said our Research Editor. "The formula says a lot about the chance of you losing belly fat and so do consumers."
"Well…three months and 540 capsules later I recorded a total weight loss of zero, nada, nilch pounds and reduced my belly size by 1/2″ to 39-1/2″," said one user.
"I'm using it now for about 4 weeks, without any changes in activity and eating habits (I'm a diabetic and used to a strict feeding regimen) and I have lost exactly 0 (zero) grams," offers a dieter.
Still another says, "Further to my earlier comments: I have used it now for ten straight weeks and my weight has not changed one milligram."
Scroll below for one of the best products we've seen over the last year.
High Price – "I Paid What for Glabrinex?"
Glabrinex is offered for $64.95 on the official website, but that's not what dieters claim they paid. "No results at all after paying a large fee to the mail order company. Dr. Jones, Canada, has lost credibility in my estimation," a buyer explains.
"Gabrinex, like many other "miracle" products is a total ripoff and was an expensive $150 lesson for me," claims a user.
One customer puts it simply, "I paid a fortune for these pills."
Our research links one negative, like lack of results, to reduced long-term success. If Glabrinex doesn't melt away stomach fat, the company claims are invalid.
Is There Any Science?
There is a clinical study listed on the Glabrinex official website. At first the research looks like it supports weight-loss claims, but when you reach the bottom you see it for what it's really worth. According to the authors, "Ingestion of 300 mg/day of [licorice flavonoid oil] significantly suppressed body weight gain in overweight subjects." That's nowhere near the same thing as helping the dieter lose more. At DietSpotlight, words like "could" and "probably" do not signify proof. Without science to back up statements, a supplement can't be trusted.
The Bottom Line – Does Glabrinex Work?
So, our curiosity about Glabrinex was satiated easily enough. We like that Vitamin Research Products has been around for more than three decades and the BBB rating is an "A+", but we are hesitant to recommend a supplement that just doesn't work, based on consumer reviews. We're also concerned that the clinical study doesn't prove weight-loss associated with regular use.
If it's time to jump start your weight-loss, we suggest going with a blend of ingredients clinically proven to help you lose more. It's also important that the supplement is affordable.
Among the best products we've found in 2016 is one called Leptigen. This formula is a four-ingredient blend that is clinically proven to help spark metabolism and boost fat loss. There are no side effects to worry about, based on dieter reviews and users are reporting some fantastic results.
Also, the makers of Leptigen are so confident in their supplement that they're offering a Special Trial Offer, an amazing bonus.