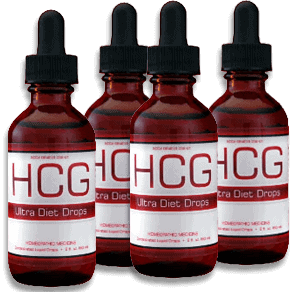 I did two things this week. I obsessed over every aspect of HCG Ultra Diet Drops and I wrote this review. We looked around and found information on side effects, ingredients, clinical research and customer service. Hundreds of comments and experiences were considered. Then, we condensed it all to give you the bottom line.
What are HCG Ultra Diet Drops?
First off, HCG Ultra Diet Drops is a weight-loss formula that contains "homeopathic ingredients." We have no idea what those are. Directions say to put 25 drops under the tongue and hold it for 10 seconds before each meal. You are supposed to notice changes in weight and abdominal fat.
Live Healthy Products, the company that's looks to be responsible for HCG Ultra Diet Drops, bought the official website in 2010. You can purchase online and the more you buy the cheaper each bottle becomes. We like the testimonials and homeopathic typically means all-natural, but read on…
Ineffectiveness – "Yes or No?"
The first issue we address is the effectiveness of HCG Ultra Diet Drops ingredients. "It looks like there are people who've seen results and those who haven't," explains our Research Editor.
"I purchased HCG about two months ago, and as promised, my body has changed," offered one user.
Another shared, "With the drops and its diet, I have lost weight."
Hunger appeared to be a problem for some, even though HCG Ultra Diet Drops are supposed to curb appetite.
"Today is my third day on HCG drops and I feel as hungry as when I started them," said one review.
Scroll below for one of the best products we've seen over the last year.
Side Effects – "It's Up in The Air"
There are only a few reviews for this HCG diet plan, but we did find reports of HCG Ultra Diet Drops side effects here and there. In some cases, dieters tried to explain how to stop them from happening.
"I've started taking HCG Ultra months ago and in my case, there are no side effects," offered one user.
Another suggested, "If you don't follow the program to the letter then there will be adverse effects."
After years of research, it's the littlest things, like results that didn't live up to expectations, that can leave the dieter without the long-term results they're looking for. If HCG Ultra Diet Drops isn't effective, we're not sure why the customer who keep buying.
The Science – "Validated?"
There is absolutely no connection between HCG, even in injectable form, and weight-loss. Without knowing the ingredients in HCG Ultra Diet Drops, we've no idea if the formula is effective. At DietSpotlight we want to see some science and we don't with this one.
The Bottom Line – Do HCG Ultra Diet Drops Work?
Are we dropping some under our tongue right now? Well, we like the ease of use and you can take the small bottle anywhere, but we are skeptical about the weight-loss claims. Science doesn't offer any proof it will work and the ingredient list is nowhere to be found. Plus, HCG Ultra Diet Drops are paired with a low-calorie diet that may not be sufficient for both men and women.
If you want to partner a healthy diet with a supplement to lose weight, we suggest one that's packed with clinically tested ingredients. A history of positive reviews and amazing outcomes is crucial.
Among the best products we've seen in 2016 is one called Leptigen. This supplement contains only four ingredients and all have been scientifically tested and shown to help with metabolism and fat loss. We did find plenty of experiences from dieters who've reached their goals.
Plus, Leptigen's makers are so confident you'll see results that they're offering a Special Trial Offer.